Love 'em or hate 'em, multi-tools are big sellers. Realistically, people that claim some of the tools are difficult to use have a point. Gerber Gear is doing something about that with the Gerber Center-Drive multi-tool. Plus, it's now customizable.
Gerber Center-Drive Multi-Tool Customization
Gerber launched this flagship tool back in 2017 and it's one of the best we've ever reviewed. The big news today is that it's customizable. We went through the process of creating our own and it's both easy and fun! We're going to start by walking you through the three areas of customization.
Note that your customization options affect your overall price.
Body
The body section consists of two customizable points: color and blade laser marking.
Nine color options are available with different combinations of black, satin (silver), sage green, coyote (tan), and red. We went with a sage green and black combination. The handle color is also going to be the color for your plain edge blade and Center-Drive screwdriver.
The blade can have laser marking on both sides. There are symbols, pictures, patterns, and text to choose from. You can even upload your own image if you like. All options are available on both sides.
The cool thing is that you can rotate, move, and resize whatever you're putting on there until it's exactly the way you want it.
Tools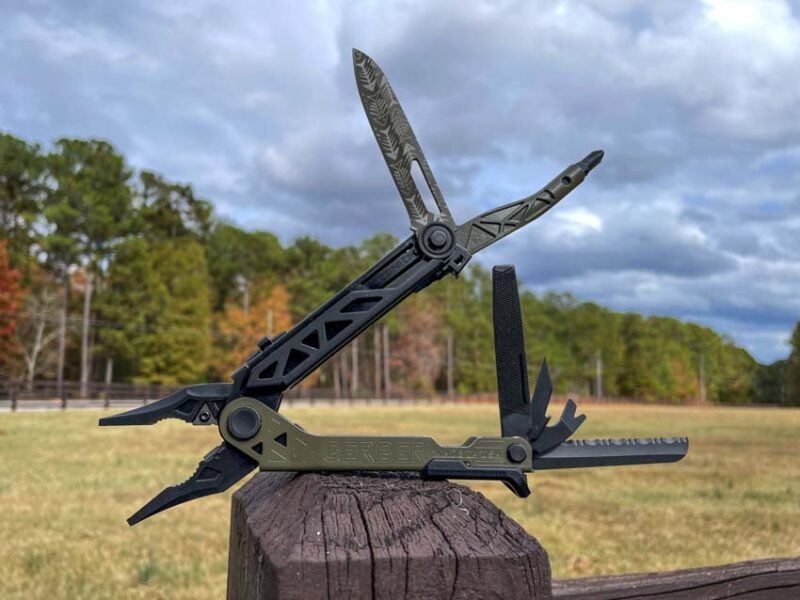 There's a little bit of tool selection to decide on. You need to decide between scissors or a serrated-edge blade. I'm more likely to cut rope or cord, so I went with the serrated blade.
No matter which you want, you can also choose between a satin finish or a black oxide coating on the tools.
You have the same color choice for how you want the plier jaws to look.
Sheath
Finally, you can choose between a leather or nylon sheath. There's no change in price between the two. I'm a sucker for leather, so that's what I went with.
Gerber Center-Drive Multi-Tool Tools
The Gerber Center-Drive is full of features that look pretty attractive on paper. They didn't try to pack as many tools as they could possibly fit, opting for a handful of tools that seem to make more sense.
Pliers
Rather than going with a butterfly-style opening, Gerber went with a one-handed slide opening mechanism and it's fantastic! While holding the tool, simply push up until you feel the slide lock into place. At that stage, the pliers are ready for use. They're spring-loaded, making them easier to work with.
Gerber goes with a little bit of a nontraditional pliers design on the Center-Drive. Its sloping nose gives it the look and function of a hybrid between standard pliers and a needle nose design. This gives you the ability to get into some tighter areas while still leaving plenty of strength to grip bolts in the middle, though it's not as strong as Gerber's Dual-Force multi-tool.
At the base of the pliers you'll find carbide wire cutters. You can rotate these triangular-shaped cutters as they begin to dull. This means you'll get three times the life of other carbide cutters and they're replaceable when the end of their life comes around.
A notch at the bottom of each cutter acts as a wire stripper. You'll need to feather your grip a bit based on the wire gauge you are trying to strip. I'm not a professional electrician by trade, but I found them pretty easy to use with only a small amount of practice.
Screwdriver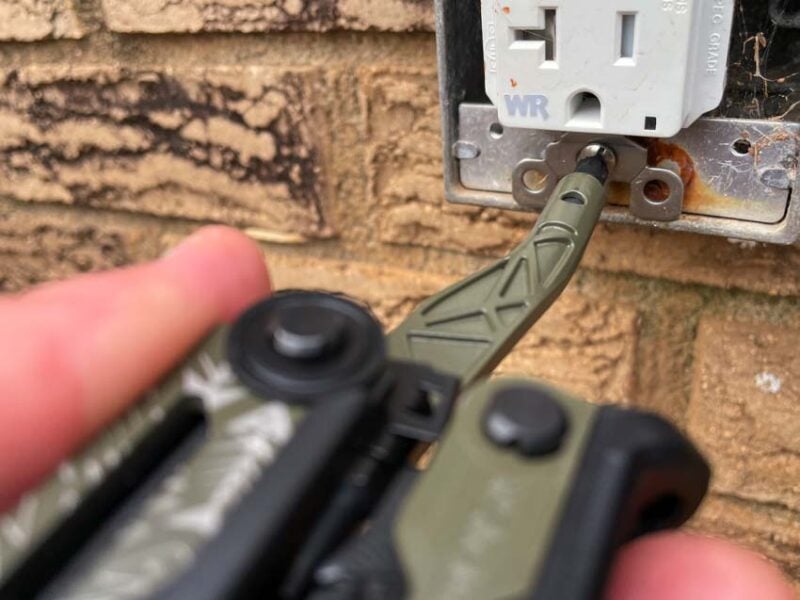 The screwdriver is where the Gerber Center-Drive gets its name. By creating an offset design and extending it out to 3.2 inches, the driver is in the middle of the handle giving you an axis of rotation that is more likely to reach and stay engaged with the fastener. Keep in mind that you're still using a multi-tool, so it's not as comfortable as a dedicated screwdriver. That said, the Center-Drive design is a huge improvement.
The offset design isn't the only intelligent move the Gerber made with the screwdriver design though. First, they gave the bit holder a magnet to ensure that you can keep a bit in the driver without fear of losing it. Most importantly, they made it a standard 1/4-inch size. This is a huge deal because you can replace bits when they are worn or broken and you can customize your bit set to the type of work you're going to be doing.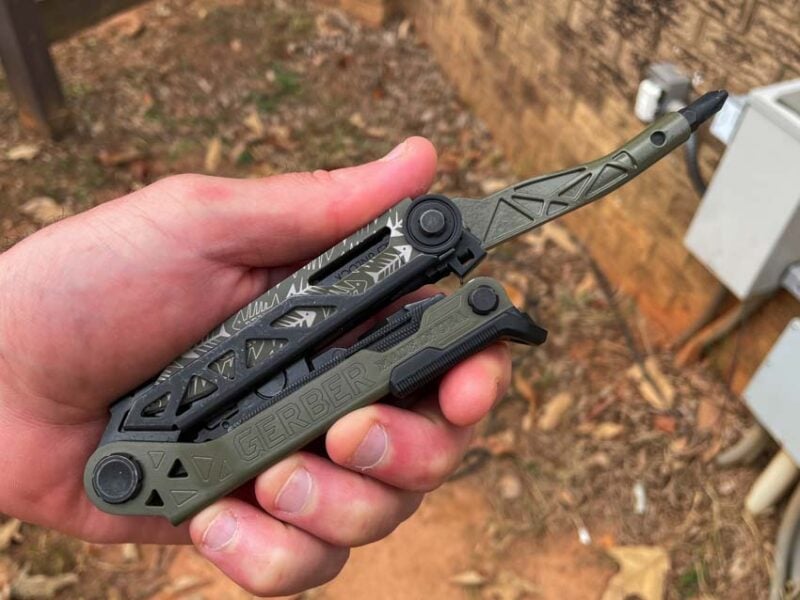 The Gerber Center-Drive comes with 14 different bits. 12 store in a bit holder that conveniently fits in your sheath, one stores on the driver itself, and the last sits in a spare bit holder on the tool. This gives you quick access to your two most commonly used bits (a #2 Phillips and 1/4-inch slotted for most people) while any assortment of 12 other bits is close at hand in the sheath.
Knives
A plain edge knife is accessible from the outside of the tool and a serrated edge knife is found on the inside. The plain edge blade features a drop point style and easy one-handed opening with a hole cut in the base. It locks in place with a frame lock. The blade is 3.25 inches long and made from 420HC steel.
The serrated blade isn't quite as sexy. The end of the blade doesn't really have a classic style but is closest to a sheep's foot. You don't really need as much of a point on a fully serrated blade since it will mainly be used for things like cutting rope. It's about a half inch shorter than the plain edge blade and has a spring-loaded lever lock to release it.
Other Tools
The file offers fine and coarse sides and is nice to have on board for deburring or filing down other sharp metal pieces. The awl Gerber included is about the best I've seen. It's actually sharp enough to make an effective hole in several different materials.
The bottle opener is also one of the most effective designs I've seen on a multi-tool. Not that its ability to crack open a cold brew at the end of the day is any better than other versions, but there is an integrated nail puller and prybar on the end of it. Is reinforced well enough to actually be able to put some force behind it and I'm very grateful to have a nail puller on me at all times.
You have markings in both inches and centimeters on the inside of the handle. While this is probably the only place they really could have reasonably etched it, is only mildly effective because of its placement. It can be used to judge fastener lengths pretty easily though.
Finally, there's a lanyard hole integrated into the outside spring-loaded tool lock.
Sheath
The sheath features two pockets—one for the Gerber Center-Drive and one for the spare bit holder. As you would expect, a loop on the back makes it belt-friendly. With the original launch, my only complaint was the lack of a MOLLE-friendly sheath. That option now exists.
Additional Gerber Center-Drive Models
Rescue Edition
Switches serrated blade for partially serrated drop point blade
Switches plain edge blade for strap cutter
Plus Edition
Switches plain edge blade for partially serrated drop point blade
Switches serrated blade for scissors
Gerber Center-Drive Multi-Tool Price
The Center-Drive is available in several configurations. MOLLE and Berry-Compliant sheaths are also available. Here's a breakdown of the MSRPs (retail prices may be lower):
Standard: $130
Standard with Bit Set: $135
Rescue Edition: $145
Plus Edition: $155
Custom: Starting at $165
The Bottom Line
There are a lot of multi-tools to choose from and the Gerber Center-Drive is the one I keep coming back to. It has the tools I need with a design that's easier to use and it's Made in the USA. Now that customization is an option, it's better than ever!
Gerber Center-Drive Multi-Tool Specifications
Item Number: Gerber 30-001193
Opening Style: One-hand
Knife Blade Length: 3.25 inches
Standard Bit Driver: Yes
Rotatable Carbide Wire Cutters: Yes
Closed Length: 4.7 inches
Open Length: 6.6 inches
Weight: 9.5 oz
Jaw Material: Cast
Made in USA: Yes
Warranty: Lifetime
Price: $119.99
Code Embed: Cannot use CODE1 as a global code as it is being used to store 1877 unique pieces of code in 3386 posts