Metabo HPT MultiVolt Triple Hammer Impact Driver Enters Second Generation
Out of dozens of the best impact drivers we've tested, the Metabo HPT MultiVolt 36V Triple Hammer Impact Driver is one of the most unique with its 3-hammer design. There's now a second-generation version, the WH36DCM, and we're seeing how it compares to its predecessor. It actually has a little more power than the Metabo HPT 18V Triple Hammer impact driver—and we've tested both.
Editor's Note: Check out our Best Impact Driver reviews page for the most up-to-date results.
Pros
Much better fastening speed
More torque than the previous model
5 total modes including bolt-specific and self-tapping screw modes
Compact design
Tri-beam LEDs
IP56 rating
Compatible with the MultiVolt AC adapter
Lifetime warranty
Good value
Cons
You can't get as lightweight of a battery as 18V/20V Max systems
Metabo HPT Triple Hammer Technology and Controls
Traditional impact drivers have a pair of rotating hammers on the inside of the mechanism that strikes a pair of anvils around the outside to rotate the bit. The Metabo HPT triple hammer impact drivers add one more hammer and one more anvil. That means that you get more impacts at the same rotational speed as other impact drivers.
Metabo HPT MultiVolt Triple Hammer Impact Driver Performance
Metabo HPT boasts 1903 in-lbs of torque, 3700 RPM, and 4100 IPM driven by a brushless motor. The previous version (the WH36DB) has 1859 in-lbs of torque, 2900 RPM, and 4100 IPM. Effectively, we're gaining a little more power and a lot of speed. What's interesting in those numbers is that the impact rate doesn't appear to be changing with the speed.
If you're new to the Triple Hammer concept, Metabo HPT takes the standard dual-hammer system that's in most impact drivers and adds a third to increase the number of anvil strikes on each rotation.
Five Drive Modes
You have five modes to work with: Soft, Bolt, Bolt Single, Power, and Self-Drilling Screw. Here's how those modes look in terms of speed:
| Mode | Speed |
| --- | --- |
| Soft | 900 RPM |
| Bolt/Bolt Single | 2900 RPM |
| Power | 3400 RPM |
| Self-Drilling Screw | 3700 RPM |
Soft and Power modes are your typical low and high. Self-Driving Screw mode starts slow for control, ramps up to full speed, and slows down as your screw tightens to avoid snapping the head off. Bolt mode runs at more of an impact wrench speed while Bolt Single tightens with about a second of impacting and shuts off.
Metabo HPT doesn't offer any guidance on the torque and impact rates for each mode, but note that the fastest speed is the Self-Driving Screw mode. For the strongest performance, Power mode is your best bet even though it's a little slower in speed.
36V Triple Hammer Impact Driver Speed Testing
We put that muscle to the test with a few GRK 8-inch rugged structural screws and drove them into stacked OSB. It managed to fully sink the screws in 7.2 seconds, on average, which is over a full second faster than the previous model. While it's still not challenging the best times we've seen, it's a big improvement.
Overall, the Metabo HPT MultiVolt Triple Hammer Impact Driver is in the high-performing class and you don't need to baby it when you have larger or longer screws to drive.
Metabo HPT 18V vs 36V MultiVolt Triple Hammer Impact Driver
Having used both the 18V and 36V triple hammer impact drivers, we wanted to compare them directly. We looked at size, weight, features, and performance.
Starting with performance—the Metabo HPT WH36DCM runs at 36V. It's similar to the 18V Triple Hammer in design but wired to use 36V MultiVolt batteries. It also includes some minor tweaks for the latest version. What's nice is the battery is capable of running any of the Metabo HPT 36V tools or any of its 18V tools.
To break that down: the 36V WH36DCM can only use 36V MultiVolt batteries while the 18V WH18DBDL2 can use either 18V or 36V batteries.
As with all of the Metabo HPT 36V MultiVolt tools, the 36V tool can also use the MultiVolt AC adapter and run corded when you don't want to worry about runtime.
18V vs 36V Triple Hammer Size and Weight
One area the Metabo HPT 18V triple hammer wins vs the 36V MultiVolt is weight. Don't get us wrong—as a bare tool, the 36V weighs just 2 pounds. That might be one of the lightest impact drivers we've tested. It's also very compact at just 4.5 inches long.
However, when you throw on a 36V MultiVolt 2.5Ah battery pack, the weight jumps to 3.5 pounds. While nearly any 18V or 20V extended run pack adds a similar amount of weight, MultiVolt tools have no option for a compact 1P battery. The reason is that a 36V battery requires 10 cells. If you want a more compact tool, grab the 18V triple hammer impact.
Here's a quick head-to-head comparison of the Metabo HPT 18V WH18DBDL2 vs 36V WH36DC triple hammer impact drivers:
| | 18V WH18DBDL2 | 36V WH36DC |
| --- | --- | --- |
| Speed | 0-2,900 RPM | 0-3,700 RPM |
| Impacts per Minute | 0-4,000 | 0-4,100 |
| Max Torque | 1,832 in-lbs | 1,903 in-lbs |
| Speed Modes | 4 | 5 |
| Weight (bare) | 2.0 lbs. | 2.0 lbs. |
| Weight (w/battery) | 2.9 lbs. (3.0 Ah 18V) | 3.5 lbs. (2.5 Ah 36V) |
| Price (bare tool) | $129 | $189 |
| Price (kit) | $149 | $299 |
More 36V Triple Hammer Impact Features
We don't see too many impact drivers that showcase a lot of water and dust protection, but the Metabo HPT MultiVolt Triple Hammer Impact Driver has an IP56 rating. No one intentionally drops their cordless tools in a bucket of water but it's one of the features Metabo HPT shows off every chance they get.
LED Light
It's worth noting that Metabo HPT switched from a single LED light on the foot to a tri-beam LED configuration surrounding the collet. It's a design that does a much better job of eliminating shadows. For those times you don't need it, just hit the headlight button next to the mode change to keep it from coming on when you pull the trigger.
Additional Highlights
Metabo HPT 36V Triple Hammer Impact Driver Price
The Metabo HPT MultiVolt Triple Hammer Impact Driver retails for $299 with a pair of 2.5Ah MultiVolt batteries, a single port rapid charger, and a hard shell carrying case. This tool also carries a lifetime tool body warranty and a 2-year battery warranty. Considering what you get for the price, this is one of the better values among premium brands.
WH36DC Bottom Line
The big changes from the first to second-generation Metabo HPT 36V MultiVolt Triple Hammer Impact Driver include better top-end speed and a couple of bolt-specific modes that genuinely make it a better all-around fastening tool. If you're working with bolts frequently or you feel the speed of the first generation is holding you back, it's a worthwhile upgrade and you'll notice the difference.
Metabo HPT MultiVolt Triple Hammer Impact Driver Specifications
Model: Metabo HPT WH36DC
Power source: Metabo HPT 36V MultiVolt battery
No Load Speed: 0-3,700 RPM

Maximum Torque: 1,903 in-lbs

Impact Rate: 0-4,100 BPM
Weight: 2.0 lbs (bare), 3.5 lbs (with 2.5Ah battery)
Length: 4.5 in.
Height: 7.5 in.
Click here to check out the full Metabo HPT lineup!
Metabo HPT 18V Triple Hammer Impact Driver Features
The 18V version of the Metabo HPT Triple Hammer impact driver uses the same three anvils to produce up to 4,000 beats per minute and an impressive 1,832 inch-pounds of torque. Yet that's just the beginning of the promising features of this ¼-inch keyless hex drive tool.
A 4-mode power selector lets you choose top speeds from 900 – 2,900 RPM, which should cover just about any driving application. This drops the max RPM of the more current 36V model, but still gives you lots of speed.
Like the 36V model, and as indicated on the side, the bare tool carries an IP56 rating to resist water and dust. It's got a bright work light, which is pretty standard nowadays. And as some icing on the cake, the hard plastic toolbox has a convenient compartment for fasteners and bits.
18V Model Uses 4 Different Drive Modes
The mode controls are conveniently located on the handle's base. They include power settings (on the side), work light functions, and a battery gauge by the pinky finger.
There are 4 settings to choose from that go beyond simple low to high. Soft mode (low) is for your small diameter screw and bolts, offering lower speed and 3 impacts per rotation. Normal kicks up the speed and power while maintaining the 3 impacts per rotation.
Power mode kicks the power up even more and drops to 1.5 impacts per rotation when under heavy load. That may sound counter-intuitive, but the interval between successive impacts is extended, delivering the power of each strike for a longer period. Sound familiar? That's exactly what Ridgid's powerful Stealth Force does with its lower impact rate!
The 4th mode is specifically for driving self-tapping screws and goes back to the 3 impacts per minute. In short, these four modes offer an incredible level of versatility for a wide range of driving applications.
Metabo HPT Triple Hammer Impact Driver Performance
The team and I find ourselves performing every phase of the carpentry process from new construction to finish work. Over the last decade, the impact driver has become indispensable for this kind of work. I use one every day. The power range of the Metabo HPT Triple Hammer impact driver only amplified its usefulness because it could handle big lag bolts and then drop down to thin trim fasteners.
This thing is powerful! Its compactness really belies the force it can generate. We typically use square-headed screws because they don't strip out as easily as Phillips. Even so, as I acclimated to it, I sheared off a couple of screw heads!
Metabo HPT 18V Triple Hammer Impact Driver Ergonomics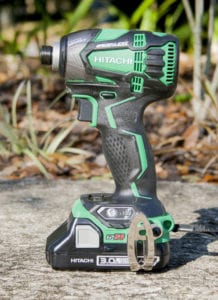 The tool is very comfortable in the hand. Metabo HPT has historically done a great job with handle and balance ergonomics – a trend that is clearly continuing. The variable speed trigger gives you ample control over the drive. It does all this and is quieter than other impact drivers I've used, too, though not as quiet as hydraulic impact drivers.
An additional consequence of the triple hammer mechanism is that there's less vibration reaching your hands. If you've used any of the oil pulse drivers out there, you know they give a harder push to go with their lower impact rate. Metabo HPT's higher impact rate does the opposite as vibration begins to smooth out compared to other models.
18V Triple Hammer Run-time and Battery
Metabo HPT includes a pair of their compact 3.0 amp hour batteries in the kit. Metabo HPT and Hitachi veterans will immediately notice the size difference as the 3.0 was their full-size battery not that long ago. Users that want even more run time can get their hands on Metabo HPT's 6.0 amp hour battery to supplement what comes in the kit or use one of their MultiVolt batteries.
Metabo HPT is one of the few remaining manufacturers to keep the indicator on the tool. It works, but the slight downside means the battery must be inserted into the tool, of course. It's not a deal-breaker by any means, but it is an extra step if you'd like to quickly see a battery's discharge status.
The quick charger is remarkable – it charges the included batteries in 20 minutes! I can use the impact driver heavily for about 4 hours before draining it, so there's ample time for the next battery to be ready to go or even for it to simply charge during lunch.
Additional Features on the Metabo HPT 18V WH18DBDL2
The Metabo HPT Triple Hammer Impact Driver body is well-covered with no-mar rubberized pads which protect the driver in the heavy construction phase and protects floors and countertops in the finish carpentry phase.
Work light modes are an emerging trend in the market and Metabo HPT is on board. Using the controls on the base of the handle, the work light can be constantly on as a flashlight, a work light that only illuminates when you're pulling the trigger (traditional function), or totally off if you're working in bright conditions and want to save some juice. I've pulled the trigger on other tools just to use the light to illuminate dark areas, so I like Metabo HPT's attention to detail on this.
This impact driver is also light enough that using the belt hook doesn't weigh you down too much. I'm not a big fan of the tether but not so much that I've cut it off yet – that's about my only gripe! Still, you need it if you're working at height and I'd rather have it when I need it.
Metabo HPT 18V Triple Hammer Impact Drive Price
With a pair of 1.5Ah batteries and a charger, the 18V Triple Hammer kit runs $149.
There's also a 36V MultiVolt version of this impact driver that has slightly better performance specs. It's $189 as a bare tool, but running the kit with two batteries is actually a little less ($299) at the time we're writing this.
Metabo HPT Triple Hammer Impact Driver Specifications
Model: Metabo HPT WH18DBDL2
Power Source: 18V battery
Batteries Included in Kit: Two 1.5 Ah compact
¼-inch keyless hex drive
Weight: 2.9 lbs
Motor: Brushless
Max Torque: 1,832 inch pounds
Max No Load RPM: 0-2,900
Impact Rate:  0-4,000 BPM
On-board battery indicator
On-board LED work light
Warranty (Tool/Battery): Lifetime/2-Year
Price: $149 (kit)
Which Triple Hammer Do You Prefer?
Thinking that Metabo HPT brought a triple hammer impact mechanism to the market just for the sake of increasing driving speed would sell these tools woefully short. The entire design is excellent from top to bottom. The performance really exceeds our expectations as Pros, and we heartily recommend it.
Which model do you prefer—18V or 36V triple hammer? Let us know in the comments below!