Bosch Daredevil High-Speed Auger Bits Define Efficient Drilling
When we designed the testing methods for a shootout involving the best cordless drills, we reached out to Bosch for some help on the accessories side. A big part of the performance testing boiled down to speed under load and Bosch Daredevil High-Speed Auger Bits were a great choice thanks to their ability to run at high speed on most drills.
Bosch Daredevil High-Speed Auger Bits
These aren't standard ship augers—they're specifically designed to work in cordless drills as a more efficient replacement. The heads are intentionally fashioned to work at high speed whether you're using a heavy-duty cordless drill or a compact one.
One of the things Bosch does is decrease the pitch on the tips. This lets the bit slice away wood more efficiently, leading to as much as twice the holes per charge.
They also reinforce those tips. Not all wood is perfectly clean and sometimes you hit a nail or screw. The reinforcement gives you a fighting chance of surviving the strike and gives each bit up to twice the life of a standard auger bit.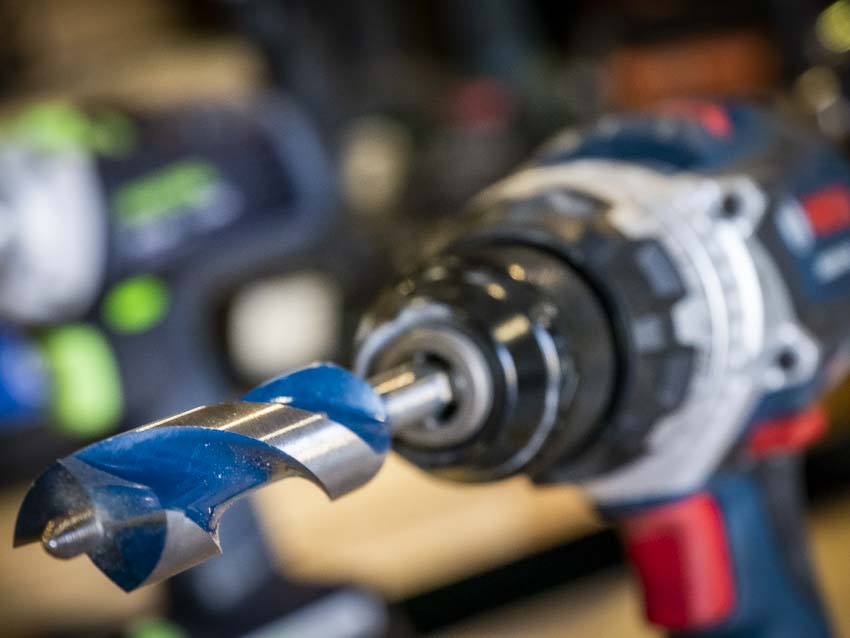 The last bit of strength improvement comes in the form of a fortified spine. With a threaded tip and aggressive high-speed design, it adds some strength to make sure the bit doesn't fail on you mid-drive.
If you're used to working with long ship augers, you may find the Daredevil's 6-1/2″ length odd. What Bosch has in mind here is rough in jobs where you're working between studs. Having the narrow profile of a hole hawg-style right angle drill is great, but many Pros using standard cordless drills with these bit diameters. 6-1/2″ of total bit length plus 8″ of drill still give you plenty of wiggle room between 16″ studs.
Performance
We chose Bosch Daredevil High-Speed Auger Bits for two main reasons. First, the threaded tip lets the motor and the bit do the work so we can focus on controlling each drill without worrying about applying different downforce as we go. On the job, it has the same benefit. Just set the bit for an accurate start and let the tip pull the bit through.
The second reason for our choice is the ability to run at high speed. This is where Bosch's efficiency made us change our methods. The idea was to use twist bits for light load testing and Bosch's auger bits for a moderate load at high speed.
But when we started collecting the data, there was almost no difference in the average RPMs between drilling with 1/2″ twist bits and Bosch's 1″ Daredevil High-Speed Auger Bits. Let that sink in for a second—Bosch drilled holes twice the diameter at the same speed! They drove so efficiently and consistently that we threw out the twist bit test for all the 18V drills and just went with the auger bits.
Needless to say, we're impressed.
Bosch Daredevil High-Speed Auger Bit Sizes and Prices
These Bosch auger bits come in 7 sizes ranging from 1/2″ (the end of your twist bit range) and 1-3/8″ (overlapping into hole saws). All of them are 6-1/2″ long.
1/2″ ($8.99)
5/8″ ($8.99)
3/4″ ($9.99)
7/8″ ($11.99)
1″ ($11.99)
1-1/4″ ($16.99)
1-3/8″ ($19.99)
There's also a 3-piece set that covers 5/8″, 3/4″, and 1″ sizes for $37.99. You could go with less expensive Bosch Daredevil Spade Bits if you like, but these offer a much smoother, cleaner driving experience.
Bosch Daredevil High-Speed Auger Bit Specifications
Flute Length 4.0″
Overall Length 6.5″
Shank Diameter 0.3125″
Shank Size 5/16″ Hex
Sizes: 1/2″ to 1-3/8″