DeWalt 12V Rotary Hammer Makes A Strong Case For Compact Tools
Many Pros tend to make a beeline right to the 18V/20V Max models when looking for new power tools. However, 12V tools can do a lot of the same work and they're getting even more capable with today's technology. The DeWalt 12V Max Xtreme Rotary Hammer is out to prove a point about just how much you can do on a more compact platform.
DeWalt Xtreme 12V Max Rotary Hammer Performance
We took to the shop to get a feel for this rotary hammer while drilling a series of holes in our 4000 PSI concrete test block. The combination of the two handles made it easy to control while drilling with a 3/8-inch masonry bit. This model delivers up to 910 RPM with 4280 BPM and 1.1 Joules of impact energy (0.81 ft-lbs).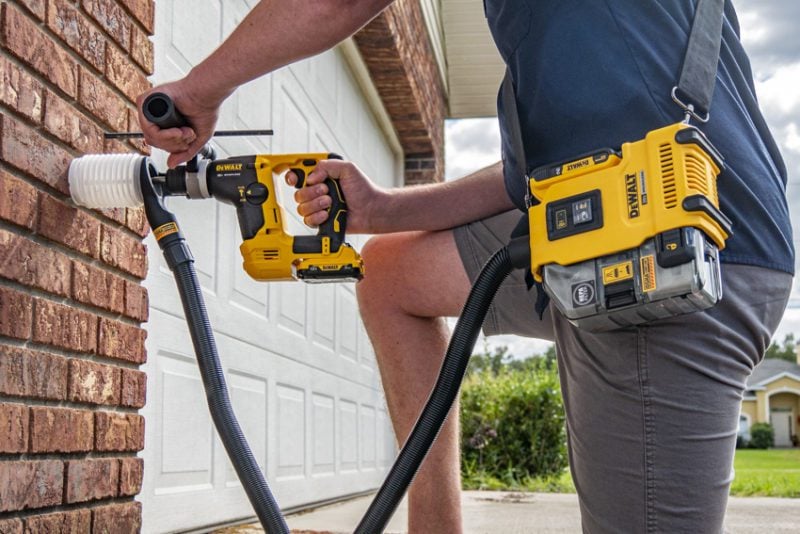 You'll see the DeWalt DCH072 hit its peak performance with SDS-Plus bits between 5/32 and 3/8 inches, making it a great option for lighter duty work. It's rated to a maximum of 9/16-inch bits if you need to go a bit bigger.
When you find yourself needing a little more muscle on the job site, consider the DeWalt 20V Max DCH273 which offers a bump in both capacity and power.
Pro Tip: Why not just use a hammer drill? Rotary hammers have higher impact power and stronger builds. Check out more on the differences in this article.
Table 1 Compliance
When it comes to OSHA Table 1 compliance, combine this rotary hammer with the DWH200D dust shroud to collect concrete dust. It's DeWalt's universal dust extraction kit that works on just about every corded and cordless DeWalt rotary hammer.
For the kind of work we expect to do with this particular model, the DWH161 is an ideal pairing to actively vacuum the dust, even when you're working at height.
DeWalt Xtreme 12V Max Rotary Hammer Design Notes
Size and Weight
The biggest deal surrounding this cordless rotary hammer is how incredibly compact it is. It's small in stature, standing 8 inches tall and measuring a little under 10.5 inches long.
On top of that, it weighs just 4.25 pounds with a 3.0Ah battery.
Even compared to other cordless 9/16-inch hammers, this is as compact and lightweight as it gets. With these figures, tight spaces and overhead work become much easier. For electrical, HVAC, and other trades that primarily use smaller concrete fasteners, it's a great fit.
Mode Selection
A 2-position knob on the side lets you alternate between hammer drill mode and rotary drilling mode. Unlike some other high-powered rotary hammers, DeWalt's 12V rotary hammer doesn't have a dedicated chipping mode for use with SDS Plus chisel bits. That's not a slight against this tool, it's simply not designed for chipping.
Ergonomics
DeWalt's handle designs are usually pretty favorable, and this one is no different. With rotary hammers in general, a comfortable grip is important especially considering the amount of pressure you'll apply during use.
The side handle can rotate into 12 positions around the chuck and locks securely in place on a series of molded stops, similar to the teeth on a cog. This design virtually eliminates any grip movement while you're working.
The main handle has the foundation of DeWalt's drill and driver designs with comfortable contours and a generous serving of comfortable overmold.
Depth Rod
To adjust the depth rod, you need to loosen the handle which releases the rod at the same time. We prefer a separate release. It's not a big deal, but something you should know about before you buy it.
If you're planning to add the universal dust extractor, its depth rod has a push-button release.
Additional Features
Variable Speed Trigger
Integrated LED Light
DeWalt Xtreme 12V Max Rotary Hammer Price
This DeWalt 12V rotary hammer is available for $299 kitted with two 3.0Ah batteries, a charger, and a soft carrying case. It's also available as a bare tool for $179. It carries DeWalt's standard 3-year limited warranty with a 1-year service agreement and 90-day money-back guarantee.
The Bottom Line
If you're on the hunt for a lightweight, compact rotary hammer to handle your smaller concrete fastening jobs, the DeWalt Xtreme 12V Max rotary hammer is for you. While its 12V power source limits its runtime compared to 18V/20V Max models, it's a great solution for overhead or tight space work with impressive performance you might not expect on a 12V platform.
To check out the full DeWalt Xtreme 12V Max lineup, click here.
DeWalt Xtreme 12V Max Rotary Hammer Specifications
Model: DeWalt DCH072
Power Source: DeWalt 12V Battery System
Motor Type: Brushless
Weight: 3.69 lbs (bare), 4.25 lbs (with 12V 3Ah battery)
Impact Power: 1.1 Joules
No Load Speed: 0-910 RPM
Blows Per Minute: 0-4280 BPM
Keyless Chuck
Chuck Type: SDS Plus
Chuck Capacity: 9/16 in.
Length: 10.43 in.
Warranty: 3-Year Limited
Price: $179 (bare), $299 (kit)