The battery-powered blower landscape sure has changed since we did our first head-to-head review several years ago. There are a lot more options and the performance is leaps and bounds ahead. So who makes the best cordless leaf blower in 2023?
That depends on what your specific needs are. We have recommendations for handheld and backpack models covering the highest performance to high value and a lot in between!
Best Cordless Leaf Blower Power
We had blowers from EGO, Ryobi, and Stihl all hitting more than 21 Newtons. But that was then and this is now. EGO's 765 CFM blower is redefining the landscape by producing more than 25 Newtons with its stock 5.0Ah battery. It even touched 26 Newtons using a 10.0Ah battery in our tests. That's legit backpack blower territory! When it comes to handheld models, this is the most powerful cordless leaf blower you can get.
Price: $329.00 with a 5.0Ah battery and charger
If you want to save some money and still have one of the strongest battery-powered leaf blowers available, give EGO's 650 CFM model a look!
Quietest Cordless Leaf Blower
As battery-powered blowers have increased in power, their noise levels have crept up along with it. Reversing that trend, Ryobi's 40V HP Brushless 730 CFM leaf blower crushed it in our Newton force test by hitting 21.7 N. But instead of producing the 85–88 decibels most high-performance blowers do, it's just 72 decibels in high and 76 decibels in Turbo measuring from our operator's ear.
Let's put that in perspective. The SPL (decibel) scale shows that a drop of just 3 decibels is half the sound pressure level. However, a drop of 10 decibels sounds half as loud. For Ryobi, running in Turbo mode hits your unprotected ear with roughly 8x lower SPL and half the perceived loudness. It's incredibly impressive when you're using it side-by-side with other cordless blowers.
Though it's a few decibels louder, the Stihl BGA 200 is another model that's quieter than most.
Price: $229.00 bare, $329.00 with two 4.0Ah batteries and charger
Best Cordless Leaf Blower Vac
Ryobi shook things up with the launch of its 40V HP Brushless blower vac. Other designs have a somewhat awkward side intake method of switching the nozzle around between blowing and vacuuming modes. Ryobi keeps everything in line and eliminates the nozzle switch. Instead, you just attach the bag, flip the impeller from blow to vacuum, and you're on your way.
It's no slouch in the performance department with the brushless motor delivering 600 CFM and 100 MPH. While that is a little low on the airspeed side, it's plenty to handle the blowing and collection of fall leaves that's the primary goal of this design. It's also a solid mulcher, with a metal impeller reducing those leaves down at a 20:1 ratio.
Price: $369.00 bare, $469.00 with two 4.0Ah batteries and a rapid charger
Best Cordless Backpack Leaf Blower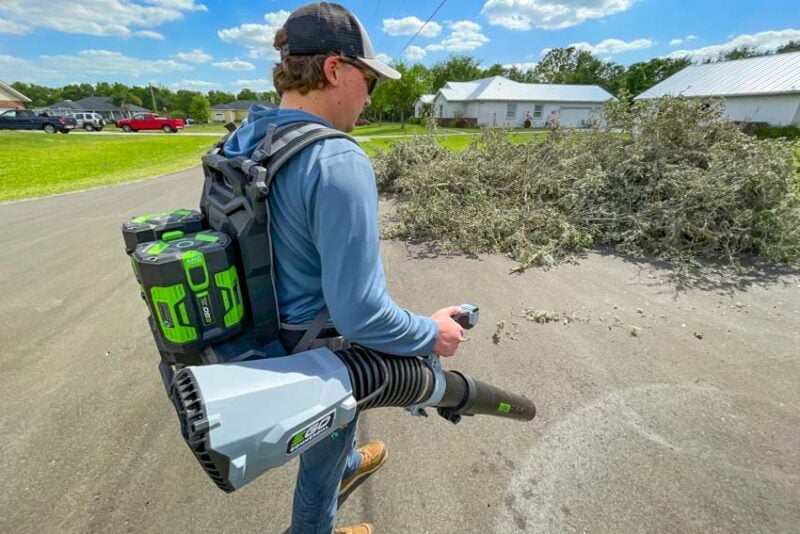 While EGO's 765 CFM leaf blower is the strongest handheld option, the 800 CFM Commercial Backpack Blower is the strongest cordless leaf blower overall. Taking advantage of two batteries to extend the runtime (it can also run on one), it's rated at 26 Newtons. In our tests, it hit 27.9 Newtons, giving EGO the distinction of having the three most powerful battery-powered blowers we've tested.
In addition to its blowing force, EGO also includes a handy digital display on the throttle. You can easily see your battery levels and which mode you're in with just a glance. Combined with a comfortable harness, it's a serious option for Pros who want to move away from gas.
Price: $399.00 bare tool, $699.00 kit with two 6.0Ah batteries and dual-port charger
Best Cordless Leaf Blower For the Money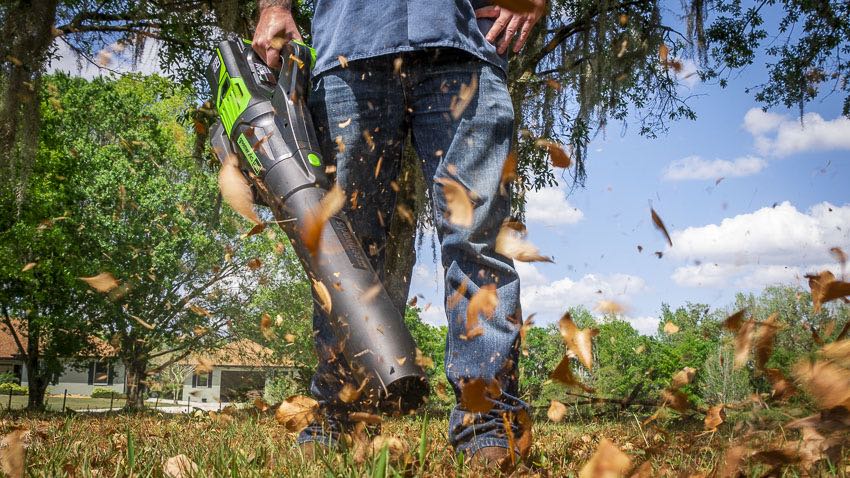 Getting the most bang for your buck doesn't mean dropping completely away from excellent performance. Greenworks' Pro 60V 610 CFM blower offers the best value in our opinion. It pairs a top blower force of 19.7 N with a $199.99 price tag that includes a 2.5Ah battery and charger. While you can find cheaper battery-powered blower kits, you'll have a hard time finding one at that price that pushes this much air.
Price: $199.99 with a 2.5Ah battery and charger
Best Budget Cordless Leaf Blower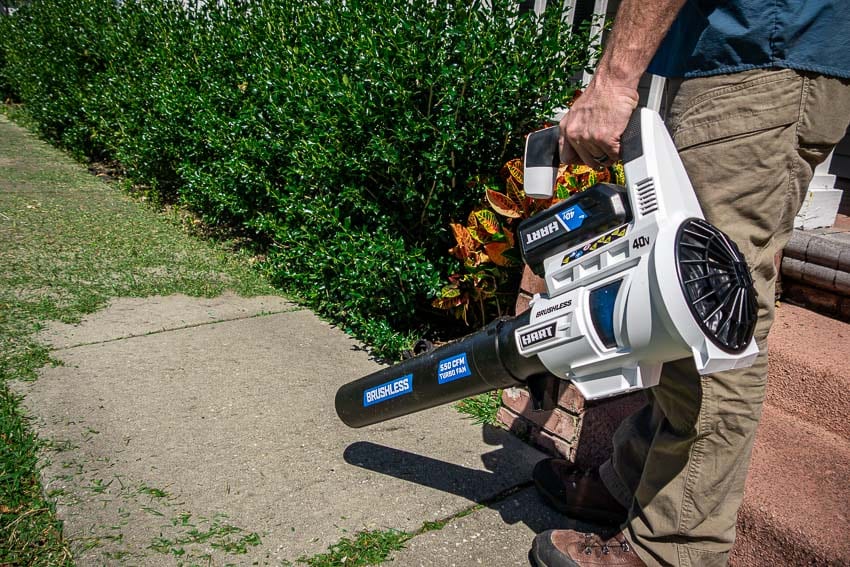 Just because you're on a tighter budget doesn't mean you can't reach solid performance. This year, our pick for the best budget cordless blower goes to HART's HLBL031VNM. Featuring a brushless motor and running on a 40V battery system, it's capable of 550 CFM and 125 MPH. In our tests, it hit 14.0 Newtons, putting close to the maximum we see from gas handheld blowers.
When it launched, the kit was $197.00, but now it's down to $155.00 with everything you need to get started. HART also backs it with a 5-year warranty.
Price: $127.00 bare, $155.00 kit with a 4.0Ah battery and charger
More Recommendations From Brands We Trust
Best DeWalt Battery-Powered Leaf Blower
DeWalt moved to an inline design with the latest version of its FlexVolt blower and packed 600 CFM with 125 MPH into it. In our tests, it hit 17.0 Newtons. The downside is that it's loud—91 decibels at our operator's ear. The pitch of that sound is also somewhat irritating. However, the performance level is legit and beats out what we can get from a gas handheld model. If DeWalt is your brand, the DCBL772 is your best bet.
Price: $229.00 bare, $299.00 with a 3.0Ah battery and charger
Greenworks joins the 700 Club as one of the few battery-powered blowers to reach the 700 CFM rating. As the top-performing handheld leaf blower on Greenworks' Pro 60V line, it's capable of 170 MPH top speed and is one of the elite blowers to hit 20.0 N in our testing.
Price: $179.99 bare, $249.99 with a 5.0Ah battery and charger
Keep your eyes open for a new backpack blower on the 60V line. Greenworks has an 824 CFM/151 MPH dual-battery model that promises to eclipse the performance of the 700 CFM handheld model.
Best Greenworks Commercial Battery-Powered Leaf Blower
Greenworks Commercial targets the professional market and those crews tend to prefer backpack blowers. The Greenworks Commercial 82V backpack leaf blower (82BA26) boasts an impressive 690 CFM and 195 MPH, combing for 26 Newtons. If you're coming from the gas world, that's what you get from the 63cc gas engine class.
If that's still not enough, keep your eyes open. Greenworks Commercial is teasing an upcoming backpack leaf blower that can hit 36 Newtons!
Price: $362.99, $899.99 with two 5.0Ah batteries and a dual-port charger
HART rolled out its SuperCharge line in time for spring and designated its highest-performing lawn care tools with it. Sitting at the top of the line is the 650 CFM brushless blower. Combined with up to 160 MPH of airspeed and hitting a solid 17.1 Newtons in our tests, it's also part of HART's Ultra-Quiet Series. It lets you balance excellent performance while keeping the noise levels down to just 76 decibels at your ear while using Turbo mode.
Price: $238.00 with a 5.0Ah battery and charger
Best Makita Cordless Leaf Blower
We love the Makita XBU03 blower as a lightweight blower for quickly cleaning off hard surfaces. If it's the highest performance you're looking for, though, check out Makita's ConnectX system. Using a 1200Wh backpack battery as an energy source, it tethers to the CBU02 blower and produces up to 670 CFM and 160 MPH. With a top blowing force of 22 Newtons, it's a replacement for a 65cc gas backpack blower. It's part of a Pro-level system aiming to help commercial crews make a seamless transition from gas to battery power.
Price: $699.00 bare
You can pick up the Masterforce 20V brushless 400 CFM leaf blower at Menards. It does a fine job considering it hits up to 100 mph and runs on just a single 20V battery. We find it to be a good fit for smaller lawns that mainly require hard surface cleanup after mowing and light fall leaf collection. If that sounds like your lawn and you're looking for a lightweight alternative to gas or corded leaf blowers, this is for you.
Price: $139.99 with a 4.0Ah FlexPower battery and charger
Milwaukee's leaf blower resume` got a big boost with the launch of the 2824. It boasts 600 CFM and 145 MPH. Using two batteries for power, the brushless motor hit an excellent 18.0 Newtons in our testing—much better than the 11.2 Newtons from the previous model. Dropping the ambidextrous cruise control slider to deliver 12N (the high end of handheld gas blowers), we were able to run continuously for more than 30 minutes. Designed for professionals, this one runs $299.00 as a bare tool.
Price: $299.00 bare tool.
Best Ridgid Battery-Powered Leaf Blower
For the first time ever, we're talking about Ridgid OPE! In its initial launch, Ridgid's cordless leaf blower runs on a single 18V battery and is able to produce up to 510 CFM and 139 MPH. We haven't been able to run a Newton force test yet, but we'll have it in the review once we do.
Until recently, Ridgid's battery line might have been a tough sell for a leaf blower at this level. However, with the 8.0Ah and 12.0Ah Max Output batteries now available, it's a relevant option for those of you with more area to blow.
Price: $189.00 bare, $249.00 with a 6.0Ah Max Output battery and charger
If you're on a tighter budget, check out the Skil PWRCore 40 leaf blower. For $159.00, you get a brushless blower with 500 CFM and 120 MPH top airspeed that hit 12.0 Newtons in our testing. The kit comes with a 2.5Ah battery and PWRJump quick charger. It's a quality option if you're looking make the switch to battery power without maxing out your credit card.
Price: $159.00 with 2.5Ah battery and charger
Making the case for Stihl's premium BGA 200, it hit an impressive 21.3 Newtons with both the AP3000 backpack battery and the 6.3Ah AP300 battery pack. The physical shape looks different than other blowers and it serves a purpose. By angling the nozzle down, the air goes where it needs to while keeping your wrist at a more comfortable angle. Between the performance level and the extended runtime a backpack battery offers, there's little doubt this is one of the best cordless blowers for performance-minded Pros.
Price: $449.99 bare
Toro 60V Max Flex Force Leaf Blower
Toro has quietly produced an excellent line of cordless OPE and their top brushless blower is worth considering. Maxing out at 605 CFM and 157 MPH, it's a significant upgrade in airspeed from the previous model. One thing that's unusual about this model is the front handle. If you want to reduce your overall fatigue, go ahead and use two hands—that's what it's there for.
Price: $299.99 with a 4.0Ah battery and charger
Cordless Blower Buying Guide – What We Look For
Blowing Force
How much blowing force a cordless blower has makes a big difference in how you're going to use it. Some might be great for helping you with fall leaves, others might be good for light sweeping only. Air value (CFM) and airspeed (MPH) are helpful, but the numbers we see on the box are best-case scenario, sometimes with different nozzles.
We measure Newton force to get a single number that describes how much force is actually coming from the blower. At the end of the day, that's the best way to compare the work a blower does.
Runtime
Runtime is another important area to consider. You might have less than 10 minutes of actual trigger time when you clean the driveway and sidewalk after mowing. But your fall leaf management might require 20 or 30. Understanding how much work you have helps you determine whether a blower meets your needs. Most people buy multiple tools that work on the same battery and having extra batteries extends how much work you can get done.
Noise Level
Cordless blowers are quieter than gas models, but that doesn't mean that all of them are quiet. ANSI standards rate blower noise levels from 50 feet away to consider the hearing safety of bystanders. We measure from our operator's ear so you know how much noise you have to deal with as the user.
Weight and Balance
Because most cordless blowers are handheld models, it's good to know how much weight you're going to muscle around. The balance is important, too. A well-balanced blower points down naturally at wide open throttle so you don't have to work as hard to keep the nozzle at the best working angle.
Features and Design
Blowers are fairly simple compared to some of the tools we review. Here are some of the features that make using them easier or improve the performance:
Brushless motor
Cruise control
Turbo mode
Inline design
Multiple nozzles
Shoulder strap
Rapid charger
In addition to the features themselves, we also look for things you might like or dislike while you're using the blower such as uncomfortable seams or better grip.
Value
At Pro Tool Reviews, we know price is important. Most of us have some kind of budget we're working under, but value is more than just an inexpensive price tag. Sometimes, the most expensive option is so far ahead or solves such a big problem that it's also a great value. Other times, one of the best budget picks presents itself as the best value. Often, it's something in between. Wherever it is, we want to help you get the most bang for your buck
Why You Can Trust Pro Tool Reviews
Ever check out a "review" site and you can't tell if they actually tested the tools or if they're just "recommending" the Amazon top sellers? That's not us. We won't recommend anything unless we'd actually use it ourselves and we don't really care who the primary retailer is. It's all about giving you a legitimate recommendation and our honest opinion of each product.
We've been in business since 2008 covering tools, writing reviews, and reporting on industry news in the construction, automotive, and lawn care industries. Our Pro reviewers work in the trades and have the skills and experience to know whether tools can perform well in the field.
Each year, we bring in and review more than 250 individual products. Our team will put our hands on hundreds of additional tools at media events and trade shows throughout the year.
We consult with innovators in the technology and design of tools to gain a broader grasp of where these products fit and how they work.
We work with more than two dozen professional contractors around the United States who review products for us on real job sites and consult with us on testing methods, categories, and weighting.
We'll provide more than 500 pieces of new content this year absolutely free for our readers—including objective evaluations of individual tools and products.
The end result is information you can trust because of the editorial, scientific, and real-world professional experience we collectively utilize each and every time we pick up and test a tool.