What does it feel like to have a hurricane strapped to your shoulders? Donning any of the best backpack leaf blowers will give you a close representation. With air velocity exceeding 200 MPH and CFMs reaching for four digits, these monster air movers make short work of leaves and mower shrapnel.
Lots of manufacturers make leaf blowers. Those include handheld, backpack, 2-stroke, 4-stroke, gas, and battery-powered (AKA electric or cordless). However, when it comes to the backpack blowing beasts, this list narrows pretty quickly. We've spent plenty of trigger time with some of the top performers from high-end Pro to homeowner levels and our recommendations are the ones we're confident will do the job for you.
Want more? Take a look at our best leaf blower recommendations of the year!
Best Backpack Leaf Blower Overview
Also in this Article
Best Gas Backpack Leaf Blower Overall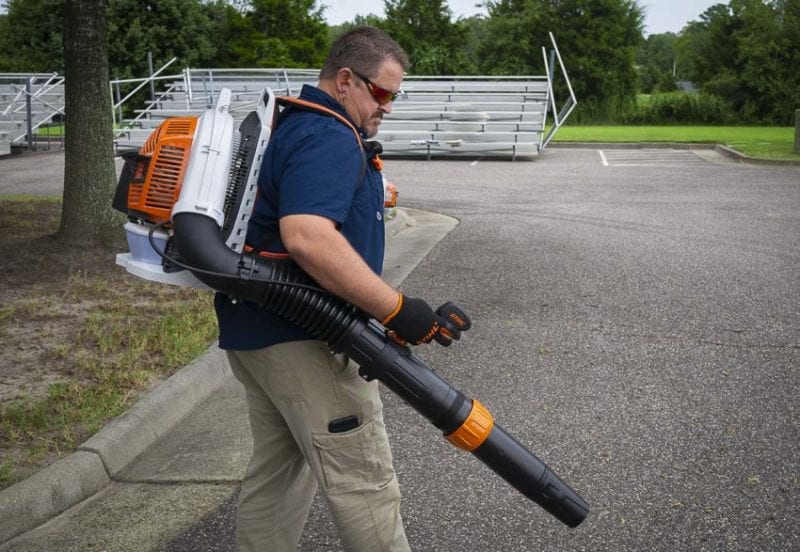 A few years back we ranked the Stihl BR 700 at or near the top of our best backpack leaf blower list. The Stihl BR 800 C-E Magnum backpack blower improves upon that model in two very important ways. First, it blows about 20% harder. In fact, it nets around 41 Newtons of force and blows an impressive 239 MPH of average air velocity with 912 CFM.
You might find the second improvement even more impressive. Stihl integrated the Easy2Start system. Rather than having to take the blower off your back to pull the cord, a quick pull of the side handle overcomes the engine's compression and starts up the blower. Yes, you heard that correctly—you can start the blower while wearing it. Take my money!
And that might be the only downside to this blower. While it starts easy, blows hard, and runs forever on the 2000cc (over 1/2-gallon) fuel tank, it's expensive. Even so, we still think this is the best commercial backpack leaf blower around and it has a large dealer network for service after the sale.
Key Stats
Best For: Professional use
Engine: 79.9 cc
Airspeed: 239 MPH
Airflow: 912 CFM
Blowing Force: 41 Newtons
Noise Rating: 78 decibels
Dry Weight: 25.8 lbs
Price: $699.99
Most Powerful Backpack Leaf Blower
Echo's X-Series equipment boasts tremendous power and the Echo PB9010T is the most powerful backpack blower available. Its max airspeed is 220 MPH with airflow that can hit 1110 CFM using its 79.9cc engine. Echo rates the blower at 48 Newtons, but we actually saw higher numbers in our testing—52 Newtons. No other blower we've tested comes close.
In addition to the "T" model with its tube throttle, there's also an "H" model with a hip-mounted throttle if you prefer.
Key Stats
Best For: Professional use
Engine: 79.9 cc
Airspeed: 220 MPH
Airflow: 1110 CFM
Blowing Force: 48 Newtons
Noise Rating: 80 decibels
Dry Weight: 26.7 lbs
Price: $649.99
Best 4-Stroke Backpack Leaf Blower
Senix BLB4QL-M 4-Stroke Backpack Blower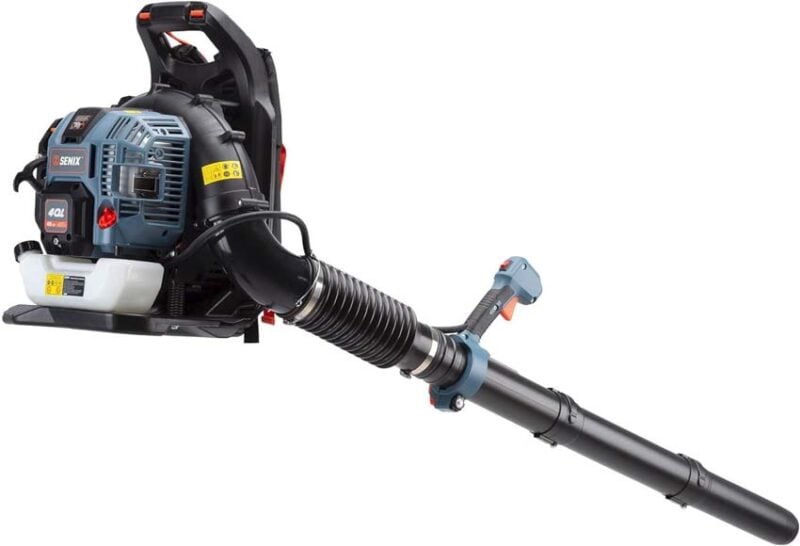 Our top recommendation in the 4-cycle class has been Makita's EB7660TH for a couple of years. However, with Makita phasing out it's gas-powered equipment, they're hard to find. With Pros having limited options available (aside from walk-behind blowers), we turn our attention to the residential sector.
As an emerging player in the residential lawn care market, Senix's 4QL earns our pick as the best 4-stroke backpack leaf blower currently available. Troy-Bilt also has one, but it operates at a lower performance level and has a smaller engine.
Senix's 4QL sports a 49cc engine that can produce up to 18 Newtons of blowing force. For most residential properties, that's fine for both post-mowing cleanup during the summer and leaf management in the fall. With a dry weight under 20 pounds, it's reasonbly lightweight, even for a 4-stoke model, though it's more than 2-stroke models in the same power class.
While it doesn't have the power of Makita's professional MM4 models (and we didn't expect it to), the lower price tag, higher fuel efficiency, lower emissions, and lower vibration make it an attractive option over 2-stroke models.
Key Stats
Best For: Residential use
Engine: 49 cc 4-stroke
Airspeed: 200 MPH
Airflow: 600 CFM
Blowing Force: 18 Newtons
Noise Rating: Not listed
Dry Weight: 19.4 lbs
Price: $299.00
Best Lightweight Backpack Leaf Blower
RedMax EBZ6500RH Backpack Leaf Blower
In finding the best lightweight backpack leaf blower, we didn't want to completely sacrifice performance. Most professional brands have a sub-23-pound dry weight blower that balances the weight and blowing force but drops the blowing force down in the low to mid-20s for Newton force. Our top pick is the Redmax EBZ6500RH.
With 232 MPH and 631 CFM, it's capable of producing an impressive 30 Newtons. At the same time, the dry weight of this model is 22.5 pounds.
A big reason RedMax outperforms its competition for the weight class is its engine selection. Most other Pro brands have something closer to 50cc to drop the weight down, but Redmax's is 65.6cc.
Key Stats
Best For: Professional or Farm and Ranch use
Engine: 65.6 cc
Airspeed: 232 MPH
Airflow: 631 CFM
Blowing Force: 30 Newtons
Noise Rating: ANSI rating not listed, 97.1 decibels measured at the operator's ear
Dry Weight: 22.5 lbs
Price: $509.99
Best Backpack Leaf Blower for the Money
Echo PB-580T Backpack Leaf Blower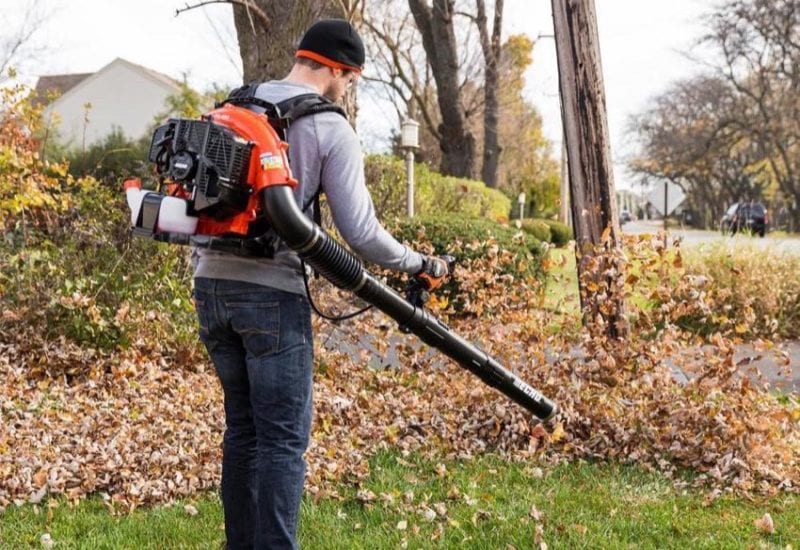 When you're shopping on a budget, the 50cc class is a great place to look. You can typically find a professional-grade blower for less than $400 and get more than 20 Newtons of blowing force from it.
After considering what professional brands offer, we picked the Echo PB-580T as the best backpack leaf blower for the money. Value doesn't always equate to "cheapest", however the Echo PB-580T ends up giving you a lot of bang for your buck.
Its 58.2cc engine is capable of 216 MPH and 517 CFM, combining for blowing force up to 22 Newtons. The dry weight is still reasonable at 22.7 pounds.
With a price tag of $349.99, it's well under the $400 mark. In order to bump the blowing force in the mid-20s, expect to pay more than $400. That's a big jump in price for just a few more Newtons of force.
Key Stats
Best For: Professional or Farm and Ranch use
Engine: 58.2 cc
Airspeed: 216 MPH
Airflow: 517 CFM
Blowing Force: 22 Newtons
Noise Rating: 70 decibels
Dry Weight: 22.7 lbs
Price: $349.99
Best Battery-Powered Backpack Leaf Blower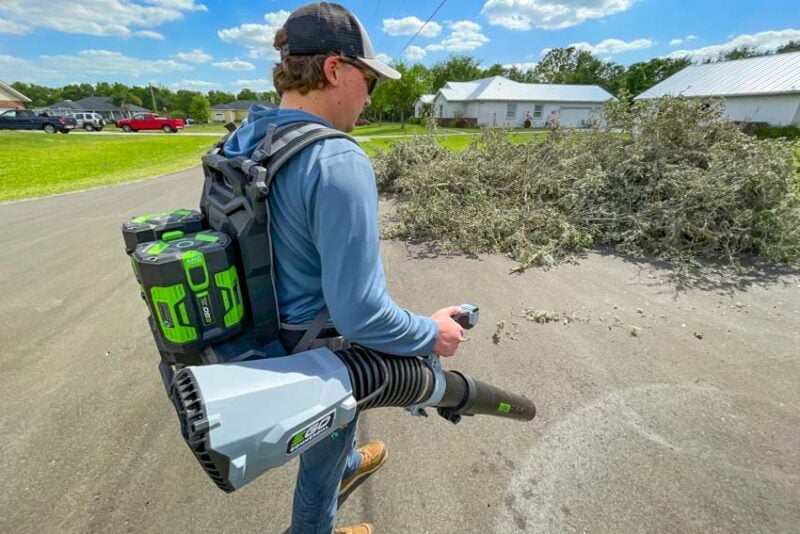 The race for the best battery-powered backpack leaf blower is heating up, big time. Pros now have options from EGO, Greenworks, Husqvarna, Milwaukee, and Stihl, and there are others with models lauching not too far down the road. That doesn't even include residential models from brands such as Ryobi and others.
Among the models currently available, EGO is our top pick with its recent Commercial model. Opting for the same batteries as its residential lawn care tools rather than the backpack battery we saw several years ago, it's a powerful blower. Rated at 26 Newtons, this model hit 27.9 Newtons on our meter.
It's hihgly maneuvable thanks to a design that essentially places an inline blower on a pivot and adds a flexible tube. Convenience features such as the digital display and a comfortable harness design put the icing on the cake.
Key Stats
Best For: Professional use
Motor: Brushless
Airspeed: 190 MPH
Airflow: 800 CFM
Blowing Force: 26 Newtons
Noise Rating: 65 decibels
Dry Weight: 16.3 lbs without batteries
Price: $399 bare, $699 kit with two 6.0Ah batteries, $1299 kit with two 10.0Ah batteries
Thinking about kicking the gas can? See which models made our list of the best cordless leaf blowers!
Best Backpack Leaf Blower for Homeowners
Troy-Bilt TB15BP Backpack Leaf Blower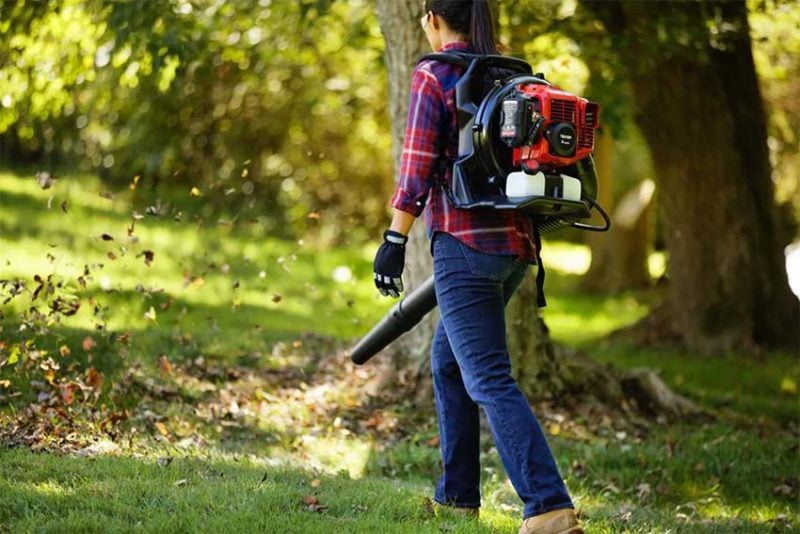 Homeowners' needs are very different from professional lawn care crews or farm and ranch when it comes to leaf blowers. They don't need quite as much power or runtime, giving them the option of lower-cost models.
Most professional brands also make homeowner-level gas backpack blowers with the full backing of their dealer networks. They're excellent tools, but you can get higher performance for a similar price by shopping around.
When you only need to take care of your own property, consider Troy-Bilt's TB15BP as the best backpack leaf blower for homeowners. While other brands are using sub-30cc engines, Troy-Bilt's is 51cc with 220 MPH and 600 CFM performance. The result is a much higher blowing force than some brands provide, while the price is much easier on your wallet.
Key Stats
Best For: Residential use
Engine: 51 cc
Airspeed: 220 MPH
Airflow: 600 CFM
Blowing Force: Not listed
Noise Rating: 75 decibels
Dry Weight: 20.2 lbs
Price: $259.99
Best Backpack Leaf Blower Brand
If you ask a group of professional lawn crew teams who the best backpack leaf blower brand is, prepare yourself for a fistfight between Echo and Stihl loyalists. Both make excellent backpack blowers and they're by far the top two brands we find on professional trailers. Echo tends to lead in performance while Stihl tends to lead in feature development. Stihl also has the advantage of its well-established servicing dealer network.
Best-Selling Backpack Leaf Blowers
As you're shopping, it's always a good use of your time to consider the best-selling backpack blowers. While the most popular models aren't usually the top-performing, they tend to offer an excellent value if you're looking to maximize the bang for your buck.
Best-Selling Backpack Blowers at Acme Tools
EGO Commercial Backpack Blower 10Ah Kit: $1299.00
Echo PB-580T Backpack Blower: $349.99
Stihl BR 800 X Magnum Backpack Blower: $649.99
Best-Selling Backpack Blowers at Home Depot
Echo PB-580T Backpack Blower: $349.00
Ryobi RY38BP Backpack Blower: $259.00
Troy-Bilt TB51BP Backpack Blower: $259.99
Best-Selling Backpack Blowers at Lowe's
Husqvarna 150BT Backpack Blower: $349.00
Craftsman BP510 Backpack Blower: $279.00
EGO Commercial Backpack Blower 6.0Ah Kit: $699.00
Best-Selling Backpack Blowers at Tractor Supply
Husqvarna 150BT Backpack Blower: $349.99
Senix 4QL Backpack Blower: $249.99
Prorun PBB2417 Backpack Blower: $249.99
Best Backpack Blower – More Recommendations From Brands We Trust
Greenworks Commercial 82V Backpack Blower BB361
Announced for late 2023, Greenworks Commercial is looking to turn the battery-powered backpack blower class on its head with a massive 36-Newton blowing force. It's a huge step up from the mid-20's we're seeing right now, and should set a new standard that everyone else will be chasing.
Best For: Professional use
Motor: Brushless
Airspeed: 225 MPH
Airflow: 755 CFM
Blowing Force: 36 Newtons
Noise Rating: <65 decibels in low
Weight: 14.9 lbs bare, 31.9 lbs with batteries
Price: $449.99 bare, $1299.99 with two 8.0Ah batteries and a dual-port charger
HART 40V Brushless Backpack Blower HLBL041VNM
HART has just one backpack blower. If you're on the 40V system (or looking to buy into it), it uses up to two of those batteries to offer increased performance and longer runtimes.
Best For: Residential use
Motor: Brushless
Airspeed: 145 MPH
Airflow: 625 CFM
Blowing Force: Not listed
Noise Rating: 59 decibels in low
Weight: 21.8 lbs with battery
Husqvarna 580BTS Backpack Blower
While Husqvarna's BT150 is undoubtably the most popular model in the line, professional crews looking for a high-powered alternative to Stihl or Echo should take a close look at the 580BTS. Its strong 47-Newton blowing force is near the top of the charts while offering a low-vibration design with a comfortable harness and generous fuel capacity.
Best For: Professional use
Engine: 75.1 cc
Airspeed: 220 MPH
Airflow: 1000 CFM
Blowing Force: 47 Newtons
Noise Rating: 79 decibels in low
Dry Weight: 26.8 lbs
Price: $639.99
Milwaukee is pushing its leaf blower category forward with its first backpack model. Requiring two batteries for operation and sporting four active ports, the kit comes with four 12.0Ah High Output batteries that help the brushless motor deliver up to 155 MPH and 650 CFM. While there's no Newton force rating, Milwaukee tells us it matches up the performance of a 60cc gas model.
Best For: Professional use
Motor: Brushless
Airspeed: 155 MPH
Airflow: 650 CFM
Blowing Force: Not listed
Noise Rating: 62 decibels
Weight: Not listed
Price: $499 bare, $1499 kit with four 12.0Ah batteries and a charger
RedMax EBZ8560/EZ8560-RH Backpack Blower
RedMax doesn't get as much love as other brands in the gas sector, but Pro's should consider the 47-Newton blowing force of the EBZ8560. One thing to note is the blower's generous 77.8-ounce fuel tank. If the numbers look familiar, it shouldn't be a surprise. RedMax is a member of the Husqvarna group.
Best For: Professional use
Engine: 75.6 cc
Airspeed: 220 MPH
Airflow: 1000 CFM
Blowing Force: 47 Newtons
Noise Rating: Not ANSI rated, 106 decibels at operator's ear
Dry Weight: 25.4 lbs
Price: $649.99
Ryobi RY38BP Backpack Blower
Ryobi's main focus is on battery-powered outdoor power equipment rather than gas, but they do have a high-value gas backpack blower worth considering. It has a 38 cc engine capable of 175 MPH and 760 CFM with a sub-$300 price tag that makes it a compelling option for residential and small farm use.
Best For: Residential use
Engine: 38 cc
Airspeed: 175 MPH
Airflow: 760 CFM
Blowing Force: Not listed
Noise Rating: 75.5 decibels
Dry Weight: 20.2 lbs
Price: $259
Shindaiwa EB910/EB910RT
If you have a Shindaiwa dealer in your vicinity, give the EB910 a look. Boasting a massive 1110 CFM and 20 MPH from its 79.9 cc engine, it matches brand group cousin Echo with a 48-Newton blowing force. Plus, the fuel tank is even bigger than RedMax's at nearly 84 ounces.
Best For: Professional use
Engine: 79.9 cc
Airspeed: 220 MPH
Airflow: 1110 CFM
Blowing Force: 48 Newtons
Noise Rating: 80 decibels
Dry Weight: 26.7 lbs
Price: $649.99
Best Backpack Leaf Blower Buying Guide – What We Look For
Why Buy a Backpack Blower?
The advantages of a backpack blower are typically higher performance and longer runtime per tank. For gas models, they can have much larger engines than handheld blowers and generate that higher performance. That adds more weight and higher fuel consumption, so we see the shift to a backpack harness to deal with it the extra weight and larger fuel tanks.
The size property that's appropriate to this type of blower varies on how much blowing you need to do. An acre lot with no trees has different needs than one with many trees. In general, though, an acre is a good starting point to consider buying a backpack blower if you're a homeowner.
Professional crews, on the other hand, rely on high blowing force to quickly clean up before they're off to the next property, and the size of properties they hit in a day can vary widely. Because of that, they nearly always use backpack blowers rather than handheld.
Performance
Most people turn to backpack blowers for higher performance and that's the highest priority for us as well. Large MPH and CFM numbers are great, but it's Newton Force that tells a more complete story. Check out this article for a discussion on airspeed, air volume, and blowing force.
Runtime and Fuel Efficiency
Fuel efficiency directly affects your bottom line and it's an important part of the equation. But so is work efficiency. Look for the best balance between fuel efficiency and runtime. The more often your crew has to stop and fill and tank, the more time you're spending on your properties. A larger fuel tank combined with an efficient engine keeps your team more productive.
Weight and Padding
When you have a blower strapped to your back, padded straps make difference, and the longer you have to wear the blower, the more the weight comes into play. It's not just the weight of the blower, though. High-volume gas tanks offer longer runtime, but more fuel weight.
Look for a harness design that includes a hip strap to take the strain off your back and has padding to avoid pressure points during use. Models that maintain a gap between the your back and the rear plate promote airflow to keep you cooler, and some even actively push air through.
Noise Levels
When using a backpack blower—mind your ears! No matter how you slice it, gas-powered leaf blowers are loud! ANSI testing requires measurements from 50 feet, but you're not a bystander and the noise at your ear level is much higher—more than 100 decibels in most cases. In other words, you need hearing protection.
The exception is battery-powered models. Some are able to keep the noise level below OSHA's threshold for hearing protection. In addition to the lower overall noise, it also lets you hear more of what's going on around you.
Note on OSHA Exposure Limits for Sound Levels
OSHA allows a permissible exposure limit (PEL) of 90 dB (A-weighted) for an 8-hour workday. After that, the OSHA standard has a 5 dB "exchange rate". What that means is that when the noise levels increase by 5 dB, the amount of time a person OSHA allows for exposure divides by two. Using this calculation, at 100 dB SPL you could only work for two hours without hearing protection. If you're going to work with the same blower for 8 hours, you need to wear hearing protection with an NRR rating of at least 10.
Value
Value is all about getting the best backpack leaf blower that fits your budget, not just the cheapest you can get your hands on. When you consider a blower's value, weigh what you get against the price with your highest priorities as the most important.
Got $400 to spend and value performance? Look for the highest Newton force that fits your budget. More concerned about weight? Start there.
Features to Look For
What we've talked about so far takes care of the meat and potatoes. Now let's shift gears to what makes for a better operator experience. Here are some of the key features we look for:
Harness design that actively pulls air across your back to cool you down
Hip straps that shift the weight of the blower away from your shoulders
Chest strap
Effective padding
Reduced emission engine design
Reduced vibration design
Throttle lock on/cruise control
Side recoil start (the Stihl BR 800 Magnum C-E is the only blower we've tested with this feature)
Hip and tube throttle options
Why You Can Trust Pro Tool Reviews
Ever check out a "review" site and you can't tell if they actually tested the tools or if they're just "recommending" the Amazon top sellers?
That's not us. We only recommend what we'd actually use, even if we don't earn a commission from it. It's all about giving you a legitimate recommendation and our honest opinion of each product.
We've been in business since 2008 covering tools, writing reviews, and reporting on industry news in the construction, automotive, and lawn care industries. Our Pro reviewers work in the trades and have the skills and experience to know whether tools can perform well in the field.
Each year, we bring in and review more than 250 individual products. Our team will put our hands on hundreds of additional tools at media events and trade shows throughout the year.
We consult with innovators in the technology and design of tools to gain a broader grasp of where these products fit and how they work.
We work with more than two dozen professional contractors around the United States who review products for us on real job sites and consult with us on testing methods, categories, and weighting.
We'll provide more than 500 pieces of new content this year absolutely free for our readers—including objective evaluations of individual tools and products.
The end result is information you can trust because of the editorial, scientific, and real-world professional experience we collectively utilize each and every time we pick up and test a tool.