Even though it's still sweltering outside, it's time to look forward to fall with its gorgeous leaf colors and the eventual loss of leaves that precede the first snowfall. In determining the best leaf blower options of the year, we pulled together the top backpack, cordless, and even electric models to help you decide what's the top choice for the property you're maintaining.
Want even more? Be sure to click on the headlines to dive deeper into our recommendations or get more info on specific models.
Our Top Picks for the Best Leaf Blowers in 2023
Why Buy a Leaf Blower?
If you take care of your own property or you run a commercial lawn care/landscaping business, you likely need a leaf blower. They serve two primary functions. In the fall, they help move leaves into a common area to collect. From spring through the fall, they help blow grass clippings off of hard surfaces to give you a nice, clean finish.
There's a third function that not everyone knows about—snow blowing. In the winter, you can easily move soft snowfall off of hard surfaces and vehicles with a leaf blower. High-end battery-powered models are particularly effective at this. On the other hand, gas models aren't as easy to get motivated when it's freezing outside, so pick your battles.
How Much Does a Leaf Blower Cost?
Leaf blowers vary widely in cost. Models we recommend can be well under $100 for a corded model while commercial-grade battery-powered models can be as much as $3000 when you factor in the cost of batteries and a charger.
If you're a homeowner, plan to spend $80 – $150 for a good corded blower.
If you want to go with a battery-powered option, quality models start around $130 for low-powered models and can run over $300 for the top performers.
Entry-level gas-powered models start around $100 and can be close to $500 for a backpack blower designed for large properties.
For Pros, it's understandably a different ballgame with the higher-quality components and construction those models require for the longer hours they have to work. Most professional crews use gas, where handheld models start around $300 and top-end backpack styles can creep up near $700.
For cordless options, we've seen them as low as $300 with a battery and charger and run nearly $3000 for a high-end backpack blower with a high-capacity battery.
Launched way back in 2018, Stihl's BR 800 C-E Magnum is still the best bapckack blower by our crew's measure. While it's not the strongest on the market today, it's still the most powerful in Stihl's lineup. It's capable of producing 239 MPH airspeed with 912 CFM for velocity. The more important number is its 41 Newton rating for overall blowing force.
It's not just about power, though. This built-in-America backpack blower uses a side-mounted pull start that sets it apart. Rather than starting the blower and then putting it on, you can get settled first, and start the BR 800 X Magnum once you're ready to get blowing. When it comes to professional-grade gas leaf blowers, it doesn't get much more convenient.
Best For: High-performance professional use
Max Airflow: 912 CFM
Max Air Speed: 239 MPH
Blowing Force: 41 Newtons
Price: $699.99
Best Cordless Battery-Powered Backpack Leaf Blower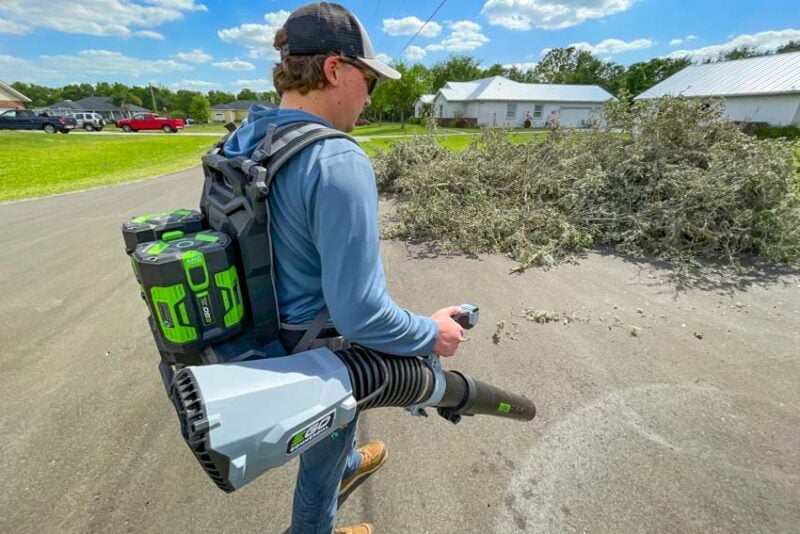 EGO has been pushing the benchmark higher for battery-powered lawn care equipment since it launched. Having erased excuses in the residential market, the EGO Commercial Backpack Blower is tackling professional needs.
Rated at 26 Newtons with 800 CFM and 219 MPH, it registered 27.9 Newtons in our tests, easily becoming the most powerful cordless blower we've tested. Combined with a comfortable harness design, an innovative digital control system, and the runtime of two batteries, EGO's LBPX8000 earns two thumbs up from our team as the best cordless backpack leaf blower.
Best For: Cordless high-performance professional use
Max Airflow: 800 CFM
Max Air Speed: 219 MPH
Blowing Force: 27.9 Newtons
Price: $399.00 bare tool, $699.00 kit with two 6.0Ah batteries and dual-port charger
Strongest Leaf Blower
If it's the highest blowing force you're after, take a look at Echo's PB-9010 and PB-9010T. Earning our pick as the strongest leaf blower, this model is rated at 48 Newtons and it left our force meter begging for mercy by pinging a beastly 52 Newtons!
As for the other stats, you're looking at 220 MPH for airspeed and an incredible 1110 CFM… just in case you're trying to reverse the spin of the earth.
Best For: High-performance professional use
Max Airflow: 1110 CFM
Max Air Speed: 220 MPH
Blowing Force: 52 Newtons
Price: $629.99
Quietest Leaf Blower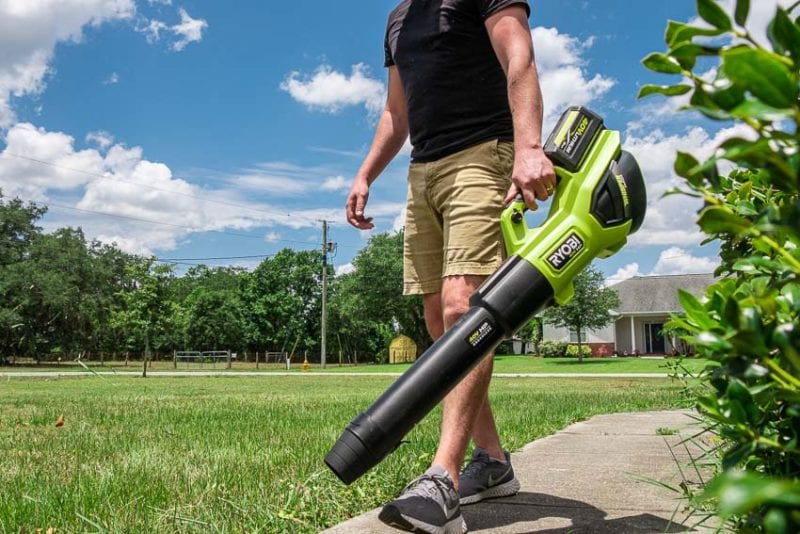 If low noise and high performance are big priorities for you, Ryobi's 40V HP Brushless Whisper Series blower produces up to 730 CFM and 190 MPH. While it's not quite as strong as EGO's, we hit 21.7 Newtons in our testing, crushing the 15-Newton max you see from handheld gas models.
Adding to its appeal, Ryobi's design team did a ton of work to reduce the overall noise level. At full blast, we measured just 76 decibels at our operator's ear. Even compared to less-powerful cordless blowers, it's noticeably quieter.
Best For: High-performance homeowner use
Max Airflow: 730 CFM
Max Air Speed: 190 MPH
Blowing Force: 21.7 Newtons
Price: $229.00 bare, $329.00 with two 4.0Ah batteries and a charger
Stihl BG C-E
Turning our attention to handheld models, the best gas leaf blower is Stihl's BG C-E. This unit is built in America and uses a 27.2cc engine to reach up to 190 MPH and 365 CFM. With a total blowing force of 15 Newtons, it's as strong as you can hope for on a gas handheld unit.
Making the blower more convenient, Stihl includes its Easy2Start system that requires less pull effort to crank the engine and a vibration-reducing design that reduces overall fatigue.
Best For: Professional use where a backpack blower is unnecessary
Max Airflow: 365 CFM
Max Air Speed: 190 MPH
Blowing Force: 15 Newtons
Price: $309.00
If you're looking for the most powerful cordless leaf blower, go for EGO's 765 CFM model. Using a 5.0Ah battery, it hit 25.3 Newton on our meter. Stepping up to a 10.0Ah battery, it hit 26.1 Newtons!
Of course, you can get even more with EGO's Commercial backpack blower, so no matter which style you're looking for, EGO has the highest performance.
Best For: High-performance homeowner use
Max Airflow: 765 CFM
Max Air Speed: 200 MPH
Blowing Force: 26.1 Newtons
Price: $249.00 bare tool, $329.00 with a 5.0Ah battery and charger, and $499.00 with two 5.0Ah batteries and charger
Best Corded Electric Leaf Blower
Toro F700
120V AC continues to be a viable power source for some lawn equipment thanks to the low cost of the products you can buy. Of those, the best corded leaf blower is Toro's F700. It's capable of producing 725 CFM with 140 MPH airspeeds. With its 12-amp motor, you don't have to worry about popping breakers. Plus, it weighs just 6.6 pounds for those of you concerned about weight. Perhaps best of all, you can get your hands on this model for around $80.
Best For: Homeowners with small to medium-size lawns
Max Airflow: 725 CFM
Max Air Speed: 140 MPH
Blowing Force: Not rated
Price: $79.99
Best Walk-Behind Leaf Blower
Billy Goat F602X Walk-Behind
When you need a leaf blower with Beast Mode, you need a walk-behind model. Rolling on wheels instead of carrying it in your hand or on your back, you can get away with a bigger engine and heavier design. If that's what you're after, Billy Goat makes the best walk-behind leaf blowers. From push models to self-propelled (they even have stand-on models), the range covers just about any situation.
If you'd like to narrow it down, we like the Billy Goat F602X as a balance of performance and price. While it's more expensive than the popular Champion 200947, Billy Goat uses a Briggs & Stratton 950 XR Professional Series engine, giving it a longer-lasting power plant. Reasonably light for its class at 83 pounds, Billy Goat gets 200 MPH and 1150 CFM from this build.
Best For: High-performance professional use on large areas
Max Airflow: 1150 CFM
Max Air Speed: 200 MPH
Blowing Force: Not rated
Price: $975.00
Best Leaf Blower Vacuum
In earning our selection as the best leaf blower vacuum, Ryobi did a lot of things right to put other cordless and gas competitors in its rearview mirror. It starts with performance. With 600 CFM and 100 MPH, it measured 16.7 Newtons on our meter, eclipsing the 15 Newetons of Stihl's SH 86 C-E and other gas models.
Then there's the design. Convertible blower vacs often rely on awkward bag and nozzle configurations. However, Ryobi kept the whole thing in line by creating a system that actually flips the impeller around to change the airflow direction. It's much easier to use than systems that have bags or nozzles sticking out at a 90° angle to make it work.
Best For: Homeowners who want leaf blowing, collection, and mulching in one tool
Max Airflow: 600 CFM
Max Air Speed: 100 MPH
Blowing Force: 16.7 Newtons
Price: $369.00 bare, $469.00 with two 4.0Ah batteries and a charger
Best Leaf Blower for the Money
Echo PB-2520
With Echo's PB-2520, you get a professional-grade built-in-America handheld blower for just $169.00—well under the price of Stihl's BG 86 C-E which was our top pick. Its 25.4cc engine cranks out 453 CFM and 170 MPH, actually beating out Stihl in overall blowing force with 15.8 Newtons. It may not have as many comfort and ease-of-use features as Stihl, but it's a hardworking, reliable model you can count on.
Best For: Professionals who want the highest performance in a handheld blower
Max Airflow: 435 CFM
Max Air Speed: 170 MPH
Blowing Force: 15.8
Price: $169.00
Best Leaf Blower – More Options from Brands We Trust
Most of DeWalt's leaf blower run on either the 60V Max or 20V Max battery systems, although there is one corded model in the lineup along with an attachment system option. Without a doubt, the DCBL772 is the highest-performing model and uses the 60V Max FlexVolt battery for higher power and runtime. Its 600 CFM and 125 MPH levels combined to hit 17.0 Newtons in our testing.
While that beats out handheld gas units, its 91 decibels at the operator's ear are higher than most of the competition. The pitch is also higher than other, which irritated some of our testers.
Best For: Cordless mid-range professional and homeowner use
Max Airflow: 600 CFM
Max Air Speed: 125 MPH
Blowing Force: 17.0 Newtons
Price: $219.00 bare, $299.00 kit with a 3.0Ah battery and charger
All of your Greenworks leaf blower options are cordless, but there's still a decision to make when it comes to the battery system you want to use. In our opinion, the 40V line is great for homeowners with smaller lawns, but the 60V system is the best balance of performance and price.
On the 60V platform, our favorite Greenworks leaf blower is the BL60L512. Boasting 700 CFM and 170 MPH, this model hit right at 20.0 Newtons in our testing, putting it in the elite 20+ Newton class.
We spotted this model on sale with a 5.0Ah battery and charger for $229.99 on Greenworks' website, making it a great value in the high-performance cordless class.
Best For: High-performance homeowner use
Max Airflow: 700 CFM
Max Air Speed: 170 MPH
Blowing Force: 20.0 Newtons
Price: $179.00 bare, $299.00 kit with a 5.0Ah battery and charger
HART has taken over the tool and cordless outdoor power equipment sections at Walmart. As a brand 100% focused on battery-powered lawn care, you have several options when it comes to a cordless blower. For the best performance, look to the Supercharge line on HART's 40V system.
There, you'll find the HLBL071VNM with 650 CFM and 160 MPH that produced 16.3 Newtons in our tests. As part of the Ultra Quiet line, it's also remarkably quiet, with only Ryobi's 700 CFM Whisper Series model testing at a lower noise level.
Best For: Mid-range homeowner use
Max Airflow: 650 CFM
Max Air Speed: 160 MPH
Blowing Force: 16.3 Newtons
Price: $268.00 with a 5.0Ah battery and charger
Best Husqvarna Leaf Blower
Husqvarna covers the needs of Pros and homeowners with leaf blowers that use gas engines or battery power. The problem is, we're torn between three models as to which one is the best.
For the property owner with a lot of space to clear, the 30-Newton 360 BT backpack blower is a fantastic value with its current sale price of $383.99.
Then there's the class-leading 350iB Leaf Blaster cordless handheld blower that boasts a monster 800 CFM and hits 23 Newtons.
But it's the professional-grade Mark III 580BTS backpack blower that comes out on top. With airflow delivery at 1000 CFM and 220 MPH, it's capable of producing 47 Newtons of blowing force and makes it a worthy competitor against Stihl and Echo.
Best For: High-performance professional use
Max Airflow: 1000 CFM
Max Air Speed: 220 MPH
Blowing Force: 47 Newtons
Price: $639.99
Best Makita Leaf Blower
Makita covers corded, cordless, and gas-powered blowers, though we understand they have plans to exit the gas OPE sector. While they're available, Makita's 4-stroke backpack blower is still worth taking a look at.
Looking toward Makita's gas-free future, it's the ConnectX line that we turn to for Pro-focused performance. When you attach the 1200Wh ConnectX power supply to the unit, this backpack blower can deliver up to 670 CFM, 160 MPH and 22 Newtons of blowing force.
Best For: Cordless high-performance professional use
Max Airflow: 670 CFM
Max Air Speed: 160 MPH
Blowing Force: 22 Newtons
Price: $749.00 bare tool, $1379.00 battery
Milwaukee stepped up its cordless blower game with the release of the M18 Fuel Dual Battery Leaf Blower (model 2824). Using two M18 batteries to increase the overall performance, it's capable of producing 600 CFM and 145 MPH. The combination registered a stable 18.0 Newtons in our testing, marking a big improvement from Milwaukee's previous blowers.
Best For: Cordless mid-range professional use
Max Airflow: 600 CFM
Max Air Speed: 145 MPH
Blowing Force: 18.0 Newtons
Price: $299.00 bare tool
Ridgid is a newcomer to the lawn care sector and long-time fans of its high-value 18V battery system are welcoming the new tools with open arms. For its first-generation dedicated leaf blower (there have been several jobsite blowers), its 510 CFM/130 MPH performance hit 12.8 Newtons on our meter. While that doesn't put it in contention with the eye-popping numbers some brands have, it does exceed what you can get from gas homeowner-level handheld blowers and gets Ridgid off to a good start.
Best For: Homeowner use
Max Airflow: 510 CFM
Max Air Speed: 130 MPH
Blowing Force: 12.8 Newtons
Price: $189.00 bare, $249.00 kit with a 6.0Ah battery and charger
Best Toro Leaf Blower
Featuring a unique front handle that encourages two-handed use, Toro's 51822 60V Max Leaf Blower is a nice step up from the initial models that came out for the line. Delivering up to 605 CFM and 157 MPH, it's a solid performer that won't leave you wishing you'd stuck with gas.
Best For: Mid-range homeowner use
Max Airflow: 605 CFM
Max Air Speed: 157 MPH
Blowing Force: Not rated
Price: $299.99 kit with a 4.0Ah battery and charger
Leaf Blower Buying Guide – What We Look For
Gas, Battery, or Electric?
Choosing a power source is a big part of your blower-buying journey. Here's a breakdown of the pros and cons of each power source:
Gas
Pros
Low to mid-range cost
Most powerful backpack and walk-behind models
Easy to find service and repair shops
Cons
Loudest and often requires hearing protection
Produces emissions
You have to mix gas and oil
Requires regular maintenance
Often requires service if it sits for a season
Some areas restrict or prohibit use
Battery-Powered
Pros
Most powerful handheld models
Quieter operation, typically below 85 decibels at the operator's ear.
No direct emissions during use
No fuel to mix
Little to no maintenance is required
Can sit for a long time and start right up with a charged battery
No restrictions on use
Cons
More expensive than equivalent gas or corded models
Batteries take longer to recharge than filling a gas tank
Difficult to find nearby service/repair centers if needed
Corded Electric
Pros
Quiet operation
No fuel to mix
Unlimited runtime
No direct emissions during use
Lighter than most gas and cordless models
Little to no required maintenance
Most affordable
Can sit for a long time and start right up
No restrictions on user
Cons
Not as powerful as gas or cordless models
You have to have an AC power source and drag a cord around
Typically treated as a throw-away item rather than repaired
Noise
Leaf blowers and noise complaints have come to the forefront of OPE conversation recently. In all seriousness, I'm listening to our neighbor's lawn guy using a backpack blower as I'm writing this. Talk about irony!
Whether you're for or against gas blowers, there's no denying they produce significantly more noise than their electric and battery-powered counterparts.
ANSI regulates that you test noise from 50 feet, focusing on bystanders. We test at the operator's ear. Most cordless and electric models produce less than 90 decibels, and a good chunk of them are under 85 decibels—OSHA's threshold for hearing protection. On the other hand, gas blowers are typically well over 90 decibels, and powerful backpack or walk-behind models can be over 100 decibels.
The point is, the power source you choose for your blower has a significant effect on how much noise you're going to produce.
CFM, MPH, and Newton Force
Leaf blower have three forms of performance measurement for you to consider. Almost all brands rate CFM and MPH. More recently, Newtons are becoming a standard measurement, and that's a good thing.
CFM measures airflow. The higher the measurement, the better you're able to keep debris that's in motion moving.
MPH measures airspeed. The higher the value, the heavier an object you can move with your blower.
Both numbers are important because they give you an idea of a blower's ability to get clutter moving and keep it going. However, it's Newton force that's the most important number when you're comparing overall blowing force. There's no easy equation because things such as temperature and humidity affect it. The best way is to measure it with a force meter, which is how we test.
Learn more about the relationship between CFM, MPH, and Newton force here.
Weight, Balance, and Comfort
Weight plays a big role in how fatiguing it is to use a blower. In general, the lighter the better. That said, a well-balanced blower that weighs a little more is better than one that's off-balance. For handheld blowers, look for models that naturally balance downward 5 – 8 feet in front of you, including a battery or gas and oil.
Comfort is another consideration. For handheld blowers, it's primarily about the handle design. Look for handles that fit naturally in your hand and avoid any seams that are rough against your skin.
For backpack blowers, it's all about the harness. Look for models with plenty of padding around your shoulders and hips. You want enough adjustment in the straps to fit everyone on your crew. The hip strap should be substantial enough to move the weight of the blower to your hips without creating pressure points. A chest strap is also useful to keep the shoulder straps from moving much.
The other piece of the comfort puzzle is your back. Look for a harness that has a gap so air can flow and help cool you down. Some models even have active cooling that forces air across your back.
Price and Value
If you're like us, you have a budget when you're shopping and you want the best leaf blower you can get for the money you're willing to spend. In our opinion, it's not just about performance. However, your priorities may be different than ours. So take a look at the list below and decide which characteristics are the most important to you as you shop.
Performance (CFM, MPH, and Newtons)
Runtime/fuel tank size
Power source (gas, battery, or electric)
Weight and balance
Comfort
Noise level
Convenience/ease-of-use
Maintenance requirements
Commercial or residential build quality
Storage space
Retailer availability
Serviceability
Warranty
Why You Can Trust Pro Tool Reviews
Ever check out a "review" site and you can't tell if they actually tested the tools or if they're just "recommending" the Amazon top sellers? That's not us. We won't recommend anything unless we'd actually use it ourselves and we don't really care who the primary retailer is. It's all about giving you a legitimate recommendation and our honest opinion of each product.
We've been in business since 2008 covering tools, writing reviews, and reporting on industry news in the construction, automotive, and lawn care industries. Our Pro reviewers work in the trades and have the skills and experience to know whether tools can perform well in the field.
Each year, we bring in and review more than 250 individual products. Our team will put our hands on hundreds of additional tools at media events and trade shows throughout the year.
We consult with innovators in the technology and design of tools to gain a broader grasp of where these products fit and how they work.
We work with more than two dozen professional contractors around the United States who review products for us on real job sites and consult with us on testing methods, categories, and weighting.
We'll provide more than 500 pieces of new content this year absolutely free for our readers—including objective evaluations of individual tools and products.
The end result is information you can trust because of the editorial, scientific, and real-world professional experience we collectively utilize each and every time we pick up and test a tool.