Easily Remove Pesky Leaves And Debris With The New Ridgid 18V Leaf Blower
A few years back Ridgid brought out an 18V Jobsite Blower that primarily focused on clearing away loose sawdust, woodchips, and other small debris. However, its relatively low CFM isn't very effective at removing yard debris and seasonal leaves. Today we're taking a closer look at the Ridgid Leaf Blower which is part of their first-ever 18V Outdoor Power Equipment lineup to see if it's up to the task.
Reviewer's Note: Be sure to check out our top picks for the Best Battery-Powered Leaf Blowers of 2023!
Ridgid Leaf Blower Performance
Max Air Volume: 510 CFM
Blowing Force: 8.0N (high), 12.8 (turbo)
Runtime: 15 min. 12 sec. (high), 10 min. 6 sec. (turbo)
Noise Level: 68dB (high), 72dB (turbo)
This blower delivers a max airflow of 510 CFM which is right in line with what we expect from modern residential battery-powered leaf blowers. Using our in-house force meter, we measured 8.0 Newtons of blowing force on high and 12.8 Newtons with the turbo mode engaged. That makes it a great option for clearing away yard clippings and light debris from your driveway and sidewalks.
As far as actual trigger time, expect around 15 minutes on high and 10 minutes with the turbo mode engaged if you're using one of Ridgid's 4.0Ah Max Output batteries. Our standard 4.0Ah lithium-ion battery produced a similar runtime on high but only ran for about 4-1/2 minutes on turbo until it went into thermal shutdown mode. This just goes to show the benefits of using a more advanced battery pack. If you are using one of Ridgid's standard batteries, we recommend only using the turbo mode in short bursts in order to maximize your potential runtime.
Along with its capable power and runtime, Ridgid also managed to make this battery-powered leaf blower incredibly quiet too! This is due to the foam lining inside of the rear air inlet that helps dampen the sound of the inline axial fan. Our testing team measured 68dB on high and just 72dB on turbo at our operator's ear using an SPL meter. So, if you're tired of noisy gas engines, Ridgid has your back.
Ridgid Leaf Blower Design Notes
Model: Ridgid R01601B
Power Source: Ridgid 18V battery
Weight: 5.5 lbs (bare), 7.0 lbs (with 4.0Ah battery)
Length: 34 in.
Motor Type: Brushless
The Ridgid R01601 leaf blower tips the scales at 5.5 pounds as a bare tool and an even 7 pounds with a 4.0Ah battery. From tip to tail, it measures 34 inches and the overall weight distribution allows for a very natural downward working angle.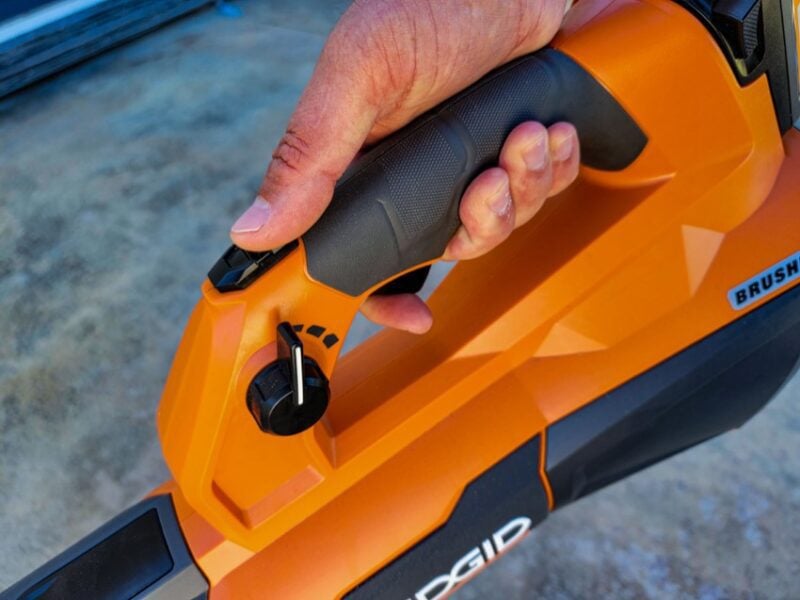 The grip features a soft, textured rubber overmold that helps you maintain a firm hold on the tool. At the control center, Ridgid includes a single-finger variable-speed trigger, a cruise control dial, and a thumb-activated turbo switch.
Down at the business end, Ridgid includes a removable concentrator nozzle that has a metal ring for scraping away stubborn debris.
Additional Features
Compatible with all Ridgid 18V batteries
Ridgid Leaf Blower Price
Ridgid's battery-powered leaf blower retails for $189 as a bare tool and $249 as a kit that includes a 6.0Ah Max Output battery and charger. Both come with their standard Lifetime Service Agreement. This blower is also featured in several of Ridgid's tool combo kits if you're wanting to expand your tool arsenal.
The Bottom Line
The Ridgid 18V Leaf Blower is a great option for blowing off hard surfaces such as driveways and sidewalks. It easily removed leaves and small debris as well as some stray yard clippings left behind by our testing team. There's definitely some room for improvement when it comes to the overall power and runtime, but it's still very effective and definitely worth your consideration.