More OPE Releases from DeWalt Include a Handheld Blower
The new DCBL722P1 DeWalt 20V brushless handheld blower improves upon the DCBL720P1 by raising the speed to 125MPH and the air volume to 450 CFM. While it makes some more noise, a 39% speed increase makes for a noticeable improvement. The new blower even manages to shave off some weight.
10-Second Summary
Model: DCBL722P1
Up to 450 CFM and 125 mph with concentrator
Axial fan design
Brushless motor
66 dB(A)
5.43 lbs
Variable trigger and speed lock
Warranty: 3-year limited warranty: 1-year free service, 90-day money-back guarantee
Price: $199 (kit) $139 (bare tool)
Key Features
The DeWalt 20V Max XR Handheld Blower will give you the ability to clear your yard debris quickly and comfortably without blowing out your eardrums. It employs an axial fan design that maximizes air output and runtime while keeping the blower light and agile.

With its high-output brushless motor, the DeWalt produces an air volume of up to 450 CFM at up 125 MPH (with the concentrator nozzle). Without the nozzle, the airspeed drops a bit, but volume shouldn't change too much.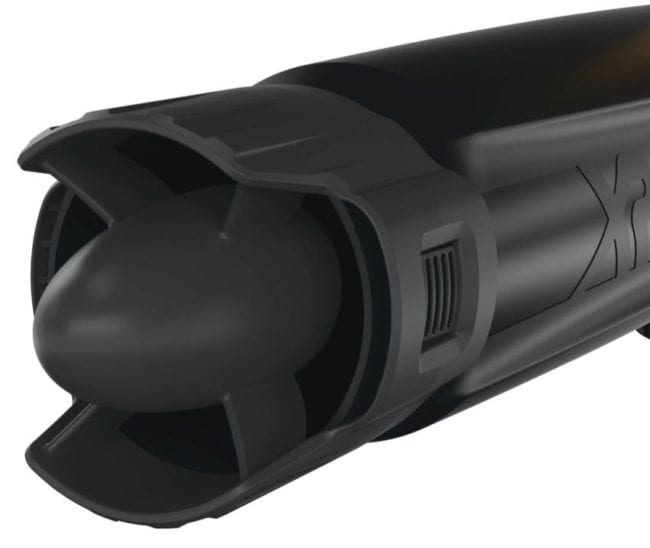 The blower features a variable speed trigger with a lock-on switch for precise power control. At its loudest, it produces 66 dB(A), and it weighs just 5.43 lbs. without the battery.
Like the 20V DeWalt cordless pole saw, the DeWalt 20V Max XR handheld blower comes as a bare tool or kit. With a 20V Max XR 5.0 Ah battery pack and charger, the kit version costs $199. You can pick it up the bare tool for just $139. In either case, this blower comes with DeWalt's 3-year limited warranty, 1-year free service contract, and 90-day money-back guarantee.
Comparing the DeWalt DCBL722B, DCBL720B, and DCBL772B
| | | | |
| --- | --- | --- | --- |
| | DCBL720B | DeWalt DCBL722B | DCBL772B |
| Air Speed | 90 MPH | 125 MPH | 125 MPH |
| Air Volume | 400 CFM | 450 CFM | 600 CFM |
| Noise | 61 dBA | 66 dBA | 67 dBA |
| Weight (bare) | 5.9 lbs. | 5.43 lbs. | 6.25 lbs. |
| Design | Axial | Axial | Inline Axial |
| Battery | 20V | 20V | 60V |
| Price (tool) | $139 | $139 | $199 |
What We Think
In looking at this new blower, it appears to be a direct replacement for the aging DCBL720B/DCBL720P1. You get a tiny bit more volume and a lot more speed. Much of that speed, however, comes by adding the concentrator nozzle at the front of the tool. If you need as much power as possible, that might come in handy. For most, skip the nozzle, and get a bit more volume output.
This tool still has less impressive specs than the higher-end 60V model, but it also costs $60 less. The big question has to do with run-time. If you only need a small amount of blowing, then a 5 Ah battery pack should take care of you. If you expect 20 minutes or more at full speed, plan to go through several packs, however.
Homeowners already on the DeWalt 20V platform will find this difficult to pass up. If you want something for more than a 1/8-acre yard, however, you may want to look for something supporting larger battery capacities.
The DeWalt 20V Max XR Brushless Handheld Blower Specs
Model: DCBL722P1
Air Speed: 125 mph
Air Volume: 450 CFM
Sound Pressure Level: 66 dB(A)
Weight: 5.43 lbs
Warranty: 3-year limited warranty: 1-year free service, 90-day money-back guarantee
Price: $199 (kit) $139 (bare tool)