The best shop vacs come in all sorts of shapes, sizes, power levels, and price points. Nearly every store that sells tools also sells shop vacuums. These handy tools range from larger-capacity units to smaller, portable models. Our picks for the best shop vac for 2023 include categories for various needs and applications.
Our Top Picks
What is a Shop Vac?
Shop Vacs are like Kleenex, Bandaids, and Sawzalls. The Shop-Vac brand became so synonymous with wet-dry shop vacuums that people started calling all of them Shop Vacs. The Shop-Vac brand is still around, though it went through a rough period and a sale a few years ago.
Shop vacs usually have a larger diameter hose and they don't typically arrive HEPA certified (though some do). You don't normally find automatic filter cleaning, and the motor tends to be smaller, so there's less overall power. Those are the main differences between what we consider a shop vac vs a dust extractor. Those aren't all the differences, of course, but it's a good start.
Our best shop vac reviews cover the gamut from compact models to larger vacuums destined for woodworkers in the shop. So what makes a good wet-dry shop vacuum? It depends on your needs. It's going to be a balance of portability, airflow (CFM), suction power (water lift), and capacity for the most part. Add in included accessories, storage, and hose/cord management to bring it full circle.
How you personally weigh each of those categories differs from job to job and person to person. So we've compiled our list of the best shop vacs for 2023 and you can decide which one best fits your needs.
Best Shop Vac Overall
The best shop vac overall has to have the best balance of everything and Milwaukee nailed it, but not with just one vac. They created an entire modular system that lets you customize what you need. Choose from single-battery, dual-battery, or corded powerheads. Then add 6, 9, or 12-gallon canisters. From there, you can go with a standard filter, wet foam filter, or HEPA filter.
Then there's the Air-Tip line of trade-focused accessories that are cross-compatible with almost any hose size.
While there's not just one vac that fits every need, Milwaukee has designed a system that is far greater than any one model thanks to the sum of its parts.
Vac Prices: $249.00 – $799.00
Air-Tip Prices: $17.99 – $119.00
Best Cordless Shop Vac
When we went searching for the best cordless shop vac, one feature stood out—hybrid battery/AC ability. While it's incredibly convenient to run completely cordless, there are times when you don't want to be limited by runtime.
With that in mind, the Greenworks 60V wet/dry vacuum is our top pick. Its performance is excellent among battery-powered options (90 CFM/36 inches of water lift), the overall design is solid, it has excellent capacity at 9 gallons, and you have the hybrid power option.
Price: $199.99 (does not include batteries or charger)
Best Small Shop Vac
Craftsman 5-Gallon Wet/Dry Shop Vacuum CMXEVCVVFB511
When it comes to the best small shop vac, your definition of "small" is the key. For us, we're looking for a small footprint and a canister that's 5 gallons or less. This year, we're right at the top of the scale with Craftsman's 5-gallon wet/dry vac earning our recommendation.
It's the performance that got our attention. Despite its smaller size, it has 5.5 peak horsepower with an impressive combination of 102 CFM and 84 inches of water lift.
It's nearly identical to the Vacmaster Beast 5-gallon, and that model is on Amazon if Lowe's is out of stock of the Craftsman model. We've been using Vacmaster products for years and don't think you can go wrong with either brand.
Price: 99.98
Best Heavy-Duty Shop Vac
The Vacmaster VK811PH Industrial Wet/Dry Vac gets our best heavy-duty shop vac nod for several big reasons. First, this shop vac had the highest-tested water lift in its price class at 106 inches (based on our tests). Even with that kind of pull, it still manages 125 CFM of suction.
We also think the 8-gallon canister is the sweet spot for commercial maneuverability and capacity. Large rubber back wheels let you get over bumpy thresholds without marring surfaces. The hose measures a somewhat tame 10 feet, but it's still enough to work with in most situations. We also like the metal accessories and excellent cord management. It's even HEPA-rated.
Price: $231.99
Best High-Capacity Shop Vac for Construction
Ridgid 16-Gallon NXT Wet/Dry Shop Vacuum HD1800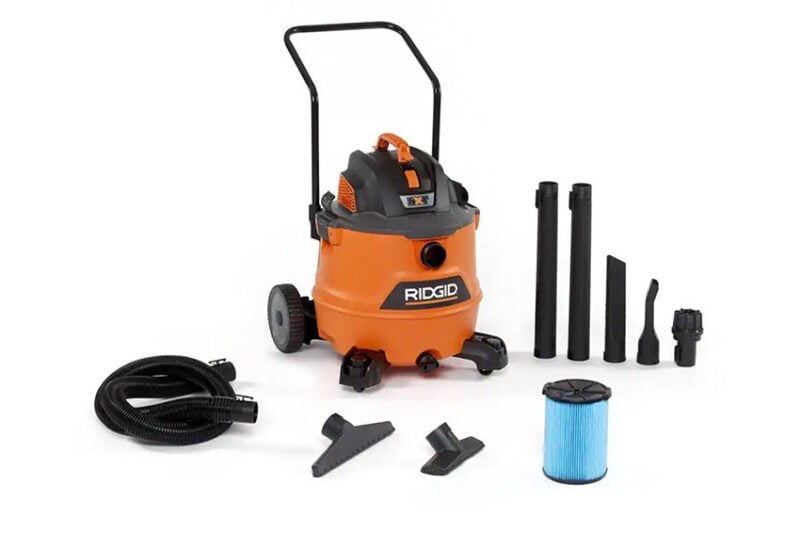 Ridgid vacuums are all over jobsites for a good reason: they're a great value and have a ton of suction for the price. There are several excellent options in the line and the Ridgid 16-gallon NXT is our top choice as the best shop vac for construction.
With 6.5 peak horsepower and 184 CFM, it's the strongest model in Ridgid's lineup. Plus, the 16-gallon canister holds more debris than most models, the cart design makes it easy to move around your workspace, and the accessory set includes nozzles to tackle just about any mess you have to deal with.
Price: $179.00
Best HEPA Shop Vac For Dust Collection
Most of our top-rated HEPA vacuums fall into the dust extractor category rather than the shop vacuum class. Their designs usually have a more robust build that ensures you get the canister sealing tight along with the HEPA filter's finer collection to ensure those particles don't make it into your breathing space. Still, there are some HEPA shop vacs running around that are worth considering and the trick to making the leap from basic collection to HEPA-rated lies in not just the filter, but also the collection bag.
Once again, Ridgid has you covered and for less than $60, you can add HEPA filtration and cyclonic collection bags to a wide range of 12 – 16-gallon Ridgid wet/dry vacuums. If you don't already have a Ridgid vac, Home Depot has some kits that include the vac and HEPA accessories.
Price: $64.97
Best Portable Shop Vac For Car Cleaning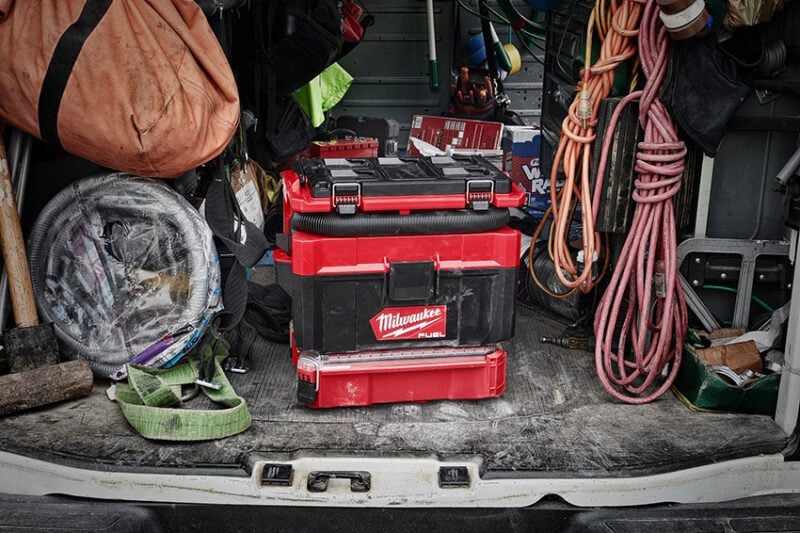 When it comes to portability and cleaning vehicles, nothing beats a small-capacity cordless model… if it has high enough performance. Milwaukee's M18 Fuel 0970 uses a brushless motor to produce 50 CFM and 47 inches of water lift in a 2.5-gallon size that's Packout compatible.
You could go smaller and have more maneuverability around the vehicle, but we like the performance level of this model and the Packout interface is really handy to make storing and transporting your mobile detailing gear easier.
Price: $199.00 bare
Best Value Shop Vac for Home Use
HART 8-Gallon Stainless Steel Wet/Dry Vacuum VOC812SF 3701
HART has an impressive range of vacuums that covers everything from the wet/dry shop vacs we've been talking about to standard upright vacuums and plenty in between. With 6.0 peak horsepower dialed in to deliver 100 CFM and 89 inches of water lift, it has excellent performance for the price. Plus the stainless steel canister gives it a great look and its cart-style base makes moving the vac easier.
Price: $74.00
Best Wall Mount Shop Vac For Woodworking
Rikon 60-101 Wall-Mounted 1 HP Dust Collector
For a true wall-mounted shop vac we presume you may want to do more than simply clean up some floor space. For connecting woodworking equipment to a shop-wide vac system without hitting four figures in price, we like the Rikon 60-101. As our pick for the best wall-mounted shop vac, it collects up to 99% of dust as small as 1 micron.
It features all-metal construction and the motor's 10-inch impeller creates 800 CFM of suction using 4-inch ductwork (up to two devices). With 5-inch ducting, you can get up to 1100 CFM for single-tool use. This system can really handle pulling dust and wood chips from bandsaws, table saws, jointers, planers, and more.
Price: $749.99
Best Shop Vac Recommendations from More Brands We Trust
DeWalt has several wet/dry vacuum options that avoid reaching up into dust extractor pricing and we're impressed with their build quality. Among the choices you have, we recommend the 9-gallon model for the best balance of capacity, performance, and price. It boasts 5 peak horsepower with 90 CFM and 70 inches of water lift. At $144.99, it's an excellent upgrade if you're looking for better durability than lower-priced models.
Price: $144.99
Flex only has one vacuum on its 24V system at the moment. The compact 1.6-gallon design has surprisingly good performance for its size with 41 CFM and 42 inches of water lift.
It goes beyond the basics with two modes to run for higher performance or higher runtime and has a button to activate the Reverse Flow Function so the vac can clean the included HEPA filter. The basic physical design strays away from tradition, but in a refreshing way that makes sense.
Price: $119.00 bare
Hilti isn't a name you necessarily think of in a conversation about shop vacuums. With a focus heavily on construction, they don't have what you would consider a traditional shop vac. That said, their vacuums are excellent if you need one on the level Hilti develops them for.
The best is Hilti's VC 300-17 X, which uses two turbines to produce a monstrous 300 CFM designed to help contractors remain Table 1 compliant. Capable of holding up to 159 pounds of dust, it has the automatic filter cleaning and HEPA design concrete contractors need.
Price: $2039.00
Makita is another brand that doesn't compete in the traditional shop vac space. However, they have a deep line of vacuums ranging from dust extractors to commercial cleaning and even models that can detect the trigger pull of a cordless tool.
Going the route of a typical wet/dry canister vacuum, the GCV03 is our top choice. It has a 4-gallon canister on smooth-rolling casters with a brushless motor that offers 148 CFM and 92 inches of water lift. For a cordless vacuum, those are fantastic numbers. When the mess is primarily light debris, you can use the power dial to prioritize runtime and a second battery port offers longer runtime at any power level.
If wet vacuuming isn't something you need, then consider the GCV04. It has the same performance while stepping up to HEPA certification and you can add Makita's AWS chip to get automatic tool activation.
Price: $705.99 bare, $1129.99 kit with two 4.0Ah batteries and dual port rapid charger
Ryobi had a major vacuum expansion in 2022 that's great for you, but complicated matters for us. With several great models to choose from on both the corded and cordless sides, picking the best wasn't easy.
In the final analysis, we chose Ryobi's 40V cordless 10-gallon shop vacuum thanks to its cordless power source with 80 CFM and 50 inches of water lift. Using a 6.0Ah battery, you can get up to an hour of runtime. It's a strong contender alongside Greenworks for the best overall cordless shop vac, but the one thing it lacks is an AC option.
Price: $199.00 bare
We can't have a best shop vacuum guide without including the brand that gave the category its notoriety. Shop-Vac has you covered across a wide range of sizes and power levels. It's the 12-gallon 6.0 HP stainless steel model we prefer above the others.
The canister has a generous capacity without being as bulky as the 16-gallon models, the 6.0 peak horsepower motor provides 100 CFM with 66 inches of water lift, and it looks good, too. It's an excellent all-around design to clean up your shop, car, garage, and all of those messes life likes to throw at your home.
Grab this one at Lowe's for $119.00.
Why Buy a Wet-Dry Shop Vacuum?
Wet-dry shop vacuums (or Shop Vacs as the industry knows them) are the cleanup workhorses from house to jobsite. Their ability to clean up a variety of wet and dry messes from inside the house to your car to your jobsite makes them incredibly versatile. While they're typically not as powerful or refined as portable jobsite dust extractors, they're also much less expensive, starting at less than $50. Unless you really need all the extra bells and whistles of a dust extractor, they're definitely the way to go.
Disagree With Our Choices?
That's okay! We know personal preferences take a front seat in determining the best wet-dry shop vacuum for you, and every Pro is different. Do Pro Tool Nation a favor and tell us what your top pick is and why you love it. Feel free to put it in the comments below or on Facebook, Instagram, and Twitter!
Best Shop Vac Buying Guide – What We Look For
Corded or Cordless?
Our favorite shop vacs still come with a cord. Many manufacturers, however, have smaller-capacity vacuums designed for very portable use. And some actually have cordless shop vacs with higher CFM and water lift capabilities. These cordless vacs can truly help your job site cleanup since you get to skip hunting for an outlet. Run times keep getting better as well, making them more practical than ever.
Dust Extractor or Shop Vac?
When considering between choosing a dust extractor or a shop vac we recommend looking at what you hope to achieve. A shop vac typically thrives at picking up materials like wood chips and debris. It often has a wider nozzle to handle these tasks without easily clogging. A dust extractor, on the other hand, focuses more on removing airborne particles like concrete dust.
Airflow (CFM)
Airflow simply reflects the amount of airflow running through the nozzle over a set period of time. As an acronym, CFM stands for "cubic feet per minute". The higher the CFM, the more air it's pulling through the hose.
Water Lift (Suction Power)
Water lift is typically measured in inches and it helps us understand the vacuum's ability to move heavier objects. The higher the water lift, the greater the suction power, and the heavier debris it can move. If you're primarily collecting sawdust, you don't need a ton of water lift. If your debris involves chips or materials or nails and screws, you need more.
Capacity
Clearly, the capacity you need depends upon the application for your shop vac. When comparing similar models in an application, factor in the amount of material a vac can take in. We also look at how efficiently it stores material. A shop vac with a well-designed filter can outperform another model in terms of realistic storage capacity.
Keep in mind shop vacs measure capacity by the overall size of the canister. The filter takes up part of the room, so the dry capacity is smaller. The wet capacity is smaller still to avoid the risk of pulling water up into the motor. Most quality models have a float valve of a sort to close off the motor when the water level gets high enough.
Portability
Not every shop vac qualifies as a "portable" tool, but even larger units need to transport from the tool crib or shop to the job site. Look at the wheels, handle design, and more to understand which models present the best portability for maneuvering and transport.
Accessory Storage
Accessory storage consistently presents a problem for some wet-dry vacuums. No matter how much attention manufacturers pay in this area, it seems you can't help but snag a hose or drop a nozzle. Some vacuums, however, at least address accessory storage in a way that gives you a fighting chance to ensure those flooring tools, brushes, and extension nozzles are there when you need them.
For larger models, you can store most, if not all, of the accessories inside the canister when it's not in use.
Cord Management
Many shop vacuums include some form of cord wrap, but some are better than others. Consider how easy the shop vac makes managing the cord when you plug it in and when you're done for the day.
Price and Value
For many folks, setting a budget is the first step to eliminating options due to price. Consider the price of the vacuum and weigh it against the performance and features of the tool along with the warranty, depth of line (for cordless products), included accessories, and other priorities you may have.
Why You Can Trust Pro Tool Reviews
Ever check out a "review" site and you can't tell if they actually tested the tools or if they're just "recommending" the Amazon top sellers? That's not us. We won't recommend anything unless we'd actually use it ourselves and we don't really care who the primary retailer is. It's all about giving you a legitimate recommendation and our honest opinion of each product.
We've been in business since 2008 covering tools, writing reviews, and reporting on industry news in the construction, automotive, and lawn care industries. Our Pro reviewers work in the trades and have the skills and experience to know whether tools can perform well in the field.
Each year, we bring in and review more than 350 individual products. Our team will put our hands on hundreds of additional tools at media events and trade shows throughout the year.
We work with more than two dozen professional contractors around the United States who review products for us on real job sites and consult with us on testing methods, categories, and weighting.
We'll provide more than 1000 pieces of new content this year absolutely free for our readers—including objective evaluations of individual tools and products.
The end result is information you can trust because of the editorial, scientific, and real-world professional experience we collectively utilize each and every time we pick up and test a tool.