Makita Brings Successful Plunge Cut Track Saw Design To The 40V Max XGT System
Makita has a history of making solid plunge cut track saws with both corded and 18V X2 LXT models. Now the XGT system is getting its version with the GPS01. We got our hands on the Makita 40V max XGT Plunge Cut Track Saw to see what's new and exciting.
Makita 40V Max XGT Plunge Cut Track Saw Performance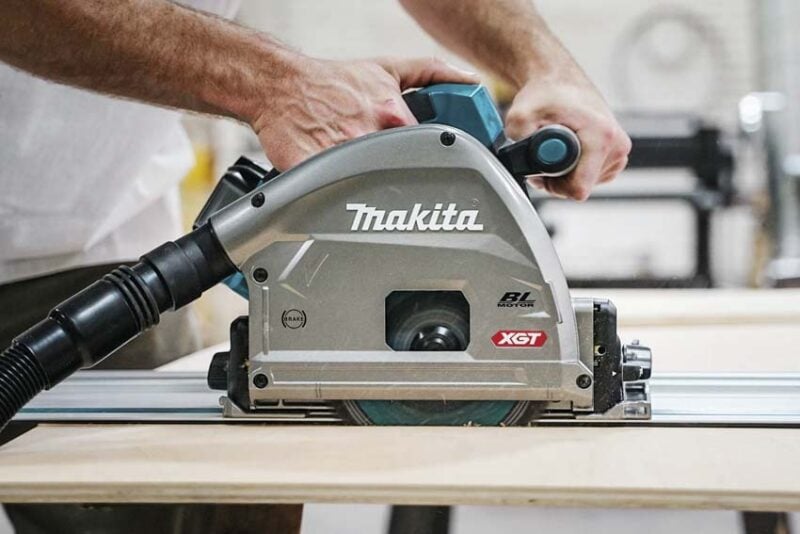 Like most saws in this class, Makita sticks with a 6 1/2-inch blade diameter. It's large enough to make cuts up to 2 3/16 inches deep at 90° or 1 9/16 inches at 45° and has an ultra-smooth plunging action.
What's interesting is how Makita designed the speed control. It's variable speed as we expect, ranging from 2500 to 4900 RPM. The corded SP6000J tops out at 5200 RPM and the 18V X2 LXT XPS01/XPS02 hits 6300 RPM. So does that mean the 40V XGT has lower performance?
Nope.
It's all about power management and by having a lower top speed, the saw can channel more of the battery's energy to torque when you're making tougher cuts in hardwoods. When you're working with oak, walnut, and the like, burn marks from a bogging blade can be an expensive mistake.
Additionally, the technology between Makita's XGT motors and batteries allows the saw to sustain those power levels longer than other designs, and a track saw is a fantastic tool to take advantage of it.
Makita 40V Max XGT Plunge Cut Track Saw Design Notes
AWS-Ready
The Makita GPS01 joins the second-generation LXT plunge cut saw in its use of Auto-start Wireless System (AWS). If you're not familiar with it, AWS offers the ability to automatically kick on your dust collector when you pull the trigger. It's an innovative way to reduce the amount of overall noise on your jobsite since the vac is only running when it needs to. If you're using a cordless Makita AWS-enabled vac, it also helps you to manage the runtime better.
If that sounds helpful to you, you can pick up the AWS chips seprately and install it under the cover next to the speed dial.
Rail Compatibility
As a Makita saw, there are no suprises that Makita's tracks fit the shoe perfectly. At the moment, there are no combo kits that include rails, so be sure to grab those separately.
Currently, Makita has 39 and 55-inch rails along with connectors to extend your reach and cases to protect them during transport.
Makita Material-Specific Track Saw Blades
The Makita 40V max XGT Plunge Cut Track Saw ships with a 56-tooth that's designed to cut wood, MDF, and laminate. In our experience, Makita's blades are excellent, so there's no need to swap the stock blade out for another brand. If you're cutting different materials, no worries—Makita has you covered.
28T for wood (A-99960)
48T for wood (A-99932)
48T for wood and melamine (B-07353)
48T for Corian (A-98809)
56T for aluminum (A-99976)
56T Max Efficiency for wood, MDF, and laminate (B-57342)
60T TCG for MDF and laminate (A-99998)
60T ATB for MDF and laminate (A-99982)
Additional Highlights
Bevel stops at 22.5° and 45° (-1° to 48° range)
Dual bevel locks add rigidity
Metric depth gauge
Capable of cutting as close as 11/16 of an inch from a vertical edge or wall
Soft start
Fast electric brake
1 7/16-inch pivoting dust port
Onboard blade wrench storage
Weighs 11.0 pounds with a 4.0 Ah battery
Makita 40V Max XGT Plunge Cut Track Saw Price
You can purchase the Makita GPS01 as a bare tool for $419 or as a kit with a 4.0Ah battery and Rapid Optimum Charger for $599. The kit includes premium storage, too. You get an XL Makita MakPac and a Small MakPac to store the tool and additional gear.
The Bottom Line
In translating its plunge cut track saw to the 40V max XGT system, Makita took a great design, added meaningful technology, and made performance adjustments that make it the best of the four versions in its lineup so far. If you're in the market for a cordless track saw, the Makita GPS01 should be high on your list.
Makita 40V Max XGT Plunge Cut Track Saw Specifications
Model: Makita GPS01
Power Source: 1 x Makita 40V max XGT battery
No-Load Speed: 2500 – 4900 RPM
Blade Diameter: 6 1/2 inches
Max Cutting Depth: 2 3/16 inches at 90°, 1 9/16 inches at 45°
Bevel Capacity: -1° to 48°
Positive Stops: 22.5° and 45°
Dust Port: 1 7/16 inches
Length: 14 3/4 inches
Weight: 11.0 pounds with 4.0Ah battery