Last Updated on July 11, 2023
The Ryobi LINK Modular Storage System melds several different aspects of tool storage into what looks to be a highly versatile, portable solution. Sporting Ryobi's green and black color scheme, the modular LINK system includes wall storage, rolling tool storage, and more. We see it encompassing both tool and accessory containment and portability. Overall, this looks to be Ryobi's answer to Milwaukee Packout but with a decidedly more Prosumer bent.
So, what can we glean from the Ryobi LINK Modular Storage System announcement? First—the system seems to cut across several different aspects of tool storage. Going through Ryobi's teaser video frame-by-frame, here are the products we picked out.
Rolling Tool Box
The first thing we really get a glimpse of is the rolling toolbox—which initially only gets a "wheel" reveal. However, we do get a bigger sneak peek later in the teaser. This wheeled rolling toolbox looks to blend aluminum, plastic, and steel to give you a way to transport tools and accessories securely, but without adding a ton of weight. The Ryobi LINK Rolling Toolbox features oversize wheels, an extending handle, and up to three or more interlocking tool storage cases.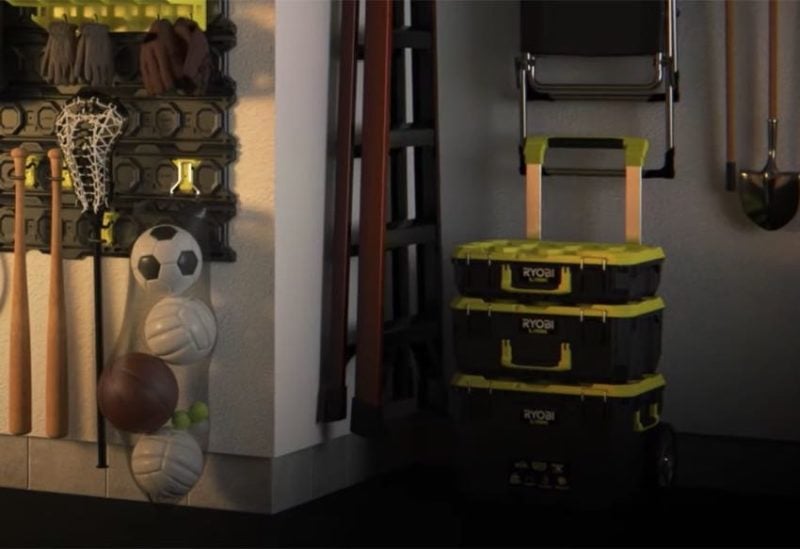 We're guessing that the bottom case isn't removable, but rather a singular unit tied to the wheels and collapsible handle. That would match what we've seen in competing products from other manufacturers.
Ryobi LINK Wall Rack Tool Storage
Based on the flying "lego-like" components that snap together horizontally, Ryobi LINK also includes tool holders and wall-based storage solutions. Stacked horizontally, we see options for mounting ladders, shovels, OPE equipment, and more. Combined vertically, you could either mount entire Ryobi LINK toolboxes to the wall or secure them to work van shelving.
The system seems to be entirely modular—on a scale we haven't seen before. The modules clip and lock together and secure to a wall or surface using screws. It looks like a very flexible system—and we like having options.
Given the presence of metal hangers, tool hangers, metal shelves, toolboxes, and more—the individual modules also appear to link together. This lets you extend your storage solution to whatever dimensions you need in your garage, shed, vehicle, or workshop.
As if to prove this, Ryobi shows a LINK system measuring 8 units tall by 3 units wide. That's larger than our Packout Wall which holds a variety of our most commonly-used accessories and fasteners.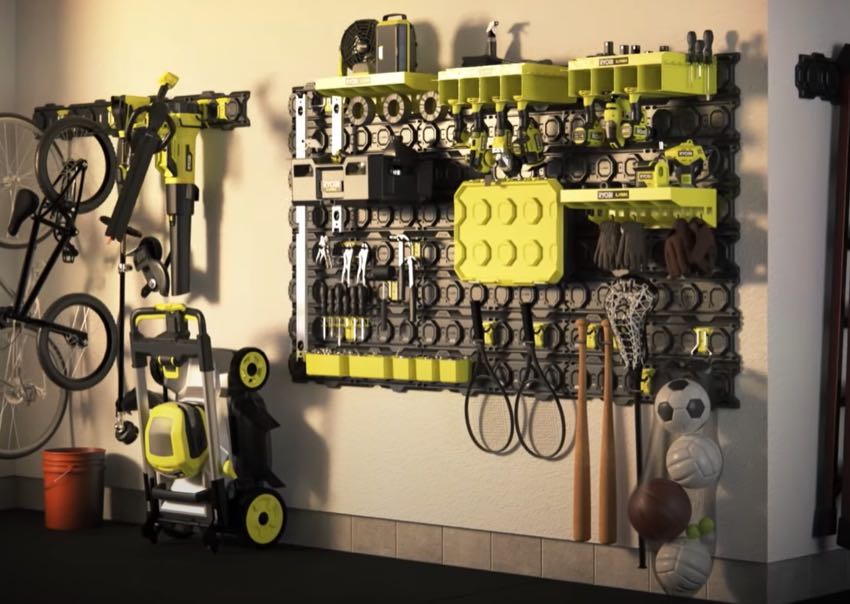 Ryobi LINK Tool Hangers and Shelves
We couldn't help but notice the metal Ryobi LINK tool holders with integrated shelves and side holders. These can support hanging up to four tools upside down—with or without their batteries inserted.
The top shelf easily holds a Ryobi cordless fan as well as a light and extra battery. They show storage of bits within the front-mounted tray. The side holders look perfect for hanging screwdrivers and/or nut drivers.
Another shelf unit gives you a nice flat surface for storing tools or accessories with hooks underneath for your gloves or anything else you might hang on a hook.
We also spied some singular trays that also mount to the wall system and look perfect for holding screws or nails. You also have tool holders or screwdrivers, hammers, wrenches, and more.
And, of course, the entire lineup mounts to those highly configurable Ryobi LINK wall-mounts.
Heavy Duty Steel Tool Holders
You can mount the heavy-duty steel tool holders we spotted anywhere on the system. These look perfect for hanging blowers, hedge trimmers—anything you can affix on one or both hooks. Based on what we see, they can hold a decent amount of weight as well.
Ryobi LINK Modular Tool Storage Boxes
The Ryobi LINK Modular Tool Storage system wouldn't be complete without ample options in tool storage boxes. We definitely get a glimpse of those here with what looks to be small and medium boxes as part of the initial lineup.
The boxes use the latest heavy-duty clasps that we like. These improve upon some of the first-gen steel clasps we saw with products like the DeWalt TStak system. The boxes look durable at first glance, and the design should allow them to feature easy internal compartmentalization.
You also can't beat the cool color scheme. I've always been a fan of black tools and toolboxes—they just look cool. add to that the ability these boxes have to mount direct to the Ryobi LINK wall mounts, and you have an extendable system that really works well for garages, workshops, and even your work van.
So What's Next?
The tagline for the Ryobi LINK modular storage system is "Own Your Space." With how wide and deep this system appears to be on launch—I'd say they own the garage, workshop, work van, trailer…It looks like a system that can handle just about any application you throw at it. Ryobi certainly plans to launch with a lot of products and accessories in this line. Hopefully, the system continues to expand afterward and grows with even more flexible solutions. Look for these to arrive at The Home Depot in the Fall of 2021.
Check out more here.