DeWalt TSTAK organizers are some of the most popular around, but do you know how deep the lineup runs? It's more than just the organizers themselves, there are other tools and cases that go along with the system.
One of the great things about this system is the ability to customize it to exactly what you need. Obviously, TSTAK isn't the only system of organizers like this. If we're honest—and we always strive to be—ToughSystem can take you up a notch in toughness. At the same time, DeWalt keeps the TSTAK system more affordable. If that's important to you, see for yourself what all is here and then make your shopping list!
DeWalt TSTAK Mobile Storage Deep Box on Wheels DWST17820
The Mobile Storage Deep Box is the foundation of any rolling TSTAK system thanks to its wheeled base and telescoping handle. It's also the base piece of the 3-Piece Modular Mobile Tower.
You're looking primarily at a large bulk storage container with an organizer tray that sets above whatever else you're carrying. It's great for larger tools like your recip and circular saws and extra blades you might need throughout the day.
Height: 14-3/4″ (39″ with the handle fully extended)
Length: 20-1/8″
Width: 17″
Capacity: 66 pounds
Need it? Buy it on Amazon: $61.99
DeWalt TSTAK VI Deep Box DWST17806
The Deep Box is all about bulk storage and is a little smaller than the Deep Box on Wheels. It has a full 6-gallon capacity and handles up to 66 pounds. It also has an organizer tray.
Height: 11-7/8″
Length: 17-1/4″
Width: 13″
Capacity: 66 pounds
Price: $25.99
DeWalt TSTAK Open Tote DWST17809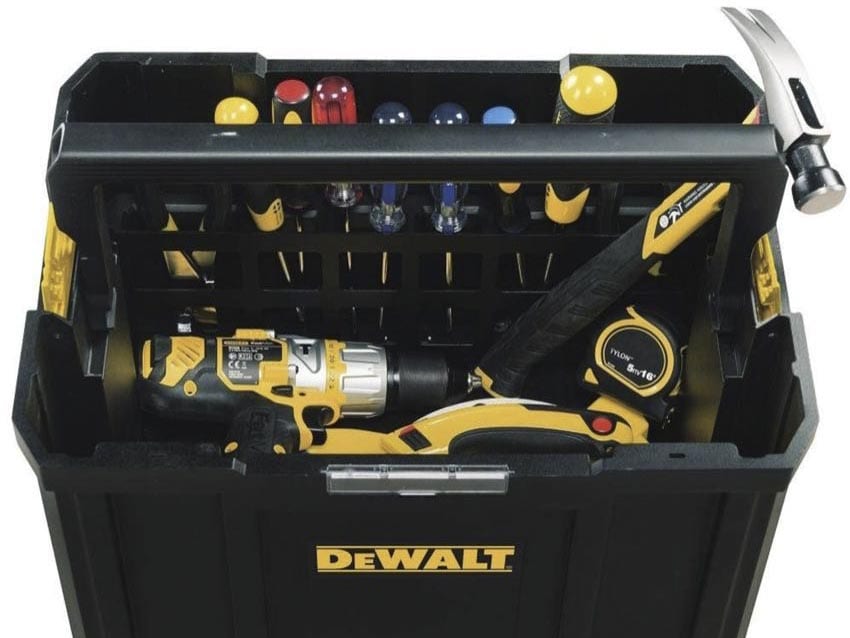 DeWalt's Open Tote is a great catch-all for a variety of tools. It combines some vertical storage for hand tools along with bulk storage for smaller power tools and larger hand tools.
Unlike some open totes and bags, the handle folds down, and locking tabs allow you to put other TSTAK boxes on top.
Height: 10-3/4″
Length: 17-1/4″
Width: 12-1/2″
Price: $19.99
Of course, we can't go without mentioning the popular DeWalt TStak Bluetooth Radio. At just under $230 this charging radio (also called the DeWalt TStak Connect Radio) sits atop any TStak system and gives you tunes for hours. You can power it via any 20V DeWalt battery or by plugging it in via the included power cord. In the marketplace of radios—the TStak fits nicely. Makita has a smaller Bluetooth radio that doesn't charge for $179 and Milwaukee's Packout charging radio is higher at $299.
DeWalt TSTAK V Organizer with Clear Lid DWST17805
Another member of the 3-Piece Modular Mobile Tower, the Organizer with Clear Lid is a medium-depth option that's ideal for fastener storage. Its clear lid gives you a view of what's inside—up to 44 pounds of what's inside!
2 large and 5 small trays are removable, giving you the ability to customize your layout or make room for other tools and accessories. The lid locks the trays in place so you don't have to worry about them sliding around.
Height: 4-1/8″
Length: 13-3/16″
Width: 9-5/8″
Capacity: 44 pounds
Need it? Buy it on Amazon: $26.13
TSTAK III Single Deep Drawer DWST17803
The single-drawer brother of the two-drawer TSTAK has a surprise hidden inside—removable containers. These lidded organizers give you security against parts traveling to visit friends in other parts of the drawer and putting an unorganized damper on your day. Of course, you're welcome to take the organizers out where it becomes a great size to hold a power tool and accessories.
Both this and the two-drawer TSTAK feature actual drawer slides, not just grooves to slide the drawers in and out of.
Height: 6-7/8″
Length: 16-3/4″
Width: 12-1/4″
Capacity: 16.5 pounds
Or buy it on Amazon: $28.49
DeWalt TSTAK IV Double Shallow Drawers DWST17804
The Double Shallow Drawers are a must-have if you keep your TSTAK system stacked up while you work. The pull-out drawers don't require you to remove what's on top to access what's inside. Each drawer is separated into 3 compartments with space for fasteners or accessories. It's a win for smaller electrical components and even A/V organization as well.
Height: 6-3/8″
Length: 16-1/4″
Width: 12-1/4″
Capacity: 16.5 pounds
Or buy it on Amazon: $32.99
TSTAK II Flat Top DWST17807
The Deep Box traces its roots back to more traditional toolbox designs. The inside is a blank canvas waiting for you to turn it into a tool carrying masterpiece. For those of us more on the OCD side (guilty!), DeWalt has foam inserts that fit this TSTAK container.
Height: 6-3/8″
Length: 17-1/4″
Width: 13″
Capacity: 66 pounds
Need it? Buy it on Amazon: $19.99
TSTAK I Long Handle DWST17808
The Long Handle TSTAK box makes up the third member of the Modular Mobile Tower and has an over-under lid design. Lift the cover on the top to reveal 7 different sections molded in to organize accessories and fasteners. Under the lid, you have 3.7 gallons of bulk storage at your disposal. All told, you can hold up to 66 pounds of gear.
Height: 17-7/8″ (including handle)
Length: 17-1/4″
Width: 13″
Capacity: 66 pounds
Or get it on Amazon for $26.59
DeWalt TSTAK 3-Piece Modular Mobile Tower DWST60404
The TSTAK 3-Piece Modular Mobile Tower is a great way to get started with the system and save over buying individual pieces. It starts with the rolling Mobile Storage Deep Box on Wheels and adds the Organizer with Clear Lid and Long Handle box. From there, you can customize where you go next. Add a Deep Box for extra bulky tools or the drawer systems for items you access frequently. It's completely up to you!
You can find this over at Acme Tools or buy the components at Amazon.com.
TSTAK Dolly Cart DWST17889
The DeWalt TSTAK system has lots of accessories. These TSTAK Accessories let you do more with your TSTAK storage boxes, drawers, and totes. If you work on hard floors, the TSTAK Dolly Cart is another must-have addition to your set up. With its combination of free and locking casters, you can easily wheel up to 210 pounds of TSTAKed tools, accessories, and gear where you need it. If you're in facility MRO or IT/VDV, it can make your life much easier and your coworkers think you're a genius.
Height: 7″
Length: 18-15/16″
Width: 16-15/16″
Capacity: 210 pounds
Retail: $44.99
Or you can buy it on Amazon for $40.09
DeWalt TSTAK Trolley DWST17888
If you want to be a bit more all-terrain than the cart allows, your next step up is the TSTAK Trolley. Its rear wheels are air-filled and pair with front casters that let you swivel 360º with ease.
A telescoping aluminum handle locks into 3 positions and folds down to reduce its overall footprint when you're storing and transporting it. It's capable of holding 220 pounds on level ground/floors and 110 pounds as you move up a flight of stairs.
Height: 41″ (with handle extended)
Length: 17-1/4″
Width: 12-7/8″
Capacity: 220 pounds (110 pounds on stairs)
Need it? Buy it on Amazon: $115.31
TSTAK Foam Insert DWST88801
TSTAK Foam Inserts fit 3 different boxes and feature removable blocks to let you customize your storage. Whether you want to keep your drill and impact driver combo from shifting around or you're carrying test and measurement gear, it takes whatever shape you want to make.
Compatible with:
Organizer with Clear Lid DWST17805
Flat Top DWST1780
Long Handle DWST17808
Need it? Buy it on Amazon: $18.24
Popular DeWalt TSTAK Compatible Tools
FlexVolt Dust Extractor DCV585
Need it? Buy it on Amazon: $403.99
20V Max Tough Rotary Lasers
12V Max Cross Line Lasers
20V Max Atomic Tool Sets
Acme Tools has several of the 20V Max Atomic and 12V Max Xtreme Compact tools in TSTAK kits. Here's a quick breakdown of which tools and combos there are: