Our Best Tool Chest Picks
Our picks for the best tool chest take into account organization, application, value, and size. When dealing with tool chests we address the needs of mechanics, DIYers, home users, and even contractors. A solid tool chest helps a Pro or home user organize his or her tools in such a way as to keep them safe, make them easily accessible, and help them stay organized so they are easy to grab and replace as needed. As always, we've organized our picks below into several key categories to help you find the right product for your needs.
Best Tool Chest Overall – Our Top Pick
Out top pick for the best tool chest has to be the Husky 52-inch tool chest and rolling workbench combo. In addition to being a beautiful matte black. this tool chest delivers 120 pounds of support per drawer plus a convenient wood tray insert that gives you a writing and working surface when needed.
You also get outlet strips with USB and a nice array of handy drawer sizes—including a full-width drawer. At less than $1000 for both pieces, this represents one of the highest-quality, value-priced tool storage solutions on the market. We could easily see this in a garage, automotive shop, or any workshop.
---
Best Mechanics Tool Chest
When it came to selecting the best mechanics tool chest, we leaned on the Sunex full-drawer service cart for several reasons. First, this cart has an ample amount of storage in a very portable form factor. Second, with the soft-close drawers and 18-gauge steel, it's super-durable.
You also get tons of color and personality choices to give your shop some life. We love the pinup series in particular for a bit of nostalgia. Starting around $669 it's also hard to argue with the price.
---
Best Garage Tool Chest
Integrating storage with a workspace in a single unit seems brilliant—though we've seen it before. Because of the hybrid nature of this design, we feel it's the best garage tool chest or workbench that fits just as easily in the home shop of any DIYer, maker, or hobbyist. Anyone who needs a tabletop for their project should feel right at home with this 52-inch Milwaukee mobile workbench.
It gets even better when you consider this bench costs just $798 and includes an ample amount of storage and a really convenient array of drawer sizes.
Also Recommended
---
Best Stackable Tool Chest and Cabinet
Husky Tool Chests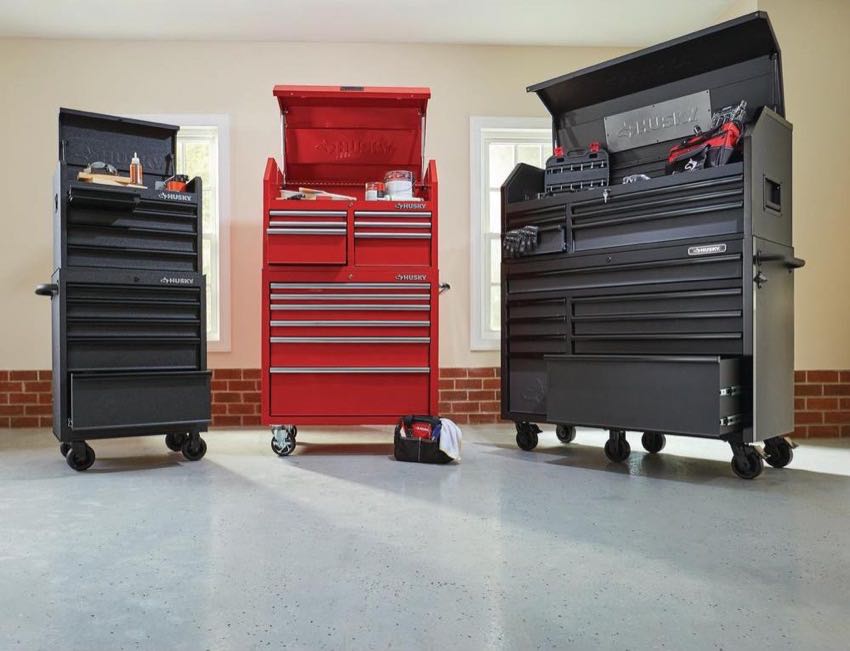 The difficulty with Husky toolboxes is knowing when to stop. For example, you can get a 27-inch Husky rolling cabinet and tool chest for around $348. That's almost stupid-cheap, but you get a lot of quality for that money. But then you look at what else Husky sells…and your eyes start to grow bigger. Why? Because Husky also sells a 36-inch combo…and a 41-inch…and a 52-inch…Get my point? Even the most expensive kit—that 52-inch model—runs just $798. In fact, it remains our top pick above.
So decide what size you need for your stackable solution, and then go for the Husky to get a really great value. And see our best tool box article if you want our recommendation on what to carry onto the jobsite.
---
Best Tool Chest with Tools
Our recommendation for the best tool chest with tools easily goes to the Sonic Tools S9 toolbox. Now, with that said, we picked the best tool chest with tools…not the cheapest! We still think the Sonic Tools S9 + Tools 285-piece toolbox comes as a bargain at $3,825 loaded. You get a lifetime replacement warranty and tools that stay in place thanks to foam liners in every drawer. This tool chest works great for the auto mechanic who's just starting out or the serious DIYer who loves to work on or restore cars.
Of course, Sonic Tools also makes larger boxes like the S12 or even the S14 if you want to go absolutely overboard. Possibly the best of all, you can completely customize any of Sonic Tools' tool boxes when you order online. They give you almost unlimited combinations of tool combinations.
---
Best Tool Chest for the Money
Husky 27-inch Rolling Cabinet and Tool Chest
Above we briefly mentioned the Husky tool chests. Their anti-scratch-coated 27-inch rolling tool cabinet and 26-inch tool chest combo might be the best thing going right now. For $348 you get a ton of rolling storage that works great in your workshop or garage. How much storage? Lots. And you get things like auto-returning ball-bearing slides with 100 lbs loading.
The rolling base features 5 drawers with 8,586 cu. in. of total storage capacity. The entire system can handle more than 1/2 ton of weight.
---
Best Way to Organize Your Tool Chest
We have several key ways we tend to organize our tool chests. These fall under a few key categories. We'll go over each as some may be more practical than others depending on your situation.
Maximize Drawer Sizes
With so many different drawer sizes in tool chests, you really want to make good use of them. The thinnest drawers are excellent for wrenches, screwdrivers, and pliers. Medium-sized drawers work well for tape measures, meters, larger hand tools, and socket sets.
Full-width drawers hold larger tools like long pry bars, 2-foot levels, and even conduit benders. Lastly, tall bottom drawers are perfect for power tools or anything else demanding additional storage.
You also want to take into account accessibility. If you constantly reach for your wrenches and sockets—don't put them at a level where you need to constantly bend down to grab them. Conversely, place your least-used tools in the drawers that are furthest out of reach.
You Might Like: Check out our articles on the best screwdrivers and the best pliers.
Apply Spray Adhesive on Your Drawer Liners
Nearly all good quality tool chests come with included drawer liners. The problem is that these drawer liners immediately slide around on you when opening and closing the drawer. It doesn't matter whether you have tools loaded in the drawer or not—drawer liners slide. We recommend applying spray adhesive on your drawer liners.
To do this, just pick up some spray adhesive (we recommend Gorilla Heavy-Duty spray adhesive). First, clean or vacuum out the drawers (we try to do it as soon as we get the tool chest). Next, spray the adhesive on the drawer bottom and also on half of the drawer liner. Wait a minute to let the spray tack up a little bit. Then, apply the glued half of the liner to the drawer—back to front. Finally, spray the remaining portion of the bottom of the liner and smooth it into place.
You can't really move these around once they come together, so try and ensure you've positioned them carefully before letting them make contact. Now, your tools can set on the liners and the shifting motion from opening and closing the drawers won't cause the liners to crumple, slide, or fold.
Foam Inserts for Type-A Tool Users!
We definitely love the idea of using foam inserts like those made by Kaizen Inserts. Custom foam inserts (like those in the Sonic Tools S9 above) help you keep track of your tools. Most people, however, will need to roll their own. This takes discipline, as it means you have to lay out your drawers and decide where you want your tools to live.
Having used foam inserts, I find it difficult to go back. As soon as you see that empty hole—you know you're missing that 10mm socket. Without the foam insert, you're often on your own until you need a tool that you didn't even realize was misplaced. You can outfit an entire 26-27″ tool chest for around $100. Of course, you still have to add in the tools and manual labor to customize those inserts the way you want them.
How We Make Our Choices
We judge tool chests on a variety of factors. It's the sum of the whole—along with the desired application—that ultimately guides our decision. We also run these by professionals in various fields to see what they think and get their input. Once we're done, we feel we have a list you can rely on and trust.
Durability
One thing we don't like: cheap tool chests with sagging drawers or thin metal that flexes and rusts. For that reason, you don't see any "Amazon-special" recommendations—we don't care how many people give them top user ratings. If you're worried about whether you can slam a drawer closed or if the locking mechanism will hold up over time—you've got the wrong product.
Flexibility and Features
Some tool chests have tons of thin drawers that do great for small wrenches and drivers but fail when it comes to larger tools. We prefer a decent mix. Your particular needs should dictate the style you choose, however. Auto mechanics typically favor a higher number of thinner drawers to hold all those specialty picks, wrenches, and hand tools that make their job easier.
We also like the presence of power strips on the top of tool cabinets. That allows for easy charging of phones, meters, scanners, and even cordless tool batteries when needed. Those gimmicky boxes with integrated Pioneer radios and small refrigerators? Leave them alone. They might be fun for a spell, but we prefer tool chests that focus on their core use: tool storage.
Advanced Features
Advanced features aren't required—but they are sometimes very nice to have. We love the safety lockout feature on the Sonic Tools boxes. You can't open more than one drawer at a time. This keeps the box from ever tipping over on you. It's not a feature you find on less expensive boxes, so you get a bit more for your money when you go high-end.
Value
Value matters. How much you need to invest in a good tool chest affects your bottom line. That might explain our excitement over Husky tool chests and workbenches that compete on features with the big dogs but do it for less. It's also why you don't see a lot here from the likes of Snap-on or Mac Tools. If you need commercial-level quality, you may want to consider those products, but when you can buy 2-3 toolboxes for the price of one of those, it's hard for us to seriously recommend them.
Speaking of value—we recommend Husky a lot on this page, but if you have a Northern Tool store nearby, you can find decent products from the likes of Homak. They aren't quite the bargain we find with Husky, but they beat pricing from most of the name brands. Where you find a similar value to our most affordable picks are at Harbor Freight. Their U.S. General series provides several great options (and colors!) to handle almost any application.
---
Why You Can Trust Pro Tool Reviews
Ever check out a "review" site and you can't tell if they actually tested the tools or if they're just "recommending" the Amazon top sellers? That's not us. We won't recommend anything unless we'd actually use it ourselves and we don't really care who the primary retailer is. It's all about giving you a legitimate recommendation and our honest opinion of each product.
We've been in business since 2008 covering tools, writing reviews, and reporting on industry news in the construction, automotive, and lawn care industries. Our Pro reviewers work in the trades and have the skills and experience to know whether tools can perform well in the field.
Each year, we bring in and review more than 250 individual products. Our team will put our hands on hundreds of additional tools at media events and trade shows throughout the year.
We consult with innovators in the technology and design of tools to gain a broader grasp of where these products fit and how they work.
We work with more than two dozen professional contractors around the United States who review products for us on real job sites and consult with us on testing methods, categories, and weighting.
We'll provide more than 500 pieces of new content this year absolutely free for our readers—including objective evaluations of individual tools and products.
The end result is information you can trust because of the editorial, scientific, and real-world professional experience we collectively utilize each and every time we pick up and test a tool.