Tool Boxes vs Tool Chests
We've used and reviewed a LOT of the best toolboxes in the industry. However, before we even get into the best tool box reviews for 2023, we have to back up and make sure you're in the right place. In the same way that "coke", "pop", and "soda" are different ways people use to refer to soft drinks in the South, Midwest, and Northeast respectively—tool boxes and tool chests mean different things. For our purposes, this article focuses on portable tool boxes and storage systems. Check out our best tool chest reviews article for products you might stack and keep in a garage or shop space.
In short…choose your own adventure:
Best Tool Boxes
If you want one of these, you're in the right place. We have plenty of portable tool box recommendations to keep you going.
If you're looking for this type of "tool box" head on over to our best tool chest reviews article for our top picks.
Now that we have that settled, we can get on with our picks for the best tool box. We separated our picks by application, so scroll down and be sure to let us know whether you agree or disagree with our picks in the comments below.
Best Tool Box Overall – Our Top Pick
Flex Stack Pack Modular Tool Box Storage System
Our pick for best tool box overall really goes to a system: the Flex Stack Pack System. This system took everything that's great about modular storage systems and made it even better. From the steel front and side tool rack rails to the innovative level holder, Flex added some extremely convenient features to this best-of-the-best modular tool box.
The only negative we can think of with the Flex Stack Pack tool box is that it's new. As such, they have yet to release wall mounts or other products that integrate with the system. Still, the base 3-piece rolling tool box kit remains one of the best and toughest systems we've reviewed. They also have killer organizer boxes and medium (half-size) organizers that work really well and stack onto the system.
Also Recommended
Most Expandable Modular Tool Box System
When it comes to the best modular tool box system with the widest variety of accessories, you won't easily top the Milwaukee Packout System. This system has a wide breadth of products and accessories. From rolling cases to Packout drawers, and even a Milwaukee Packout Radio—this system really seems like the best solution for tradesmen. Whether you want to store tools, accessories, or even toss a modular worktop on your stack of Packout boxes, this system has you covered.
They also have wall mounts, vehicle mounts, dollies, and crates to ensure you stay as mobile as possible. Want to mount a charger to the wall—they have that too. Milwaukee even has a Packout-compatible first aid kit! If you can dream it—they likely have it.
---
Best Rolling Tool Box
When it comes to the best rolling tool box, we had a split internally. We can't help but divide our recommendation between the DeWalt Toughsystem 2.0 Rolling Tool Box Mobile Storage (DWST08450) and the Milwaukee Packout Rolling Tool Box (48-22-8426).
DeWalt Toughsystem 2.0 Rolling Tool Box
Priced around $179, this rolling tool box has everything to need to safely and securely lug tools, accessories, and more to the jobsite.
Milwaukee Packout Rolling Tool Box
The Milwaukee Packout rolling tool box carries a $30 premium but impressed us with its large 9-inch wheels and rugged durability.
Both tool boxes present super-durable and secure ways to port your tools on the jobsite. The Milwaukee features 9-inch wheels versus the 8-inch wheels on the DeWalt Packout 2.0 box, but we've used both and they hold up equally well when rolling over dirt, concrete, or getting up and down stairs.
---
Best Tool Box for Professionals
Festool Systainers
We had some internal disagreements about this pick. In the end, we couldn't deny that Festool offers nearly every single tool in a Systainer box. They also make their boxes stackable to their dust extractors such as the Festool CT 48 E AC we reviewed previously. That makes them the company that emphasizes storage boxes as part of their system mentality the most for professional users. So they get the "win".
Still, these tool boxes really find their home with fine finish carpentry professionals and woodworkers. We don't see a lot of general tradesmen scrambling to buy expensive Systainers as tool boxes. Plumbers and electricians may have never even heard of them or seen them in the wild. And you certainly won't find them on the endcap at your favorite home improvement warehouse. If you're not already using Festool tools, you may want to go with our split secondary picks below.
Also Recommended
---
Best Mechanics Tool Box
Gearwrench 239 pc Mechanics Tool Set
To us, the best mechanics tool box comes with the basic tools you need for working on general automotive tasks. You won't have all of the specialized picks and tools found back at the shop, but you can be truly portable and get things done on the road. A great mechanics tool box includes wrenches, ratchets, sockets, and bits. With those four members of the automotive "food group" you can tackle just about anything likely to happen while you're out and about. This $210 set impressed us with its ability to stay organized with drawers and its comprehensive array of metric and SAE socket sizes.
See our best tool chests article if you want our recommendation on what to carry in the garage or shop.
---
Best Tool Box for the Garage
DeWalt ToughSystem (and 2.0)
Our recommendation for the best tool box for the garage differs from our best mechanics toolbox recommendation. Rather than a simple portable box, it takes into account the organizational needs of the homeowner. For this reason, we like the rack system capabilities and portability of the DeWalt ToughSystem 2.0. Between the bins, boxes, drawers, and incredibly intuitive rack-mounting system, the DeWalt ToughSystem works really well in any garage or shop. Pricing starts at $40 and goes up from there. You can even get a cart or cordless DeWalt ToughSystem Radio.
---
Best Stackable Tool Boxes
Festool Systainers (by Tanos)
Most Pros don't quite realize the easy stacking Festool Systainers provide. We really like the look and tightness of the Systainer system as a stacking set—especially since so many tools already come in Systainers. Its boxy nature also lends itself to easy storage and transportation. Each box allows for triple functionality with the rotating latch. You can open the lid, secure the lid, or even connect the box to the one above it. As a result, Festool Systainers remain one of the few stackable tool box systems you can leave latched while you open the lid of a box that may not be right on top.
---
Best Tool Box Kit with Tools
Gearwrench 243 Pc 6-pt Mechanics Tool Set
We already made our recommendation above for the Gearwrench 239-pc mechanics tool set, but this one makes some nice modifications we also found helpful. While you can also get this set in 12-point, we prefer the 6-point sockets. You also get a few larger-size sockets and also a couple of knuckles to help you out in those odd locations. We also like the Allen drive sockets in place of the standard wrenches. Either case works really well, but we thought we'd give you an alternative recommendation here.
---
Best Tool Box for the Money
DeWalt ToughSystem 2.0 Storage System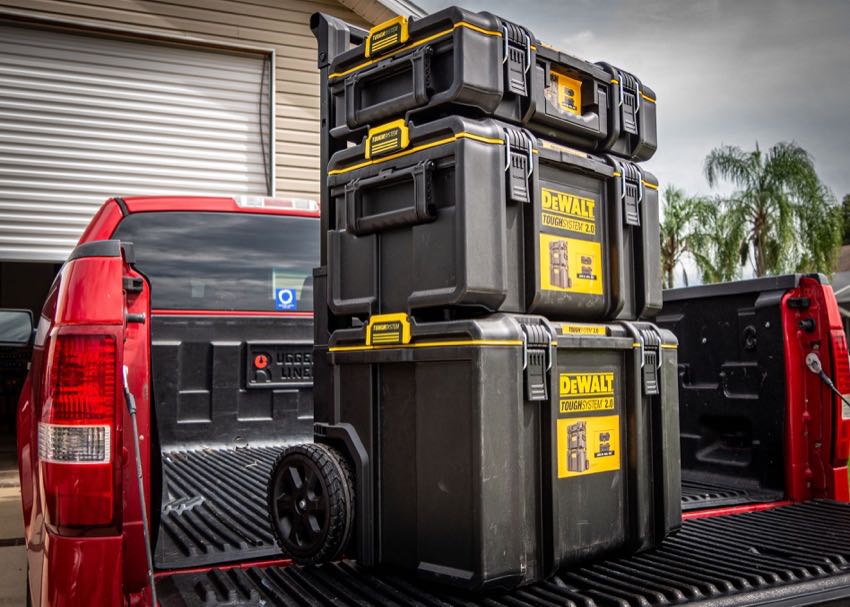 Recommending the best toolbox presumes we know what you're looking for. In fact—we don't. That means that having some flexibility in the type of tool box you select really matters. For that, you can't beat the DeWalt ToughSystem. Milwaukee Packout also presents a great option, but DeWalt gets you just a little bit further for your dollar. We like the open visibility of the Packout wall mounts, but equally great is the flat pull-out storage of the ToughSystem racks.
---
Best Tool Box for DIY and Homeowners
While it hasn't quite hit the market yet, we really like several aspects of the RYOBI LINK rolling tool box. For one, it works well with the entire RYOBI LINK storage system. That means you can add their storage boxes on top and expand your capacity and functionality. The RYOBI made the LINK Rolling Tool Box with impact-resistant material so it handles any household abuse you can imagine.
The wide, steel telescoping handle and 9″ all-terrain wheels support 200 pounds of load capacity. RYOBI also gives this toolbox an IP65 rating against water and dust. Inside, you get an area in the lid for storing accessories like drill and driver bit kits. Lastly, the RYOBI LINK rolling tool box includes a locking point and integrated tie-down anchors.
---
Best Way to Organize Your Tool Box
You can choose from a myriad of ways to organize your toolbox. With tool chests, our recommendations come down to spray adhesive and even foam inserts like those made by Kaizen Inserts. You can't beat custom foam inserts that help you keep track of your tools. For general storage, however, you really want to organize by task and application.
Organizing By Task and Application
In my world, I may need to work on plumbing, electrical, automotive, or something like tiling. I tend to have separate kits for each of these duties so I can just grab my box and go. I don't really want to have to stop and load out every time I need to fix a leaky faucet or change out a lighting fixture.
For this reason, I tend to also have duplicate key tools for each application so I don't need to hunt down and swap out screwdrivers, tapes, markers, and utility knives each time I go from one task to another. Having well-laid-out tool kits can really speed up your workflow.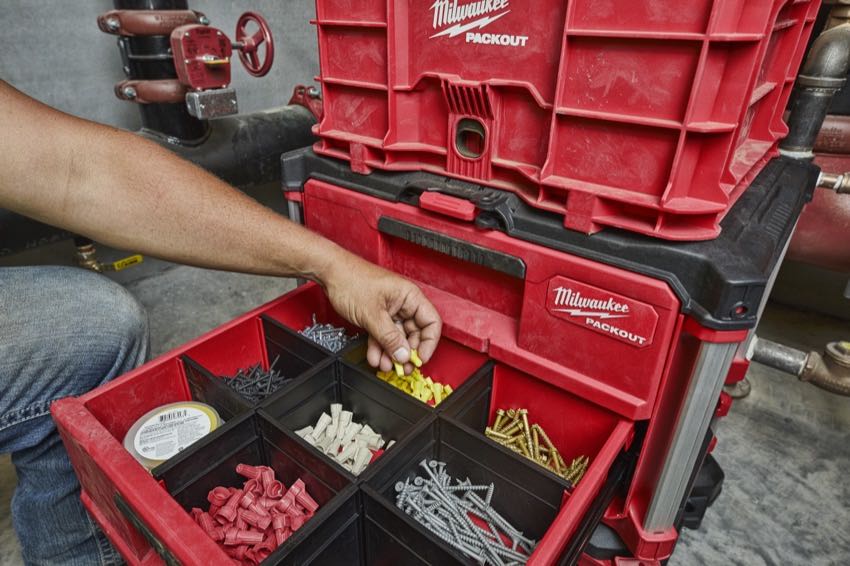 Organizing Fasteners
I can't stress enough how helpful it's been to have organized fasteners. From decking and drywall screws to kits for mounting TVs, I have a different multi-compartment box for many different types of accessories. Screws, washers, nuts, bolts, and more become very easy to access when needed when you have them separated by general size and type. I even made a few custom kits with decking screws and one for anchoring things to drywall or concrete, brick, or masonry. The idea is that I can grab what I need and quickly grab the fastener for the job—without having to dump out a pile of screws or wade through a canister to get what I want.
The same goes for wire nuts, cable clamps, and more. Once you organize fasteners and other items in this way you'll never go back!
Editor's Note: These organizers also make for the best Lego storage and organization system we've ever tried.
---
Best Tool Box for Mounting
You can mount tools to walls and even the sides of a work van or box truck. While custom systems have existed for some time from the likes of American Van and Sortimo, now consumers have more mainstream options from the likes of DeWalt and Milwaukee Tool. That means you can pick up systems that will let you outfit your garage, workshop, van, or work truck with wall-staged tool boxes. Our two picks are below:
DeWalt Toughsystem Workshop Racks
The DeWalt ToughSystem racking kits start at around $99. They work for shops, garages—even work vans and trucks. We love how you can easily slide boxes in and out without affecting anything above or below. They support up to 440 pounds each, making them extremely versatile.
Milwaukee Packout Wall Mounts
The Milwaukee Packout mounting plates hold tool boxes so that you can see what's inside and support up to 50 pounds per mount when placed on the wall. You can also bottom-mount them on vehicles or use them with crates for open storage access.
How We Make Our Choices
We judge tool boxes on a variety of factors. It's the sum of the whole—along with the desired application—that ultimately guides our decision. We also run these by professionals in various fields to see what they think and get their input. Once we're done, we feel we have a list you can rely on and trust.
Durability
One thing we don't like: cheap boxes that break easily. For that reason, you don't see any "Amazon-special" recommendations—we don't care how many people give them top user ratings. If you can slam a box down in your truck bed for fear of breaking it, you're not doing yourself any favors.
Flexibility and Features
If you need something to flex with the job, then we tend to value tool box "systems" over one-off designs. That's why you keep seeing the Milwaukee Packout, DeWalt ToughSystem, and Festool Systainer boxes appear more than once. From stackability on carts and each other to wall-mounting, the flexibility these systems deliver blows away most of the competition.
Organization
We find it difficult to declare a best toolbox on something that can't organize tools well. So large boxes with one big compartment might work great for your Dad, but not for us. We want something that stays a bit more organized over time so you don't have to go hunting around for your tools.
Value
Value matters. How much you need to invest in a good tool box affects your bottom line. That might explain our excitement over mainstream organizers that come in far cheaper than some of the mainstream custom commercial systems of a few years ago. Look for those systems to come down in price—or innovate further—as they fight to stay competitive.
Why You Can Trust Pro Tool Reviews
Ever check out a "review" site and you can't tell if they actually tested the tools or if they're just "recommending" the Amazon top sellers? That's not us. We won't recommend anything unless we'd actually use it ourselves and we don't really care who the primary retailer is. It's all about giving you a legitimate recommendation and our honest opinion of each product.
We've been in business since 2008 covering tools, writing reviews, and reporting on industry news in the construction, automotive, and lawn care industries. Our Pro reviewers work in the trades and have the skills and experience to know whether tools can perform well in the field.
Each year, we bring in and review more than 250 individual products. Our team will put our hands on hundreds of additional tools at media events and trade shows throughout the year.
We consult with innovators in the technology and design of tools to gain a broader grasp of where these products fit and how they work.
We work with more than two dozen professional contractors around the United States who review products for us on real job sites and consult with us on testing methods, categories, and weighting.
We'll provide more than 500 pieces of new content this year absolutely free for our readers—including objective evaluations of individual tools and products.
The end result is information you can trust because of the editorial, scientific, and real-world professional experience we collectively utilize each and every time we pick up and test a tool.