This review started off as a sort of bait and switch. You see, I was asked if I would like to review "a tool belt or two" for Pro Tool Reviews. "Sure, send them over," I said. Reviewing and choosing the right or best tool belt or tool rig isn't hard if you're picking from a few products. After all, I've been doing this for decades—I know tool belts!
12 Tool Belts Later…
A week or two later I arrived home to a massive onslaught of boxes on my doorstep. A "tool belt or two" somehow evolved into a dozen tool belts with the promise of more to come. Finding the best tool belt just got a lot more time-intensive.
If you read my articles, you know that I try to bring all of the tools and products I review to the toughest, meanest, and dirtiest testing facility of them all—the jobsite! So how in the world was I going to be able to wear, test, and basically beat the tar out of thirteen tool bags in just a few weeks?
Even if I gave a belt to each of my guys, I just didn't have the time to wear these belts long enough. We wanted to get a real flavor for how they performed and held up. I decided the best way to approach this was to systematically go through each tool rig and cover important features and accessories. Along the way, my crew and I would test out as many as possible.
The Best Tool Belts and Rigs We Chose
Overall, my team and I looked at over a dozen different tool belts. Since choosing the right tool belt can make or break your day, we looked at a ton of models—including the following:
AWP Classic Construction Leather Tool Apron (LT-428-2) – $50
AWP TrapJaw Oil-Tan Leather Tool Rig (L-903-1) – $80
Bucket Boss Builders Tool Belt (50200) – $50
Carhartt Legacy Deluxe Tool Belt – $58
DeWalt 12-Pocket Carpenter's Suede Apron (DG5372) – $55
DeWalt Carpenter's Tool Belt (DG5472) – $80
Jackson Palmer Professional Comfort-Rig Tool Belt – $44
Klein One-piece Nail/Screw and Tool-pouch Apron (42242K) – $80
McGuire-Nicholas 494 Suede Carpenter Apron – $31
McGuire-Nicholas Oil Tan Apron (767-E) – $48
Occidental Leather Adjust-to-Fit Tool Belt (9855) – $365
Style N Craft 98444 19 Pkt Framer's Combo in Top Grain Leather – $194
Style N Craft 93414 17 Pocket Pro Framer's Combo Tool Belt – $192
Best Tool Belt Overall
Occidental Leather Adjust-to-Fit Tool Belt (9855)
After wearing and testing these belts extensively, we picked the Occidental Leather Adjust-to-Fit Tool Belt (9855) as the best tool belt overall. Occidental makes this top-leather tool belt right in the USA. The belt feels already broken in—so you don't have the deal with any stiffness. All 24 pockets seem perfectly positioned, and I had room for everything I needed to store.
Mind you—if you end up choosing this tool belt, it doesn't come cheap. Its steep $365 price, however, includes a lifetime repair service (stitch & rivet) for their all-leather carpenter's tool bags. Try getting that off a cheap tool belt!
Best Carpenters or Contractor Tool Belt
AWP TrapJaw Oil-Tan Leather Tool Rig (L-903-1)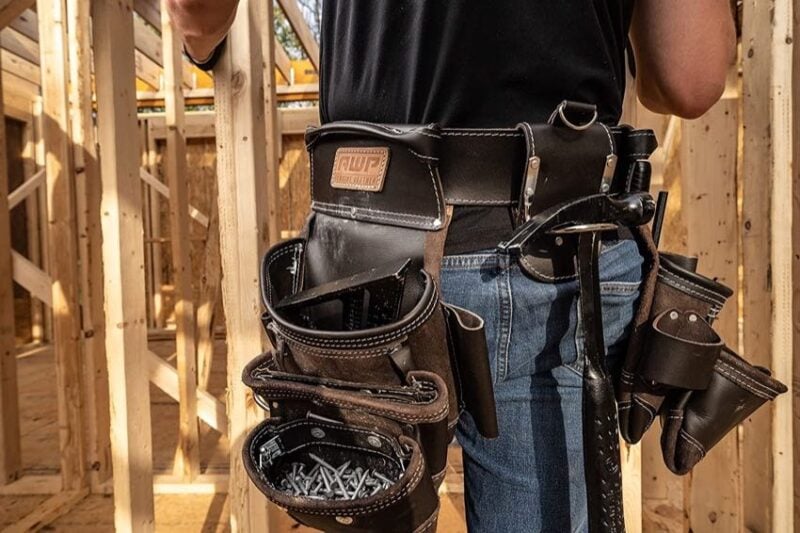 With the Occidental Leather pick above in mind as our top pick, I thought a more practically-priced solution might be good to highlight here. I've worked with carpenters and contractors that work out of tool boxes or tool bags. They're constantly picking up and putting down tools. Not only are these guys constantly looking for tools or having to fetch fasteners, but they also work less efficiently.
While others look and reach for tools—for me, choosing the right tool belt means access. I want my tools right on me in my tool belt at all times. The best carpenters tool belt for keeping the right tools on hand is the AWP HP General Construction Leather Belt Flip Pocket Tool Rig.
Our crew loved the supple bags. They found it perfect for holding just enough tools without being overbearing for carpentry work. It also has you covered with two large rings for hammers. You also get D-rings if you want to use suspenders. The bags slip along the main belt easily as well, so you can reposition them as needed. For professional contractors executing a variety of tasks, this $80 tool belt rocks the job site.
Best Electrician Tool Belt
Klein Tools 42242K Tool Apron
Choosing the right tool belt for electrical work presented some unique requests. Feedback indicated that less is more. You want a place to keep your primary tools handy—but you don't need 20 pockets and two steel hammer loops. In fact, no hammer loop suited our guys just fine. The best electrician tool belt for keeping your tools and meters close-by has to be the Klein Tools 42242K tool apron. The bags have a nice soft suede feel, so it's easy to reach inside and grab screws or wire nuts.
You also get plenty of places to store marking tools and NCV detectors. A center steel tape holder is handy. Klein then gives you two large pockets and two small pockets to divvy up your gear. Overall, we think this tool bag holds just enough electrician tools without going overboard. The $80 price won't break the bank either.
Best Framing Tool Belt
McGuire Nicholas 767-E Contractor's Apron
Framers need their tools handy, but not too many. When choosing the right tool belt for a framer, you want ample room for key tools. That includes a framing square, hammer, marking tools, nails, tape, and a few other oddities. You also don't want to break the bank buying a reliable tool belt. We chose the McGuire Nicholas 767-E Contractor's Apron as our best framing tool belt.
We like that it has steel hammer loops on either side. That also might make it the best tool belt for left-handed people. The tape pouch sits right where we like it, and you don't have a billion pockets to contend with. You get just enough to carry what you need. The only downside has to do with sizing. Since the belt has hard-riveted pockets that don't slide, thinner framing pros may end up with an odd fit. Still, you really can't go wrong with the $48 price.
Most Comfortable Tool Belt
Jackson Palmer Professional Comfort-Rig Tool Belt
This Jackson Palmer tool belt defies you to feel the weight—even when carrying heavier cordless power tools from its integrated tool hooks. This tool belt is our pick for most comfortable due to its incredibly well-built design. From the adjustable padded shoulder straps to the triple rear tethers, it distributes the weight between your waist and back. Iron buckles and reinforced stitching at key stress points just add to the durability.
Jackson Palmer also gives you large detachable pocket organizers with integrated tool compartments for your drivers, pliers, and more. We also like the rear-mounted hammer loop—which keeps that tool out of the way until you need it. This comfortable tool rig might be the best thing for anyone climbing or needing to carry a lot of heavier items. At $44 you almost feel like you're stealing it!
Best Tool Belt for the Money
DeWalt DG5372 12-pocket Carpenter's Suede Apron
This $55 suede apron wins hands-down as our pick for the best tool belt for the money. The DeWalt DG5372 12-pocket Carpenter's Suede Apron features 5 main pockets. It also gives you 7 small pockets and sleeves to handle pencils and similar small items. The belt features dual soft handles above the main pouches. You can use them to easily adjust the belt while wearing it. It also works really well for collapsing and carrying the tool belt around when you move from site to site.
Best Canvas or Nylon Tool Belt
Carhartt Legacy Deluxe Tool Belt
I still feel that polyester and nylon (or even canvas) make the best tool belts for lightweight and simple comfort. Sure, you can get comfortable leather tool belts with shoulder straps and harnesses, however, a polyester or nylon belt just works. The synthetic material weighs less than leather yet it provides similar performance. The Carhartt Legacy Deluxe Tool Belt seems to provide a nice simple solution for anyone looking to save some weight.
This polyester-lined tool bag has nine pockets with a metal hammer loop and steel tape measure holder. You even get two removable pockets. Priced at just over $58, we really like the value this tool belt offers.
What I Carry in My Tool Belt
In my world of residential construction, I can be framing one day and installing kitchen cabinets and crown molding the next. I tend to load up my tool belt/bag based solely on the daily tasks at hand. Even with the varied applications, a few "permanent" tools reside within my tool belts. These are tools that have proven their worth over time, and each has a dedicated and very specific spot. The best tool belt you can find is one that holds every tool you need.
Stanley Fatmax (which I consider the best tape measure)
Wooden folding ruler
2 nail sets
Chalk line
Small combo pry bar/nail puller
End cutters
Needle nose pliers
Torpedo level
Scribes
2-3 carpenter pencils
2 fixed-blade utility knives
LED flashlight
Multi-bit screwdriver
Building Muscle Memory and Good Habits
Over time, repetition has trained me to develop the habit of being able to access and stow these tools in my belts without looking for the pocket. Call it muscle memory, but it's a huge time-saver when you're working or focusing on a task. You don't have to stop what you're doing to look in your belt to remove or stow a tool. Build good habits and you can speed up your work over time.
I wear a tool belt most of the time. While there are situations where a tool belt is neither feasible nor warranted for the situation, those times are few and far between. Wearing a tool belt for me equates to being efficient and methodical. It means having the necessary tools on my person to complete the task.
Don't Baby Your Tool Belt or Tool Bag
I'm also really rough on my tool belts. Over time, my bags and belts usually fail at the tool pockets. This might be due to my insisting on stowing and using two fixed, open utility knives and a super sharp chisel. I'm a bit old-school on the utility knives. I prefer the speed of not having to operate a switch to open them. (Don't tell OSHA!) I've even gone so far as to customize my knife and chisel pockets with pieces cut out of plastic bottles to reduce damage to the bottom. Don't knock it—it works!
How We Go About Choosing the Right Tool Belt
Choosing the right tool belt requires more than one opinion. To solve this, I called an emergency session with my crew. I told them to bring their best tool belts, grab a coffee, and meet me at the shop. Some likely thought they were getting pink slips!
Once in the shop we sat down, loaded up each tool belt with our own "permanent resident" tools, and tried them on. We looked at each and every tool belt and discussed them based on their pros and cons. It was actually a lot of fun.
I encouraged everyone to load up tools and fasteners, actually wear the tool belts, and comment. We decided to look at each rig individually and talk them up…and down. This helped to avoid comparing them with one another right off the bat, which was tough to do. That being said, it didn't take long before we were all choosing the right tool belt for ourselves!
When choosing the right tool belt, we looked at and discussed the following:
Fit and finish
Durability
Quality (material, seams, stitching, and rivets)
Customization
Belt and buckle adjustability, material, and comfort
Pockets and tool holders, capacity, ambidextrous use, fixed or adjustable
Number of pockets, size, and usefulness
Hammer holders and locations
Which trade would best utilize the belt
Price and value
Tool Belt Durability, Fit and Finish
There is a lot that goes into a good quality tool belt: material, seams, stitching, and rivets. Then you have the belt and buckle adjustability, material, and comfort. Also, some belts come in various sizes, while others claim to be "one-size-fits-all". If your waistline is less than 34-inches you may have some difficulty with many of the single-size belts. They seem to always make the assumption that the average construction worker is, well, slightly above average in the middle.
When choosing the right tool belt for their neds, my crew agreed that oil-tanned leather tool belt rigs had the highest build quality. All of these style rigs were well-made. Some, like those from Style N Craft, AWP, and Occidental Leather have beefy rivets, excellent padding, and real thick leather belts. Others even included built-in loops for suspenders and handles for carrying or hanging up the belt when not in use.
A majority of the guys on my crew thought the oil-tanned leather belts with "fixed" bags had a disadvantage. These tool belts had the potential to become uncomfortable. They also severely limited your ability to individually customize them. Less adjustability typically meant less capacity for stowing smaller tools and fasteners. We surmised that these belts were designed and set up for a framer who carries and stores minimal tools, but who may load up on fasteners.
What About Nylon, Polyester, and Canvas Tool Bags?
I was the only standout who preferred a canvas, polyester, or nylon-style belt for its lightweight comfort. Even with a majority voting against me, I held my ground. I'm the oldest of the group and the only one, so far, with lower back issues. I tend to gravitate to lightweight nylon rigs for obvious reasons.
But you can also find high-quality nylon or polyester tool belts and rigs. I suggest that if you're considering one, look at the thickness of the material. You also want to examine the stitching (Is it single or double?) and note any features that allow for customization. That might be handles, a padded belt, suspender loops, or hammer and tape holders.
Remember, you will likely wear your best tool belt on a regular basis. It needs to competently hold all of the tools you regularly use. Go with a high-quality, durable product that can take all the abuse that comes along with the territory—regardless of whether it's made of leather or synthetic materials.
Not All Leather is the Same
Some of the leather tool belts we reviewed from Klein, AWP, and McGuire-Nichols all reminded me of my first tool belt. Unfortunately, that one didn't last me that long due to pocket blowouts. Each of these tool belts uses soft (almost suede) leather with heavy rivets and mostly double stitching. We felt these belts were beefy enough to be called jobsite worthy, but most of the crew tended to lean toward the heavier leather models.
Belts, in general, also varied considerably. Both AWP belts featured top grain leather pouches, but the belts were two-ply, sewn together. This style of belt isn't likely to hold up nearly as long as the thicker full-grain leather belts made by McGuire-Nicholas. Some of the belts using this style of construction also looked to be made of bonded leather. Bonded leather is stiffer and not nearly as durable. The best tool belt of all the models we tested had to be the Occidental Leather 9855. We also liked options from Style & Craft. Both appeared to use thick, pliable saddle leather.
Comfort and Fit
In addition to the material used in the belt, which varied from nylon to bonded leather to saddle leather, all of the models featured sturdy buckles. While a large metal belt buckle is durable, it's also had the potential to dig into your belly when leaning over. Worse, it might scratch a finished surface. We all tended to lean toward the tool belts which let the wearer either spin the buckle to the rear or slide it behind one of the two attached tool bags.
The rivets on most of the belts were fairly low profile. There were no other sharp edges with the exception of the hammer loops and combo square holders.
The oil-tanned leather rigs were well-constructed and designed for the long haul, but they were also fairly heavy. Their main bag compartments, however, tend to stay wide open and thus maintain their shape—a plus when wearing gloves.
The soft leather bags have "low profile" main compartments that lay flat and can be adjusted by sliding them over the belt. In fact, many of the tool belts let you slide around the main compartments. This provides a huge advantage when you want to adjust the rig by sliding a bag off of your hip into the most comfortable position possible. Of all of the features, this one was almost a requirement!
Customization, Capacity, and Those Damn Lefties!
One consideration you need to keep in mind when trying to choose the best tool belt (or the right tool belt for your trade) is choosing one that offers you plenty of space to carry exactly what you need. Trust me, there are enough tool belts out there. In fact, even if you don't like a particular belt from a manufacturer, chances are, they make another model that will be much more to your liking.
It's important that your tool belt has room for all the essential tools you use regularly. A major disappointment was trying on a tool belt that didn't offer a single pencil or marker holder. I'm sure you could store a half dozen markers in a larger pocket, but every trade uses marking tools. This was important enough to want a dedicated pocket located front and center on both the left and right belts.
Quantity Matters!
If you're like me, quantity matters, so look for a belt that has plenty of pockets and compartments. That way you can make sure all your favorite tools can be easily carried around with you. Balance the capacity with weight. If the belt is too heavy or too bulky to wear, you won't use it. That really means you've wasted your money. You want to choose a system that offers great organization so it makes the most of all the space. This will make it easier for you to wear the tool belt on a regular basis.
Personally, I really gravitate toward a belt that offers individual tool holders inside the main compartment. Only two tool belts offered this option: the Klein Tradesman Pro and the AWP 1L-903. The others just had large main compartments where tools tend to settle to the bottom in a cluster. I like organization and want them separated for easy access.
Customization is Key
Customization of the tool belts was also an important topic and one that resonated with my lead carpenter. He's a lefty and prefers tool bags that offer access from either side. Ambidextrous rigs are simply a great idea and a lot of tool belt manufacturers seem to be going this route for a more universal appeal.
Permanently fixed bags like some from AWP, the Klein 42242, and all of the DeWalt and McGuire-Nicholas rigs seemed to be very restrictive and tended to limit the bags to a particular application or body shape. I also shy away from fancy hinged metal hammer holders as they seem somewhat fragile for the long haul. A simple metal or leather hammer loop is preferable—something my entire team agreed on.
Some tool rigs offer a tape holder in the front with a strap to lock the tape measure in place – I always find this annoying and cut these straps off. It mostly gets in the way—usually when I'm trying to "re-holster" the tape. If you end up in positions where your tape could frequently fall out, then you might want to experiment with the straps.
Matching the Trade With the Belt
We all agreed that these rigs would be good for the carpenter. However, with all of the belts we looked at, it really depends on the scope of your job and your working style. The lightweight, lighter leather and low-profile belts seem to be a great fit for trim carpenters, painters, and guys doing punch lists. The Klein was clearly designed and laid out for electricians but is really a nice belt for just about anyone.
Cinching It All Up
Choosing a tool bag is like choosing a girlfriend or buying a car. I would be very conceited to pick out yours, and I certainly would not want you to choose mine…We're still talking about girlfriends, right? There are nearly endless factors for deciding to go with one tool belt rig over another. My personal decision emphasized low weight and having lots of dedicated pockets. I also wanted the ability to customize and orient the accessories within the bags.
I started out my career using a soft leather tool belt (it was inexpensive). Later, I gravitated towards choosing a heavier leather tool belt rig. Recently, however, I hung it all up for a lightweight nylon-style rig with a padded belt. I find the padding helps spread out and distribute the weight in a way that's better for my aging (and some days, aching) back.
So what do I consider to be the ultimate tool rig? I'd like to combine the weight and capacity of the Bucket Boss rig with the comfort and evenly-distributed weight support that the Klein Tradesman Pro padded belt. Then, I'd want to somehow work in the longevity and durability of those very cool oil-tanned rigs. I'd be in heaven!
Comments from the Peanut Gallery
Following are some quotes we received from actual tradesmen regarding various tool belts we gave them to try out. These may influence you more than what we wrote above!
"I like the all-leather tool belts for comfort and durability. They have the right size pouches for nails, making it easy to grab a handful—even with a glove on. There's also a place for my tape, a square, and a metal loop for a hammer. I've had mine over 20 years, and while I have been given new ones for Christmas or my birthday, I always go back to my old leather friend."
"I've been a carpenter for 38 years. I started with a cloth apron, but it couldn't carry enough tools, so I went with a leather rig with the tape measure in the front. It was heavy, but it worked fine except on humid days on the roof. Boy, you can experience lots of sweating! For the last 10 or 12 years, I've been using the canvas type. Light, no sweat, and the pouches are able to slide along the heavy-duty belt. I also like the ability to place the hammer holder in the back where it doesn't whack me in the back of my knee with every step."
"I need a quality belt that evenly disperses weight, so I currently run with the Occidental Leather Pro Leather Framer bags. This belt fits my needs perfectly, and I feel lost if I'm working without it."
Comfort & Practicality
"Comfort and practicality are most important. You have to have good suspenders that don't rub and that take the weight off the hips. It also has to be practical so that you can support and carry a wide variety of tools without it being one big jumbled mess."
"I think choosing the right bag really depends on what type of work you do. Each job could really use its own setup. For that, you need customization and floating bags that move along the belt. Take an impact driver, for example. That's a tough tool to carry, and some manufacturers like McGuire-Nicholas, AWP, and Style N Craft provide a solution that."
It's the Weight!
"Weight is the biggest issue for me. I find myself using my suspenders for a couple of months. Then, when my shoulders get sore, I take them off for a couple of months until my hips and lower back start to feel it. Rinse, repeat. When I first started building, I used to load up my tool bags and fill up every pocket available with chisels screwdrivers, etc. I started out with affordable nylon bags, but I would go through them every couple of years. They just seem to fall apart and don't age very well.
Eventually, I went big and purchased a true leather rig for the long haul. I've had mine for eight years, and during that time I've also learned to work smarter. Now, I fill it with just the tools I need for the job. Weight is still a concern, and I've been trying to trade in my heavier metal tools for equivalent plastic, aluminum, and titanium models."
Why You Can Trust Pro Tool Reviews
Ever check out a "review" site and you can't tell if they actually tested the tools or if they're just "recommending" the Amazon top sellers?
That's not us. We only recommend what we'd actually use, even if we don't earn a commission from it. It's all about giving you a legitimate recommendation and our honest opinion of each product.
We've been in business since 2008 covering tools, writing reviews, and reporting on industry news in the construction, automotive, and lawn care industries. Our Pro reviewers work in the trades and have the skills and experience to know whether tools can perform well in the field.
Each year, we bring in and review more than 350 individual products. Our team will put our hands on hundreds of additional tools at media events and trade shows throughout the year.
We consult with innovators in the technology and design of tools to gain a broader grasp of where these products fit and how they work.
We work with more than two dozen professional contractors around the United States who review products for us on real job sites and consult with us on testing methods, categories, and weighting.
We'll provide more than 750 pieces of new content this year absolutely free for our readers—including objective evaluations of individual tools and products.
The end result is information you can trust because of the editorial, scientific, and real-world professional experience we collectively utilize each and every time we pick up and test a tool.