Last Updated on December 15, 2021
One of the most exciting products to hit the Milwaukee Packout System has to be the Milwaukee Packout M18 Radio and charger. This radio does a great job combining features, sound quality, and ample output to fill an entire job site with music. Fresh off the heels of the Milwaukee M18/M12 wireless jobsite speaker, the new Milwaukee 2950-20 radio and charger should appeal to anyone wanting a radio that nestles nicely into Milwaukee's portable storage system.
Pros
Charges M18 batteries (even fits the largest 12Ah pack)
Great run-time
Tons of output volume
Great job site audio quality
Hybrid AC/battery power supply
Best radio Milwaukee has ever made
Plays clean at max volume
Cons
Bass limited by driver size
Heavy
Editor's Note: Check out our best jobsite radio article for our top picks.
Milwaukee M18 Packout Radio Design
The Milwaukee Packout Radio plus charger integrates really well with the Packout system. Duh, right? Well, the thing is, they made some really good choices. First, it places nothing on top or bottom, so you can place it atop, or within a Packout stack. The four speakers and sub—more on that later—fire out from the sides. Even the AC power cord, sealed battery compartment, and bottle opener are on the side.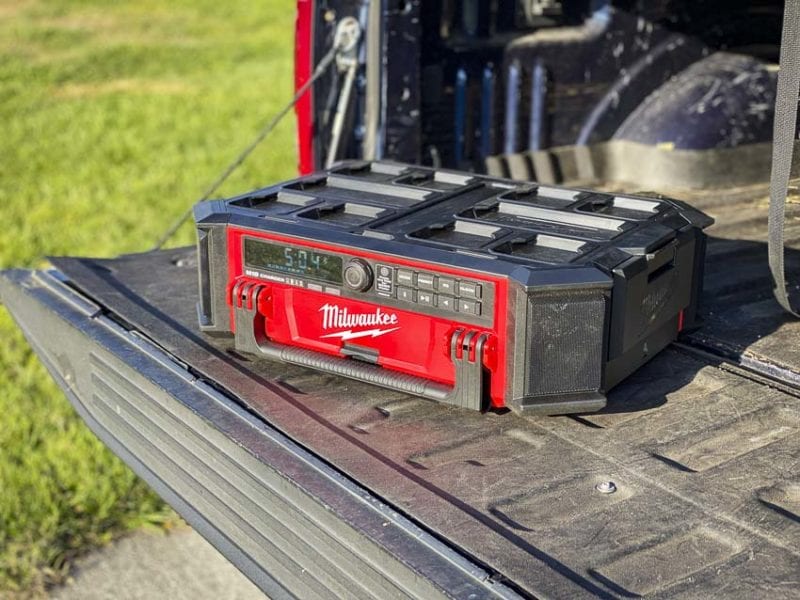 That sealed battery compartment is really well-done. It accommodates large M18 batteries—even the biggest Milwaukee 12Ah High Output battery pack (we checked this one specifically). The entire radio is weather-resistant, though Milwaukee doesn't give a specific IP rating for it. The same space also houses ample room to store even a large iPhone 11 Max while charging off the USB 2.1A port (with room to spare, I might add).
I actually love the look of this radio—from the black Packout top to the Milwaukee-red face. They also went with an inverted LCD screen, so you get white digits on a dark background. This makes it much easier to read outdoors.
Using the Milwaukee Packout Radio Controls
While I explored the AM/FM radio functions, I primarily used the Milwaukee Packout radio in Bluetooth mode. In Bluetooth, the Play/Pause, Forward, and Reverse buttons work as expected. That means you can skip forward and back through a playlist if you have access to the radio, even if your phone is in your pocket or charging via the USB port. That port charges at up to 2.1A, giving you a relatively quick charge option for phones and tablets.
Bluetooth pairing was flawless, with the radio quickly coming up for both my iPhone and an Android phone we keep around for testing. Once paired, audio transitioned to the radio and I could play anything I wanted. For the most part, I used playlists on Amazon Music.
The volume is interesting in that the phone lets you control volume—but so does the radio. So, in order to max out the system you need to crank both the Packout Radio and your phone. With other speakers the phone often takes over the radio volume controls, yielding one overall volume setting. I actually prefer this implementation since I can set a "max" volume and still control output within that range using my phone.
Milwaukee 2950-20 Speakers (Drivers)
Milwaukee Tool positioned the four 2-way speakers at each corner. This gives the radio an omnidirectional sound output that truly does fill the entire job site evenly.
The passive-radiator subwoofer takes up the back uses both an active (powered) speaker and a passive radiator. The use of the passive speaker allows the subwoofer to effectively extend its range lower than the single speaker alone could accomplish. It works better in this application than a ported design which would have left the enclosure more open to the elements.
The job site radio can play AM/FM stations, stream audio via Bluetooth 4.2, or even use the auxiliary port…so you can presumably hook up that record player or 8-track. The radio also includes a 6 foot long AC cord. That lets you operate it without a battery or charge an M18 battery while you listen to your tunes.
Finally, Milwaukee Tool included their signature bottle opener, making this radio "beach-ready".
Milwaukee 2950-20 Radio Listening Tests
I did my listening outdoors with the Milwaukee 2950-20 radio cranked up to max and my iPhone volume equally maxed. It's a job site radio, right?
Immediately, I heard good punch on the bass which makes up for not having a larger driver for those low frequencies. Highs are clear, though you get the expected crispness at max volumes. What's great is the system doesn't play louder than it can handle. Many—and I mean many—radios will let you raise the volume until you get tons of distortion. At that point, the speaker can no longer clearly reproduce audio. Everything just starts to sound crunchy—like someone set a piece of material on top of the speaker that won't stop vibrating.
Milwaukee Packout Radio Sound Quality
The Milwaukee Packout radio handled a lot of tunes on my playlist really well. I heard the punchy bass in Toby Mac's "Speak Life". Steven Tyler's vocals came through with their signature edge in "Dream On". The piano in Elton John's "Tiny Dancer" kept its dynamics, and I could pick up that gentle reverb present in his vocal track. Kudos for this radio's ability to play loud and still maintain definition.
If there's any deficiency with the Milwaukee 2950-20 radio, it's in an area where I've rarely seen a good solution: bass. As much as Bose would like to have you believe, you simply can't defy the laws of physics. Take a speaker outside, and getting low, loud bass from a small driver is nigh impossible. With that said, Milwaukee went with a boomier bass that fills in lots of gaps while also allowing room for that punchy sound you expect from tracks like Foreigner's "Juke Box Hero". It's as good a compromise as I've heard in a job site speaker.
Conclusion
The Milwaukee Packout Charging Radio exceeded expectations. For $299, you get a radio specifically designed for the job site—and with the Packout system in mind. That makes it easily transportable for those already running with that rig. It has plenty of sound output, and we love how easily it connects to Bluetooth. This is our go-to radio in the shop these days, and it outperforms all of Milwaukee Tool's prior models. Milwaukee has less expensive models if you want to skip the charging feature or Packout compatibility.
Milwaukee Packout Radio and Charger Specifications
Power: M18 Redlithium battery or AC power
Speakers: 4x 2-way omnidirectional speakers
Subwoofer: Rear-firing active sub + passive radiator
Bluetooth 4.2
AM/FM radio with presets
Auxiliary port
Integrated clock
Carry handle
Packout integration
Internal phone storage
Bottle opener
Price: $299 (radio only)