While I love tools, I happen to have a background in recording engineering and have even been a sound editor on several feature films. Over the years, I've really come to develop an ear and a passion for good audio. It goes without saying that it didn't take a lot for me to be interested in finding the best jobsite radio you could buy for the money. I wanted to know which of these jobsite radios sounded good, which had truly useful features, and which I'd want to take a hard pass on.
We looked at and reviewed dozens of jobsite radios to assemble this list. Since everyone has different needs, we broke it down by standout features, size, and even made an overall favorite pick from everything we've tested.
Best Jobsite Radio Overall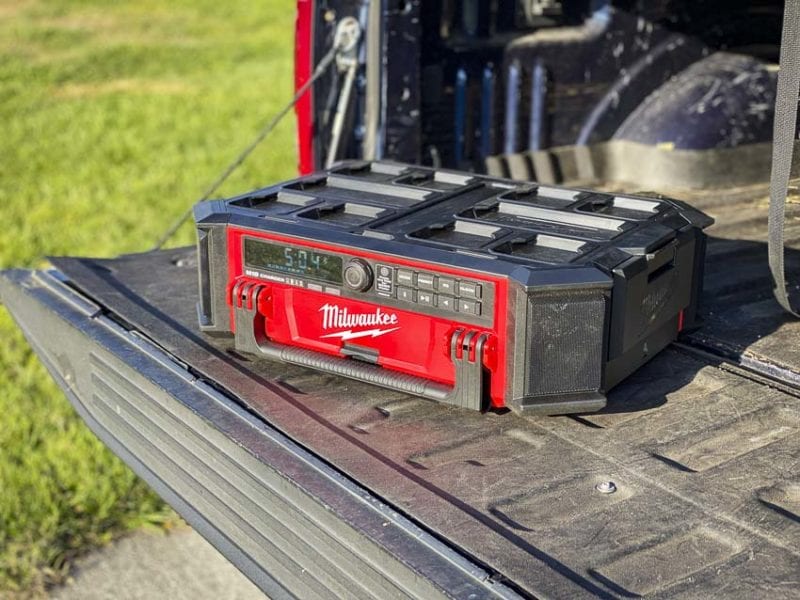 We picked the Milwaukee M18 Packout Radio as the best jobsite radio overall due to its excellent combination of features, output, and sound quality. For around $299, you get a true jobsite radio. Plus, it locks onto your Milwaukee Packout system. That makes it easily transportable for those already running with that rig. It has plenty of sound output, and we love how easily it connects to Bluetooth. This is our go-to radio in the shop these days, and it outperforms all of Milwaukee Tool's prior models. Milwaukee also has less expensive radios if you want to skip the charging feature or Packout compatibility.
Best Bluetooth Jobsite Radio or Speaker
The Makita XRM11 Bluetooth speaker is our pick for the best Bluetooth jobsite speaker. It challenges the way we think about smaller speakers. It also bears almost no resemblance to the Makita XRM10 charging radio—going instead for a completely new shape and size.
By the time we got done listening through a wide range of music types with these speakers, we simply looked at each other with wide eyes. The Makita XRM11 Bluetooth speaker mic dropped the small-form speaker world and dared everyone else to try and do better. They aren't cheap, but at $129 each, you can daisy chain up to 10 of these together to form your own Phil Spector wall of sound.
Best Portable Jobsite Speaker (No Radio)
We like the compactness of the DeWalt DCR010 and that it supports both 12V and 20V Max batteries. You can also plug the speaker into AC power with the included power cable. This Bluetooth speaker uses two drivers plus an extended bass feature (EQ) to help bring in some of those lower frequencies.
Unlike some other DeWalt jobsite radios (like the ToughSystem Music+ Charger), you won't be able to charge your batteries on the DeWalt DCR010.
Also, with no built-in AM/FM radio you'll end up streaming to this $99 portable jobsite radio. Look below for our recommendation on the best jobsite radio in a small form factor.
Best Portable Jobsite Radio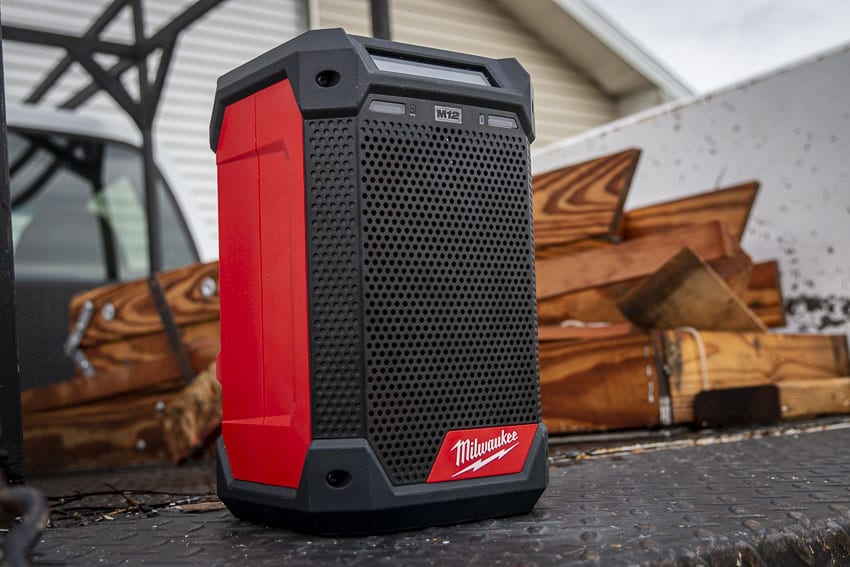 The Milwaukee M12 Radio + Charger takes a versatile approach to job site sound with a full-range speaker setup, multiple hanging options, and the capability to not just charge your M12 batteries, but also your phones and tablets. This is the best Milwaukee jobsite radio for those on a budget and looking for something small and portable. We like it because it includes an actual AM/FM radio—many new Bluetooth jobsite speakers do not.
You can get the Milwaukee M12 radio for $129 as a tool-only option or for $178 with a 2.0Ah battery.
Best Jobsite Radio for Large Areas (Loudest and Fullest Sound)
Some product manager really had their head on straight when they designed the Bosch Power Box PB360C. This upgrade to the original Bosch PB10-CD PowerBox has nearly everything you could want in an outdoor or jobsite radio. Instead of the traditional front-facing stereo speakers, the PB360C uses four drivers that fire up and outward in all directions.
You also get a dedicated 4-1/2″ flush-mounted "subwoofer" that fires out of the bottom of the jobsite radio. While this isn't the loudest radio we tested from the front, it manages to put out more sound because of its multidirectional design.
The Bosch Power Box radio plays loud and clean with more real bass than most competitors. It also has just about every feature you can imagine—Bluetooth, USB charging, 120V outlets, battery charger—you name it. About the only downside of this radio is that it weighs over 25 pounds with a battery inserted.
Best Ryobi Jobsite Speaker
We love the value presented by the Ryobi PAD01 18V Bluetooth speaker. It features dual 3-inch speakers that provide crisp, clear sound and don't sound overly distorted when pushed to maximum volume.
Slap in a 4.0Ah battery pack and you get over 10 hours of audio playback. If you want to charge your phone or tablet, the Ryobi PAD01 gives you a 2.1-amp fast-charging USB port.
You can pick up the Ryobi PAD01 18V Bluetooth Speaker at Home Depot. It sells as a bare tool, retailing for just $79. For what you get, that initially sounds like a great price.
Best Ridgid Jobsite Radio
The Ridgid R84087 Gen5X jobsite radio might be a bit long in the tooth, but it still holds its own. Whether you're an outside guy, a contractor, or just want some good sound in your garage, we find it an easy recommendation to make. Moreso if you're already in the Ridgid 18V battery system.
Even if you don't have other Ridgid cordless tools, as a plugged-in radio option, it's still worth a look and might convince you to pull the trigger on something like the Ridgid cordless trim router.
It's able to get loud too, and with the ability to adjust the bass and treble, you can tweak how sound comes through the speakers. Only in a few instances at full volume did I notice that the music was beginning to distort. The sound quality is much better than most other jobsite radios I've listened to.
Best Porter-Cable Jobsite Radio
Porter-Cable PCC771B Radio
Having reviewed the Porter-Cable PC18JR, we came away thinking the radio sounded like it was trying to play back audio from speakers that were submerged underwater. Backing it off a bit, it got better. The Porter-Cable PCC771B radio tweaked some of those issues while streamlining the look and feel. Where the former jobsite radio resembled an 80s "boom box", the new one…well, it still looks like something out of Breakin' 2: Electric Boogaloo…just a bit smoother.
You don't get a lot of choices when it comes to the best Porter-Cable jobsite radio. Still, they did a good job giving their tool users a way to add music to the jobsite. For $129.99 you get AM/FM radio, Bluetooth, and an effective roll cage.
Jobsite Radio Buying Guide
After testing all of these jobsite radios, each had its merits and limitations. These recommendations should point out key products you want to try for yourself.
When it comes down to it, you have a ton of options. Reading through this review, I hope we helped you narrow down your choices when selecting the best jobsite radio for your needs. One thing is for certain, however: If you don't already own one of these tools—get out there and start shopping!
Clean Audio vs Distortion
For jobsite radios to be good they have to accomplish a few things well. First, the radio has to be loud. And by "loud" I mean without a ton of distortion. There's nothing worse than cranking up a radio to max volume and hearing what sounds like a speaker that's playing back audio while submerged underwater. In my opinion, a volume knob shouldn't allow the radio to go beyond its ability to reproduce audio that sounds good.
You may hear the word "distortion" bandied about whenever you look into audio devices or loudspeakers. Distortion occurs when you push a driver (speaker) beyond its limits. This is absolutely an issue with jobsite radios.
When you play audio through their small "full-size" speakers, your music has both loud and soft sections. These vary in both frequency and intensity over time. This can be represented by a waveform. You've probably seen waveforms before—in TV and movies, they analyze recording's waveform in order to track down an audible clue.
When a loudspeaker exceeds its capabilities, that waveform is pushed straight into the "ceiling". The ceiling is where it can't go any higher. As with anything that gets pushed too hard into an immovable object, it starts to flatten out. Now, instead of a nice smooth waveform with lots of resolution, you get a nasty, flattened sound.
Some radios don't let their volumes exceed the point where massive audible distortion occurs. Others drive right off the cliff! We prefer the former—and so should you.
Durability
The best jobsite radios need durability. It won't do any good to have a radio that can't take a few splashes, get covered in dust, or handle a fall off a sawhorse onto concrete. Without adequate build quality, a jobsite radio is just a pretty cordless battery-powered radio that won't last very long.
You really want something that you can toss into the bed of your truck, leave in a large tool bag, or leave out during a drizzle. If you have to baby it, you didn't buy the right radio!
Size and Portability
Size and portability matter in a jobsite radio. You want to match the radio to your needs. You may want something really small and portable because you're a tradesman who doesn't want to spank an entire jobsite with 96 dB of output. The last thing you need is to carry around a full-sized radio with 6 speakers and a built-in subwoofer.
Grab a smaller, portable radio that runs off the same batteries you already use in your cordless power tools. If, however, you work outside with your crew and want to provide tunes for framing, siding, painting, or roofing—go big. By all means, look for something that can produce an ample amount of volume no matter where you place it.
Features
While I'd rate the sound quality as the most important quality of the best jobsite radio, having the right features certainly matters. Select models from Bosch, Milwaukee, and Makita feature an integrated battery charger. This may save you some room in your work truck.
You may also want a hybrid-power jobsite radio that includes some outlets to power additional low amperage tools. Bosch and DeWalt might be the only games in town for that functionality.
Or perhaps you just want something that can hold your smartphone securely so that it doesn't get wet. These are the kinds of features you want to look out for when shopping for the best jobsite radio. It needs to line up with your expected use. Everyone's preferences will vary, so make a list—check it twice—and then run through our picks to see what makes for the best fit.
Why You Can Trust Pro Tool Reviews
Ever check out a "review" site and you can't tell if they actually tested the tools or if they're just "recommending" the Amazon top sellers? That's not us. We won't recommend anything unless we'd actually use it ourselves and we don't really care who the primary retailer is. It's all about giving you a legitimate recommendation and our honest opinion of each product.
We've been in business since 2008 covering tools, writing reviews, and reporting on industry news in the construction, automotive, and lawn care industries. Our Pro reviewers work in the trades and have the skills and experience to know whether tools can perform well in the field.
Each year, we bring in and review more than 250 individual products. Our team will put our hands on hundreds of additional tools at media events and trade shows throughout the year.
We consult with innovators in the technology and design of tools to gain a broader grasp of where these products fit and how they work.
We work with more than two dozen professional contractors around the United States who review products for us on real job sites and consult with us on testing methods, categories, and weighting.
We'll provide more than 500 pieces of new content this year absolutely free for our readers—including objective evaluations of individual tools and products.
The end result is information you can trust because of the editorial, scientific, and real-world professional experience we collectively utilize each and every time we pick up and test a tool.