Milwaukee puts out tons of new products every year—often well over 100! It can be tough to track everything, so we'll keep you up to date with the best new Milwaukee Tools as they're announced.
Pipeline took place in August, giving us a sneak peek at more than 100 recent and upcoming products. Some of these aren't coming out until well into next year, so we're going to focus on what's about to launch on this page. If you want to check out every single tool that was announced, take a look at our Milwaukee Pipeline 2023 page.
Keep your eyes open for even more new Milwaukee tools on our website, YouTube channel, Facebook page, and Instagram page.
Best New Milwaukee Tools: List View
Shop These Trusted New Milwaukee Tool Retailers
Best New Milwaukee Tools
Milwaukee M18 Fuel Dual-Trigger Angle Grinder
Milwaukee is taking some of its top angle grinder features and boosting the safety element with the 3986 M18 Fuel Angle Grinder. Working in the 5-inch class, this model has four speed settings ranging from 3500 to 8500 RPM, plus an eletronic brake and Milwaukee's AutoStop kickback control., and it's One-Key compatible.
The major new development is the dual trigger system. A second trigger is on the permantently fixed side handle, ensuring the operator always has two hands on the tool while working. It's similar to the concept we saw from the M18 Fuel Dual Trigger Band Saw. When you want to ensure your crew is working in the safest way possible, the two hands required design ensures they aren't taking shortcuts.
Milwaukee M12 Auto Technician Borescope
When you need clarity in automotive instpection, consider what the Milwaukee M12 Auto Technician Borescope has to offer. Needing just 5mm for access, it has a 3-foot flexible cable with a built-in temperature sensor shuts the unit down if the vehicle's temperature poses a damage risk to the high-definition front and side cameras. In the event that something does go wrong, the scope is field replacable to minimize downtime.
The 4.3-inch screen offers an excellent view behind the pistons, offers control of the camera's four zoom levels and five LED brightness levels. It also rotates 270° to make sure you always have an upright view and a stable set down.
Price: $429 bare tool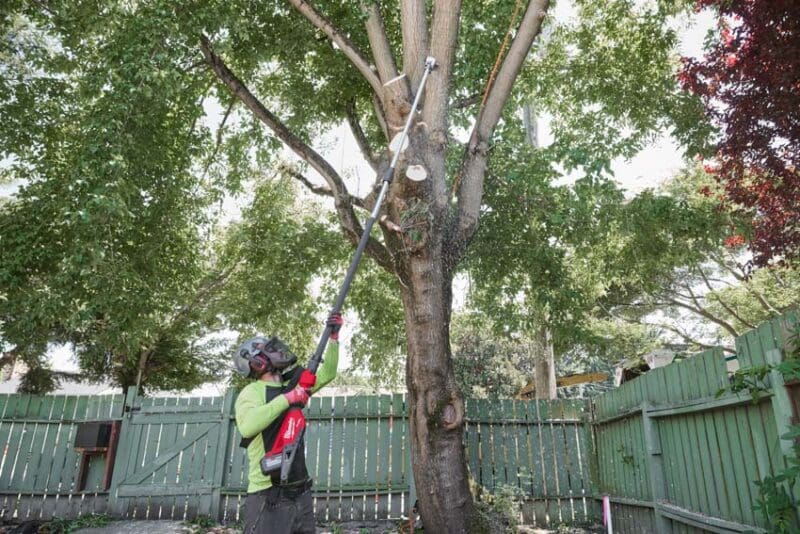 The M18 Fuel Telescoping Pole Saw is a much-anticipated standalone 10-inch model for those that don't want to go with the Quik-Lok system. From a performance standpoint, it's a beast. The brushless motor produces up to 2.35 HP and cuts with a 25.4 m/s chain speed, making cuts up to 30% faster than competing gas models. For reach, the saw ranges from 9 feet at its shortest to 13 feet fully extended.
Price: $599 bare, $799 kit with an 12Ah High Output battery and charger
Milwaukee M18 Force Logic Single Channel Strut Shear
If you shear single channel strut on site, Milwaukee now has a cordless solution for you. A support plate and shear plane indicator ensure you're able to make accurate cuts, while the shearing dies leave you with burr-free strut that's ready to install without any deburring. It ends up saving you time on both the cutting end and clean up end, ultimately making you more productive and efficient.
This is another One-Key enabled tool. Connected to the system, you'll get tracking, inventory management, and diagnostic features, as well as locking the tool out for security.
The kit with a 5.0Ah battery, charger, and 1 5/8-inch x 1 5/8-inch die is $3750. Additional dies are available separately.
Milwaukee M18 Force Logic 12-Ton Kearney Linear Crimper
Milwaukee's 12-ton Kearmey-style linear crimper is all about making crimping easier and faster with a simple align, crimp, repeat process. A 340° rotating head helps on the alignment side, while a balanced grip zone and shoulder strap help reduce your fatigue.
With a press of the button, Predictive Force Monitoring ensures there's enough battery power to complete the crimp, crimps, resets for the next crimp, and stores the data, all in less time that in just took you to read this sentence. The tool is One-Key enabled for tracking, inventory management, diagnostics, and reporting, simplifying your work even after the crimping in done.
The kit with a 2.0Ah and a 5.0Ah battery along with a charger is $5299.
Milwaukee M18 Rotary Lasers and Accessories
Over the next several months, Milwaukee is bringing three M18 rotary lasers to market, including a red exterior (3701, Nov '23), green interior (3702, Dec '23), and red dual-slope (3704, Mar '24). This is a new class of tool for Milwaukee, but they've dialed in the design to thrive on jobsites. Here's a quick look at what each one brings to the table:
Red Exterior
3701
Green Exterior
3702
Red Dual-Slope
3704
Range w/Reciever
1000 ft radius
2000 ft diameter
500 ft radius
1000 ft diameter
2000 ft radius
4000 ft diameter
Speed
600 RPM
300/600/900 RPM
600/900/1200 RPM
Accuracy @ 100 Ft
±3/32-inch
±1/16-inch (hor)
±1/8-inch (vert)
±1/16-inch (hor)
±1/8-inch (vert)
Self-Leveling
±5°
±5°
±5°
Ingress Rating
IP66
IP66
IP66
Drop Rating
1.5-meter straight
2-meter tripod
1.5-meter straight
2-meter tripod
1.5-meter straight
2-meter tripod
Runtime
70+ hrs
w/3.0Ah
26 hrs
w/3.0Ah
40+ hrs
w/3.0Ah
Price
$1199 basic kit
$1399 tripod kit
$1999 basic kit
$1999 basic kit
$2199 tripod kit
Ever since smart tools became a thing, we've wondered if we could get legitimate dial-in torque control on an impact wrench. Previous attempts were based on blow counts rather than actual torque sensing. However, Milwaukee has developed new-to-world sensors that not only help the M18 Fuel Torque Controlled Impact Wrenches have more accuracy, but also the ability to learn as they go.
Currently, Milwaukee is targeting the Power and Utility sector with this technology, so automotive techs may have to wait a little longer. That said, this is an exciting step forward that can eliminate the need for a two-step impact wrench/torque wrench process.
Get this one with a 1/2-inch friction ring (3062-20) or 1/2-inch pin detent (3062P-20) for $1399.
Milwaukee M18 Fuel High Torque 1/2-Inch Impact Wrenches
Milwaukee's product team reimagined what a high-torque impact wrench could be and what came out is extremely impressive. There are two versions available with either a pin detent or friction ring. The more powerful friction ring option produces up to 1500 ft-lbs of nut-busting torque with a 5.0Ah battery or 1600 ft-lbs with the new Forge 6.0Ah battery.
What makes it even more special is how compact the tool is. It's 7.6 inches long and weights 7.5 pounds with a 5.0Ah battery. Additionally, Milwaukee brought their battery isolation concept from the 1-inch D-handle impact wrench over, helping improve the durability of the battery.
Here's a quick look at how the two models stack up:
2967
Friction Ring
2966
Pin Detent
Speed
0 – 2000 RPM
0 – 2000 RPM
Impact Rate
0 – 2400 IPM
0 – 2700 IPM
Fastening Torque
1200 ft-lbs
900 ft-lbs
Breakaway Torque
1600 ft-lbs
1100 ft-lbs
Length
7.6 inches
7.1 inches
Weight
7.5 pounds
w/5.0Ah battery
7.0 pounds
w/5.0Ah battery
Both options run $299 as a bare tool or $499 as a kit with two 5.0Ah resistant batteries and a charger.
Forging ahead with the latest battery technology, the M18 and MX Fuel lines are the recipients of the new Forge batteries.
For the M18 platform, there's a 6.0Ah pack, and yes, it uses pouch cells. This is a first for Milwaukee and they tell us they're getting the power of the 12.0Ah High Output pack in this much smaller battery. Additionally, it charges from 0% – 80% in just 15 minutes and offers the longer service life than any of Milwaukee's previous lithium-ion batteries.
The MX Fuel line is upgrading as well, adding 8.0Ah and 12.0Ah Forge batteries to the line. These aren't pouch cell packs, though. Instead, Milwaukee cracked the nut on a true tabless cylindrical design, opening up lower resistance that leads to higher performance, faster charging, and longer life.
For pricing, the M18 6.0 Forge is $199 (launches September), the MX Fuel Forge 8.0AH is $849 (launches October), and the MX Fuel Forge 12.0Ah is $1149 (launches November).
The latest MX Fuel Cut Off Saw is a 14-inch model designed to match the performance of Pro-grade gas models in the same class.
Additionally, there are a couple of key safety features built in. RapidStop is the braking system, bringing a full-speed wheel to a complete stop in just three seconds. There's also AutoStop that senses severe kickback and shuts the motor off.
Using an 8.0Ah Forge battery, you can expect to cut up to 14 feet of concrete at full depth or 120 cuts in #5 rebar. If you step up to the 12.0Ah Forge battery, you're looking at 21 feet of linear concrete cutting or 180 cuts in #5 rebar.
Look for the new cut off saw to be at Milwaukee retailers beginning in September. It runs $1499 as a bare tool or $2999 with two 8.0Ah Forge batteries and a Super Charger.
In the category of "we didn't see that coming", Milwaukee launches a 36-inch concrete trowel and a 24-inch edging trowel as part of the MX Fuel line. These walk-behind models replace their gas counterparts and are perfect for scenarios where gas engines prevent issues due to emissions or noise.
Both trowels boast 5HP gas equivalent performance and while that may sound like it's a runtime issue, the new Forge batteries have your back. Packed with 12.0Ah packs and an MX Fuel Super Charger, you'll be able to work continuously as you cycle batteries.
The 24-inch Edging Trowel with two 12.0Ah Forge batteries and a Super Charger is $5999. The 36-inch Trowel comes with three 12.0Ah Forge batteries and a Super Charger for $7999.
Milwaukee cordless ratchets have been around for a while, seeing big improvements when they shifted to brushless motors and again when high-speed versions came out. Most recently, the design team turned its attention to access by creating the smallest head profile currently available.
Instead of popping on to a drive that sticks out the front, Insider sockets insert into the head, creating a profile that's 3/4 of an inch shorter and opening up new areas of access.
On the performance side, these ratchets can deliver up to 60 ft-lbs of torque and reach speeds up to 350 RPM.
Launching in September, the bare tool is $199 and the kit with a 2.0Ah battery and charger is $299. There's also a protective boot available for $29.99 and multiple options for both SAE and metric insider sockets are coming.
Among the new Milwaukee tools that were on our radar, the RedLithium USB Bluetooth Jobsite Ear Buds are on the docket for a September launch. Focusing on a combination of protection, situational awareness, and entertainment, they're specifically designed for the needs of tradesmen and women on active jobsites.
There are multiple ear tips included, with the foam ones providing 25 NRR and the silicone tips offering 22 NRR. As you're listening to your favorite music, podcast, or broadcast, turn on the Jobsite Aware function to reduce the volume of loud noises while still allowing for moderate levels from conversation and announcements to come through.
The RedLithium USB power source creates a larger case than most, but ensures you can get up to 70 hours worth of recharges from the ear buds.
Grab a set for $179.99.
Milwaukee M18 Fuel Mid-Size Router
We figure there would be a next level M18 Fuel router coming at some point. Even though the rumor mill has been quiet, the Milwaukee 2838-20 is due out in September 2023. This model fits in the 2.25 horsepower class with a top speed of 25,000 RPM. When you're working 5/8-inch roundovers in softwood, the runtime is 225 linear feet on a 6.0Ah High Output battery.
All the features you expect on a Pro-grade router are present. A couple of accessories to keep your eyes on are a plunge base and an adapter that fits the router to Milwaukee's track saw guide rails.
The bare tool is $349 and the kit is $599. The kit includes the router, fixed base, plunge base, M18 6.0Ah High Output battery, M18 and M12 rapid charger, contractor bag, 1/4-inch collet, 1/4-inch collet, template base, dust shroud, spindle wrench, and edge guide.