Last Updated on July 11, 2023
At Pro Tool Reviews, we believe in empowering folks and helping them make the best tool choices for their situation. Many of our readers have asked how to build a basic tool set. Even the non-handiest person needs to make minor repairs, hang pictures, or assemble furniture from time to time!
We try to break down our recommended tools by category as best we can. Really, we just want you to treat this as a helpful list so that you don't forget anything. If you have questions along the way, we're here to help. Of course, if we forgot anything you think should be on this list—leave a comment below so we can consider adding it!
How to Build a Basic Tool Set—Where to Start?
When buying a basic tool set, a certain collection of tools has no substitutes. You just need them. In consideration of space, our list includes basic tools with some options if you have the room and/or budget. While pre-packaged basic tools sets exist, many of these could include lower-quality pieces. Sometimes building your own yields better results.
Actually feeling the tools in your hand (before buying) helps you build a toolkit that you know works for you. You get to make sure you like the weight and size of a tool before adding it to your collection. We divided our list into several categories for simplicity. Feel free to jump to any category you need and start there.
How to Build a Basic Tool Set – Key Tools
Anyone who has ever bought "some-assembly-required" furniture knows you need some basic tools just to get by. A basic toolset comes in handy when you need to do things like adjust a bicycle seat, put up blinds, hang curtain rods, or replace a car battery. Find some simple recommendations below—but feel free to "roll your own" solutions as well.
Cordless Tools
We wanted to start here—and then tell you that's not the point of this article. We didn't create this list to recommend the best power tools brand. If you want a starting point, check out our best cordless drill reviews for some solid choices. For the handyman, pay attention to our low-cost recommendations. If you want something a bit more capable—we have those on the list, too.
The drill forms the core of your platform. After you find what you like, consider a kit. Make sure it at least includes an impact driver and circular saw. We consider the "core" tools to include a drill, impact driver, circular saw, and reciprocating saw.
Adding jig saws, reciprocating saws, sanders, nailers, radios, lights, and other tools can happen later on an as-needed basis.
Digital Multimeter or Voltmeter
If you don't ever plan to touch anything electrical, fine. A digital multimeter or voltmeter, however, can really help you troubleshoot many different problems. It can help you understand the way your home circuits work—like when a GFCI keeps tripping. It can even help troubleshoot electronics. You don't need to spend a fortune to get a decent multimeter that measures Voltage, Current, and Resistance (and more).
Screwdriver Set
A good starter screwdriver set comes with multiple sizes of both, straight and Philips head types as a minimum. We also find sets with TORX, square, and even multi-tip type screwdrivers handy. They let you work on more types of fasteners which we find on an increasing number of products. You don't have to necessarily have the best screwdriver set, but a basic kit from anyone should serve you well.
Also, consider picking up something like the Klein 15-in-1 screwdriver for additional flexibility. We like tossing these into a tool bag for space savings.
Drill Bits and Driver Bits
You definitely want a small basic drill bit kit. If you want to get fancy, grab what's known as an "index" kit that includes one of just about every size from 1/16-inch to 1/2-inch. Or, you can grab a kit with a handful of sizes ranging from 1/8-inch up to 3/8-inch. If you plan to drill metal, read our article on the best drill bits for metal.
For driver bits, you have an easier time. Grab some magnetic bits for driving various fasteners. You want a nice assortment as you may end up having to deal with Phillips, Torx, and even square drive fasteners at some point. We really like the Makita XPS impact driver bits on the top end. Realistically speaking, however, you can grab cheaper base kits from the likes of Bosch, Ryobi, and Craftsman Tools.
Framing Hammer
We can't really create a guide on how to build a basic tool set without recommending a hammer. If you want to buy just one hammer, go with the best framing hammer you can afford. A basic hammer works, but we prefer something around 19-22 ounces as a general rule. Look for a smooth-faced hammer with a straight claw. You may have heard us talk about why we prefer titanium hammers vs steel, but you don't need that added expense when starting out. If you want tried-and-true, grab the Estwing 22-oz smooth-faced framer.
Pry Bars
We can't build a complete how to build a basic tool set article without pry bars! At least one medium-sized trim pry bar works well for most folks. Having a pry bar helps save your screwdrivers which should not be used for prying. I prefer flat bars measuring 15 inches or longer. A small trim bar may also help when dealing with base molding and similar, more delicate, operations.
Work Light and Headlamp
A small, rugged LED-style flashlight used to be the thing. Now, however, we prefer small work lights or task lights that illuminate your immediate work area. If you don't opt for a rechargeable model, be sure to bring along extra batteries.
Headlamps stay with you while you work, making them indispensable for working inside cabinets, in crawlspaces, or anywhere you need light directly in front of you.
How to Build a Basic Tool Set by Expanding Your Hand Tools
Next, we want to expand your hand tools and ensure you have some of the most common tools needed for tackling household jobs. We also include tools for project building and DIY creations.
Clamps
Clamps help to hold things together while you fasten or while the glue dries. If you build things, you need clamps—lots of clamps. Grab a wide variety of clamps in various sizes, types, and styles. You won't regret it. We find the 12-inch Irwin Quick Grips and Bessey trigger clamps among the most versatile.
Adjustable Wrench
An adjustable wrench definitely qualifies as one of those handy tools you need in any basic tool set when you can put your finger on what size the fastener head is. Look for a medium-sized model. We particularly like the Milwaukee adjustable wrenches but you can get cheaper tools.
Wrench Set
With this type of recommendation, you have lots of options. Not everyone needs a set of wrenches right away, but most would benefit from having these tools. They definitely help if you plan to work on your own vehicle.
Look for both a set of metric and standard (SAE) wrenches. While a basic set of wrenches works perfectly—we also like ratcheting models that let you quickly loosen nuts without having to lift and place the wrench for each turn.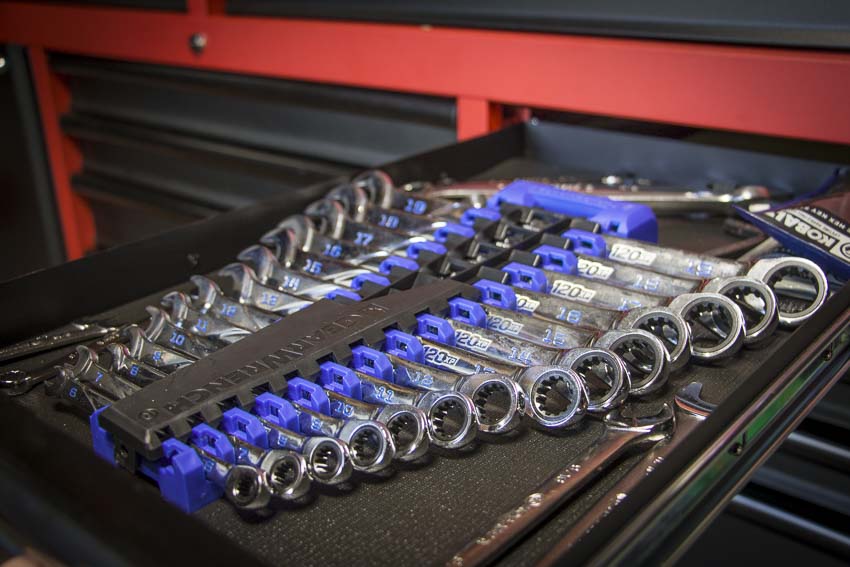 Wire Cutting Pliers
Wire cutters (side cutters or diagonal cutting pliers) should feel sturdy in your hand while remaining light. These are useful for cutting wires, rope, cord, etc. I might also include a pair of wire strippers—but I dabble in electrical work. There are actually many kinds of pliers—and each has its place. Check out our best pliers article for some of the best in each category that we've put our hands on.
Needle Nose Pliers
We split out these pliers for a reason. Needle nose pliers help you reach into tight places to tighten or grab something otherwise unreachable. Sometimes regular pliers are "all thumbs". When you need this tool—nothing else works as a substitute.
Locking Jaw Pliers (Vise Grips)
Locking jaw pliers work well when you can no longer grab a fastener head with a wrench or screwdriver. Irwin Vise Grips remain the gold standard, but Milwaukee Torque Lock pliers also impress us.
Allen Wrenches
Pros may opt for a nice set of T-handles, but we like the folding style sets. They deliver multiple tools attached to a single handle. Stay away from loose kits as they get lost quite easily.
Chisels
Look for a good 3/4-inch wood chisel. Use it for things like adjusting the strike plate location on a door or cutting in hinges. Do NOT use it on any metal or for prying. Take good care of your chisels and they should last a very long time.
Painting Tools
While a caulk gun (see below) works well for a variety of household projects—it introduces those tools required for painting. We don't recommend sprayers—leave those to the professionals or for when you want to really get serious about your work.
Caulk Gun
You may not immediately think of a caulk gun when considering how to build a basic tool set. And yet, everyone has a sink, bathtub, or a window that needs to be caulked at some point. You might as well get one of these now and have it handy. Stay away from the cheapest models unless you have really strong hands. We recommend something with a bit more leverage. Of course, if you fix everything with caulk, you may want to consider picking up a cordless caulk gun.
Paint Brushes
Buying the right paint brush just means understanding what you want to accomplish. Having some basic brushes around makes it easy to do touchups and small projects. You also want a nice angled brush you can take care of for cutting in when painting larger areas of your home. We suggest at least one high-quality 3-inch brush, an angled 2-inch brush, and a variety of smaller disposable chip brushes.
Putty Knife and 5-in-1 Tool
We can't neglect to mention how handy a putty knife is for spreading fillers and removing loose paint. A 5-in-1 helps you quickly scrape, clean paint rollers, and open up paint cans—among other things.
Sanding Block
A rubber 1/4 sheet sanding block is the most convenient size to keep around. Use it for sanding down small areas when patching drywall.
Tool Kit Staples for Measuring and Cutting
When building a basic tool set you need reliable layout, measurement, and cutting tools. These provide some of the most basic tasks for any job. That includes cutting up cardboard boxes, hanging things (televisions, mirrors, or even doors), and measuring a room for furniture or a carpet.
Torpedo Level and Box Beam Level
We can really tell you how to build a basic tool set without including some levels. The most convenient size is a torpedo level. This compact level easily fits inside most toolboxes or tool bags. If you can, also grab an aluminum 2-foot level like the Sola Big Red 3 level or any of the recommendations from our best bubble level buying guide. A 2-foot level gives you all the usefulness of the smaller size level. Also, since it's made of a rigid material, it works as a straight edge when lining things up or making precision cuts with a utility knife.
We recommend looking for a knife that utilizes common and easy-to-replace blades, both folding and standard styles work fine. Our favorite remains the Milwaukee Fastback utility knives but we also like OLFA Aluminum MXP utility knives. The latter feature segmented snap-off blades that keep your edge almost infinitely sharp.
Scissors, Snips, and Shears
Make sure to grab a good pair of heavy-duty scissors than can cut through thick materials. Similarly, we recommend grabbing a pair of aviation snips for cutting through thinner sheet metals. We like the Milwaukee straight aviation snips, but honestly, many brands make great products.
25 ft. Tape Measure
A 16-foot tape makes for a good start, and honestly, it's our favorite. If you only want to buy one, get a 25-foot compact model to cover those longer distances. We like the Stanley Fatmax tape measure as well as Milwaukee Wide Blade tape measures and their tough Stud tape measure.
Check out our best tape measure article for more of our top picks.
Various Saws
If you already own some power tool solutions, you may have less use for hacksaws and wood saws. Still, not everything easily cuts with a power tool. Consider grabbing a hacksaw that uses replaceable blades and works well for cutting hard materials like metal and PVC. Also, a basic wood saw comes in handy when you need to cut wood cleanly.
Carpenter Pencils
No one has built a better mousetrap in this area (successfully) in our opinion. Answering the question of how to build a basic tool set needs to include a pack of these. Carpenter pencils hold up better than regular pencils due to the larger graphite lead within.
Safety, Organization, and Cleanup
We can't cap off this article on how to build a basic tool set without covering safety, organization, and clean-up. While your primary concern is buying a basic toolset, it also helps to know how to store them and protect yourself on the job site. Thinking about safety, organization, and cleanup right from the start can save you lots of headaches in the long run.
First Aid Kit
A first aid kit always makes good sense to have around even if you are not fixing things! You can find a whole host of first aid kits on Amazon. Pick one that suits your particular needs.
Safety Glasses
Always have tinted and non-tinted safety glasses handy. Note: while sunglasses might help deflect objects from your eyes, safety glasses come with a rating specifically to ensure objects at speed don't penetrate. Find some that are comfortable and fit your face well.
Work Gloves
These come in all shapes and sizes. You don't need heavy leather gloves either. Work gloves provide anything from knuckle and hand protection to cut protection. Many now offer areas that let you use your smartphone without having to remove the gloves. Overall, we prefer thinner gloves that fit snugly for most projects. They offer good protection while remaining tactile.
Dust Mask
The cloth/paper type will work for simple and low-dust applications. For anything involving long-term work, we recommend an N95-rated mask. The better models include a vent, and some even offer a rechargeable fan to evacuate the warm air you breathe out. For extreme work, consider a respirator.
Extension Cord
You want a good 50-foot extension cord. We actually prefer a couple of 50-foot cords over a single 100-foot cord due to how difficult longer cords are to manage. Spend the few extra dollars and get cords that use 12 AWG wire. See our extension cord size chart article for more info on how that affects your power tools.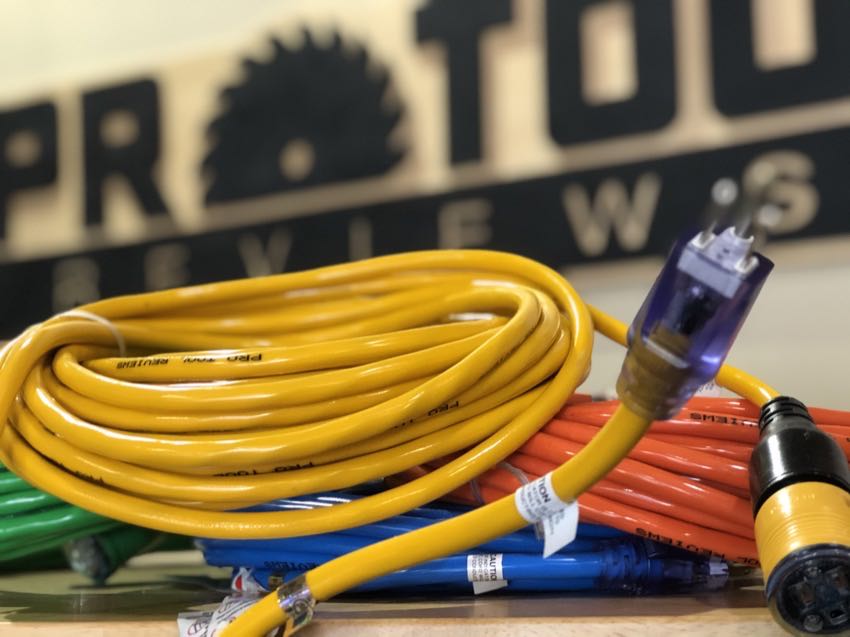 Shop Vac or Dust Extractor
We recommend at least a 6 gallon wet/dry vacuum. These have dropped significantly in price over the years, making them very affordable. Check out our Best Shop-Vac Reviews article for some great recommendations. That article also helps you understand the difference between a shop vac and a dust extractor. To summarize, a shop vac cleans up messes, and a dust extractor removes dust and debris caused by a tool cutting concrete, masonry, or wood.
Drop Cloths
Not to be confused with plastic, drop cloths come in handy for protecting floors and furniture from paint and dust. Make sure to get one that is at least 8ft by 10ft in size. Unlike plastic, paint doesn't smear across a drop cloth—making them the preferred "tool" of this sort for professional painters. While you shop for these, also grab some clean rags. These work well for cleanup, applying stains, protecting surfaces, and more. You may also want to buy a small case of blue shop towels.
Tool Storage
You need some way to store and organize your tools. That might be either a toolbox or tool bag. Even a bucket can suffice with the right tool-storage accessory. Choose something that fits the amount of space you have and the number of tools you own. And you may need more than one solution—especially if you factor in your work vehicle and your shop or garage.
Consumable Items
Following is a brief list of consumable items you will find helpful to have on hand. You don't want to make a run to the store every time you need something basic like duct tape or caulk.
Wall Anchors – Consider picking up a variety pack that lets you hang and attach things to a wall with extreme ease and holding power. Also, check out our article on how to use drywall anchors for more info.
Nails and Screws – Small kits come with various fasteners in different lengths and sizes in a convenient plastic case.
Duct Tape – From what we have seen, this stuff can temporally fix almost everything. Like holding the bumper on your car after a fender bender to fixing a broken chair back.
Masking Tape/Painter's Tape – Good for paint so you keep a nice straight line, but also used for a host of other things around the house or job site.
Electrical Tape – Usually black in color, this waterproof tape works well to insulate exposed wires like on your vacuum cleaner cord after you have sucked it up a few times and pulled it back out…
Caulk – There are two types of caulk to keep on hand. Alex caulk works well for fixing cracks in paintable trim and drywall. The other is a silicone-based caulk for sinks, tubs, or windows. All caulks are labeled for their use. Pay attention to whether or not they are paintable!
Sandpaper – Get a variety pack that has rough, medium, and fine grids because you never know what you might need to sand. Match the paper to your tool of choice so you have what you need.
Blue nitrile gloves – Perfect for working on the car or anywhere your hands can pick up grease, these disposable gloves come in an affordable box.
Conclusion
We're certain this list doesn't include everything you might need. Hopefully, it gets you on the right path. Whether you plan on tackling simple to more complicated DIY projects or even if you're a future Pro starting out, the tools on this list should help you plan. Half the battle to getting projects completed often has to do with not having the right tools.
We purposely didn't include power tools in this article. Our focus was teaching you how to build a basic tool set to prepare you for all manner of work. In the end, some of these tools may be stop-gaps while you learn what your preferences are. That's OK. Every one of us learns as we go.