Aluminum MXP OLFA Knife Increases Durability Without Breaking the Bank
OLFA sets the standard in utility knives when it comes to blades. Now aluminum MXP OLFA knife models are increasing the overall durability of the body itself.
Pros
Sturdy aluminum handle with steel blade channel
Rubber overmold design support right and left-handed grips
Snap-off blades require fewer changes and no flipping around
Comes with an OLFA Black blade
Integrated tether hole
Lifetime warranty
Cons
No auto-retracting model leaves these out for some jobs
Editor's Note: Check out our best utility knife article for our top picks in this category.
Two OLFA Aluminum MXP Knife Models to Suit Your Preference
The big deal for the latest OLFA knife is its aluminum body and there are two styles to choose from. On the surface, the two look like identical 18mm utility knives. The difference is obvious once you flip them over to see their blade adjustments.
The OLFA MPX-AL uses an auto-locking slide. Push or pull it to the length you need and it springs back into its lock position so the blade doesn't slip. The spring is metal and the rest of the slide is plastic, so it may wear over time.
The made-in-Japan OLFA MXP-L locks and unlocks with a metal ratchet wheel. The slide itself is plastic, but it uses brass reinforcement for the wheel threads to help it lock securely.
Is one better than the other?
It's really just preference. The ratchet wheel gives you an extra measure of precision in your knife length and the auto-lock version is quicker to adjust. It's your call.
Using an OLFA MXP Knife
The aluminum construction on these OLFA utility knives has just the right amount of heft to feel like a quality build. Of course, OFLA isn't the first to use aluminum or have a metal body in general. We still have two or three floating around the shop that are more than a decade old.
That kind of longevity is exactly why going with aluminum over plastic is such an advantage. In fact, OLFA is backing these with a lifetime warranty.
We've only been using these aluminum OLFA knives for a few weeks and neither one is full of dirt and grime just yet. That said, both adjustment mechanisms are delightfully easy to work with.
The X-pattern rubber overmold is a nice touch as well. It wraps over the top of the handle and secures your grip in place of the jimping you have on a traditional folding knife. Since it wraps around both the top and bottom evenly, it's just as comfortable and secure right or left-handed.
OLFA Black Blades
Both aluminum OLFA knife models include their Black blades. The Silver blades are fantastic already and the Black blades are another 25% sharper.
OLFA goes with a 59º angle on these blades. In their testing, it's the best balance of cutting surface and strength. I haven't found anything in our testing that counters that claim.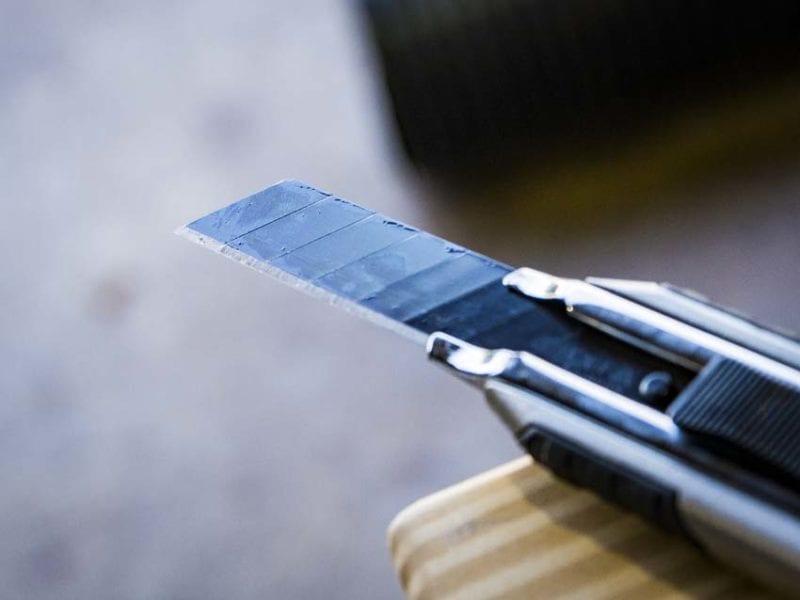 They're also snap-off blades – something OLFA invented. Each blade snaps into 8 segments, so it's like having 4 trapezoidal blades without the hassle of flipping them around.
When it's time to change the blade, it's pretty simple. Just slide the blade out through the back of the handle, line up the new blade's hole on the slider post, and run it back up through the blade channel.
Additional Features
Extended Metal Frame – makes snapping blade sections off easier
Stainless Steel Blade Channel – even though aluminum is strong, steel is stronger and runs the entire length of the blade to support it
Lanyard Hole – each aluminum OLFA knife is tether-ready
Anything Missing?
Sadly, there are some limitations on what jobs you can use these OLFA utility knives on. They don't auto-retract and OLFA doesn't have any rounded edge snap-off blades available at the moment. If your job requires either or both, you need to look at other models.
Price
MSRP for either style is $16.49, though we're still waiting for most retailers to get them in. Obviously, that's going to be more than the cheap plastic throwaway one you can get for a couple of bucks or less. OLFA's 18mm LA-X with fiberglass reinforced plastic runs close to $8.56
Here's where some of the other players with metal handles stack up:
Of course, there are others out there as well. Here's the thing, though – not a single one of these popular metal handle knives use snap-off blades. They're all trapezoidal. So if you want the convenience of snap-off with the durability of an aluminum handle, OLFA looks awfully good from where I sit.
The Bottom Line
The convenience of snap-off blades with the durability of aluminum makes the MXP series of OLFA knives pretty attractive. The only real downside is that there's no auto-retracting model available for jobs that require them.