Adjustable wrenches (commonly referred to by the brand name Crescent Wrench) are a staple in tool boxes around the country. These are popular among the trades, but nearly every professional has a use for them somewhere along the line. The Milwaukee Adjustable Wrench is my object of affection today and I want to know just what sets them apart from others that might tempt my wallet.
To be perfectly honest, it's been a while since I've had much desire to own an adjustable wrench. I always had one in the vehicle tool kit. It was cheap and never really worked when I needed it to. The screw allowed too much movement, causing the jaw to loosen. The end result would be rounded nuts and bolt heads thanks to the clumsy slippage.
With nut drivers and deep sockets abounding, I thought I'd moved beyond the disappointment. The Milwaukee Adjustable Wrench has perked my interest once again though. Maybe, just maybe, it's time to take another look at what has the potential to be an extremely versatile tool.
First Impressions
I got my hands on three sizes from the Milwaukee Adjustable Wrench Family. Model 48-22-7400 includes six- and ten-inch sizes as a set. I also brought in the eight-inch wide jaw, model 48-22-7508. Several features stand out in the entire line.
The tools have steel at their core, but are chrome plated to protect against rust and improve durability. You'll find laser-etched markings on either side to dial in the correct opening if you know your fastener's size. One side features inch markings with millimeters on the opposite side.
The handle is ergonomically designed. I can't say that it's life-changing, but it certainly did feel more comfortable in my hand than other models with wider handles. Whether it is intentional for weight reduction or as a clip point for a lanyard, gaps in the handle accomplish both. If you're not already on board with tethering tools to your body when working at height, get used to it – the regulations are coming.
The Adjustment Screw
The adjustment screw is the centerpiece of this tool. This proprietary component is designed to keep the jaw from relaxing into the incorrect size for your application. You'll notice the higher number of threads than other brands tend to employ. When I first started adjusting the jaw open and closed, I found the movement to smoother than I expected.
Yet another reason to smile came from precision of the adjustments. I found it very easy to dial in a specific size using the laser etched markings. Not only was it easy to select, but the measurements matched the size of the nuts I was tightening perfectly.
I moved around several objects doing some basic preventative maintenance tightening. Miter saw stands, table saw stands, workbench bolts, and even the hand pump outside all needed to be checked. Of course, all of them had different sizes of fasteners. Despite multiple adjustments along the way, the Milwaukee Adjustable Wrench held its jaw position and I didn't experience the first slip. Kenny seemed pretty impressed as he got in on the action as well.
Another application these wrenches excel in is when it comes to holding a nut while fastening. When I'm required to use a screwdriver to fasten a bolt, but need a tool to keep the nut from turning, I often look to locking pliers like those in Milwaukee's Torque Lock line.
The problem with going that way is the guess and check method of getting the pliers dialed in before you can actually tighten down the bolt. Since Milwaukee's Adjustable Wrenches don't back off, I can easily screw down to the correct size and don't have to push my thumb against the thread while holding the nut in place.
Parting Shots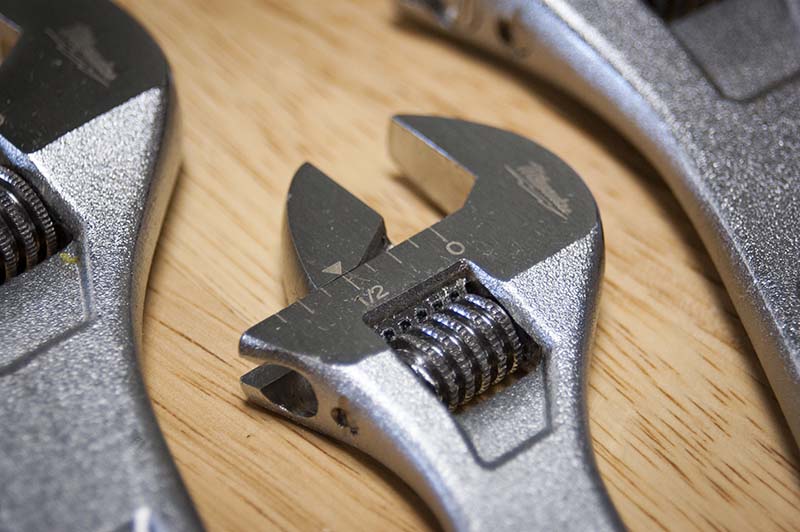 There's something special about holding a quality hand tool at the end of the day. No power to worry about, no batteries to go dead – it just works and works well. There's a confidence that comes when you pull it from the tool box or off the peg board. Confidence is what the Milwaukee Adjustable Wrench brings back to the table for this class of tool. Once again, a host of sockets or wrenches can be replaced by one tool in some applications.
While I'm very impressed with the Adjustable Wrenches, they're not perfect. You'll still notice a slight amount of movement in the jaw – it's just nowhere near the play I have in my other wrenches. There are still going to be applications where you need the tightest possible fit and your sockets or wrenches are the best tool for the job.
It's easy to recommend these to any Pro or DIYer that keeps adjustable wrenches in the arsenal. While there are several sizes, the two-piece set along with the eight-inch wide jaw is a solid grouping to cover a wide variety of applications. Let me toss you some advice with Father's Day on the horizon – Dad's not looking for another tie this year…
Milwaukee Adjustable Wrench Roundup
48-22-7400 – 2-Piece Set (6″/10″), $24.99
48-22-7415 – 15″ Adjustable Wrench, $39.99
48-22-7412 – 12″ Adjustable Wrench, $24.99
48-22-7410 – 10″ Adjustable Wrench, $19.99
48-22-7508 – 8″ Wide Jaw Adjustable Wrench, $24.99
48-22-7408 – 8″ Adjustable Wrench, $15.99
48-22-7406 – 6″ Adjustable Wrench, $14.99