Finding the best bubble level doesn't have to be an exercise in frustration in spite of the vast number of options out there. In general, there are plenty of reputable choices. Sometimes, you just need to know what other Pros are using to validate your thoughts. Known also as a spirit level, here are some of the most popular models along with some things to look out for.
Best Bubble Level Features to Look For
Accuracy – a bubble level is only as good as its ability to give you a truly level measurement. We prefer to use levels with 0.0005″/1″ accuracy or better. On a 48″ level, that gives us a maximum error of +/- 0.024″, or 3/125″. However, less expensive and smaller levels like torpedo and pocket models often fall short of that mark.
Visibility – the most accurate bubble level in the world doesn't mean diddly if you can't see the bubble. Different colors and high contrast help a lot.
Durability – bubble levels do most of their work on jobsites where the environment isn't as forgiving as the living room where you're trying to hang a picture. You'll want to avoid plastic.
Optional Features
Magnetic – magnets are great for acting as a third hand when you're working around steel.
LED lights – battery-powered lights really help the visibility of a spirit level when you're working in low light or varying light conditions.
Digital levels – some Pros enjoy the convenience of a digital readout rather than just a vial, especially when you're working toward specific grades like on wheelchair ramps.
Best Bubble Levels for Professional Users
We cover all sorts of levels, looking at each type and application for the best performers. Some recommendations attach to quality while others have to do with particular features.
Best Premium Box Level
There are only a few players in the premium level class and our favorite is the Milwaukee Redstick level. Their Sharpsite vials give the level excellent visibility compared to standard vials. But it's what you can't see that sets it apart – an all-metal backbone. The backbone has multiple ridges moving along the interior of the box which gives it outstanding durability compared to other box levels.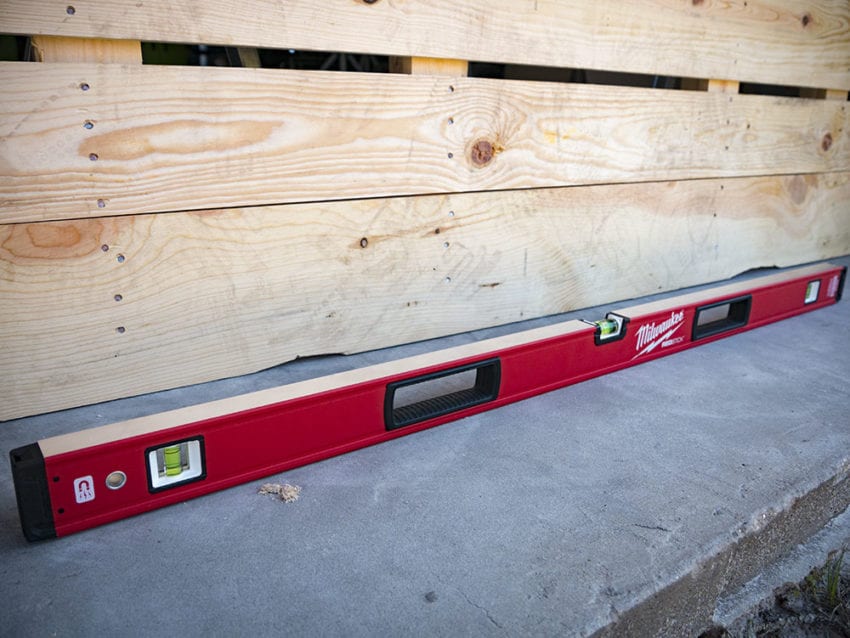 There's no compromise in accuracy with an Excellent 0.0005″ rating. Like its competitors in the class, the additional innovations also drive up the price. Fortunately, you can grab a case to protect your favorite bubble level. There are also multiple level sets in the Redstick line to help save some money if you need more than one size.
Best Bubble Level Set
Stabila Type 80 AS-2 Levels Set – $130
The Stabila Type 80 AS-2 bubble level set includes a 12″, 24″, and 48″ spirit level. We love this kit because it provides three boxed aluminum levels that resist slipping. Stabila has excellent accuracy—±1/32″ out to 72-inches in normal position.
We like the integrated wall grips and have always loved Stabila acrylic vials with fluorescent fluid for easy readability. Rubber end caps, an electrostatic powder coating, and an included special-edition zippered case round out the reasons why we think any Pro would love this kit. We almost forgot to mention it only costs $130!
Best Box Level
If you're willing to give a little on visibility and strength, a standard box level is where you turn. For a 48″ model, you're looking right around $50. In this class, we turn to Empire Level and their True Blue vials. The blue coloration gives you a bit better visibility than standard yellow vials and their levels are pretty tough. Bump up in price point another $10, and you'll get even better visibility with Empire's UltraView LED lights on your level. For the 48″ class, we recommend going with the EM105.48 to get you excellent accuracy and durability with outstanding visibility.
Best I-Beam Level
KaPro 13-62-24 Project I-Beam Level – $10.99
I-beam levels don't have the same durability as a box level or billet aluminum bubble level. Still, they're less expensive and weigh less. Case in point: The KaPro 13-62-24 Project I-Beam level. This 24-inch level cost just $11 and you get the same excellent visibility and accuracy as most box levels.
You can pay more and get better durability…but why? KaPro makes much more expensive levels—including digital models. For a great I-beam for rough leveling on the jobsite, you really can't beat this tool.
Best Budget Level
For the budget-minded Pro, you might have to give up a little accuracy to save money on a bubble level. That's the case with the Stanley 42-480 I-Beam level. You get Good durability with lightweight aluminum construction and protective end caps. The traditional three vial system gives you Good accuracy at 0.0015″ and visibility is Good as well. There's also a groove for working on pipes.
What sets this level apart for us is that it's only $15.99 – pretty much a steal for a Pro 48-inch I-beam level.
Best Torpedo Level
You typically store torpedo levels in one of two places during the workday: your tool pouch or your pocket. We love that the Klein 935RBLT torpedo level has an angled nose to help it slide into both more easily. Aside from that, Klein gives you level, plumb, and 45° vials with LED lights for low light situations. You can easily see the bubbles in these level vials at night. And since this is a go-to tool for plumbers and electricians, those low-light jobs are more frequent than many other trades.
There's also a V-groove cut into the top to ensure you can work with pipe easily and magnets for work around steel. The Klein Lighted Torpedo Billet Level gives you Excellent durability, Outstanding visibility, and Very Good accuracy.
Also Consider: Empire Level EM71.8 Magnetic Billet Level
If you want another excellent option, go for the Empire Level EM71.8 magnetic billet torpedo level. You get graduated markings for slopes of 0.125-inch, 0.25-inch, 0.375-inch, or 0.5-inch per foot. The build quality is superb and we love the readability of the True Blue vials. You can pick up this bubble level for around $19.89.
Best Pocket Level
Pocket levels are great for quick checks or work in really tight spaces, but the single vial system has some significant limitations. The Milwaukee pocket level handles that with a rotating, lockable vial. You can dial in a specific angle working in 2° increments or find the common angles of 15°, 22.5°, 45°. and 75° on the opposite side of the dial.
You get excellent durability, very good visibility, and good accuracy in this small package. For less than $20 you really can't go wrong.
Also Consider: Kapro 246M Handy Level
If you can forgo the rotating dial, we also like the compelling Kapro 246M Handy magnetic level. It features a compact aluminum frame with shock-absorbing end caps. Pick up this tiny level for around $11.99.
Best Basic Mason's Level
Kapro 930 Smartcast – $42.90
Mason's levels have to be tougher than most. It's not just the concrete, it's the way masons tap them to level brick and block during construction. For a basic mason's level that's flat-out tough, check out the Kapro 930 SmartCast. It's a cast aluminum non-standard I-beam style that gives you gradient measurements up to 2° and has rubber strike pads on each end. Excellent visibility, durability, and accuracy give masons confidence in their work.
Pick up this level in 16, 24, or 36-inch lengths. Pricing falls between $42 and $47.
Best Adjustable Expandable Level
Some jobs require flexibility—like placing tubs or windows. We love the flexibility and features of the Milwaukee RedStick Expandable Level. It provides rock-solid accuracy and stable measuring and marking. We also love the magnetic model for steel studs.
Grab the size you need and you can leave several other levels behind. The 48-78″ version of this costs $209. It's worth every penny.
Best Concrete Screeding Level
Milwaukee MLCON48 Concrete Screed Level – $99.97
Some mason's levels move beyond simply checking for level construction and taking some trowel tapping abuse. Milwaukee's Redstick concrete level lets you take care of screeding and smoothing duties. The square edge on the base acts as your screed while the round edge lets you smooth concrete.
Milwaukee also designed this level with materials that clean off easily at the end of the day…or even the next day. Sharpsite vials give you excellent visibility to see level, 1/8″, or 1/4″ grades. Less than $100 gets you tons of durability and accuracy at 0.0005″.
Best Digital Level
Empire Level E105.48H – $129
If you're one of the Pros looking to make the jump to digital levels, you'll love the Empire Level E105.48 (or Empire EM105.48 if you want the magnetic version). Moving from $60 standard box levels to the $170 price point is what it will take. You maintain Empire's Excellent accuracy with a digital readout. The best part is that it's an auto-calibrating system – just turn it on and get to work.
Dual digital displays are backlit to all but negate the need for checking bubbles. However, batteries die and you can rely on Empire's Excellent visibility with standard level and plumb vials if you need to. Wrapped in an IP65-rated housing with Excellent durability, this is our favorite digital level to turn to.
Also Consider: Johnson 1760-4800 Digital Level
If you're in the market for a digital level, we liked the 48-inch 5700-4800D Johnson digital level. The 1760-4800 is the updated version. This tough and accurate tool has hi-tech features that function as an apprentice. Our reviewer used it to rebuild the roof of a carport, set a new door in an old house, and much more. Pick it up for $184.
Why a Bubble Level?
Bubble levels have been around for a long time. Even though cross line lasers are a sexier option, the bubble level still trumps them in several areas. Lasers lose visibility as soon as you step into the light, limiting their usefulness outside. And while a laser is more accurate, it's better for longer distances than what you'll use a spirit level for. There's also the convenience factor – you usually go for your spirit level when you're making frequent checks for level and plumb work. Cross line lasers take more time to set up.
What Are the Criteria?
There is a wide range of classes for levels out there. Admittedly, we didn't cover every single option (post levels, for example). To make our list, each level had to hit our base accuracy standard of 0.005″/1″ (1/2000″), have high visibility, and durable metal construction.
Rating Key
Outstanding – best in this class
Excellent – not the top, but close
Very Good – solid, nothing to be ashamed of here
Good – It'll work, but we wouldn't want to go any lower
See Some Brands that are Missing?
We reached out to more manufacturers than are represented here, but some declined to participate even though they make excellent bubble levels.
Disagree With Our Choices?
That's okay! We know personal preferences take a front seat in determining the best spirit level for you, and every Pro is different. Do Pro Tool Nation a favor and tell us what your top pick is and why you love it. Feel free to put it in the comments below or on Facebook, Instagram, and Twitter!
Why You Can Trust Pro Tool Reviews
Ever check out a "review" site and you can't tell if they actually tested the tools or if they're just "recommending" the Amazon top sellers? That's not us. We won't recommend anything unless we'd actually use it ourselves and we don't really care who the primary retailer is. It's all about giving you a legitimate recommendation and our honest opinion of each product.
We've been in business since 2008 covering tools, writing reviews, and reporting on industry news in the construction, automotive, and lawn care industries. Our Pro reviewers work in the trades and have the skills and experience to know whether tools can perform well in the field.
Each year, we bring in and review more than 250 individual products. Our team will put our hands on hundreds of additional tools at media events and trade shows throughout the year.
We consult with innovators in the technology and design of tools to gain a broader grasp of where these products fit and how they work.
We work with more than two dozen professional contractors around the United States who review products for us on real job sites and consult with us on testing methods, categories, and weighting.
We'll provide more than 500 pieces of new content this year absolutely free for our readers—including objective evaluations of individual tools and products.
The end result is information you can trust because of the editorial, scientific, and real-world professional experience we collectively utilize each and every time we pick up and test a tool.