Good levels can be expensive, so why not protect them? That's the question Milwaukee Tool asks… and then answers with the release of the Milwaukee RedStick Level Case. Milwaukee provides two options here, one 78″ RedStick level case, and a 48″ RedStick level case. There aren't wild differences between the two, save their respective sizes, although the 78″ does have an extra pocket to accommodate a 78″ level.
Since we recently got a hold of the 48″ Milwaukee RedStick Level Case, we figured we'd tell you all about what Milwaukee has in store for all your level protection and storage needs.
Milwaukee Making A Case For Level Protection
The Milwaukee RedStick Level Case comes with three pockets. The largest can fit up to a 48″ box level. This case also accommodates a 24″ box or compact box level, as well as a block or billet torpedo level.
Milwaukee constructed the RedStick Level Case from durable and water-resistant nylon. The material feels thick enough to be able to handle a good amount of abrasion. And, there's enough padding that the case should be able to protect your levels from some mild to moderate impact. Of course, the case probably won't help much against bending force, as there isn't any structural support in the case.
It also includes two debris vents at the bottom of the case to prevent dirt and water build up inside the case.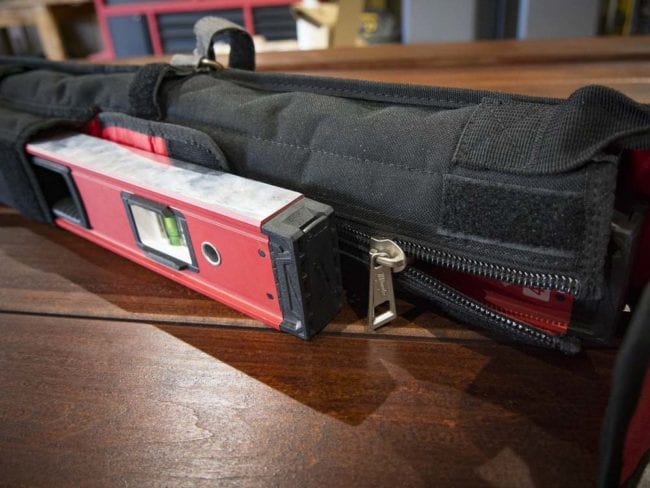 All of the hardware on this case is metal. The zipper closure feels robust, and the case zips up smoothly.
This case features external storage and integrated tool loops for additional storage.
The Milwaukee RedStick Level Case also includes two carrying handles that double as hanging handles. It includes a shoulder strap as well.
Both cases are available as bare tools, but Milwaukee has also provided a couple options for purchasing these cases as a part of a set. The Non-Magnetic Milwaukee RedStick Starter Set (MLBXC48) retails for $169 and includes the case, 48″ Box Level, 24″ Box Level, and Block Torpedo Level. The Magnetic Milwaukee RedStick master Set (MLBXCM78) includes a 78″ Level Case, 78″ Box Level, 48″ Box Level, 24″ Box Level, and Block Torpedo Level. It retails for $299.
Final Thoughts
Milwaukee has built a really solid level with their original RedStick Level. This case seems like another quality product to help transport, store, and protect that quality level. The material is tough and durable and the zipper should hold up well. With straps to keep everything snug and secure along with all of the padding the compartments have, your levels are protected during transport and movement around the jobsite.
A $60 or $80 case might seem just a little pricey, especially for a soft case. However, Milwaukee tends to build durable, quality products, and in this life, you generally get what you pay for. If you've already invested in pro-grade levels, the next best purchase might be something to keep those expensive levels from getting too banged up. If you haven't, the kit options are a great way to move into the premium level category.
Milwaukee RedStick Level Case Features
Durable zipper closure
Two integrated carrying or hanging handles
Integrated external tool loops for additional tool storage
Debris vents to prevent dust, dirt and/or water build up
Tough, water-resistant nylon construction
All metal hardware to ensure ultimate durability
Milwaukee RedStick Level Case Specs
Model Number: (48″) MLSB48, (78″) MSLB78
Material: 600D and 1680D Nylon
Hardware: Metal
MSRP: (48″) $59, (78″) $79
Non-Magnetic Starter Set (MLBXC48) Includes Storage Bag (MLSB48), 48" Box Level (MLBX48), 24" Box Level (MLBX24), Block Torpedo (48-22-5210). MSRP: $199
Magnetic Milwaukee RedStick Master Set (MLBXCM78) Includes Storage Bag (MLSB78), 78" Box Level (MLBXM78), 48" Box Level (MLBXM48), 24" Box Level (MLBXM24), Block Torpedo (48-22-5210). MSRP: $399