Greenworks Commercial Backpack Leaf Blower Eliminates the Power Argument
Greenworks Commercial is no stranger to the battery-powered backpack leaf blower field. Having already launched a 26-Newton model previously, the task turns to pushing the performance envelope higher and converting more gas users to the convenience of battery power.
Pros
Legit 36-Newton blowing force (higher in our tests)
More than an hour of runtime at 19+ Newtons
Throttle-mounted digital display with fuel gauge
IPX5 ingress rating
LED front light and rear safety light
Comfortably padded harness
Cons
No hip straps
Nearly 32 pounds with batteries
Greenworks Commercial Backpack Blower Performance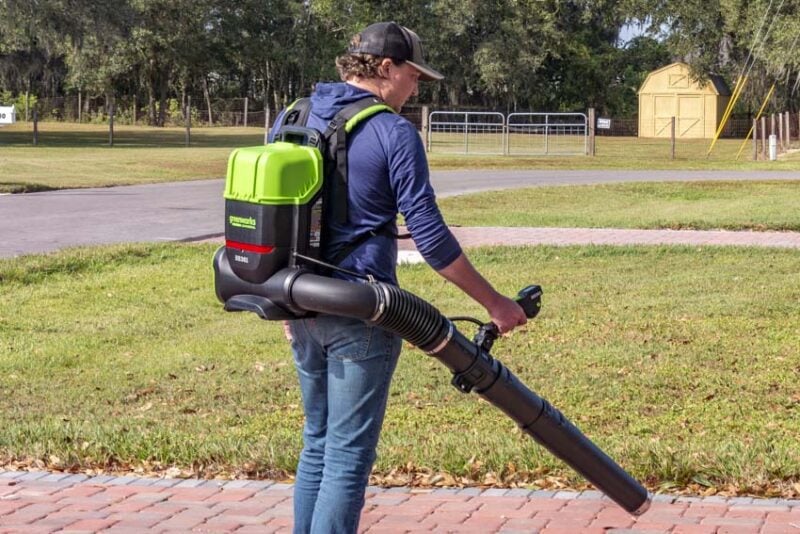 Motor Type: Brushless
Max Airflow: 755 CFM
Max Airspeed: 225 MPH
Blowing Force: 36N
Operating Modes: 3
Runtime: 64 min
Noise Level: <65dB(A) based on ANSI testing standards at lowest speed setting
The big deal with the launch of the BB361 is performance—specifically the blowing force. Greenworks Commercial is getting 755 CFM and 225 MPH out of this model, and hitting a massive 36 Newtons of blowing force. Currently, the top models are in the mid-20s, so moving the bar that much further forward is an impressive accomplishment.
Considering the best gas backpack blowers, several models produce 40 Newtons or more, but it was only a few years ago that they finally got to that level. Perhaps more importantly, the most popular professional backpack blowers are under that, reaching into the mid- to high-30's. That's exactly the performance level Greenworks Commercial is claiming.
Obviously, runtime is also a consideration. This model uses a pair of 82V 8.0Ah batteries to offer not only the high performance we're seeing, but also the capacity for relevant runtime. You can expect to get up to 64 minutes of runtime, though it will be less when you're operating at the highest performance level.
Whether it's the performance or the runtime you're managing, there are three speed modes to work with. A simple press of the button above the throttle cycles through those modes. There's also a cruise control dial if you want to set a steady blowing force while still having the ability to kick things up with the throttle.
As you're working, an LCD screen displays information such as the mode, throttle, and battery level.
Is it Legit?
To see if Greenworks claims match reality, we ran our own series of tests. Note that we test the noise level at the operator's ear. The standard ANSI test measures it from 50 feet away. Here's what we discovered:
| | | | |
| --- | --- | --- | --- |
| | Low | Medium | High |
| Blowing Force | 19.6 N | 26.3 N | 36.9 N |
| Runtime | 1:04:55 | 41:53 | 26:43 |
| Noise Level | 83 dB(a) | 86 dB(a) | 89 dB(a) |
Not only did the blower hit the 36-Newton mark in high, it actually exceeded it in our tests. Don't overlook the runtime, though. 19.6 Newtons is a very relevant number to work with, and getting more than an hour of runtime out of the two batteries that come in the kit is significant.
Greenworks Commercial Backpack Blower Design Notes
Weight: 14.9 lbs. (bare), 31.9 lbs. (operating weight)
Weather Rating: IPX5
Rear LED safety light
Integrated carry handle
The bare weight of this blower is just under 15 pounds. More importantly, the operating weight with batteries is 31.9 pounds. To offset that, padded shoulder straps and a chest strap distribute the weight and avoid creating uncomfortable pressure points. Even though Greenworks opted to pass on the hip straps, the harness is quite comfortable to wear.
With the battery cover closed, the blower earns an IPX5 ingress rating. That's a step up from the IPX4 rating of the previous model.
There are a couple of features we haven't seen before on a backpack blower, and both involve LED lights. The first is an LED headlight. Mounted on the throttle, it lights up whatever area you're pointing the nozzle at.
When that's on, there's also a red LED safety light on the back of the blower. Especially as we're getting to the part of the year with shorter days, it goes a long way in ensuring you're visible to people operating nearby vehicles and equipment.
Additional Features
Compatible with all Greenworks Commercial 82V batteries
Greenworks Commercial Backpack Blower Price
If you already have the Greenworks Commercial 82V batteries you need, you can pick up the backpack blower for $449.99 as a bare tool. There's also a kit that includes two 8.0Ah batteries and a dual port charger for $1299.99.
The Bottom Line
Greenworks Commercial continues to eliminate excuses as they raise the bar on battery-powered performance, and the BB361 backpack blower is another example. With its legitimate 36-Newton blowing force, the BB361 is the most powerful battery-powered blower we've tested and sets a new benchmark that is sure to have other brands scrambling to catch up.