Recently I decided to get to work – way out in the woods. My adventure involved some tree work in the forest surrounding our cabin in the Blue Ridge Mountains of northwest Georgia. Our woods are full of hearty hardwoods and evergreens, which means there is always tree work needed to keep our little forest thriving. Last summer's thunderstorms wreaked havoc on several of the pine trees in front of our cabin, leaving some of the trees looking as if their tops had been blown apart by mortars. These widow makers had to go. What a perfect setting to put the new DeWalt 40V Max Chainsaw to the test.
I was really curious to test out the pro-grade Li-ion powered chainsaw from DeWalt. As a good point of reference, I keep a comparable gas-powered saw on hand at my cabin. It seems there is always tree work needed, whether that means clearing roads of deadfall or preparing firewood for next winter. The real question was whether or not the Dewalt 40V Max Chainsaw could keep up in power while still leaving me enough run time to make it worth the price. Clint DeBoer and Kenny Koehler had the opportunity to try out this model at GIE 2015. Kenny assured me that DeWalt's chainsaw wouldn't be like any other battery-powered chainsaw I've used. I left for the woods with a car full of family and some pretty high expectations. Let's take a closer look at DeWalt's 16″ Brushless Chainsaw.
Editor's Note: This is the original review based on our experience when the chainsaw first came out, but the ratings have been updated to reflect its performance against others its class from our recent shootout.
DeWalt 40V Max Chainsaw Specifications
Model: DCC690M1/H1
Power Source: DeWalt 40V Max Battery Pack
Motor: DeWalt 40V Max Brushless
Bar Length: 16″
Run Time: 100 cuts (6.0 amp hour), 70 cuts (4.0 amp hour) in 6 x 6 pressure-treated pine
Weight: 13.5 pounds
Price: $399 (4.0 amp hour kit), $479 (6.0 amp hour kit)
Warranty: 3 years
Package Contents:
DeWalt DCCS690 Brushless Chainsaw

DeWalt 40V MAX 6AH Lithium-Ion Battery

Battery Charger

16″ Oregon Bar and Chain

Bar Sheath
Shop Amazon
Dewalt 40V Max Chainsaw First Impressions
DeWalt 40V Max Chainsaw Key Features
Low Kick Back 16″ Oregon Bar and Chain
Auto-Oiling with Lubrilink and Lubriwell for continuous lubrication
Quarter-turn oil cap for quick oil re-fills
Chain brake for kickback protection
Tool-Free chain tensioning and bar tightening knob for proper bar clamping force
Variable speed trigger
The saw is packaged fully assembled and upon unboxing, my first impression of the saw was very positive. The tool feels well built, sturdy, and all business. It weighs in at 13.5 lbs with the 6.0 amp hour battery – just a bit more than my comparable model gas saw, but understandably so given the weight of the battery.
The handles are easy to grip and provide stability. The tool-free chain tensioning mechanism feels well constructed and solid. The bar sheath is really tight and difficult to slide on and off the bar but stays in place nicely. Perhaps with some use it will open up a bit. There are no surprises with the battery charger and I had a full battery ready to go in a few hours. The battery slides into its port easily and locks solidly into place. The battery's LED charge indicator offers 3 levels of visual display so you can check in from time to time on how much charge remains. The bar oil reservoir also includes a visual indicator window so you can check in on bar oil levels to ensure you are running smooth and oiled.
DeWalt 40V Max Chainsaw Operation and Performance
I was really pleased to see the DeWalt 40V Max Chainsaw required very little setup to begin operation. I filled the bar oil reservoir, charged the battery, tensioned the chain, grabbed my safety gear, and got ready to work. Like all lithium-ion OPE, there is mercifully no gas to mix or hard to start antics frustrating the process. I have fond memories of watching my father give our chainsaw the what for while tugging away at the starting cord only to hear the saw sputter. The tool-free chain tensioning mechanism is really similar to the one on my gas-powered chainsaw and works really well – simply loosen the lock dial, adjust the chain tension, and tighten the lockout until it clicks. No tools, no problem. The bar oiler is solid as well and maintains a smooth chain operation. As a bonus, it doesn't leak! If you're new to chainsaws, this may seem like a no-brainer for a new saw, but you'd be surprised how many saws leak bar oil.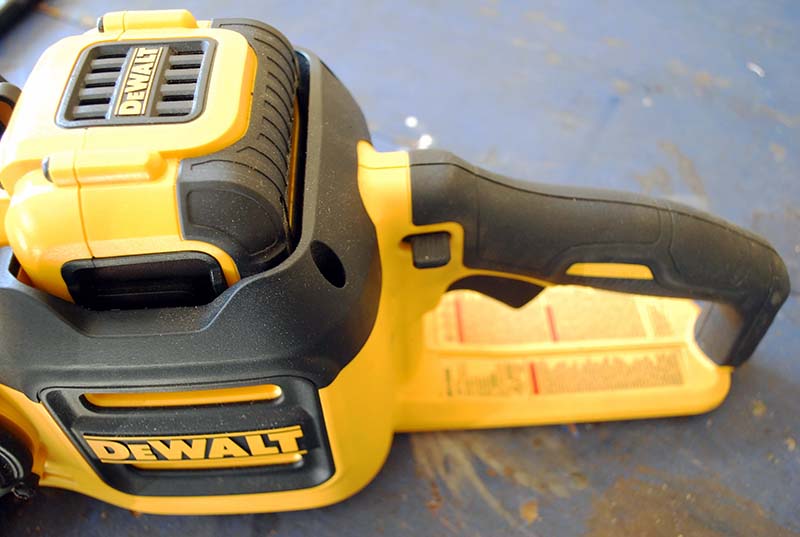 One of my favorite features of this saw is the lack of noise. It's so much quieter than any gas saw and really allows you to hear things going on around you. You can clearly hear the tree beginning to pop and crack before it starts to fall. There is no exhaust blowing in your face making for an all-around safer, more focused operation. It's easy to slip into auto-pilot and forget that you won't hear the noise of an idling engine to warn you of a tool ready to cut. There is a safety switch to depress before you can pull the throttle trigger. This is a standard safety feature and DeWalt places it where it doesn't become an obstacle to an otherwise excellent user experience.
When the throttle switch is engaged the saw immediately springs to full speed without any warmup or idling – it's ready to roll. The chain brake is a noticeable feature, stopping the chain quickly when engaged. The saw operation is very smooth and powerful. The 40V brushless motor has an impressive amount of torque and breezed through the 10-12" diameter pine trees without any issue. I felled a pair of 60-foot pines and cut them into 24" lengths for burning in our outdoor fire pit next season. Following that, I turned to trimming the limbs into manageable lengths for a bonfire. I still had juice left in the tank (or would that be cells?), so I also cut up a small hickory into firewood.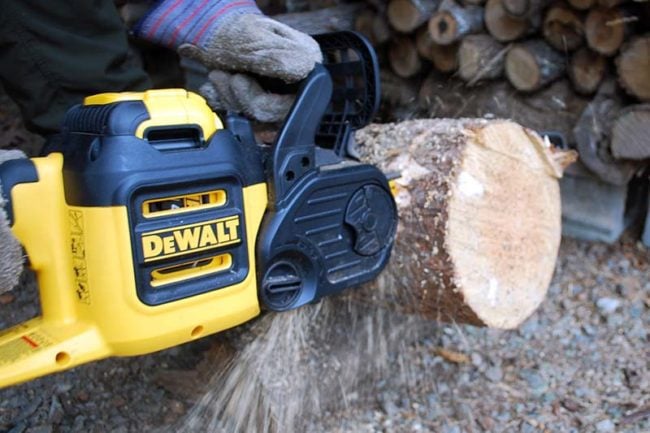 As expected, the Oregon bar and chain performed really well – new chains are the best! I did need to adjust the chain tension after the first series of cuts as new chains often stretch out a little bit after some use. Keep an eye on your chain tension to maintain safe operation. DeWalt claims the 6 amp hour battery is rated for 100 cuts in 6 x 6 pressure-treated pine. I made about 115 through pine and hickory of various diameters before needing to charge the battery pack. All in all, I was able to work for a solid 2-1/2 hours before taking a battery break. Multiple batteries, including a new 7.5 amp-hour pack, can be purchased to ensure continuous operation.
Final Thoughts
In my opinion, DeWalt's first foray into the battery-powered chainsaw market is excellent. The saw performed really well – much stronger than other Lithium-ion powered saws I have used and I prefer it over my gas-powered saw. The work became much more enjoyable without the noise, startup issues, and emissions of a gas motor. The DeWalt 40V Max Chainsaw is like the Tesla Model S of the Li-ion OPE chainsaw market – you're going to be impressed at what a battery can do!