A strap nailer or metal connector nailer has got to be one of my favorite tools. It definitely falls under the "most helpful" tool category. There have been plenty of projects in years past where I simply hammered in straps or used screws to secure joists to stud walls or beams. Upon getting my hands on a nailer with a positive placement head—that job got a lot easier. Now, the cordless strap nailer from DeWalt aims to make even quicker work of fastening straps. The DeWalt DCN693M1 won't work for every job, but it comes across as a surprisingly functional tool that fills a need.
The Case for a Cordless Strap Nailer
There are many situations where you may want to use a cordless strap nailer. A job may provide you with limited access to power. You might be in a location where a hose could prove overly cumbersome. If you're up in the air doing rafters, a cordless solution really starts to look good. In those cases, it's just nice to be able to grab a tool and not have to drag around a hose. Another great use for this type of tool is for smaller projects that don't require a lot of overhead lifting of the tool. That would include a small porch or a low-to-the-ground deck.
It also can't be beat when you show up on a friend's jobsite where they're trying to have a go at it manually. Without pulling along a compressor or hose I found that I could just whip out the DeWalt DCN693M1 and get to work.
You'll turn some heads for sure, and those hammers will quickly stop swinging.
DeWalt Cordless Strap Nailer Features
The official name for the DeWalt cordless strap nailer is the DeWalt 20V Max Cordless Metal Connector Nailer. There's even an XR in there somewhere, letting you know there's a brushless motor inside. The DeWalt DCN693 doesn't use gas. It's powered solely by a 20V Max lithium-ion battery pack. The kit includes a DeWalt DCB204 4.0Ah battery which delivers decent run-time. It will drive up to 600 nails (1-1/2 in. length) before you have to recharge it. That's the equivalent of roughly 75 face mount 2×6 joist hangers—on just one battery pack.
Aside from being the only cordless metal connector nailer currently on the market, the DeWalt cordless strap nailer feels like a tool you want to have on-hand. Like the DeWalt 20V Max framing nailer, it's not something you're going to use when you want to put together a large project. It's heavy. You don't want to hold it over your head for long periods of time or use it all day long. Still, the DeWalt cordless strap nailer allows you to go to town on joist hangers, structural straps, and other metal connectors that require lots and lots of nails to meet code.
Getting the Right Shot
The DeWalt DCN693M1 uses 35° paper collated metal connector nails from 1-1/2 to 2-1/2 inches in length. It will do just about any job you need it to. It has both sequential and rapid cycle modes. I stayed mostly in the former. The protruding tip works as you'd expect. Put it in the hole and pull the trigger. The nail is going to slide underneath and find the right spot 100% of the time if your technique is correct. Of course, if you don't maintain the correct angle you could potential undershoot. Once you've used a tool like this for a while, however, you understand how to position it for precise fastener placement.
The DeWalt cordless metal connector nailer has an inline tool-free depth adjustment behind the firing head. A speed selector switch is used solely to adjust the tool for use with nails up to 1-1/2 inches in length or for longer 2-1/2 inch nails.
Like the cordless DeWalt framing nailer, a stall release lever is located on top to quickly reset the driver blade if you get a jammed nail. DeWalt even stores the hex key onboard for clearing jams and removing the magazine.
DeWalt DCN693M1 Specs
Type: Metal connector
Tool-free adjustable depth setting
Dry fire lockout
Firing modes: Sequential, rapid
Fasteners (length): 1-1/2 to 2-1/2 in.
Fasteners (diameter): 0.131 – 0.162 in.
Dimensions: 13 x 15 inches
Weight (with battery): 9 lbs
Warranty: 90-day money back/1 year free service/3 year limited
Includes: DCN693M1 tool, DCB115 charger, DCB204 20V Max 4Ah battery, plastic case
Price: $449.99 (kit) or $369.99 (tool only)
Using the DeWalt 20V Max Cordless Metal Connector Nailer
We tested the DeWalt 20V Max cordless metal connector nailer underneath a house that didn't have adequate joist hangers in some locations. While most of the boards sat on sill plates, other areas benefitted from the extra safety and security offered by a joist hanger. As expected, the tip offered accurate placement. Using the tool in rapid fire mode lets you get close to the speed of a pneumatic. Just watch your aim. There's at least one notable drawback on this tool—namely the magazine size. You can only fit a single stick of nails inside. We'd like to see it carry two sticks like the Paslode PF150S-PP I still use.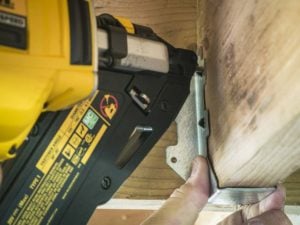 Placing the tip in the holes of the Simpson Strong Tie hangers, the nail fired easily, and sank in all the way. We did find that it could stand proud if you ran into a knot, but that was a rare occurrence. I also didn't end up having to use the jam release lever. We did have some experience with that on the DeWalt framing nailer, and it worked as designed.
Provided you used the proper angle, the nails all slammed into place accurately under the protruding curved tip. This is an easy tool to use. Its weight, however, will hold you back from wanting to hold it overhead for too long. Features like dry fire lockout all worked well. My go-to tool for this work has been the Paslode PF150S-PP positive placement strap nailer. It's served me well, but even that nailer isn't light. It weighs about 6.4 pounds. Still, the DeWalt adds an additional 2-1/2 pounds to that. You definitely notice it after some use.
Conclusion
As a tool for punch lists, smaller projects, or even quick repairs, the DeWalt cordless strap nailer will leave you very satisfied. It will also save you money since you don't have to set up, fill, and drain a compressor or drag a hose. You can definitely use it for longer, but if you're strapping down a house you'll likely need to swap the battery out at least once in a day. With many finish nailers I've recommended slim battery packs to save on weight. With this tool you really need the fat pack. It takes more power to drive these nails, and having a couple fat packs should get you through a day of serious work. Currently, the DeWalt kit only comes with one 4.0 Ah battery, so hopefully you're already on the 20V Max platform and can borrow a pack.
If you're not already using DeWalt 20V Max batteries, this tool is good enough that you should consider grabbing it on its own. With only a few minor setbacks, it's that impressive.