I needed to see what kind of options might be available having just been informed that my crew's second pneumatic impact wrench was destroyed in relatively short order. I do contract work for Florida's Department of Transportation and manage several crews in conjunction with the Department of Corrections. My guys work hard and they're tough on tools.
We've had a little bit of trouble with larger bolts given our current setup. I'm not going to name names here, but it's pretty clear I need to be setting my sights on higher performance to get the job done. With a mandate from on high to focus on going more green, we brought in the DeWalt DCF899P2 as their latest and most powerful 20V Max XR Brushless High Torque Impact Wrench to see if it could brighten my day.
Performance aside, we're currently working from a rig that is decked out with a generator to run our compressor that gives power to the pneumatic impact wrenches. That's a lot of money invested to drive a set of half-inch sockets. Since we also have a solar-powered inverter set up, going cordless makes sense if it has the performance and run time to keep up with their pace.
The DeWalt DCF899P2 High Torque Impact Wrench packs 700 foot-pounds of fastening torque and 1200 foot-pounds of nut-busting torque. DeWalt is kitting these with 5.0 amp batteries, so it should be a pretty compelling match-up for nuts bolts that often run in the 1-inch to 2-inch diameter range.
Check out how this model did in the Shop Tool Reviews Shootout!
DeWalt DCF899P2 20V Max XR Brushless High Torque 1/2″ Impact Wrench Specifications
Model: DeWalt DCF899P2
No Load Speed: 0- 400/1200/1900 RPM
Fastening Torque: 700 foot pounds
Breakaway Torque: 1200 foot pounds
Impact Rate: 2400 IPM
Drive: 1/2″ Pin Detent (hog ring also available)
Length: 8-13/16″
Weight: 7.2 pounds
Included in Kit: Tool, (2) 5.0 amp hour batteries, charger
Warranty: 3 years
Key Features
The DeWalt 20V Max High Torque 1/2 Inch Impact Wrench is part of the XR Brushless (extreme run time) series that takes advantage of more powerful and efficient brushless motors. Because our team is going to be working in some heavy-duty applications, we went with the DCF899P2 kit featuring a pin detent drive design to hold the socket more securely. The kit comes complete with a charger and a pair of 5.0 amp hour batteries. It's also available as a bare tool or in a single battery kit. A hog ring design can be found bare and in two battery kits.
There's a lot of power available, so lighter and medium-duty applications can be handled with more precision thanks to the 3-speed motor. I like the fact that DeWalt has stepped up by kitting this model with 5.0 amp hour batteries. Users will definitely appreciate the extra capacity on DeWalt's higher performance tools.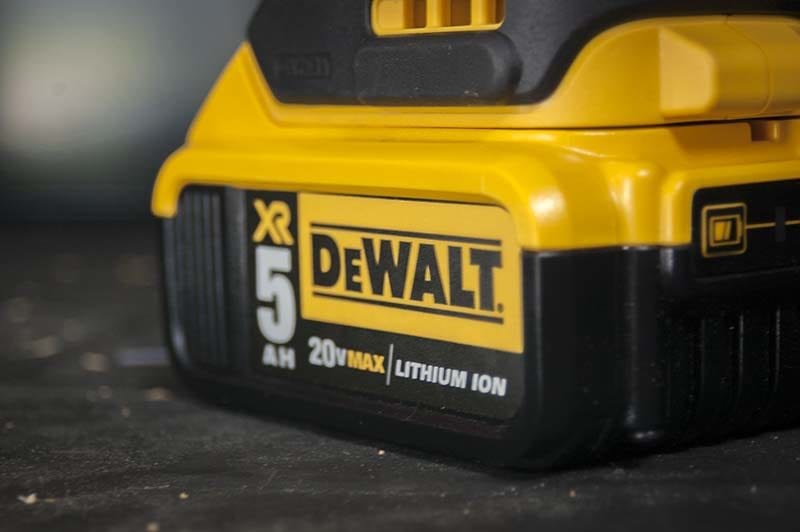 Hitting the Road
I need two things to get my guys through the day: power and run time. We had a several tasks to complete with DeWalt over the past couple of months. One of our most common jobs is going around after a car accident to repair the guard rails. With this kind of work going on constantly, it gave us the chance to see if we could expect great things on tougher tasks.
Ergonomics
My first impression of the DeWalt DCF899P2 was the weight. This thing is heavy at 7.2 pounds. I expected more weight than our pneumatics since everything is packed into the tool, but it did take some getting used to. Still, it's about in the middle of the other cordless options available, so I shouldn't complain too much. Ergonomics can be tough to establish with a heavier tool, but there are some points to make. The tool is obviously top heavy. The rubber overmold on the handle helps keep a solid grip and the weight is centered pretty well.
Power
It was clear with the first bolt we tightened down that this thing is a beast! Having established itself on the guard rail, we had some other skills that DeWalt's 20V Max High Torque Impact Wrench needed to prove itself on before we offered it a permanent position on our crew. Next came some boardwalk repair that was on our punch list. The bolts for this project were 18 inches long with 1-1/4 diameter heads. Once again, the DeWalt DCF899P2 proved its worth without really having to put out a full effort considering we were turning the bolts and washers snug against pressure-treated wood.
Finally, the torture test for our impact wrenches – overhead road signs. Some of these things are 30 feet long and they have to be installed using bolts with 1-7/8 inch heads tightened down to regulated torque. The amount of torque varies with each size bolt when it comes to signs and these are among the largest. Our normal procedure is to use the pneumatic impact wrench to tighten the bolt as much as it can, then come behind it with a torque wrench (my guys usually call it a power bar) to get the proper amount of torque. On the largest signs we installed, we were shocked to put the torque wrench on the bolt and find that the DeWalt 20V Max High Torque Impact Wrench already gave it the force it needed within the acceptable tolerance range.
Improved Efficieny
This revelation results in huge time savings for my crew since they only have to hit each bolt with one tool. Combine that with no need to start a generator to run the compressor and drag a hose out to work at height and this upgrade to our tool kit is money in the bank.
One thing we noticed that's different from the pneumatic wrenches we were using is the trigger. Normally we can feather the trigger for more control when it's in a mode with more power than we need. With the DeWalt impact, it was pretty much full power when you press the trigger. There are three modes to choose from though and that helps a lot.
Run Time
The other burning question for my guys and me was about the run time. Could two batteries keep up with us on long days in the hot Florida sun?
It turns out there was nothing to worry about. With the kind of work we're doing on a normal day, one 5.0 amp hour battery makes it through. We have a backup in the kit if we need it, but so far we haven't. We just alternate the batteries each day. Charging does take longer than I'd like, but we're not outworking the battery, so it's not that big of a deal.
Socket Security
The pin detent has been a little bit of an issue for us from time to time, though it held our sockets securely. Sometimes we're working under bridges and other spaces where dirt, mud, and other debris gets in there and makes the detent tough to press in. All we really had to do was blow it out, but some days that was a frequent occurrence. If you're working in dirtier areas, I'd recommend you go with the hog ring and save the pin detent for use in the shop where it's a little cleaner.
Conclusions
When I'm reading reviews, I want to know whether or not the tool does what the company says it will do. DeWalt promises power – we definitely got that. They mention versatility – my guys aren't attached to a hose or cord and I'm not dragging around a generator and compressor for the impact. XR Brushless motors are said to deliver extreme run time – we're working all day on one 5.0 amp-hour battery.
DeWalt also says they designed the tool for comfort, speed, control, and working in dark spaces. Speed and working in dark spaces are definitely both on point. Control is good because the tool has three speeds, but we actually had a little more trigger control with our pneumatics. Comfort is relative when it comes to a handheld tool this heavy. Good balance and handle design make it about as good as we can expect.
The Bottom Line
The DeWalt DCF899P2 20V Max XR High Torque Impact Wrench is saving me a ton of time, which in turn is saving me money. It's also reducing the amount of peripheral equipment I have to carry to run the tool, saving me even more. I can easily recommend this for any Pro that needs high torque on a cordless platform.