DeWalt Portable Power Station Produces Big Surge Power
The DeWalt Portable Power Station battery inverter and charger tosses its watts right in with several others we're reviewed recently. It's a very different animal than other battery-powered inverters with very real benefits on the jobsite.
Pros
Offers more surge watts than its competitors
Can run a table saw – something no other comparable inverter can do right now
Charges four batteries simultaneously
Small footprint
Excellent price
Cons
Modified sine wave output isn't optimal for all applications
Fewer total amp hours than the competition
2-amp charge rate is a bit slow
DeWalt Portable Power Station Performance
Surging Ahead
The DeWalt Portable Power Station is quite popular and we wanted to know why. It didn't take us long to find out.
We've reviewed the Kohler enCUBE, Goal Zero Yeti 3000X, and EGO Nexus Power Station and each one handles more powerful tools than the previous. EGO tops the group by running a 15-amp worm drive.
But DeWalt's DCB1800 will run a table saw. And that's impressive. The secret lies in its 3,600 surge watt capacity. Even the Ego Nexus Power Station, the most capable of the competition, fails the table saw test with only 3,000 surge watts. Although it has more continuous wattage at 2,000 compared to the DCB1800's 1,800, DeWalt can handle higher inrush current.
If you're keeping score, that means that the DeWalt Portable Power Station's surge wattage is 100% higher than its continuous (1,800 to 3,600W). That helps it power nearly anything you can plug into a 120V outlet. Gas and diesel generators don't come anywhere near that ratio and even other battery inverters are more conservative.
Riding the DeWalt DCB1800 Sine Wave
If it strikes you as quirky that the DCB1800 produces a modified sine wave instead of a pure one, you're not alone. Modified sine waves can cause AC motors to run hotter and less efficiently. Some experts recommend not running any appliances or sensitive medical equipment on them. Even if you do, they won't run as efficiently as they do on an AC outlet.
There's some debate over whether a modified sine wave will damage laptops, tablets, and phones. Most people stay away from it. For this inverter's purpose in life, however, there's no reason to shy away from running jobsite tools when you don't have an AC power source.
The good news is that modified sine inverters are less expensive.
Empowering Your Corded Tools
You must use four batteries to power the inverter. Any combination of DeWalt 20V Max and/or DeWalt FlexVolt batteries will do. Just keep in mind that once the smallest battery dies, you're done. The EGO Nexus Power Station runs on anywhere from 1 – 4 batteries while both Kohler and Yeti have internal batteries.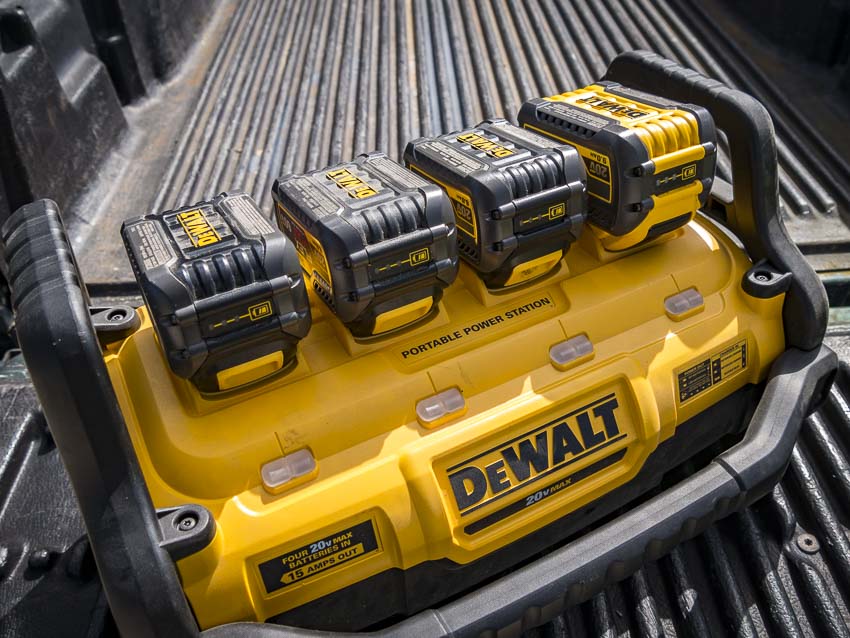 The DeWalt Portable Power Station is also a charger that accepts up to four batteries. It takes two hours to charge 4 Ah batteries. That's a fairly slow 2 amps but it charges all 4 ports simultaneously. Consider this as an inverter that also charges as a bonus and it's less disappointing. If charging quickly is a priority, DeWalt has a 4-port rapid charger.
Capacity Comparisons
Goal Zero Yeti 3000X is the king of capacity with 3,080 watt-hours available. The Kohler enCUBE offers 1,200 and the EGO Nexus maxes out at 1,680. Those numbers make the DeWalt Portable Power Station look a little puny at 864 max watt-hours with four 12 Ah FlexVolt packs.
There's a difference between a prepper that needs an emergency power source and a Pro on the jobsite, though. Do you need 1,500 or 2,000 or 3,000 watt-hours to make this an effective jobsite tool?
Probably not. Keep in mind that the FlexVolt Miter Saw uses two batteries and runs for quite some time. If you're heavily invested in DeWalt's 20V Max or FlexVolt lines, you might already have a spare set of batteries as a backup.
DeWalt Portable Power Station Additional Field Notes
Single 120V Outlet
Unlike models designed to compete against small gas inverter generators, there's only one 120V outlet on the DeWalt Portable Power Station.
Size and Weight
At just 18 pounds bare, DeWalt is by far the easiest to tote around. Even with the batteries, it's still well under the weight of EGO, Goal Zero, and Yeti.
The overall profile is smaller as well and DeWalt puts handles in places that make this a reasonable option to haul in and out of your truck frequently. DeWalt's even made it Tough System compatible similar to their Music+Charger.
DeWalt Portable Power Station Pricing
The Dewalt Portable Power Station will set you back $529 for the bare unit.
Here's what the higher-capacity competition looks like:
The Bottom Line
With the ability to handle the inrush load of a table saw, DeWalt's popular Portable Power Station is the only battery inverter we've used that can make your entire jobsite cordless.
It offers fewer total watt-hours than some of its competitors, but then again, DeWalt didn't make this for preppers who want to maximize them. Charge time is also a bit slow and DeWalt makes a dedicated charger that works faster if that's what you need.
Its modified sine wave output defines it as an excellent jobsite option but you're better off with a pure sine wave inverter for charging electronics.
DeWalt Portable Power Station Specifications
Item Numbers:

DeWalt DCB1800B (Bare)
DeWalt DCB1800M3T1 (Kitted with three 4Ah 20V Max batteries and one 6Ah FlexVolt battery)

Power Source: 4 DeWalt 20V Max or FlexVolt batteries
Max Surge Output:

3600 watts

Continuous Output: 1800 watts
Max Current: (120V/240V)

30 amps

Rated Current: (120V/240V)

15 Amps

20V Receptacles:

1

Battery Compatibility: 20V and FlexVolt

Connection: Male 120V PLUG

Charging Rate: 2.0 amps

Charging Time: 2 hours, 4.0 Ah Battery

Height: 10.75 Inches

Length: 12.75 Inches

Width: 21.3 Inches
Indicator Lights: Inverter and Charger, Operation and Fault, Low Battery

Charging: Simultaneous

Sine Wave Type: Modified

Temperature Range: 32-104°F

Weight Without Batteries: 18 Pounds
Prices: