I recently had all kinds of fun conducting a shootout of eight battery-operated chainsaws for Pro Tool Reviews. As I mentioned at the time, I did a similar test four years ago but the field was much thinner due to the relative lack of power compared to what we have today. Now, more manufacturers are competing as battery technology improves and consumers have seen how lithium-ion technology can approach and sometimes even exceed their petrochemical (AKA gas) counterparts. One such lithium-ion breed in the shootout was the Echo 58V Chainsaw, which I'll focus on today.
First Impressions
The Echo 58V Chainsaw is a 58-volt, 4.0 amp hour battery powered saw sporting a 16-inch Oregon 90 chain with .043-inch thick drive links. Its battery powers a brushless motor and it features and automatic oiler, a mechanical lockout switch, inertia chain brake, variable speed trigger, dual bar studs, and a built-in wrench storage slot.
This is the only saw that includes an optional tip guard to protect against kickback. It's an effective safety feature, although it does have trade-offs – a few inches are shaved off the cutting capacity and you can't plunge cut or make deep rip cuts.
The only concern I had before "firing up" the Echo 58V Chainsaw was its small, plastic bucking spikes. Bucking spikes, resembling teeth and typically made of metal on gas-powered chainsaws, are meant to grip the wood or bark as the chain makes a vertical cut through a horizontal log. Smaller profile, plastic bucking spikes seem to indicate a less aggressive cut but that's not what we want – we want these things to chew up some wood! But let's withhold the final judgment until we see how it performs.
Making The Cut
For a full description of how I tested the saws, be sure to check out the shootout. For now, suffice it to say that we wanted to know everything: how the saws feel in the hands, balance, felling grip cutting, bucking grip cutting, trigger feel, cutting speed, runtime, weight, and anything else that stood out.
Over the course of the testing, I made hundreds of cuts, and the Echo 58V Chainsaw scored a Very Good for balance. Likewise was its felling grip performance rated Very Good. You'd use this grip when cutting down a tree, hence "felling a tree." The bucking grip was also Very Good.
It turned out that the best trigger of the group of 8 chainsaws belonged to the Echo as well. It's both wide and flat and the most comfortable to squeeze because it sits flush with the handle. Other saws left the trigger protruding when squeezed, which can cause discomfort over long periods of use.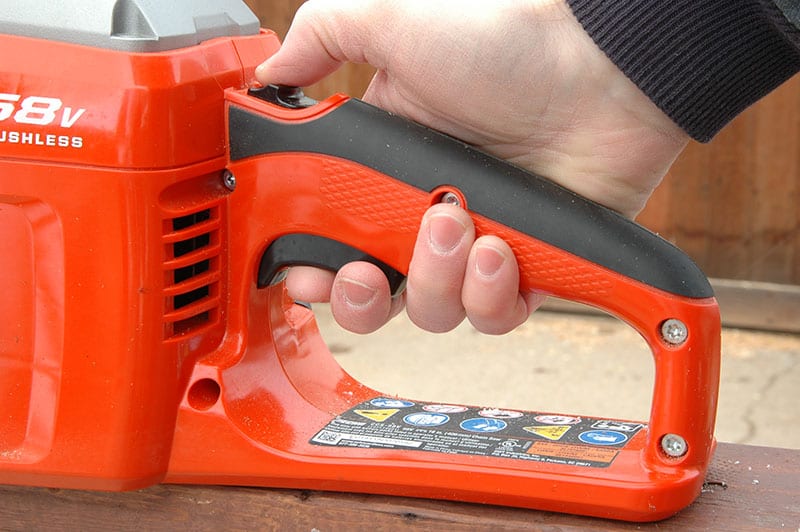 Even though the Echo had the lowest battery capacity among the top three chainsaws, it ranked first in the runtime by making 97 cuts on one charge, or the equivalent of nearly 0.5 cuts per watt-hour. That's impressive fuel efficiency that was best in the group. It also scored the fastest cutting speed through an 8-inch pine log at 5.38 seconds. I'd say that the Echo really made the cut!
The Bottom Line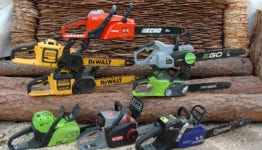 The Echo 58V Chainsaw features a 4.0 amp hour battery that powers a 16-inch Oregon bar and chain. It has a brushless motor, automatic oiler, a mechanical lockout switch, inertia chain brake, variable speed trigger, dual bar studs, and a built-in wrench storage slot. It's the only chainsaw in this shootout that includes an optional tip guard to prevent kickbacks, but you won't get the full use of the cutting capability while its attached. The saw's plastic bucking spikes have a small profile which could be limit their effectiveness.
When the (saw)dust settled, the Echo 58V Chainsaw took first place among the 8 contestants in cut speed as well as run time and efficiency. It alone earned Very Good ratings for both bucking and felling grips. It wasn't invincible, however: it's among the heaviest of the group, although I don't find that to be too detrimental to the user's experience and the small, plastic bucking spikes should really be larger and made of steel. Its performance speaks for itself, but I'll still recommend it anyway! The Echo 58V Chainsaw rocketed forward to take the role of Best Cordless Chainsaw Under $400 and is an outstanding value at $299 for the kit.
Echo 58V Chainsaw Key Features
Brushless motor for superior power, run time and durability
16-inches bar and chain for larger, more aggressive cutting
Automatic oiler for optimum oiling and longer chain life
Wrap around handle for user comfort
Equipped with an inertia chain brake
Includes 58-volt 4.0 Ah lithium-ion battery and 58-volt lithium-ion charger
Echo 58V Chainsaw Specifications
Model: Echo CCS-58V4AH (kit), Echo CCS-58VBT (bare)
Voltage: 58V
Chain Speed: 22.5 MPS
Weight with Battery: 14.30 pounds
Kitted Battery: 4.0 Ah
Nominal Battery Watt Hours: 208
Chain: Oregon 90
Chain Pitch: 3/8″
Bar Length: 16″
Warranty: 5 years
Price at The Home Depot: $299 (kit), $199 (bare)