You keep hearing us say it – cordless outdoor power equipment (OPE) is gaining huge momentum. Part of it is the convenience of not maintaining a small gas engine. Part of it noise reduction. With future noise reduction requirements picking up more support, I'm glad that we have so many options on the market already – it means they're going to continue to get better.
The Echo 58V Hedge Trimmer I'm looking at today is part of the company's line that also includes a mower, blower, chainsaw, and string trimmer. Echo's mower performed reasonably well in our Lithium-Ion Mower Shootout, receiving high marks for it lightweight composite deck and solid design. Likewise, the blower delivered excellent performance for its class.
Echo's Cordless Hedge Trimmer comes in sharing the battery platform and brushless motor. It's billed as a professional line of tools. Given the company knows a thing or two about commercial lawn maintenance, that brings some significant expectations with it.
First Impressions
The Echo 58V Hedge Trimmer seems to be on the heavy side for what I expected. It may be that I've just put my hands on too many other lithium-ion products that are light weight thanks to the amount of plastic involved. You do get some metal housing on the underside of this unit. A lot of the weight comes from the 24 inch blade. Looking at the other pro focused models though, the weight is right in the wheelhouse.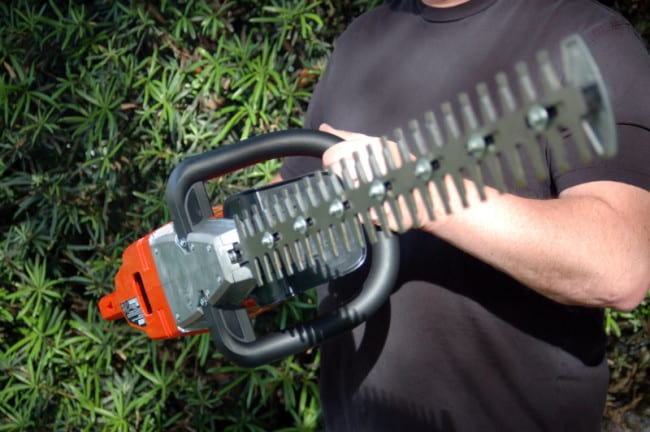 Speaking of the blade, 24 inches gives you a lot more reach than the consumer models out there. When it comes to maximizing efficiency around multiple yards in a work day, this blade will fit nicely.
Balance is decent with the battery installed. It's always relative with a hedge trimmer though – you'll be working in all kinds of positions, so you're going to feel the weight shift at some point regardless.
You have a couple of safety features to overcome before starting the Echo 58V Hedge Trimmer. I say that meaningfully – they will feel like an obstacle until you get used to them. You'll need to have one hand on the guide to depress the switch while the other disengages another safety with your thumb near the trigger. It's awkward at first, but you'll stop thinking about it after a few uses.
The only potential cause for concern I found on the build quality was the side housing for the battery. It's a little flimsy for what I would expect in a professional hedge trimmer, especially given the importance of its protection detail. It's pretty standard for what I've seen on other battery powered units – I'm just being a bit picky because of the intentional pro focus in this line.
Echo 58V Hedge Trimmer Performance
After charging up the 2.0 amp hour battery, I locked it in the top oriented compartment and got to work on several of the shrubs that I had been neglecting. The Echo 58V Hedge Trimmer is capable of conquering branches up to 3/4″ thick and I found that to be just about right. Of course, you need the branches to get between the knives just right at the max diameter, but I didn't feel like the brushless motor was really struggling to make it through.
Smaller branches were handled with relative ease. I say relative because the branches really were cut easily on most of my shrubbery. Bringing the unit above shoulder height is where the real effort had to be performed. Hoisting the 11.5 pound hedge trimmer briefly isn't necessarily a challenge. Keeping it there while I worked around an 8 foot plant… I could feel the burn.
I didn't have enough shrub to cut or desire to hold the trigger down long enough to test Echo's 90 minute run time claim. I only dropped to 3 LEDs after trimming for about 20 minutes, so it certainly looks like there is solid run time. I also didn't have much high stress cutting with most of the branches being under 1/2 inch in diameter. Pros can probably count on a solid day's work with 2, maybe 3 batteries if it's simple maintenance (given that you're mowing, blowing, and trimming as well). For any properties that have been neglected a while, I'd plan on having s charging solution available.
Echo 58V Hedge Trimmer Specifications
Model: Echo CVT-58V2AH
Power Source: Echo 58V Battery Pack (2.0 amp hour included)
Blade Length: 24″
No Load Speed: 3500 SPM
Run Time: Up to 90 minutes
Charge Time: 30 minutes (2.0 amp hour battery)
Cutting Capacity: 3/4″
Weight: 11.5 pounds
Price: $269
Warranty: 5 year consumer, 2 year commercial
Conclusions
I was impressed by the cutting performance of Echo's lithium-ion hedge trimmer. I really don't see much that you'll come across wishing you had the performance of another brand in this class. While I was surprised initially by the weight, I'm happy to bear it given the 24 inch blades that help me get the task done more efficiently.
The Echo 58V Hedge Trimmer is an excellent option for the prosumer that wants professional results and performance. The pro is really only limited by the run time and maybe a touch of concern about the plastic housing.