Having already reviewed most of the EGO string trimmers, getting our hands on the EGO 56V Power Head attachment system seemed a logical next step. It encompasses so many great products in one. You get one power head to operate a string trimmer, edger, pole chainsaw, and much more.
Pros
Robust system of compatible attachments
Deep line of compatible lawn care equipment
Plenty of power
2 speeds plus a variable speed trigger
Excellent ergonomics in the control system design
Several combo kits available to get you started
Cons
Not compatible with standard universal attachments
No shoulder strap included (available separately)
EGO 56V Power Head Attachment System Design Notes
The Value of an Attachment System
Of all the battery-powered outdoor power equipment I've reviewed, the string trimmer is my go-to for introducing landscapers to the technology. The EGO 56V Power Head which drives everything continues to use a brushless motor. It moves that motor to the rear of the tool, however, to let you swap out the attachments. Currently, the price for additional attachments ranges from $120 to $180 each.
The big deal with the EGO Multi-Head attachment system is flexibility—but also power. Moving the motor to the back—near the battery—gives it a bit more efficiency. You're not sending all that battery power down a wiring harness to the head. Since the tool now uses a spinning shaft, it also allows for the use of the aforementioned attachments. That lets you only buy what you need, giving you a pretty robust battery-powered system without having to buy full tools for each function. Of course, if you already have an EGO string trimmer, then you would presumably get into this system for the pole saw, articulating hedge trimmer, tiller, or edger.
EGO 56V Power Head Overview (PH1400)
To cover all that this product does, I'll start with the actual EGO power head and then move through all of the attachments we reviewed.
The EGO 56V Power Head (PH1400) is the engine behind any of the tools you'll attach to it. Without a solid power train here, your edger, trimmer, tiller, or pole saw attachments won't do much good. Fortunately, EGO seems to have done a bang-up job of engineering the driving force of their multi-head system. It performs with enough speed and torque to cut, trim, or otherwise bite through anything the attachments come up against.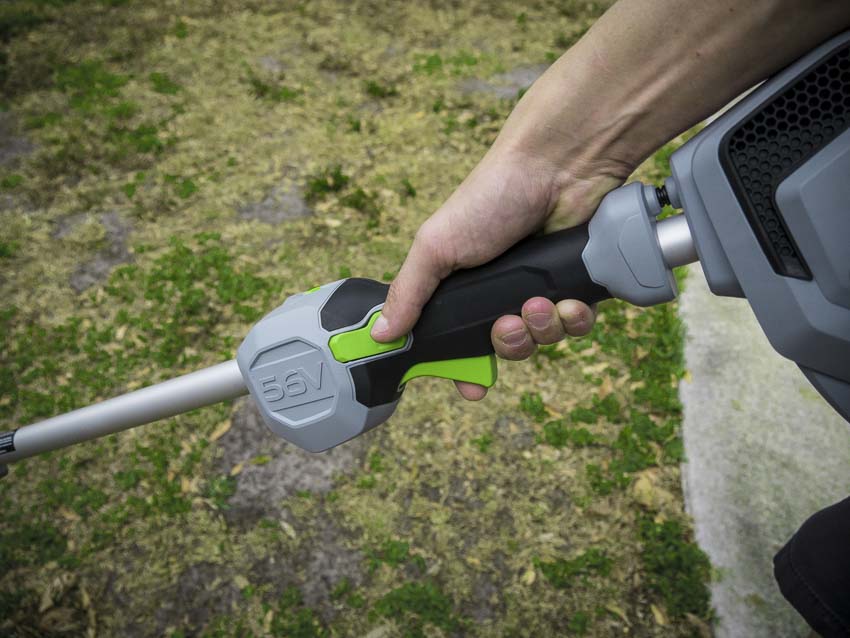 Using the Power Head
The safety lock-off button—included in some form in all battery-powered tools—utilizes a side actuation. This type of switch differs from most, but its large size makes it a great solution. After a few tries, grasping it became second-nature while activating the trigger. Speaking of the trigger, the slightly oversized shape lets you get two fingers on it for more comfort. The rubberized grip on the rest of the handle lets you more easily use the EGO power head string trimmer (or other attachments) for extended periods of time.
Spinning the Shaft
Since the motor is behind the trigger, it actually drives a spinning shaft that terminates into what resembles a large spline drive. The parts all seem robust, so we have high expectations for overall tool longevity. To attach accessories to the power head, you unscrew the green "wing knob" (shaft lock) and press the gray shaft-release button. You then line up the arrows between the multi-head coupler and the accessory shafts. Finally, push them together until they fully seat. Sometimes it takes some wiggling from side to side, but I got better at it with practice. You'll do this process twice when using the pole saw with the 31-inch extension.
Editor's Note: Since EGO went with a spline drive, the system doesn't mix with RYOBI Expand-It or other universal attachments currently on the market.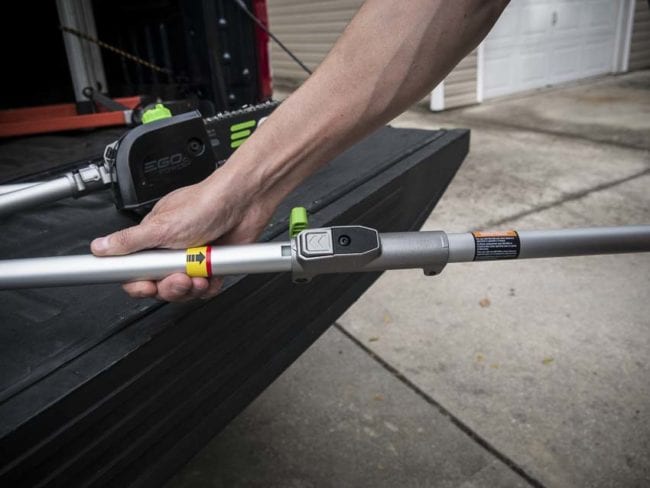 Some Physical Observations
A couple of aesthetic things on the EGO multi-head attachment system bear mentioning. One, EGO continues to use a battery release button that is on the tool, not the battery. I love this. When grasping batteries—especially large ones, it's much easier to have a spring-loaded eject button on the tool that releases it into your hand. I'm very glad EGO kept this functionality across its entire line.
Two rubber bumpers located on the rear of the tool provide some protection and grip. I stand my trimmers upright more often than not. Recognizing this common occurrence, the placement of these small rubber pads is fortuitous and keeps your tool from sliding on an oily or uneven flooring surface.
The brushless motor has a high and low "gear" that is set by the top-mounted button on the EGO 56V Power Head. Aside from that control, the variable trigger takes care of the rest. There is no "Eco" mode to conserve battery or a Reverse to switch the direction of the head. As you can imagine, defeating reverse for the pole saw and edger would require a lot more development.
Though it's not included, you can pick it up separately. There's no standard strap point to clip it in. Intead, EGO's design connects directly around the shaft.
Available EGO 56V Power Head Attachments
There are currently seven available EGO 56V Power Head accessories or attachments plus an extension. These all fit easily onto the EGO Power+ 56V Power Head:
15″ String Trimmer (STA1500)
8″ Edger (EA0800)
10″ Pole Saw (PSA1000)
Rubber Broom (RBA2100)
Bristle Brush (BBA2100)
9.5″ Cultivator (CTA9500)
20″ Articulating Hedge Trimmer (HTA2000)
Extension Pole (EP7500)
EGO 56V Power Head 15-Inch String Trimmer Attachment (STA1500)
The EGO string trimmer attachment uses the same Rapid Reload head that has been made available for their 15-inch trimmer. If you have an older head on the 15-inch trimmer, you can actually upgrade to this one for around $29. Some of the weight has been shifted to the rear of the tool—giving it a more balanced feel. We'll talk about power later—but it feels like there's more of it.
As a trimmer, the EGO 56V Power Head attachment system provides plenty of power, though not many frills. Perhaps it doesn't need to. Every time I grabbed it, it worked. In fact, it worked REALLY well—with way more power than I needed for string trimming. Remarkably, the yard I was testing it on allowed me to use the tool at least twice before recharging the 5.0Ah battery pack I used. Using a 2.5 Ah battery presents the real sweet spot since it shaves more weight from the tool.
We felt less vibration than we experienced with most of the tools in our best battery-powered weedeater head-to-head article. The EGO power head shaft does produce a tiny bit more vibration than the EGO 15″ Powerload string trimmer, but not much. Clearly, some attention to ergonomics and feel occurred when developing this system.
But Weight, There's More!
I initially thought I wouldn't like moving weight to the shaft and the rear of the tool. After all, the battery is already there—that's enough weight, right? Using the tool for a few hours on and off, I quickly became accustomed to the new distribution away from the front of the trimmer. In fact, this is more akin to what you find with gas-powered models. EGO actually increased the balance of this tool, even while adding some weight. How much weight? The Power Head weighs 5.9 lbs. and the string trimmer head weighs 3.25 lbs. With a 2.5Ah battery, the total package is just under 12 lbs. Compare that to the 15-inch string trimmer and you're looking at an additional couple of pounds.
I'm a fan of the Rapid Reload head, and the EGO power head string trimmer includes that (as expected). Compared to the original head in their first-gen 12- and 15-inch trimmers, the Rapid Reload head simply saves time. You just cut off a length of line, feed it straight through the head, and then twist the spool to wind it up.
EGO 56V Power Head 8″ Edger (EA0800)
Having some extra power comes in handy when the EGO Power Head gets connected to the 8″ edger attachment. With it, I was able to trim up some very difficult jasmine that borders the front yard.
Coupling the 8-inch Edger with the EGO multi-head attachment system, you get a tool that slices through grass, roots, and vines like there's no tomorrow. It edges up to 3-inches in depth. You set that depth by adjusting the guide wheel along the depth-adjusting guide bar. No tools are required for this—you just loosen up the green knob and move the wheel up or down along the rail. A debris flap makes a valiant effort to keep dirt and clippings down while edging. The edger attachment also comes with a removable guide plate that I left on as it gives you a nice "curb feeler" for squaring up driveways and sidewalks.
I liked the natural sight line EGO included across the top of the blade guard. This helps you know exactly where that 8-inch blade is going to cut. It removes most of the guesswork.
EGO Edger Attachment Blade Replacement
After the 8-inch Edger blade wears down over time, it can be replaced using the included multi-function wrench. You can use any right-sized wrench, but you do need to pin the shaft to keep it from spinning. EGO also lets you easily replace the guide wheel. The company recommends you check and/or lubricate the transmission gears in the case every 50 hours of operation or so. Unless you're a commercial user, once a season should do it.
EGO 56V Power Head 10″ Pole Saw Attachment (PSA1000)
The EGO Pole Saw proved possibly the most anticipated tool in the new EGO Multi-Head Attachment System. The 56V line of tools has lacked a decent pole saw since they arrived. Now, you can add both the pole saw and a 31-inch extension to the EGO 56V Power Head attachment system and take care of those higher limbing duties. The saw uses a standard 10-inch Oregon bar and chain, so you can get replacement chains just about anywhere.
The balance on the EGO pole saw was decent. You also get a nice small set of bucking spikes to rest against the limb during cutting. With a pole saw, you want to let the head of the tool do your work for you on your final cut. Good positioning and a steady, smooth cut should do the trick. In our case, we were removing smaller limbs from an old oak tree to trim it up. The included metal hook also does a great job letting you grab and pull limbs out of your way while you work.
Getting oil in the pole saw head was a simple matter, and it didn't take long to get to work. The saw cuts quickly, and does a nice job of pulling itself into the cut. One thing we did wish for included a longer extension. just a few more inches—perhaps a 36-inch extension—would have made a world of difference. Right now you get around 91-inches with the Power Head and pole saw, and over 120-inches (just over 10-feet) with the extension pole inserted.
EGO 56V Power Head Bristle Brush Attachment (BBA2100)
If you want to clean up leaves—or really any kind of mess on nearly any surface—the EGO Bristle Brush attachment should do the trick. This 22-inch wide x 10-inch bristled sweeper connects to the EGO multi-head attachment system. It basically replaces a broom. We found it interesting that EGO provided both this bristle brush attachment and the below rubber broom. Depending on your desired application, you can choose which is the better fit.
EGO 56V Power Head 9.5″ Cultivator (CTA9500)
The tines on the EGO Cultivator attachment (model CTA9500) can adjust from 8 to 9.5 inches. The heavy-duty steel blades make it easy to do serious tilling without waking the neighborhood. Since the EGO multi-head attachment system includes a variable speed trigger, you can adjust power as needed. This makes it easier to run up the speed on hard-packed ground or dial it back for turning over softer soil.
EGO 56V Power Head 20″ Articulating Hedge Trimmer (HTA2000)
When the EGO 56V Power Head attachment system first came out, we lamented the lack of a pole hedge trimmer. It didn't take EGO long to remedy this, releasing the HTA2000 to fill the gap. This articulating hedge trimmer attachment provides battery-powered trimming up high and down low. It also gives you incredible reach with a 12-position articulating head. Dual-action blades provide an industry-leading 1-inch cut capacity. You also get a set of 20-inch steel blades to help you confidently cut at almost any angle.
EGO 56V Power Head Rubber Broom Attachment (RBA2100)
At GIE, we saw several new accessories for the EGO 56V Power Head attachment system. Significantly, a new rubber broom provided a 21-inch wide sweeper for cleaning or clearing. It lets you remove dirt and debris on virtually any surface. By design, it would, like the bristle brush above, replace the use of a manual broom. Since it attaches and detaches easily, this works to quickly clean an area faster than you might with a manual method.
EGO 56V Power Head Extension Pole (EP7500)
Last, but not least…OK, perhaps it might fall into that "least" category…the EGO 31-inch extension pole provides the reach you need for several of these accessories. In particular, the pole saw and articulating hedge trimmer benefit from the extra length. That keeps your feet safely on the ground while you trim and cut.
Conclusion
The EGO 56V Power Head attachment system offers plenty of power and ease of use. It's nearly foolproof and has the basic attachments you need to get most pruning, cleaning, and trimming tasks accomplished. EGO now has one of the most robust multi-head cordless systems on the market today. The price makes this system even more appealing.
For more great reviews, be sure to check us out on Facebook, Instagram, YouTube, and Twitter.