Generac 31oo PSI Electric Start Pressure Washer is an Excellent All Around Model for Consumers
When the job requires more than an electric pressure washer gives you and your budget is less than Pro, the Generac 3100 PSI Electric Start Pressure Washer is worth taking a serious look at. It has more gunk-blasting power and volume than electric with some features that make it easier to use.
Pros
More pressure and water volume than electric models
Lithium-ion electric start system with recoil backup
Auto choke
Adjustable power dial on the wand
Cons
Wand holster connection to the frame is weak
Rear-facing hose connections make moving with hoses connected more difficult
Upgrade Your Cleaning with the Generac 3100 PSI Electric Start Pressure Washer
Pressure Matters… But So Does Volume
Many people look at the PSI to decide between pressure washers, but that's only part of the story. Higher water volume moves more material than lower at the same PSI.
The Generac 3100 PSI Electric Start Pressure Washer uses an overhead valve gas engine to boost your pressure to 3100 PSI with 2.5 gallons per minute of water volume. Electric models get up into the mid-2000s for pressure and usually less than 2 GPM, though models like the Greenworks Pro brushless model are finally getting more volume.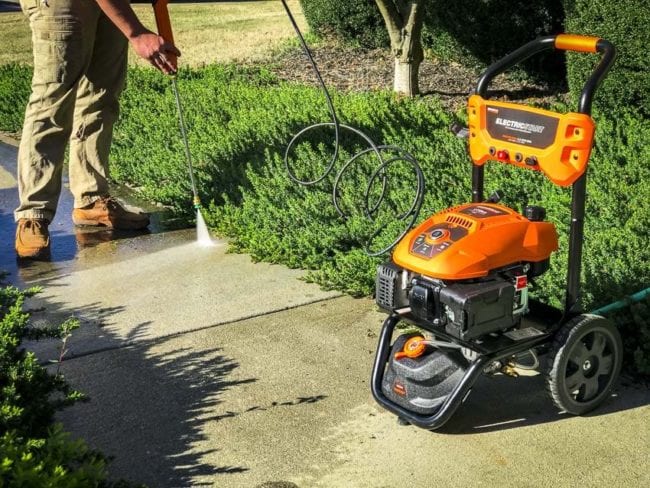 The combination lets you remove general gunk easier than an electric model so you get the job done faster.
GPM and PSI of the Generac 3100 PSI Electric Start Pressure Washer
We generally consider Pro-level pressure washers to start around 3000 PSI and move up from there. However, it's not just PSI that determines it. As we mentioned, GPM plays a part and we really like to see it push closer to 3.0 GPM or higher.
The pump comes into play as well. This Generac pressure washer uses an axial pump. It doesn't require much maintenance at all and does its best work on small jobs and less frequent use.
Pro models move up to triplex pumps that require more frequent maintenance but can handle daily use and last longer.
There are also other differences like more robust frame builds and commercial engines.
Generac 3100 PSI Electric Start Pressure Washer Field Notes
Electric Start
The electric start system is fantastic on this model. It uses a power tool-style 12V battery that pops into place on the back and has a cover to protect it from water and debris. It has a longer life and is easier to work with than a lead-acid battery.
The automatic choke system on the Generac 3100 PSI Electric Start Pressure Washer helps save some time and frustration. Of course, the electric start itself saves a lot of cord-pulling frustration, too. The engine doesn't always crank in the first second and you can engage the electric start longer than a recoil cord.
Just don't hold it down for 30 seconds – the engine should start in a few seconds or less. If it doesn't, give it a break and try again. With an occasional use gas engine, it's normal to take a few tries to crank up after sitting for a while.
Powerdial Gun
What I like about the Powerdial lance is the easy picture dial setting. Just select the one that looks closest to what you're working on, install the nozzle to match, and get to work.
Hose Connections
The hose connections on the Generac 3100 PSI Electric Start Pressure Washer are solid and easy to use as any pressure washer. The annoyance is that they're on the rear of the pressure washer. The potential issues are that it's tougher to move from one spot to the next when you have the hoses on and it's possible to get grass clippings or other debris inside if you pull it behind you.
Holster Connection
The holster itself is plastic and about as solid as any other consumer pressure washer. It uses plastic push fasteners (Christmas tree fasteners) and their ability to hold long-term is questionable. We'll end up drilling a hole all the way through the frame and replacing them with stainless steel fasteners.
Additional Features
Vertical axial cam pump
Never flat wheels
Onboard detergent tank
Generac 3100 PSI Electric Start Pressure Washer Price
The 7132 Generac 3100 PSI Pressure Washer has an MSRP set at $459 and that's what most major retailers are selling it for. Here's what comes with it:
0º, 25º, 40º, and soap nozzles
25′ PVC hose
12V lithium-ion battery and charger
There's definitely competition in this space and you can go slightly up or down in PSI and GPM along with the price. Here are some options that have the same specs:
WEN PW31: $292.99 (OEM engine, no electric start)
Craftsman CMXGWAS020734: $379 (3000 PSI, OEM engine, no electric start)
Ryobi RY80544: $379 (OEM engine, no electric start)
Ryobi RY80940B: $429 (Honda engine, no electric start)
Generac 7132: $570 (Generac engine, electric start)
Karcher G3100 XH: $499 (Honda engine, 2.4 GPM, no electric start)
Even though Generac is on the higher end of the price list, what really stands out is that none of these other models have an electric start. Most aren't CARB-compliant, either, but Generac is.
The Bottom Line
While there's definitely a difference between the build quality of the Generac's consumer and Pro lines, the Generac 7132 is a powerful, easy-to-use pressure washer for consumers looking for more power than an electric model can offer.
The biggest advantage it has over its competition is its electric start. If you're tired of pulling a cord, the Generac 3100 PSI Electric Start Pressure Washer is one of the few offering an electric start without moving up to Pro prices. When you're looking at a gas model for occasional use, that's a big deal.
Generac 3100ES Pressure Washer Specifications
Engine: Generac 173cc 4-cycle OHV
Fuel Capacity: 1.3 quarts (0.33 gallons)
Pump: Aluminum axial cam
Max Water Temperature: 100º F
Hose: 25′ PVC
Included Nozzles: 0º, 25º, 40º, soap
Frame Material: Welded Steel
Weight: 58.1 pounds
Warranty: 2 years
MSRP: $570