Kobalt 80V String Trimmer First Impressions
You always want to buy the best lawn mower you can afford that matches your needs. The Kobalt KST 140XB 80V String Trimmer presents a solid value on a product that performs above average. Further down the line, we'll also get to share our experiences with Kobalt's 80V blower and chainsaw. For now, though, let's talk about the string trimmer.
Assembly was very simple. It required only a screwdriver to mount the trimmer guard securely in place. Thanks to the use of metal parts, there is an improvement in the mounting brackets compared to the previous model. In fact, we noticed several improvements over last year's 40V string trimmer that should help with the durability and ergonomics.
Kobalt KST 140XB Cordless Weed Wacker Design and Features
The Kobalt 80V String Trimmer has a straight shaft design with an adjustable cutting swath from 14-in to 16-in. You'll need that screwdriver again, but simply turning the line cutter the opposite direction will shorten the line up for you. Why do that? Less line means less power to turn the same RPMs and better run time. So if your yard isn't high stress, go for the shorter line for more efficiency. Kobalt's newest trimmer is a bump feed, refillable, dual-line concept that comes filled with the recommended 0.080″ monofilament line. This is up from the 0.065″ line in the 40V.
One of the new design innovations places the motor towards the middle of the shaft above the attachment point. This has two excellent results. First, the location of the motor provides the near-perfect balance when the battery is in place. The balanced weight prevents a lot of arm fatigue that I have experience in the past with unbalanced trimmers. The Kobalt KST 140XB 80V String Trimmer is also now attachment friendly. We certainly knew that most of the 40V models out there would have a very hard time even thinking about running an edger attachment, but it looks like Kobalt has now drawn a line in the sand. Kobalt isn't offering its own attachments yet. However, the coupling is a universal fit that should accept most of the readily available third-party options out there.
Kobalt KST 140XB Build Quality
In addition, an attachment point for a sling (not included) if you choose to use one is now an option. It's a plastic construction reinforced with metal at the clipping point. We'll have to wait and see how it holds up to the Florida sun. The grip has a textured rubberized area to provide a comfortable non-slip grip. The on/off button and the speed mode button are located at thumbs length and were easy to use with just a push of a button. A green LED light indicates which mode you are in and defaults to the low speed.
To conserve battery, the unit will turn off at 1 minute if left on and unused. Overall I found the length and weight to be comfortable for my height at 5'7″. Managing Editor, Kenny Koehler came over to look over the unit as well. At 6'2″, he also found a comfortable operating setup to use. Well, as comfortable as you can expect when it's 95 outside.
Kobalt 80V String Trimmer Performance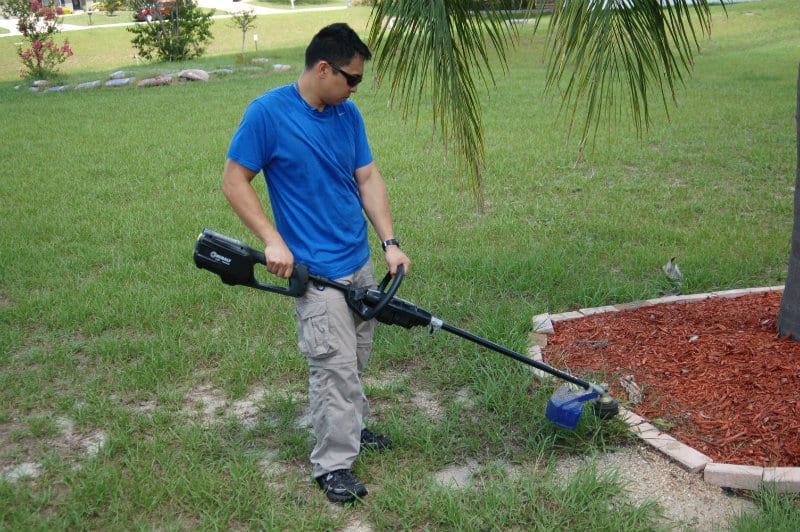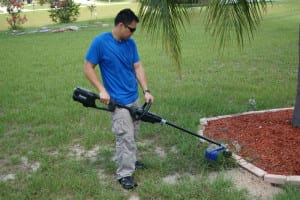 How much realistic performance will 80-volts have? Quite a bit, I have to say. Last year, I thought 40-volts were enough to do the job (and it was), but 80-volts is simply in another class! The change from low speed to a higher speed is very noticeable if more power is needed to tackle thicker overgrown areas. The low speed is set at 5,000 RPM and the high speed at 5,500 RPM. The bump feed, dual line system performed admirably as expected and was easy enough to refill after reading the instructions.
The 0.080″ trim line allowed for more confidence and durability in those tougher overgrown areas along the chain linked fence line. Battery consumption will vary depending on the speed setting, outside temperature, and swath cut length. From my test, one fully charged battery at low speed and occasional high speed was enough to trim my 0.48-acre lawn's perimeter and interior features.
One question remains with regards to performance, will it edge the driveway? Last year's model was designed to allow for it but was really pretty awkward. While it's possible to turn the Kobalt 80V String Trimmer on its side to edge, it's clearly not designed to work in that capacity. If you can't live without that perfectly edged look, you'll want to grab an edger attachment.
Kobalt 80V String Trimmer Specs
Power Source: 80V, 2.0 amp-hour battery pack
Charge Time: 30 minutes
Recommended Yard Size: 0.5 – 1 acre
Shaft Design: Straight
Cutting Swath: 16 inches
Line Diameter: 0.080 inch
Feed System: Dual line bump
Weight: 13.22 pounds
Warranty: 5 years
Price: $116 (tool only), $233 (kit)
Conclusions and Final Thoughts
The Kobalt 80-volt string trimmer is capable of basic trimming needs and for some heavy trimming at times. While Kobalt is closing in on Pro-level performance, it (like almost everyone) lacks the run time to make it through a professional landscaper's day. Battery life will vary depending on the speed setting and temperature. However, the battery charges in 30 minutes once it is cool enough. This model feels well balanced and capable of accepting different attachments. Most importantly it runs quiet and had little to no vibration.
The build quality is sufficient for homeowner use and it should power through your trimming needs for a 1/2 acre. Homeowners that have 3/4 to a full acre of low stress trimming to do will find that this is a good option as well. As with all Kobalt OPE, you'll be able to find the Kobalt 80V String Trimmer at Lowe's.
A quick note about OPE and proper use. Or perhaps I should let my 15-month-old show you what not to do. During the assembly, my son snuck up, hopped on it, and held on to the handle while making his best motorized sound. My first thought was, "durability test." Then I looked closer. Hmmm… the Force is strong with this one…