The updated Kobalt Portable Table Saw KT10152 changes only a few things from the budget-friendly KT1015 job site table saw we reviewed a few years ago. Kobalt removed the outfeed support but increased the left rip capacity by 3-inches. They also adjusted the sliding rip fence so it now locks into place with a single latch for fast setting.
Check out our best portable jobsite table saws article for even more great recommendations
Pros
Affordable price
Powerful 15-amp motor
Included stand and low weight make it easily maneuverable
Sliding fence system is more than you'd expect from a budget table saw
Cuts 2x, HardiePlank, and even Durock with ease
Cons
Saw's weight, footprint, and smaller table surface make it difficult to accurately cut sheet goods
Curved legs extend well beyond the end of the table creating a trip hazard
What's the Difference Between the Kobalt KT10152 and KT1015?
Except for its color scheme, you'd be hard-pressed to quickly pinpoint the differences between this Kobalt Portable Table Saw (model KT10152) and its predecessor, the KT1015 we compared in our jobsite table saw head-to-head. However, if you moved both around, you'd find the new model to be much more nimble. At just 65 pounds, it drops 13 pounds from the KT1015. That's a big advantage for portability but also a disadvantage for certain applications. We'll talk about in a moment.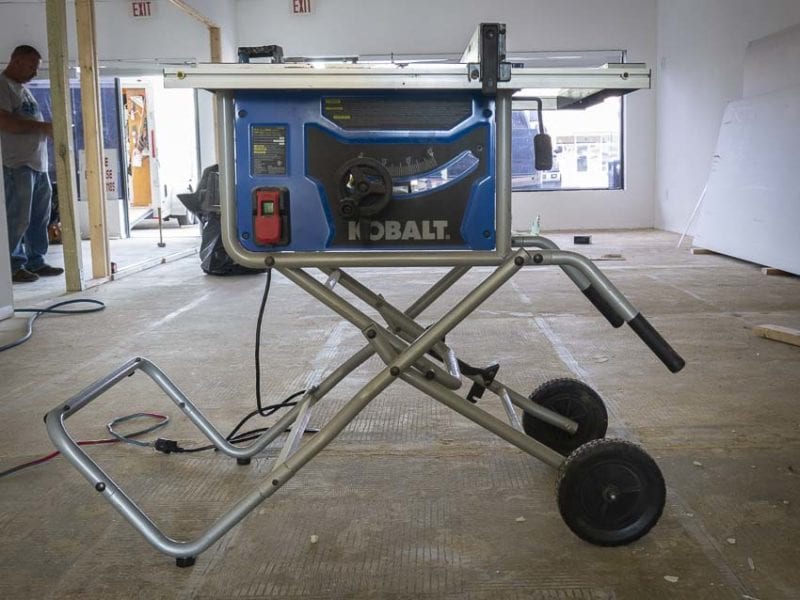 The right rip capacity is the same at 30 inches but the left is up to 17 inches from 14. Perhaps the most helpful change, though, is a redesign of the sliding fence from a double latch to a single latch. Kobalt Tools also added yellow pins on the slide that register the fence square.
A common gripe about the KT1015 was its tough-to-square fence. It had two independent locks, but you could just as easily lock it out of square. A good fence will properly align itself from the front. Our crew found the fence easy to square and—more importantly—it stayed square. The sliding mechanism actually feels like it belongs on a more expensive saw—it's very smooth!
The Kobalt portable table saw's carbide-tipped blade and 15-amp motor easily cut through everything we had. We ripped plenty of 2x material and even cement board. No problems there. And the impressive stock blade is still in good shape after all our work.
Some Difficulty Cutting Sheet Goods
It'll be no surprise that cutting sheet goods on the Kobalt KT10152 portable table saw (or any jobsite saw) isn't ideal. Smaller saws tend to lend themselves to being top-heavy. The lower weight on this table saw actually works as a disadvantage in this case. Sheet goods make it a bit too wobbly unless you've got some capable help or outfeed support.
The fold-and-roll stand, which we discuss below, is wider than the saw perpendicular to the blade but not parallel to it. As you push sheet goods through the blade, the stand doesn't supply enough stability where you need it the most.
Some Pros will opt to use track saws for this application, however, the budget-friendly KT10152 comes in at nearly half the price.
Kobalt KT10152 Table Saw Stand
The lightweight Kobalt portable table saw works hand-in-hand with the included fold-and-roll stand to make it very maneuverable. We did, however, notice a bit of an issue once we set up the saw. Given what we just said about the width of the legs, it might seem contradictory to gripe about the curved leg sticking too far out. But because it curves upward and further out into the workspace, it becomes quite a trip hazard and shin buster (we're speaking from experience!).
It's not a deal-breaker but you should be wary of it when locating the saw in your workspace.
Price
We've seen recent deals on the Kobalt portable table saw that really make it a bargain. The regular price for the KT10152 sits at $329. Here's a look at some budget-friendly competitors:
Skil 3410-02 10-in. table saw (has as fixed stand): $204.33
Ryobi RTS23: $269
DeWalt DW745S compact job site table saw (fixed stand): $302.32
Kobalt KT10152: $329
Skil SPT70WT-01 10-in. portable worm drive table saw: $343.37
The Bottom Line
Kobalt has made some nice improvements to this table saw. You get a big weight reduction for more portability. The fence clamping system now exhibits a much more confident mechanism. Plus, you get a bit more rip capacity.
The saw also has plenty of power and it's hard to beat the maneuverability. The narrow base and light weight make it a little wobbly with larger stock or sheet goods. We like the fold-and-roll stand overall, but watch that the curved leg doesn't obstruct a pathway. For the price and performance, this budget-friendly saw should appeal to both DIYers and entry-level Pros.
Kobalt Portable Table Saw Specifications
Model: KT10152
Motor: 15-amps
Speed (no load): 5000 RPM
Micro-adjust rip fence
Bevel capacity: 45º
Cut depth (45º / 90º): 2.5 in. / 3.5 in.
Dust chute: 2.5 in.
Blade Size (Inches): 10
Rip capacity (Left/Right): 17 in. / 30 in.
Table (WxL): 19.6 x 26.1 in.
Height (to table): 34 in.
Locking miter gauge
Quick-folding stand with 8-in. wheels
On-board storage for rip fence, miter gauge, blade guard, push stick, power cord, and extra blades
Weight: 65 lbs.
Warranty: 3-year limited
Price: $329