Cordless chainsaws are making excellent strides in performance. With 14, 16, and 18-inch models available for several years, we've been wondering when larger farm and ranch class would arrive. At GIE 2021, Stihl announced a 20-inch battery-powered chainsaw, the MSA 300. That saw now seems to be available overseas, albeit in 14-18-inch bar lengths.
Stihl MSA 300 Battery-Powered Chainsaw – The Big Deal
Without question, the fact that Stihl has reached the 20-inch farm and ranch class with a brushless chainsaw is a huge deal. It's one of the three most powerful models currently available, with DeWalt and Greenworks Commercial also announcing 20-inch models at the same time.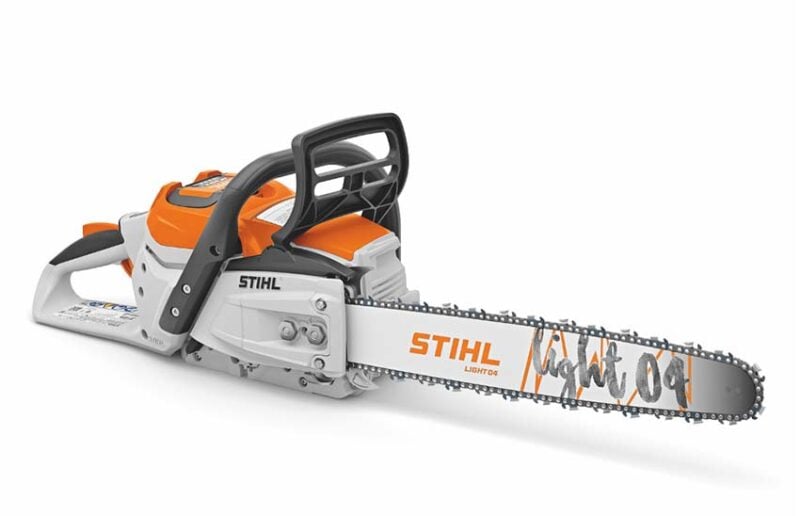 Stihl knows chainsaws, and there are plenty of reasons to be excited about this launch beyond the performance alone. One is the Stihl MSA 300 has three cutting modes so you can prioritize performance or runtime. That's not something we see on other cordless models. An LED screen displays which mode you're in along with power on/off, chain brake position, and a low oil alert.
There's also a new battery to talk about. The AP 500 S is an advanced pack that's capable of delivering more current than Stihl's other AP-series batteries. It's this battery that opens up Stihl's ability to put such a high-performance chainsaw on the market. Of course, the chainsaw will run on any Stihl AP battery, but it only gets its highest performance with the AP 500 S.
Stihl MSA 300 Additional Features
Up to 44-minute estimated runtime with AP 500 S battery
Anti-vibration system
Durable, weather-resistant design
Designed for excellent balance
Advanced electronics package
Adjustable oil pump
Captive bar nuts
Smart Connector 2 A compatible
Stihl MSA 300 Battery-Powered Chainsaw Price
Look for the MSA 300 to hit your favorite Stihl dealer in Spring 2022. Retail pricing shows $910–$940 (tool only) depending upon the bar length.
Specifications
Model: Stihl MSA 300
Power Source: Stihl AP-series battery (AP 500 S recommended)
Dry Weight: 9.92 pounds
Weight w/ AP 500 S Battery: 14.33 pounds
Chain Speed: 30 m/s (98.4 fps)
Bar Length: 14 – 18 inches
Price: $910–$940 (tool only)