One of the great things about getting our new shop built out and set up is being able to really organize that space. From custom built workbenches to tool chests and cabinets, we need both work space and storage. We've got several people sharing the space for personal tools in addition to what we continue to bring in for testing to share with you.
With options wide open, I decided to get my hands on a new Dewalt 36 Inch Top Chest and Cabinet Set. DeWalt enjoys a solid reputation and loyal following among their fans, so I decided to see if their storage options are up to par with both their reputation and professional expectations.
I didn't just run over to the closest Home Depot to pick up the set. I had it shipped out to our facility. If you've ever ordered something bulky that has to be delivered by freight, you know there can be some anxiety as you open the box to see if it's damaged. I was very happy to see that DeWalt really packaged the combo well. A combination of Styrofoam, rigid cardboard, and outer cardboard looked to be able to take a lot of abuse before any damage could reach the units. It was also packed tight so there was no way that the chest and cabinet could move around. Needless to say, I was very pleased to find there was no hint of damage.
DeWalt 36 Inch Top Chest and Cabinet Build Quality
If you're going to invest several hundred dollars in a tool chest, rolling or not, it's got to be steel. Period. Exclamation point. DeWalt seems to do a fine job with their materials selection here. You'll notice the quality of the parts as you do the minor assembly that's required. I started with the casters for the base cabinet. These went on easily with four bolts holding each in place. Two of the casters lock to keep your unit from going anywhere. The same two swivel to make steering easier.
Side handle assembly on the base cabinet came next. Rather than going with a simple nut and bolt fastening two pieces together, DeWalt made an aesthetic run. You'll slip the handle supports inside the cabinet before securing them. This small attention to detail makes for a little bit cleaner look. The only downside is that it does leave a little bit of space for intrusion, but I don't expect that you'll be hosing this down. No assembly is required for the DeWalt 36 Inch Top Chest.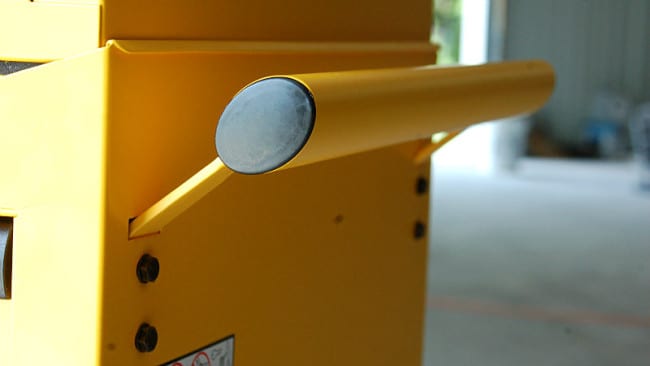 Some guys like the look of stainless steel tool chests. Not me. I go for painted every chance I get. With the daily afternoon thunderstorms and humidity like we have, I want the extra layer of protection between moisture and steel. Sure, stainless steel isn't supposed to rust. However, our weather patterns are determined by sea breezes that carry corrosion causing salt with it. This set gives me the classic DeWalt yellow paint offset by black drawer handles. It's a look that is instantly recognizable.
Sliding the drawers in and out leaves me with the impression that the drawer hardware is built to last. The auto return drawers are smooth sliding with enough resistance when closed to keep them from opening accidentally. No surprises there. Overall, the build quality is solid, leaving me with a feeling of confidence for the long haul.
DeWalt 36 Inch Top Chest and Cabinet Storage Capacity and Design
Let's talk about the DeWalt 36 Inch Top Chest and Cabinet Combo's design. This is where the rubber meets the road whether you're an auto mechanic, industrial worker, or just a guy looking for storage options at home. For starters, this is a 36″ design. There are wider options out there, but it's a great width for those that don't have as much space to spare.
Each of the drawers has a 100 pound capacity except the 12″ bottom drawer that doubles it. Each piece on its own can store up to 600 pounds, leaving a total capacity of 1200 pounds for the DeWalt 36″ Top Chest and Cabinet as a set. That leaves me with just one concern. The casters are rated for 1400 pounds, which is about 63 pounds less than a full load plus the weight of the top chest and rolling cabinet. It's not going to be a huge issue for most people, but it does bear mentioning. Of course, if you're not installing the casters, this is a non-issue.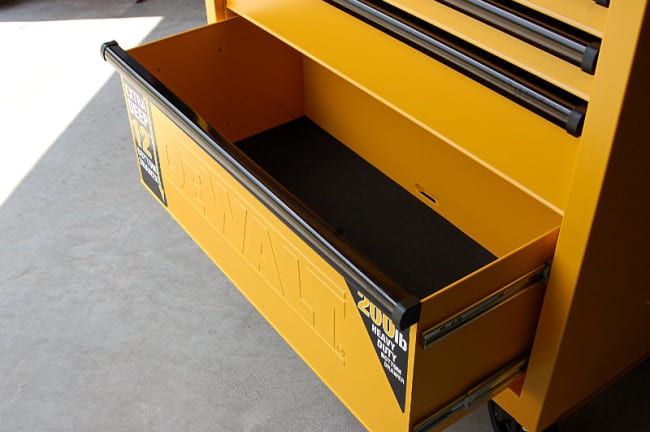 The top chest gas lid is great for a all kinds of storage solutions. I like to have my chargers, safety glasses, gloves, an EDC knife, and go to impact driver ready to go at all times there. At 10-3/8″ of head space, I can fit impact drivers and drills standing up with a battery installed.
A welcome addition are a pair of knockout holes for electrical cords in the DeWalt 36 Inch Top Chest. They include inserts that help keep dust out when not in use as well as protecting the cord from scraping the edge. I'll be rigging at least one side with a power strip and running an extension cord to it to power my chargers. I'd love to see the next generation include an integrated power strip rather than just knockouts.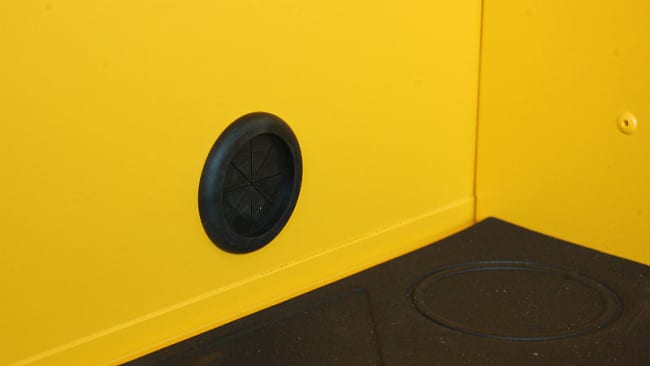 People are going to vary in their preferences for drawer set up. The DeWalt 36 Inch 5-Drawer Roller Cabinet has five full width drawers with the bottom being 12″ deep. The DeWalt 36 Inch 6-Drawer Top Chest has 6 split width drawers with the left side drawers being longer than the right. I like this set up personally. It allows me to separate the variety of accessories that I need organized up top while still leaving plenty of space for larger socket/wrench sets, hand tool sets, and power tools below.
DeWalt 36 Inch 5-Drawer Roller Cabinet Specifications
Model: DWMT73679
Single Drawer Weight Capacity: 100 pounds, 200 pounds bottom drawer
Total Weight Capacity: 600 pounds
Height: 38″
Width: 36″
Depth: 18″
Weight: 135 pounds
DeWalt 36 Inch 6-Drawer Top Chest Specifications
Model: DWMT73678
Single Drawer Weight Capacity: 100 pounds
Total Weight Capacity: 600 pounds
Height: 23″
Width: 35.75″
Depth: 16″
Weight: 128.6 pounds
Parting Shots
When it comes to building a storage chest, there are only a few ways to wrong. One is to go with cheap hardware that breaks off, limits weight capacity, or results in poor drawer sliding. DeWalt avoids that with this combo and offers a 36 inch storage set that you can have confidence in.
While I didn't have any issues with damage in shipping, I have read comments by users that have. My advice: if you can pick up and inspect the unit in the store, do. This doesn't just go for DeWalt, but for any kind of tool storage. We know that they leave the manufacturing plant in great shape, but the journey to the store isn't always easy.
I'd love to see an integrated power strip in a future model as well as the casters bumped up to a slightly higher rating to cover a full load plus the weight of the combo. Overall, those are pretty minor suggestions on an otherwise excellent storage option. The DeWalt 36 Inch Top Chest and Cabinet as a set meets the needs of a professional that needs to operate in a smaller space than a 40″ or 50″ wide box would fit. It also comes at a much easier price point to handle at $498. You can pick up just the top chest for $199 or the bottom chest for $299.
Want to meet socially? Follow Pro Tool Reviews on Facebook, Twitter, and Google+!