Brunt Marin Work Boots Aim to Deliver Higher Quality at a Lower Price with Direct-to-Consumer Sales
When I first heard about Brunt Marin Work Boots, they caught my attention. They promised high-quality boots that match or exceed what you get from premium name brands (think Red Wing or Keen Utility). However, they're pushing a lower price point with a direct-to-consumer business model.
Pros
Excellent construction
Comfortable fit
Outstanding value at $139-$179
Free shipping
30-day trial period
Cons
Online sales model means you can't try them on before purchasing
Brunt Work Boots: The Marin
With just four models to choose from at the moment, I liked the look of the Brunt Marin Work Boot best. It has a classic leather look with a wedge sole that I hoped would give me comfort for those jobs where I'm on concrete floors all day.
Brunt Work Boots Promise
There's a 3-tier promise that comes with Brunt work boots:
No shortcuts in quality
30 day risk-free guarantee
No middleman markup
The last two are pretty simple. You can return the boots for a full refund if you don't like them. Since you're buying direct online, there's no retailer in between that needs an additional profit margin.
It's the first that I'll key in on in this review. If Brunt is going to make it in the competitive world of work boots, they're going to have to give you more bang for your buck than the competition.
Style
When I opened the box, the first thing that hit me was the smell. Yes, the smell. Brunt Marin boots smell like real leather is supposed to and I wish I could have bottled it up. As a first impression, they were off to a good start.
Looking over the boot, it features primarily double stitching with some single around the top. The toe box has a contrasting stitch color, giving a moccasin-style look.
That stitching matches the welts above the outsole, but it seems it's more for the look. Brunt only touts a high-quality cement (glue) construction rather than welting. The plus side is high flexibility out of the box.
The outsole has a classic light color for a wedge. It's a typical wedge design with a shallower tread pattern than most heeled work boots.
Black lace hardware complements the medium brown leather well. Thanks to metal construction and riveted attachment, we don't expect them to be a point of failure.
Overall, the Marin is a very handsome boot that looks as good in person as it does on Brunt's website.
Fit and Comfort
You can get Brunt Marin work boots in a typical range of sizes from 7 – 15 with half sizes from 8 – 12. As usual, that leaves me with a choice of 12 or 13 for my size 12-1/2 feet. I went with the 13.
It turns out they run about a 1/2-size large, so a 12 would have been a better call on my part.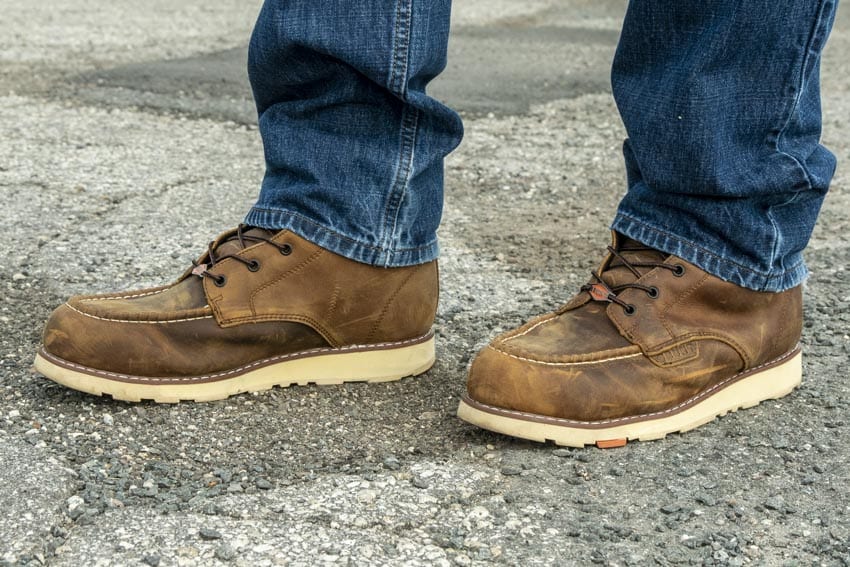 Brunt goes for an all-in-one width structure. If you normally wear a D width (normal), just slip the boot on and move on with your day. If you have wide feet, pull the gray insert out from below the insole to give it the additional room.
The removable insole has three sections: a nonstick top layer, memory foam in the middle, and cushioned bottom layer.
Moving to the midsole, we find a rubber foam and this is the major spot that Brunt had to make a choice. This foam is denser than EVA and other foam midsoles that we're seeing in boots like the Keen Utility Cincinnati.
Because of that, it's not as cushy, and it's something you'll notice if you work on concrete or asphalt all day. It's not uncomfortable, though. It's just not as comfortable.
On other surfaces—soil, rocky terrain, grass—there's less of a difference.
The plus to that more dense layer is that it should hold up longer than less dense foams. Where some work boots are getting to a place where you have to replace them within 6 months or so, we expect this midsole to hold up for a year or longer.
Additional Features
Oil and slip-resistant rubber skinned sole
Triple layer waterproofing
Breathable mesh lining
ASTM F2892-18 certified
Price
So far, so good, but the price is what's going to tell the rest of the story. You can get Brunt Marin work boots for $139 and that includes free shipping.
Considering the materials and construction, we'd expect a boot like this to run in the $150 – $180 range, so it really does have an excellent value proposition.
The Bottom Line
Should you buy Brunt Marin work boots? Based on my experience so far, I'd say it's a resounding yes!
There are a couple of caveats, though. First, if you've already made the switch to the recent super-cushy midsoles some brands offer, you'll notice a difference on hard surfaces. Second, the direct sales model means you can't try these on in the store. If you're the kind of person who needs to know it's right before day one on the jobsite, that might be a hangup.
That said, I'd challenge you to find a work boot with the same kind of quality for the price that Brunt is asking. There's no question in my mind that Brunt work boots are the best value currently available.