There are so many types of work boots and choosing the best pair for the job is more than just picking a look you like. Whether you're new to some of the lingo or thinking about trying something different, we got our team together to help you be more confident the next time you're buying work boots.
Types of Work Boots
Design
There basic design of work boots boils down to the outsole. You can go with either a heeled or wedge sole design. Heeled boots are more readily available and have a heel that protrudes from the outsole. They usually combine with an aggressive tread pattern and are the top pick for working on soil or bare ground.
There are some exceptions to the rule. One of the most common is cowboy boots that can have a heel but combine it with a smooth outsole that's much better for line dancing than boots with a high grip.
Wedge boots have an outsole that's flat across the entire outsole. The design spreads your weight out across a larger area that contacts the ground and tends to be more comfortable. These types of work boots usually have a shallow tread pattern and they're better for working on harder surfaces such as concrete floors and asphalt.
Recently, we've seen a kind of hybrid boot show up. Work boots such as the Keen Utility Cincinnati and Wolverine I-90 wedge combine the comfort of a wedge with a more aggressive tread pattern to give it the best of both worlds.
Style
Style usually comes down to personal preference since nearly every style is available with all the safety features you need. Do you want to look like a contractor or a cowboy? Maybe you prefer an outdoorsy look?
Traditional-style work boots are pretty basic. Leather (usually) creates the upper and comes down to meet the lower without any more fuss than necessary. The beauty is in their simple, yet highly practical construction.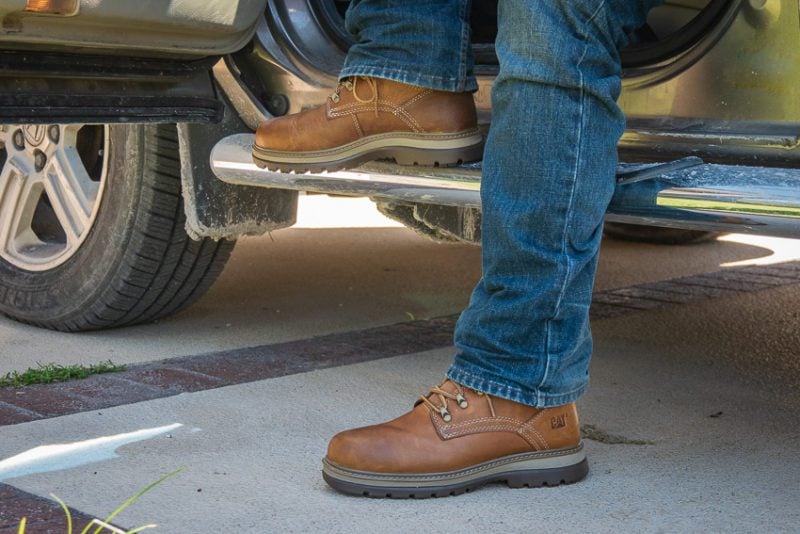 Moc toe boots are similar to traditional styles and they add a pinch of material around the top of the toe box, giving them a throwback look to mocassins. There's actually some function to the style as it adds a little bit of protection if someone steps on your foot or you drop something lighter on it.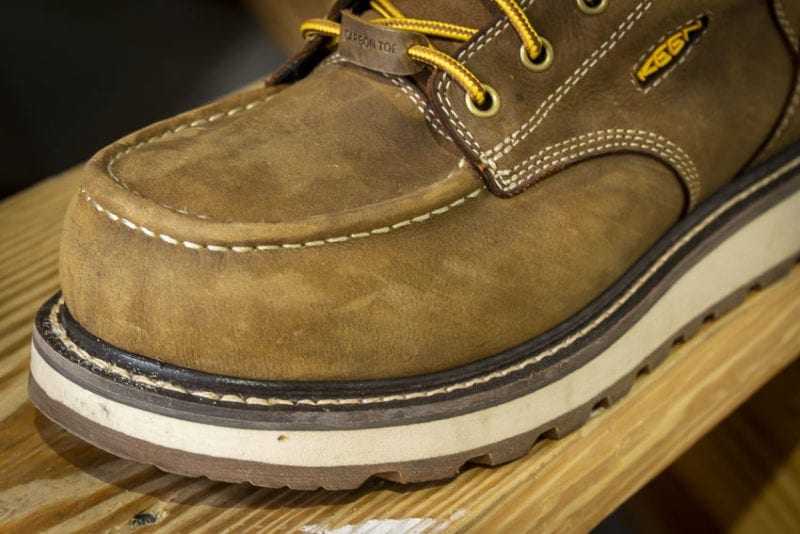 Hiker-style work boots mimic hiking boots in their look on the outside. Some of them are as fully wrapped in leather as traditional work boots but with additional patterning and color schemes. Others have large cutouts with mesh, making them highly breathable and a great choice for hot days. Despite their look, they have a different feel for jobsite-specific function and they're not a great alternative to actual hiking boots for that trip to the Rockies.
Wellington is the proper name for what most of us call cowboy boots. They are the most common type of pull-on work boots. There's some confusion in the name, though. Some people refer to Wellingtons as tall rubber boots for rain and snow only.
Another type of pull-on boot is the Chelsea. These are shorter in height than Wellingtons and can be easier to get on and off because you can pull the tab on the back to widen the opening.
Work Boot Connection Types
When you think about how long your works boots last, a lot of it comes down to the way you put the upper and lower together. The connection does more than hold a boot together, though. It also has an effect on how flexible it is and the price.
The weakest and connection type is cement, which is essentially glue for our purposes. It's the same method manufacturers use to make athletic shoes. It's the most flexible, lightweight, and inexpensive method of connecting the upper and lower. While it becomes the most likely point of failure for work boots, they still tend to last a year or better.
A variation that pops up from time to time is the Strobel. With this type, the upper is sewn into a full sock (you can see the stitching if you remove the footbed) which is then cemented (glued) on to finish the connection.
In the middle for both strength and flexibility sits direction connections. With this method, the midsole (often polyurethane) is injected into a mold before pressing the upper and lower together with it.
Goodyear welting is what you find on top-of-the-line work boots. A literal stitch holds the boots together more reliably than other methods and opens up the possibility of resoling your boots if the outsoles wear out. The trade-off is these boots tend to be stiffer out of the box and they cost more than other methods to produce.
Goodyear storm welting is essentially the same process, but it creates a more water-resistant seal.
Safety Toes
As you're looking at different types of work boots, safety toes are a primary concern. Your safety manager can let you know if you need them and what kinds are acceptable.
The most common type of safety toe is a steel toe. As the name suggests, it's a steel cap covering your toes.
Aluminum safety toes are also available. They're lighter than steel but not as strong, so they're not always an acceptable alternative.
Composite or carbon fiber safety toes are becoming more and more popular. Incredibly lightweight compared to steel, they're deceptively strong. If your jobsite requires safety toe work boots and allows composite toes, it's definitely the way to go.
Of course, there are also work boots with no safety toe, known as soft toe boots. These are great for locations where the risk to your feet is minimal.
Height
Some types of work boots offer multiple heights to match the amount of additional protection you want. Low heights cut just below your ankle like an athletic shoe, mids usually come up 6 inches, and tall gets you an 8-inch height.
Other boots just come as they are without options. Wellingtons are usually mid-calf height and Chelseas typically come as a mid-height.
Lace 'Em Up
While it's debatable whether it's officially helping us define types of work boots, there are several ways to keep your boots on your feet.
As we already mentioned, Wellington and Chelsea styles are pull-on boots with no laces to worry about.
Most boots have standard laces with either a full set of eyelets or a combination of eyelets and hooks. Better boots use metal while less expensive ones use plastic.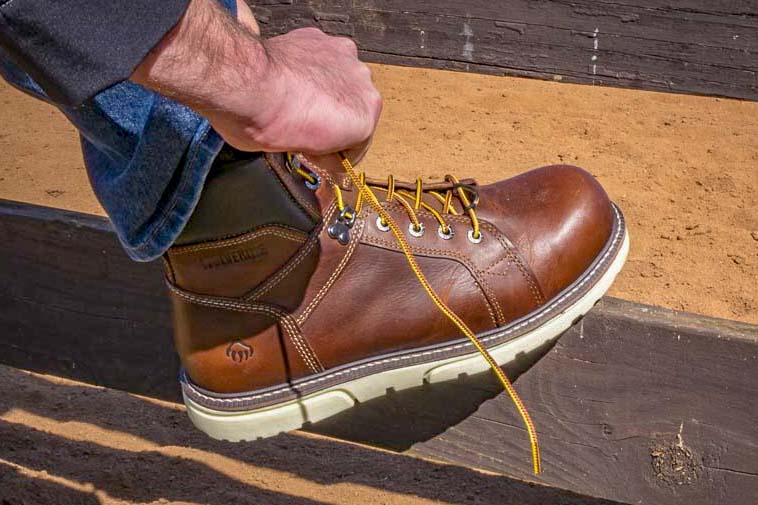 One of our favorites is the BOA system. This design uses a twist dial to tighten or loosen the "laces" (they're more like cable or wire) without having to tie or untie. It's quick and super simple to use, but it's not a very widespread option on work boots right now.