How in the world do you recommend the best work boots for men and women in the trades? Every trade has different features and priorities and everyone's foot is different. Add in literally thousands of choices from plenty of quality brands with different designs and styles, and it's overwhelming.
This year, we see several models returning for their 2nd or even 3rd years on our list. Twisted X makes its debut in our top recommendations and we're beginning to see the trend of upcycling and recycling show up in work boot materials.
Even with all these great options, we're still leaving out so many excellent boots to keep this from turning into an encyclopedia-length review. So help us and your fellow readers out! If you see a brand, collection, or model you love that didn't make our list, tell us about it in the comments below!
Our Top Picks
Best Work Boots for Men/Best Work Boots for Women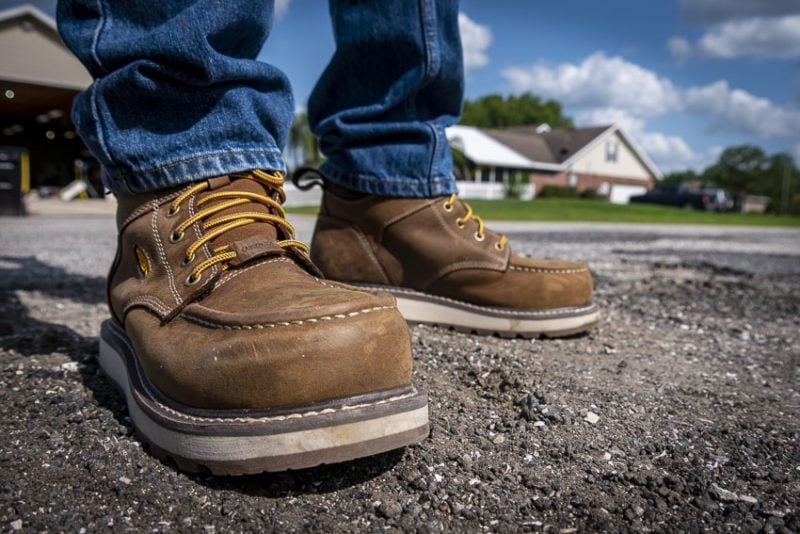 As we said, it's impossible to tell you there's one best work boot for everyone. It doesn't exist. So we have to give you the best work boot for the way we work. That means covering everything from concrete floors at trade shows to outdoor power equipment reviews and standard jobsites. In other words, we need a great all-around boot and for the third year in a row, the Keen Utility Cincinnati is the one we keep coming back to over and over again.
Its combination of comfort, soft or carbon fiber safety toe options, solid construction, wedge design with aggressive tread, and even the look make it our top choice as the best work boot for men. Thanks to women's-specific models, it's also our choice as the best work boot for women.
Wedge design with aggressive tread for hard surfaces or bare ground
Moc toe and Wellington styles
6-inch, 8-inch height, or mid-calf height
Full-grain leather upper
Keen Luftcell air-infused PU midsole
Removable PolyAer dual-density footbed
Goodyear welt construction
Waterproof options

Soft or left/right-specific carbon fiber safety toe

Men and women's styles

Oil and slip resistant

EH-rated
Barnyard chemical resistant
Price: $190.00 – $225.00
Best Waterproof Work Boots
Obviously, the best waterproof boot has to be waterproofed and Wolverine's I-90 DuraShocks Wedge does it in style with their premium waterproof full-grain leather and waterproof membrane with a moisture-wicking liner. From there, the I-90 gets even better with a DuraShocks insole and wedge outsole to improve comfort.
This model features a more dense midsole than some of our other selections. While it's not as cushy because of that, it does offer more stout protection and is able to resist oil, chemicals, and heat better.
Wedge design
Moc toe style
6-inch height
Full-grain leather upper
Removable Durashocks dual-density footbed
Goodyear welt construction
Waterproof

Soft or CarbonMax safety toe

Men style only (I-90 EPX CarbonMax has a women's option)

Oil and slip resistant

EH-rated
Check out the entire I-90 line including other styles here.
Price: $160.00 – $180.00
Why Do Your Feet Get Wet in Waterproof Boots?
Waterproof boots are great, but they have limits. Waterproof linings, sealed stitching, and other techniques can prevent water from penetrating the material. However, the tongue area on a traditional boot is one likely area where water can find its way in if you're standing in water.
If you're looking for the best way to keep water out of your work boots, consider a Wellington slip-on style to avoid a tongue. If you need the ultimate protection against water, go with a dedicated water boot, such as the Grundens' Deck Boss.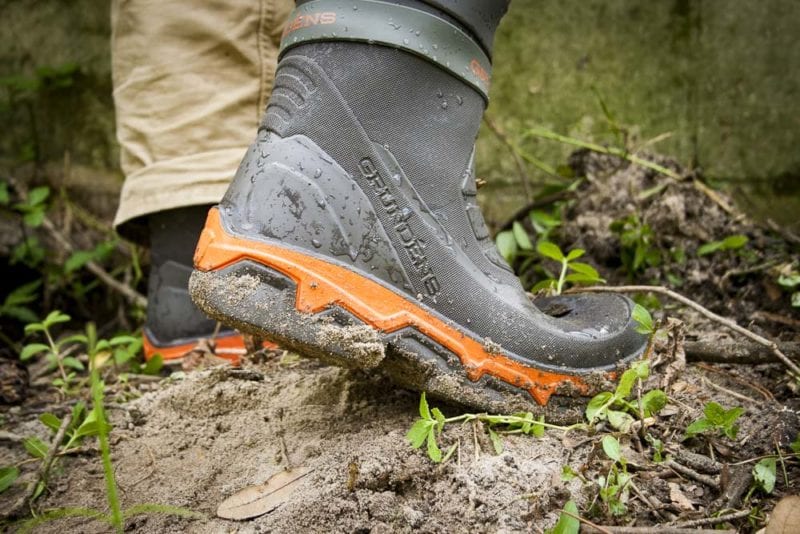 Best Steel Toe Work Boots (Safety Toe)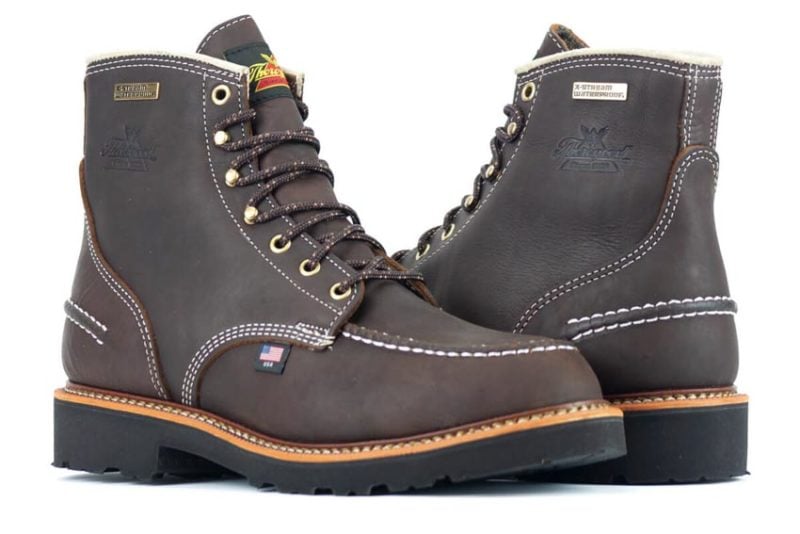 We love the look of classic boots and Thorogood's 1957 Series and their safety toe models make the cut as our best steel toe work boots. Heeled or wedge soles are storm welted to the upper and a moc toe design set the stage for this one. It's a comfortable and durable waterproof steel toe boot with a great style to match. Plus, it's made in the USA using global materials.
Heeled or wedge design
Moc toe style
6-inch or 8-inch heights
Full-grain leather upper
Removable Ultimate Shock Absorption memory foam footbed
Goodyear storm welt construction
X-Stream Waterproof

Steel toe (soft toe also available)

Men's style only

Slip-resistant

EH-rated
Price: $249.99
Best Non-Metallic Safety Toe Work Boots
The King Toe collection is all about giving those toes of yours some extra wiggle room—44% more than Red Wing's standard boots. Red Wing's King Toe 3512 has it all: it's EH-rated, puncture-resistant, has a non-metallic safety toe, and features a waterproof design. If you happen to be north of the border, it's also CSA-approved. It can handle the heat, too, with an HRO sole that's rated at 475°.
Heeled design
Traditional style
8-inch height
Full grain leather upper
Swen-Flex puncture-resistant footbed
Direct attach construction
Waterproof
Non-metallic safety toe

Men's

style only (check out the King Toe 2340 for a women's option)
Oil and slip resistant
EH-rated
CSA-approved
Price: $269.99
Best Pull-On Work Boots (Slip-On/Wellington)
Ariat makes our list for the first time thanks to its Hybrid VentTEK series boots. Available in 2 designs for men, these are the best pull-on work boots we found and have a strong focus on agriculture, farm, and ranch environments.
The VentTEK technology really does keep your legs cool with much-needed breathability and airflow. We also love the fit of these boots. They pull on more easily than a dress boot without the need for a shoehorn. Lastly, Ariat visually minimizes the outsole design. While most Western work boots utilize a thick sole that upsets the style, Ariat packs a durable, grippy tread into a more traditional look.
VentTEK mesh panels enable airflow to keep you cool
Premium full-grain leather foot and upper
Vented mesh underlays
Removable cushioning insole
Duratread oil- and slip-resistant sole
Barnyard chemical-resistant
Wide square-toe design
Horseman heel
1.5-inch heel height
6-inch shaft height
Available in sizes 7-14
Price: $199.95
Best Lightweight Work Boots
Red Wing's EcoLite earns our pick as the best lightweight work boot and it's name says it all. The EcoLite is a lightweight work boot/shoe with an environmental focus. The upper material includes 50% recycled bottles, the midsole uses sugar cane, and the outsole material is 30% recycled rubber.
All that comes in a lightweight package that includes an aluminum safety toe and is specifically designed to meet the needs of folks working in warehouse, delivery, manufacturing, and service environments.
Wedge design
Hiker or Oxford styles
4-inch or low heights
Upper constructed from 50% recycled bottles
Midsole constructed from sugar cane
ReSurge Vibram outsole constructed from 30% recycled rubber
Cement construction
Aluminum safety toe
Men's only
Oil and slip resistant
EH-rated
Price: $184.99 – $234.99
Most Comfortable Work Boots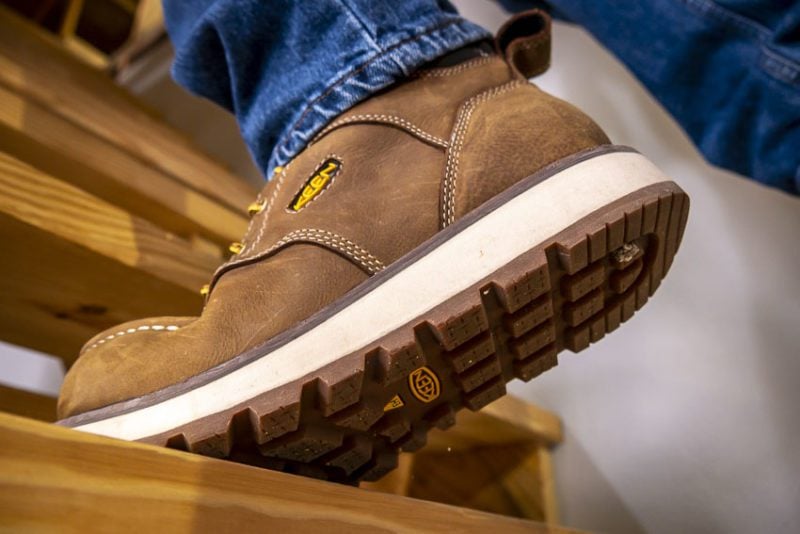 Finding the most comfortable work boots starts with the correct fit. It has to fit right or the other comfort features and design functions go out the window.
The most comfortable works boots we've put on our feet are the Keen Utility Cincinnati. Its combination of a wedge sole and air-infused polyurethane (KEEN Luftcell) midsole makes it incredibly comfortable over long days, even if you're a big guy. I'm 200+ and this is my go-to boot for shows such as World of Concrete where we're on asphalt and concrete for even longer days than normal.
New starting in 2023, men now have a dark brown color option.
Wedge design with aggressive tread for hard surfaces or bare ground
Moc toe and Wellington styles
6-inch, 8-inch height, or mid-calf height
Full-grain leather upper
Keen Luftcell air-infused PU midsole
Removable PolyAer dual-density footbed
Goodyear welt construction
Waterproof options

Soft or left/right-specific carbon fiber safety toe

Men and women's styles

Oil and slip resistant

EH-rated
Barnyard chemical resistant
Price: $190.00 – $225.00
Best Handmade Work Boots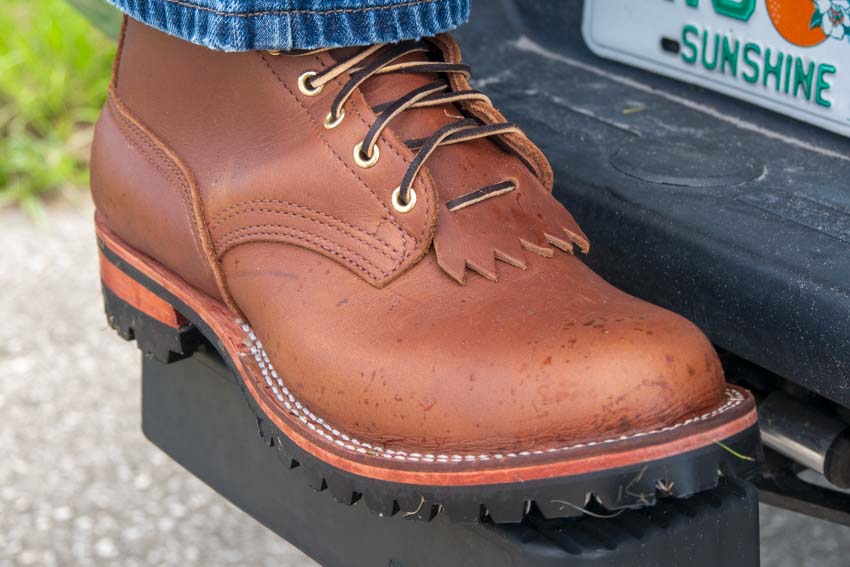 If you're looking for boots that can last 3, 5, or even 10 years or more, high-quality handmade boots are the way to go. They're not cheap, but they hold up better than most off-the-shelf boots and are repairable.
We had an excellent experience with Nick's Handmade Boots out of Spokane, Washington. While they're not quite fully custom, there are so many choices that it feels like they are and the construction is outstanding. Whether you're looking for wedges, loggers, or something in between, Nick's has you covered.
Keep in mind that boots like these take several weeks to properly break in. Once they do, you're in for a whole different level of work boot experience.
Price: Starting at $520.00
Best Budget Work Boots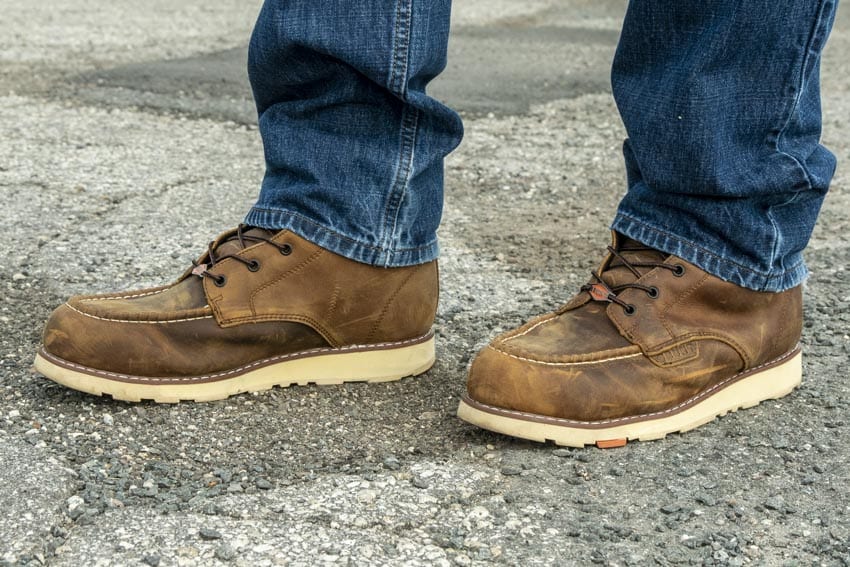 If your work boot budget is more like $150 instead of $500, take a look at what Brunt workwear has to offer. While the selection isn't as wide as most of the other brands we recommend, the quality of the materials and construction for the price is what impresses us.
Brunt's secret is cutting out the middleman. They're a direct-to-consumer business, so you don't have to pay the retailer markup that typically exists with other brands. While you're shopping, be sure to check out the workwear. The Coady hoodie and Torra pants are particular favorites of ours.
Best Insoles for Work Boots
Dr. Scholl's
Sometimes the insoles that come in our boots just don't cut it for one reason or another. Often, it's a preference, but your foot shape, arch, or other characteristics can create more painful chronic issues. If that's what you struggle with, your best insole for work boots is going to be an orthotic from a podiatrist that works closely with you.
If it's more of a preference thing, we recommend starting with Dr. Scholl's as the best insoles for work boots. They're readily available over the counter at a ton of retailers and they carry everything from extra support and odor-fighting to heel pain and plantar fasciitis insoles. They're also not crazy expensive, so you can afford to try them out and see if they work for you before trying more expensive brands.
Price: $4.99 – $44.99 (most are less than $15.00)
Best Work Boots Brand: Reader's Choice Voting
We asked which brand was your favorite on our social media channels. Two brands were clearly ahead of the rest: Keen Utility and Red Wing. For those that expounded, comfort was the constant theme of Keen's boots. On the other hand, it was durability and quality for Red Wing and that included comments from one person who's been wearing Red Wing boots for 43 years!
Of course, tons of other brands were part of the conversation, including some we hadn't heard of yet and several from Europe that aren't available in the US. Take a look for yourself at the posts on Facebook and Instagram, and be sure to drop your vote in the comments while you're there!
Best Work Boots: More Recommendations From Brands We Trust
Even with all the categories we already hit, there are more brands and boots we want to tell you about. Check out more of our recommendations below!
Ariat's Workhog line is extensive and if a pull-on work boot is what you're after, you're sure to find something you like (there are even a few lace-up styles). The big deal is that they're western-style work boots, so you get the aggressive tread and stabilization you need for nearly any jobsite.
Some of the options you'll find include:
Waterproofing
Soft, carbon, composite, or steel toe
Round or square toe
BOA securing
Pull-on, lace-up, or side zip
Men's or kid's sizes
Need some help narrowing it down? Our favorite is the WorkHog Wide Square Toe VentTek style.
Price: $194.95 – $294.95 (kid's styles are $25.00 – $109.95)
Best Danner Work Boots: Danner Quarry USA
Danner's Quarry line is our top choice and we're not alone as it's Danner's most popular and has been on the market for more than 10 years. They're waterproof with breathable Gore-Tex and have an 8-inch height. The design has gone through some updates since its original launch, shifting to a more durable midsole while maintaining an excellent comfort level with no break-in time required.
The line includes a variety of options:
Heeled or wedge sole
Soft, alloy, or composite safety toe
Insulation
Met guard
Light brown, dark brown, or black color options
Plus, the Quarry is built in Portland, Oregon using parts and materials that are globally sourced.
Price: $310.00 – $330.00
Best Georgia Work Boots: Georgia Amp LT Edge
Georgia Boot's AMP LT Edge series has three basic styles to choose from: standard, moc toe, and Wellington. The standard style is available with either a soft or aluminum safety toe. Across the board, these are some of the more attractively styled boots we've seen even though they only come in one color (medium brown).
The entire line is EH-rated and waterproof with an EVA midsole and AMP LT insole promoting comfort. A fiberglass shank and heel lock help keep your feet stable on nearly any jobsite surface.
If you like the AMP LT Edge idea, but prefer a wedge, Georgia Boot has AMP LT models with that outsole and includes a couple of women's styles with it. AMP LT Edge boots are only available in men's styles currently.
Price: $193.00 – 223.00
Best Irish Setter Work Boots: Irish Setter Kittson
Irish Setter is a good bet for folks who have a work boot budget under $200 and the Kittson is our top choice this year. It has a classic and attractive style with a heeled design that comes in soft or safety toe models. While there aren't a ton of options like some of our other recommendations, Irish Setter does offer the Kittson in both men's and women's styles.
Price: $154.99 – 164.99
Best Kodiak Work Boots: Kodiak McKinney
Kodiak isn't as well-known as some brands in the work boot industry, but they know what it takes to work in cold weather. The McKinney is a classically-styled, good-looking design with several height/style designs to choose from. With all but one design coming in under the $200 mark, they won't break the bank, either. Here are more details on the options:
Pull-on, 8-inch, 6-inch, and Chelsea styles
Soft or composite toe
Waterproofing on select models
Insulated or unlined
M.U.T. (multi-use toe) cap
Price: $159.99 – $219.99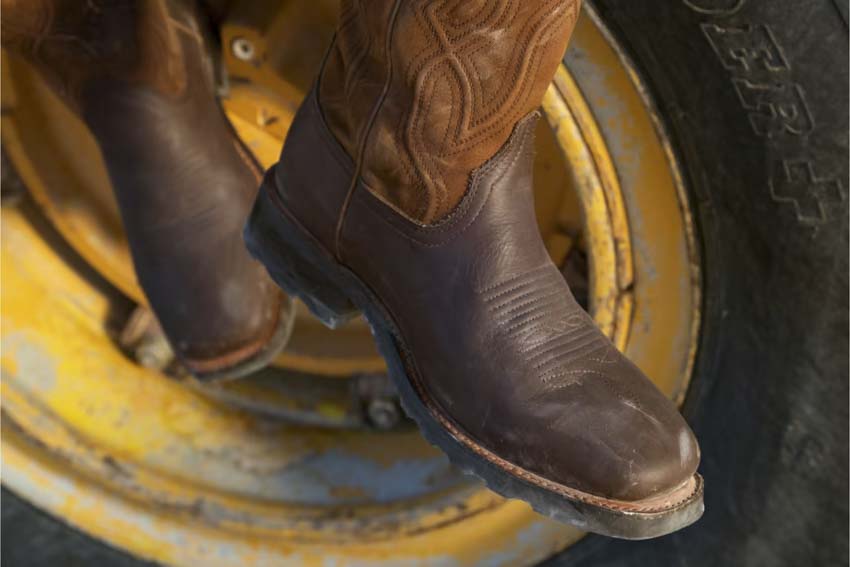 Tecovas is a relatively new Western brand that started in 2015 and we've been impressed with the quality of both the boots and workwear we used. Many of their handmade boots feature the classic cowboy design with a smooth outsole, but they do have some treaded models that make for excellent jobsite work boots.
Our favorite is the Midland. Its has a great look with its oiled bovine leather upper and a broad square toe. The vibram outsole features a solid tread pattern that should have no problems giving you traction on whatever surface you're working on for the day.
Price: $255.00
We can't have a best work boots article and ignore the 1000-Mile series. As Wolverine's premium boot line, these are the best the brand makes and they're among the best-looking boots we recommend. However, they don't have any safety toe options, so they're primarily for the members of your team that spend most of their time in the office or board room rather than on the jobsite. There are models with aggressive tread patterns that are perfectly content on jobsite visits, though.
Keep your eyes open—Wolverine offers limited special edition models from time to to time.
Price: $385.00 – $450.00
Work Boots Buying Guide | What We Look For
Fit
Never, ever buy a work boot that doesn't have the proper fit. It's a recipe for a lot of discomfort for your feet and potential injuries over the long term.
When you put your foot in, make sure your heel is as far back in the shoe as it can go. Once there, find a size that gives you a little extra room—about the width of your thumb. If you do that, you'll have room for the foot swelling that everyone experiences over the course of a day. The amount of room can be tough to check on steel toe boots, so try a soft toe for sizing if you're buying in the store.
Then there's the width. Good-fitting boots should snug up against the sides of your feet, but they shouldn't squeeze them. You're looking for stability, not discomfort. The opposite is also true—you don't want too much width. Too much room can let your feet slide side-to-side and leave you with unstable footing.
The other big piece of the fit puzzle is the heel. When you're trying on boots, check to make sure your heel is locked in and stable. You don't want it sliding around.
Safety Considerations
Safety toes create a barrier of protection around your toes in the event of something heavy crushing down on them or slamming into them from the front.
Check with your safety manager to determine if you need a safety toe for work and which styles are acceptable. If you need them, carbon fiber toes are the lightest option, followed by composite and aluminum. Steel is still king on many jobsites, though, so don't be surprised if that's your only option.
If your workplace doesn't require safety toe boots, it's up to you. When it's our choice, we prefer either a soft toe or carbon fiber safety toe.
There are other safety features that your workplace may require as well. Check with your manager and see if you need:
Metatarsal Guard (Metguard)
Electrical Hazard (EH)
Puncture Resistance
Heat Resistance
Chemical Resistance
Oil and Slip Resistance
Comfort
What makes a boot comfortable changes with your foot shape. In general, your foot should feel secure without putting any undue pressure on parts of your feet. You can always loosen the laces over the course of the day (which is why we LOVE BOA systems), but you can't do anything about the rest of the boot.
The midsole does a lot for the overall comfort of a boot. One of the reasons you see some contractors wear sneakers on jobsites is that the EVA foam in them is so cushiony that it's much more comfortable than boots. At least until recently.
New midsoles are air-infused and less dense, giving them more cushion than most. Like sneakers, the midsole breaks down faster than more dense designs, so you may find you don't get quite as much life out of the most comfortable work boots.
The last major discussion point is the insole. Most brands put some type of polyurethane insole in their boots to help with cushioning. Keep in mind that they're replaceable. If you want more cushioning, arch support, or just a different feel, you can always pick up another insole and swap them out.
Sole
Boots usually come in one of two sole styles: heeled or wedge.
Heeled boots are the most traditional style and there are more of these available from virtually every brand. They tend to have an aggressive tread that offers fantastic traction on bare ground. They're appropriate for just about every jobsite but typically aren't as comfortable as wedges on hard surfaces.
Wedges tend to be more comfortable because they spread your weight out over a larger surface, reducing fatigue in your feet and legs. The trade-off is that they typically have very shallow tread that isn't as appropriate for work on bare ground jobsites. They do their best work on asphalt, concrete, steel, and other hard surfaces.
Recently, we've started seeing hybrid boots that combine a wedge design with a medium-aggressive tread that fits the best of both worlds. As a big guy, it's the style I prefer for all-around work.
Construction
Materials are important but it's how they're put together that tells you a lot about how long the boot will last. There are three main types of construction with a fourth we see from time to time.
Cement construction is when the upper, midsole, and outsole are glued together. It's the weakest connection type but tends to be lighter and more flexible with a lower price tag than other construction types.
Strobel construction pops up occasionally and is more common with athletic shoes. With this form, the upper is sewn to fabric to create a sock-like look. From there, the midsole and outsole are glued on.
Direct injection is a process of injecting molten material (often polyurethane work boots) for the sole and then immediately pressing the upper onto it so they bond. This keeps the boot lightweight, flexible, and is generally stronger than cement without driving the cost as high as welting.
Goodyear welting has been around for a looooooong time and is still considered the strongest possible way to put a shoe together, the upper, midsole, and outsole are sewn together using thick, strong thread. These boots tend to be heavier and take longer to break in, but are much more durable.
Other Features to Consider
Pull-on, laces, or BOA system
Low, mid, or high lengths
Waterproof or non-waterproof
Anti-bacterial/anti-odor treatment
Why You Can Trust Pro Tool Reviews
Ever check out a "review" site and you can't tell if they actually tested anything or if they're just "recommending" the Amazon top sellers? That's not us. We won't recommend anything unless we'd actually use it ourselves, and we don't really care who the primary retailer is. It's all about giving you a legitimate recommendation and our honest opinion of each product.
We've been in business since 2008 covering tools, writing reviews, and reporting on industry news in the construction and lawn care industries. Our Pro reviewers work in the trades and have the skills and experience to know whether tools can perform well in the field.
We work with more than two dozen professional contractors around the United States who review products for us on real job sites. We consult with them extensively on testing methods, categories, and practical applications.
The end result is information you can trust because of the editorial, scientific, and real-world professional experience we collectively utilize each and every time we pick up and test a tool.