I am a sucker for classic styling and the Thorogood 1957 Series work boots collection has me singing "take my money!" Of course, great work boots are more than just style… but it sure doesn't hurt.
Since I'm so hung up on the style, let's start there. Some of these have MaxWear Wedge soles and they all have a moc toe. The nice thing about a wedge outsole is that it spreads your weight out more and tends to be more comfortable than traditional heeled boots. Thorogood uses a typical shallow tread on these.
If wedges aren't your thing, four models in the line have a heeled MaxWear 90 outsole.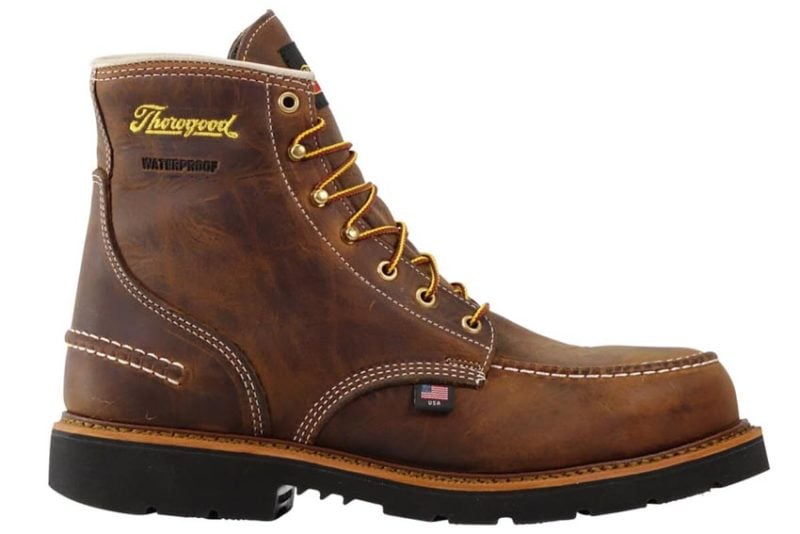 The moc toe has a function to go with its look. The extra seam brings up a layer of leather that offers a little more protection than standard boots for your toes.
All of the boots in the Thorogood 1957 Series lineup are waterproof, featuring X-Stream waterproofing. The full-grain leather itself is waterproof and then there's a waterproof membrane liner.
There are a total of eight designs in this collection. The wedge styles come in Briar Pitstop (dark brown) for the color and have light outsoles. They're available with or without a safety toe and in 6-inch or 8-inch heights.
Heeled options include Crazhorse (medium brown) or BriarPitstop color with an optional safety toe and the same 6-inch and 8-inch height options. The Briar Pitstop versions have a special "Flyway" designation and are the official hunting boots of Pheasants Forever and Quail Forever.
Thorogood builds their 1957 Series work boots in the USA using globally sourced materials.
Additional Features
Removeable Ultimate Shock Absorption footbed
Fiberglass stability shank
Slip-resistant outsole
Thorogood 1957 Series Work Boots Price
Thorogood makes premium boots and the price reflects it. The price varies with the style and runs from $239.99 to $259.99.
Check out all the options here.