Editor's Note: This product has been discontinued.
The DeWalt 40V Max Hedge Trimmer rounds out my trifecta of the DeWalt OPE line, so at this point I know what to expect, and this trimmer is no exception. Pulling the black and gold out the box I'm greeted with the look and feel of quality and a form that follows function. Perhaps not the most innovative tool, it is a sturdy design based on durability and mechanically simple operations. It's a tool I can use without worrying about scratching a shiny surface – because there are none, which is how it should it be.
DeWalt 40V Max Hedge Trimmer Cutting Performance
Power to the DeWalt 40V Max Hedge Trimmer is delivered via the only option available – a 40V 4.0 amp hour battery pack. This is opposed to the optional 6.0 amp hour battery available on certain models of the DeWalt 40V Max String Trimmer and the DeWalt 40V Max Blower. A tape measure tells me the DeWalt 40V Max Hedge Trimmers can handle branches up to 3/4 inch in diameter, and you get a solid 22 inch blade. Not quite as man card bolstering as the 1 inch gap, 24 inch blade on the Husqvarna 36V hedge trimmer we tested in April, but it's nothing to scoff at either.
As I successfully slacked off on the yard work while waiting to test the DeWalt 40V Max Hedge Trimmer, I had some large shrubs in the back yard to use as a test site. On this wall of tangled green space I was able to fact check that max cut width across all 22 inches of the cutting blade. The verdict? A happy grunt as the DeWalt 40V Max Hedge Trimmers made quick work of the larger branches and didn't bog down or complain at all while digging in with the full length of the cutting surface.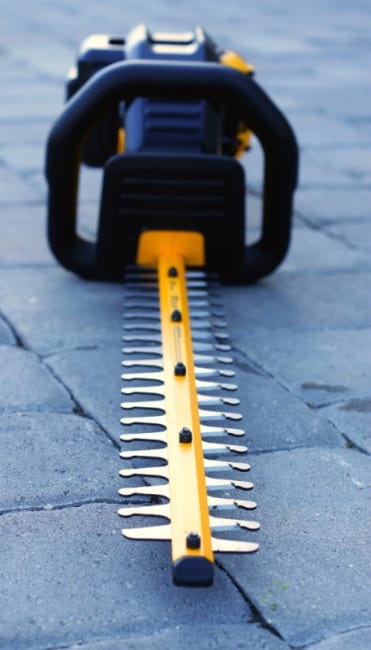 So the power is there, but power is nothing without control. To find out if the the DeWalt 40V Max Hedge Trimmer had both beauty and brawn, I took them around front to reshape the topiaries. I found that the DeWalt 40V hedge trimmer was more than up to the task of providing an even cut in tight spaces. I was able to put a nice spiral on the shrubs limited only by my own artistic abilities (or lack thereof). The less intrusive blade guard and smaller 22 inch knife actually provides some more flexibility for various jobs which is a nice trade off for the slightly smaller size.
I was also able to dig in and smooth out the top of our hedge row in one easy fluid motion—my goal being to get a good look at the finished cut of the blade. The DeWalt 40V Max Hedge Trimmer provided a nice clean line with no ripping or tearing, and no need to go back and do any clean up. I found that the cutting action was smooth, and I was happily spending extra time getting the shape and look of my shrubs just right.
DeWalt 40V Max Hedge Trimmer Run Time
It's hard to estimate exact run time considering there is a lot of starting and stopping to review your work, adjust grip, etc. when using the DeWalt 40V Max Hedge Trimmer. For this reason continuous run time isn't really a useful number. Realistically, I trimmed around my house for about 2 hours in both high and low stress applications (like I said, I'd really been letting this stuff go wild) and still had plenty of juice in the battery to keep going had I wanted.
If an estimated 3-4 hours won't meet your needs, and (like me) you're looking to stay on a consistent platform, you can also slap in one of DeWalt's 6.0 amp hour batteries from the blower or string trimmer and extend your hedge trimming nirvana.
DeWalt Hedge Trimmer Build Quality
So the cut is nice, and the battery outlasted my rather large cutting job. I also really like that the DeWalt line of outdoor power equipment looks and feels like a serious power tool company brought their expertise into the OPE market. That, and if I can't find my hammer I'm reasonably certain I could use the butt of this trimmer to pound in a nail with no residual marks—David C. Smith just walked out with that look on his face, and I didn't have time to stop him. For the rest of you, please don't try that at home!

The body is all hard plastic housing, nothing fancy, but nothing rattles or feels cheap. It's just not as comfortable in your hand as it could be with more rubberized overmolding (see below where this isn't necessarily a disadvantage). True to the DeWalt OPE line, the housing extends below the tool to provide somewhat of a built in platform the DeWalt 40V Max hedge trimmers can sit on. I really like the platform design on this one in particular because as it states on the safety label (just a few lines down from the aggressive suggestion to not insert your fingers into the blade during operation) the blades coast after power is removed. The built in platform keeps the blades out of the dirt if you need to set it down.
The only real downside to this trimmer is the weight. After slapping in the battery, it is tipping the scales at over 15 pounds. For comparison, the Husqvarna we tested in April weighs about 11 pounds, and it has 2 more inches on the blade. I'm not in any danger of winning a strong man contest, and I was certainly able to effectively use the DeWalt cordless hedge trimmer for an extended period of time, but I felt the burn. I definitely wouldn't object to seeing the whole line of DeWalt OPE go on a diet for next year.
DeWalt 40V Max Hedge Trimmer Ergonomics
The controls are large and easy to manipulate. You would have no issues using it with a thick pair of work gloves. The trigger is locked with a simple thumb switch which is easy to release no matter what angle you're holding the trimmer. This is a good example of DeWalt's minimalist yet effective design choices.
DeWalt ditched the foam padding on the front grip for this application which I really like. It makes it easier to rotate the trimmer to whatever angle I need it at, and there's no concern about ripping or tearing some padding.
The DeWalt 40V Max Hedge Trimmer uses the same spring loaded, groove and track design to ensure the battery is lined up, securely fastened, and pops right out when released. I also like the location of the battery which makes it easy to read the power level on the battery while working.
DeWalt Cordless Hedge Trimmer Value & Final Thoughts
At a retail price of $299, the DeWalt 40V Max Hedge Trimmer is not the cheapest option out there, neither is it the most expensive. As far as value is concerned I think you get what you pay for with this tool. You get the tested and proven DeWalt name backed by a 3 year full warranty. There's nothing overly fancy about this tool and it's not an exercise in the innovative efforts of the DeWalt engineering shop. It's just a good, solid power tool that feels like, well, a power tool. If I'm looking to ditch the hassles of gas powered OPE, then I don't want to compromise quality for convenience. With DeWalt, I don't have to.
If carefully manicured estates were my livelihood I may take a closer look at the competition, but then again, I might not. The DeWalt 40V Max Hedge Trimmer does what you ask it to do for as long as your deltoids can hold out. The run time is impressive and leaves in its wake a neat line of cleanly cut hedges. The 22 inch knife offers a great trade off between cutting swath and maneuverability for more delicate jobs. A no-frills tool, the price is appropriately reduced to compensate and in the end, I can do the job just as well without fancy trigger locks and rotating handles. After all, no one goes to a party and brags about their hedge trimmers. Well, unless you get invited to the PTR summer cookout…
DeWalt 40V Max Hedge Trimmer Key Features
Removable gear case for blade change
High impact housing
Removable top housing for carbon brush access
DeWalt 40V Max Hedge Trimmer Specifications
Model: DCHT860M1
Power Source: 40V Max battery pack (4.0 amp hour included)
Blade Length: 22″
Speed: 3100 strokes per minute
Max Cutting Capacity: 3/4″
Weight: 11.9 pounds
Warranty: 3 years limited, 1 year free service, 90 day money back
Price: $299