Editor's Note: This blower has been discontinued. This review originally published in May 2015.
Solving a Problem By Creating a Problem
The good news is, I have roof gutters. The bad news is, I have roof gutters. Several years ago, I realized that the two points of water fall off my roof were located exactly at our doorways. Murphy's Law is always in force in our world. What better way to eliminate the concentration of water fall than to add gutters? I could have simply put gutters at the points of need, but a continuous and seamless gutter along the entire perimeter of our primarily flat roof would look better. In theory, it would also work better. Once installed, the streamlining effect of the gutter added a clean architectural line while serving its utility of rain water collection.
The Echo 58 Volt Blower and My New Problem
I assumed the gutters would solve my problem… I now have a new problem…. Clogged gutters. Since my roof is mostly flat, cleaning my gutters is achievable by standing on the roof. However, it requires bending completely to the gutter or kneeling/crawling along the perimeter. Although I had a corded blower over the past several years, I didn't want to hassle with the extension cord. There are just some jobs which come along that one doesn't want to do – this is one of them for me. When the Echo CBL-58V2AH showed up, I knew just the right application to test it out its claim of gas power.
Unpacking and Charging
The Echo 58 Volt Blower arrived in retail packaging as you'll find it at The Home Depot. It is advertised as "Professional Grade Cordless". Unpacking the blower was easy and assembly was a snap. As expected, the 58 volt charger is large, although very lightweight. It is a 30 minute charger when combined with the included 2.0 Ah battery. While the battery is shipped at 50% charged as most are (the battery is most stable at 50%), I charged the it completely before use. Charging time was roughly 20 minutes.
A nice feature which is showing up on most any new lithium ion batteries I see is an LED power level indicator. The benefit of this technology is pretty obvious, as it gives clear and immediate feedback on battery level while in use. Since the lithium ion technology provides steady power until "dead", it's harder to judge when a battery is about to really drain, until it's too late. This typically comes at the most inconvenient times. Periodically checking the LED indicator gives fair warning of imminent zero power. This allows well timed breaks to either recharge or grab another charged battery (additional purchase necessary).
Echo 58V Blower Manufacturer Specs and Features
Brushless motor for superior power, run time and durability
Jet fan design delivers 120 MPH and 450 CFM for maximum clearing power
Variable speed trigger for ultimate power control
Run time: High – up to 15 minutes, Low – up to 1 hour
Cruise control feature for user convenience
Debris scraper for ease of use
Weight: 11 pounds
Noise rating: 65dB
Includes one 58-Volt 2.0 Ah lithium-ion battery and one 58-Volt lithium-ion charger
Industry leading 90 day money back (returnable) guarantee
5 year consumer use warranty
2 year commercial use warranty
Price: $269.00
The Climb
Getting on a roof carrying a tool is never an easy task, but having the cordless Echo 58 Volt Blower made it less of an ordeal. I was careful to bring a spare battery with me just in case. With the battery installed, the blower is well balanced with a natural lean toward the ground directly in front of you. It's got some weight to it. The weight of a well built unit without being so heavy that it becomes the only thing you're thinking about while you work.
The gutters were packed with months of leaves. Little leaves. Florida oak leaves. Florida has a fall season as do other parts of the country, but Florida trees have smaller leaves in general. They do break down a little quicker than large maples and such, but they are much harder to move around, especially with a blower. Several months of decaying debris in the gutters was so bad, acorns were taking root in the sediment and producing a gutter garden. My house, once a beacon of order and quaintness in the neighborhood, had become a "woodsy and bohemian" looking abode.
Crank it Up
Starting the blower is easy. However, I immediately noticed the motor has the slightest delay and soft start. Once on, it's easily controllable with the variable speed trigger. The variable speed of the Echo 58 Volt Blower was actually more useful than I had expected. In some cases, the blower was actually too powerful and needed to be throttled back. This is especially apparent when guiding debris away from vertical surfaces like walls. If not done gently, the debris just goes everywhere. Additionally, a "cruise control" feature is included that incorporates a cam-like knob. It holds the trigger in your preferred speed position to free up your finger for a more relaxed "ride". Unlike some blowers with a similar mechanism, there are several positive stops along the way to click into repeatable speeds.
Beginning with the flat roof sections, the Echo 58 Volt Blower did a very good job of blowing the layer of looser leaves away. Sections which had plastered layers of decomposing leaves took a little more time and full blower power. Fortunately, a scraper ring is included on the end of the blower nozzle to aid in breaking away those really tough areas.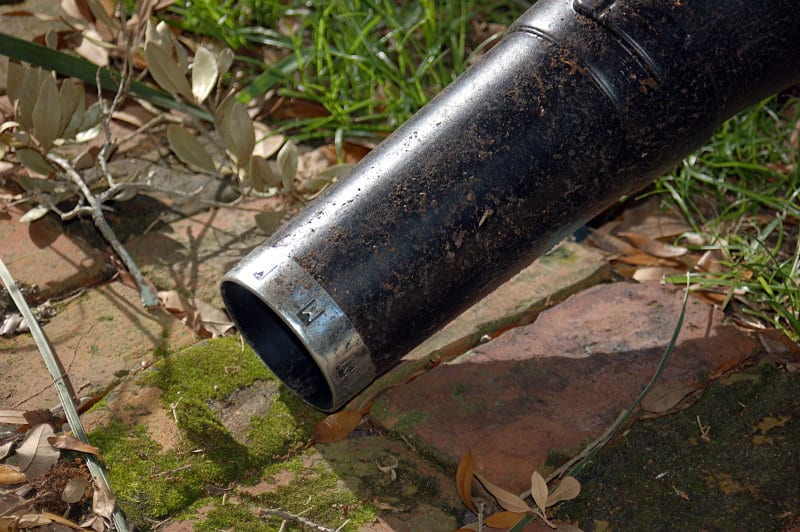 Once the flat sections were clear, I began at one end of the gutters and patiently weaved the Echo 58 Volt Blower back and forth. The loose leaves quickly blew away, leaving the more stubborn wet and compacted leaves behind. This is where the real test began.
Performance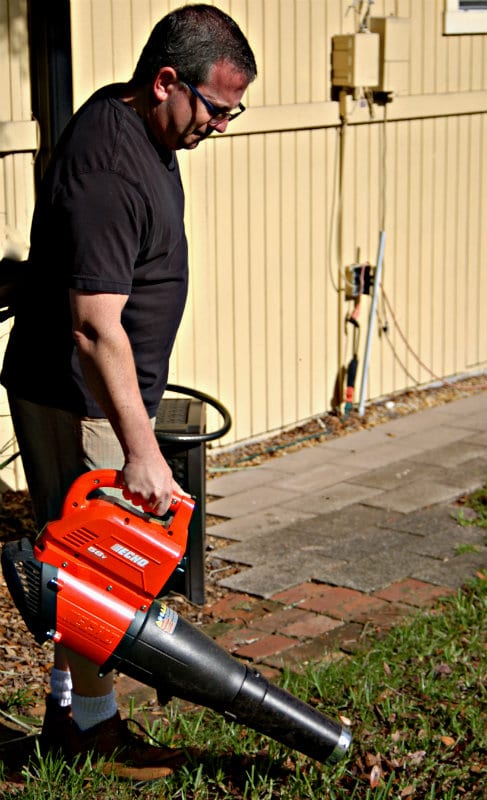 With 180 feet of gutter to be cleared, I was determined to let the Echo try to work without making me bend over, touch a leaf, or get my hands dirty. Using the Echo 58 Volt Blower in this application required more patience, but was well worth it. I was able to clear not only the leaves and growing saplings, but much of the sediment and mud as well. The results were much better then if I did the job by hand. Now that the leaves were blown off the roof, it was time to clear them off the sidewalk, and the shrubs, and the car, and the patio… You get the idea. The Echo CBL-58V2AH was more than capable of the balance of the cleanup.
With great power and performance comes great energy demand. While the 2.0 Ah battery is okay for some outdoor power equipment, it is not sufficient for a blower of this capability. I would recommend Echo include the 4.0 Ah battery and or offer an upgrade discount for those customers who want or need runtime longer than 15 minutes at full power.
Quality
Overall, the Echo 58 Volt Blower is a solid piece of equipment. It's basic material construction and bland design don't make for a real eye catcher, but it feels sturdy and durable which is a more pressing objective when designing and delivering an outdoor power tool. The scraper ring which is user-installed at the end of the blower nozzle popped off a couple of times. The "cruise control" knob can be a bit stubborn to rotate and appears a little too simple to endure the test of time. This is an issue that I've seen on other blowers. It will be interesting to see if manufacturers respond with a smoother, more durable mechanism in future models.
Final Thoughts
In general, the performance of the Echo 58 Volt Blower was very impressive. As a cordless tool, it gets some good props for air-speed and volume. There's a lot going on in cordless outdoor power equipment right now. The Echo CBL-58V2AH is a strong contender in a rapidly changing and challenging fight for the sweet spot in the prosumer category. Along with an in-store 90 day money back guarantee and a 5 year consumer / 2 year professional warranty, it's a pretty good bet. The Echo 58 Volt Blower is part of a 5 piece complete yard maintenance system series including a blower, line-trimmer, chainsaw, hedge trimmer and lawn mower.