I remember the first time I saw an electric lawn mower. I scoffed (in my mind) watching the individual struggle with the corded lawn mower. "That wouldn't be powerful to cut through my thick grass," I said to myself. I figured that if they did ever make a battery-powered mower with enough strength to cut thick grass, surely the battery wouldn't last long. That was about 6 years ago. Since then, tools like the Worx 56V cordless mower have brought a new perspective.
Indeed, today battery-powered lawn tools are becoming more and more the standard for the environmentally-conscious. It's not hard to figure out why. The batteries are powerful enough to do the work, and the price is very comparable to new gas powered tools when you factor in the fuel. Manufacturers are also offering ample warranties. Is that enough reason to make the switch? That depends on a lot of factors, but the Worx 56V Power Share family of tools makes a very strong case.
As cordless outdoor power tools mature, more and more consumers (and even Pros) are looking to see if the time is right to switch. For me, it's largely a question of economics and practicality. The cost of a cordless mower will exceed the price of many gas mowers, but when you factor in annual fuel costs, that changes dramatically.
Worx 56V Cordless Lawn Mower Features
Prior to obtaining the Worx PowerShare family, I had almost exclusively used gas mowers. The exception was over the last 4 months. My neighbor was kind enough to lend me his Black & Decker M2040 40V Max series to cut our 2700 square foot lawn. While the mower got the job done, neither the power nor the battery life would cut it (pun intended). I was using a minimum of two and a half of the 40V batteries just to mow our small yard. This was cumbersome to say the least, because unlike the Worx 19" mower, the Black & Decker holds only a single battery at a time. That means you must stop, remove the old battery, replace with it a charged battery, and resume.
If I let the grass grow a little longer than normal, I was using all three batteries! Since only three batteries were available in the total Black & Decker package, using the edger or blower immediately after mowing was impossible. This was one area where the Worx 56V cordless mower immediately excelled.
Build Quality and Assembly
The Worx 56V mower comes completely assembled. You literally just lift it out of the box and charge up the batteries before mowing. This lawn mower has a steel deck, so it isn't light (in fact, it weighs almost 60 lbs). If you're more familiar with gas-powered lawnmowers, this will feel like a "real" mower instead of flimsy and cheap.
Several of my batteries came charged around 30% (roughly equal to one indicator light). The initial charge time was only 20 minutes, per battery. After I had completely drained a battery, to fully charge it again clocked in at 46.5 minutes. This was a tad confusing since the user's manual indicates 2 hours to fully charge. The charger isn't small, but it isn't as heavy as I would have expected for a 56V model. Each battery has the aforementioned 3-light indicators, and you press the button (hard) to check charge levels.
Batteries & Charging
Often you're not able to charge batteries immediately after use due to overheating. Even though I completely drained several batteries in the testing phase, I didn't have this issue once. And we live in central Florida. The batteries do have vents on the front-facing end, and when plugged into the mower, the vents face upward.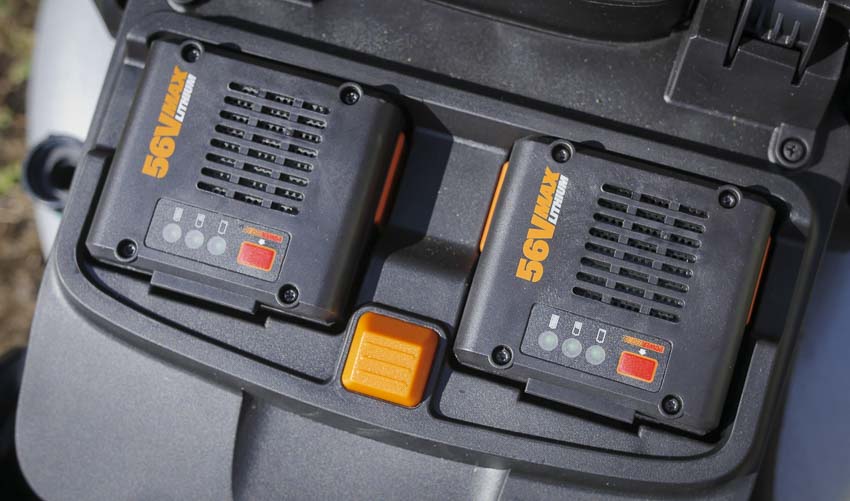 The Worx mower will run off either two batteries or one, whichever is easier for you. If you choose to only use one battery at a time, don't be surprised when the battery indicator on the top handle shows only 50% life remaining. Two fully charged batteries in the mower will result in the indicator showing 100%. The blue LED battery indicator is conveniently placed and very easy to see, even in full sunlight. There's also a battery test button on the mower which will display the battery's remaining power. This even works without the lawn mower running. It saves you from having to open the battery compartment to check. The single release button conveniently ejects both batteries simultaneously.
Worx 56V Mower Mode & Height
There two different modes you can operate the Worx 56V lawnmower in: "Eco" or "Turbo". The modes change the RPM of the motor. In either mode, I could both feel and hear the lawn mower increasing the power to the blades automatically when cutting through thicker grass. The mower has 7 height adjustments from 1-1/4″ to 4″. While there is a single height adjuster for the back two wheels, you have to adjust each of the front wheels separately due to the rotating casters.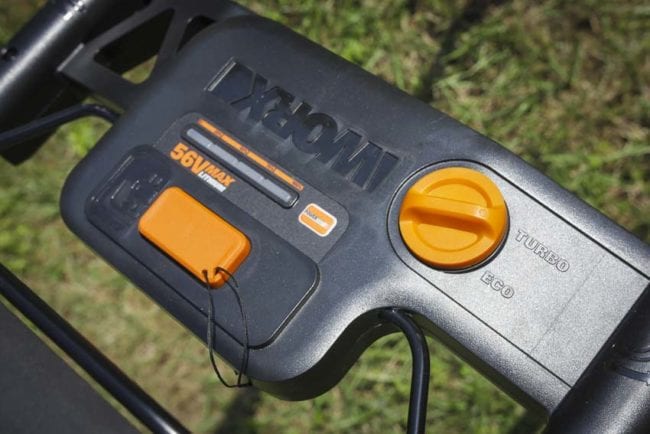 I was very curious to see if this mower was more powerful than the Black & Decker I mentioned earlier. To compare, I started off with a single battery (50% on the handle-mounted battery indicator). While my grass was on the longer side, it hadn't rained in a week. I decided to mow in "Eco" mode. Mowing through the front yard with ease, I loved the 360º front casters (more on that later). I quickly cut through the side yard, and then started on the back yard. At that point the indicator showed 25% charge remaining. Surely a single battery couldn't last the same time as three 40V, but it did!
I not only finished the backyard, I even went back over a few sections I had missed. By this time the indicator was flashing one bar remaining, but the Worx 56V cordless mower kept running. I was able to completely mow all my grass, catch some areas I missed, and still have a little charge left over. I had high hopes when I started, but they were easily exceeded.
Caster Wheels are Both Practical…and Problematic
New to me was the 360º rotating front caster wheels. Not having to raise the front wheels of the mower to turn kept the blades on the ground at all times. This was a noticeable benefit when cutting the grass. Once I got into a habit/cutting pattern of turning with the 360º front wheels, I was able to go around corners much more quickly. This saved time and, ultimately, battery life. The casters on the Worx 56V cordless mower can be locked in the straight position at any time. When mowing a hill, I'd recommend locking them to prevent gravity from drifting or turning the mower.
Of course, the flip side to these helpful castors is how far they push the deck back. You can't get close to what you're trying to cut from the front (see photo), so the closest approach is from the side of the mower. The "NutriCut" mulching blade truly does cut grass into very small pieces, as advertised. We found proof of this just by looking at the underside of the deck after mowing for only a few minutes.
Washing & Storing the Worx 56V Mower
We briefly tested the quick connect (standard garden hose) "washout port." This feature shoots water up and towards the front of the deck (from the back) in a sort-of circular motion. It was easy enough to use, but we have reservations about using water to wash a steel deck on any lawnmower. This would probably be a useful feature if you were regularly cutting wet grass and could use a blower to make sure no moisture was left on the deck after the fact.
The Worx 56V cordless mower is easy to store and the handles are easy to unlock and lock in place. Just press both of the releases (below the bail handle), and it folds down. In fact, it's so easy to unlock the handles, I did it once accidentally while removing the lawnmower from my shed. The Worx 56V mower stores up on end nicely (like the EGO 56V self-propelled mower). This makes so much more sense for us, because it utilizes the extra vertical space of our shed. Of course, it folds up so compactly, I could also see it storing easily underneath a table or work bench.
The Worx 56V mower truly changed how I feel about battery powered outdoor tools in general. The power really is there. It proved many of my initial assumptions to be wrong. The benefits of this mower are numerous, and I'll be watching what new products Worx releases in the future.
Worx 56V Cordless Lawn Mower Specs
Power: 56 V Max lithium-ion 2.5 Ah battery (WA3555)
Deck diameter: 20″ (51cm)
Cutting diameter: 19″ (48cm)
Front wheels: 7″ (180mm)
Rear wheels: 10″ (250mm)
Cutting height (7 positions): 1-1/4″ to 4″ (30-100mm)
Grass collection capacity: 1.4 bushels (50L)
Charging time: 2 hrs
Charger: WA3859
Weight: 58.9 lbs (26.7 kg)
Includes: 56V cordless lawn mower, 2 x 56V Max Li-ion 2.5 Ah batteries, WA3859 charger, grass collection bag, mulch plug, side-discharge chute
Overall Summary
With the exception of the mower, each of the Worx 56V PowerShare tools can be purchased with or without a battery and charger. While I don't believe you need multiple chargers, having multiple batteries is a nice benefit. Additional 56V 2.5 Ah batteries (WA3555) have a suggested retail price of $130 each, although we've seen the price drop as low as $100. As part of the PowerShare 56V tool family, the Worx 56V cordless mower offers a 3-year warranty and 90-day money back guarantee. This is longer than Black & Decker's 40V Max 2-year warranty, but it's shorter than EGO's 56V 5-year warranty.