Worx Gives Your Hands a Break While You Whip Your Yard Into Shape
With a repetitive task like pruning, using manual options can be a pain—literally. Between muscle cramps and calluses, the whole thing can make you want to give up before you're finished. In this situation, cordless pruning shears can be a lifesaver. The Worx Nitro 20V Pruning Shears represent the brand's first venture into the realm of a truly cordless large pruning solution. Let's dig deeper to see how they stand out.
Worx Nitro 20V Pruning Shears: The Big Deal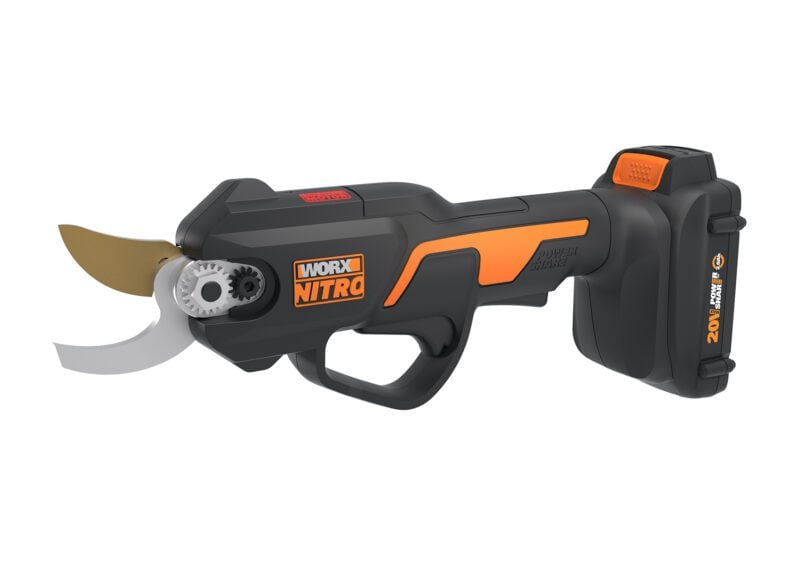 Worx gave these pruning shears a compact, lightweight design, weighing just 1.5 pounds without a battery. They have the capacity to cut branches up to 1 inch in diameter.
Notably, the Worx Nitro 20V Pruning Shears feature two cutting modes—similar to the Milwaukee M12 pruning shears. Rather than feature a dedicated mode button, however, the Worx 20V pruning shears switch modes by pressing the rear safety trigger while simultaneously depressing the front (ON/OFF) trigger. After 2 seconds, you should hear a beep and you can release the front trigger. This causes the blades to swap between the maximum (1″) cut opening and the small (0.6″) cut opening in order. To revert, just repeat the process.
These pruning shears operate like a traditional bypass hand pruner but don't require the hand strength needed for manual solutions. A two-finger trigger operates the blade. After engaging the rear safety trigger, squeezing the front operating trigger closes the blade. Releasing the operating trigger returns the blade to the open position.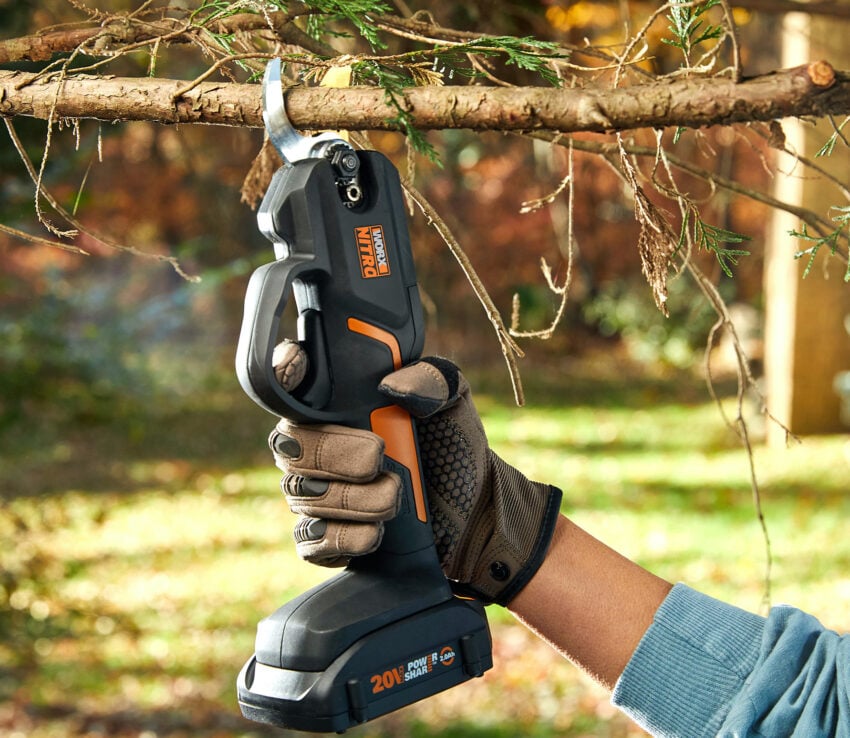 As for the blade itself, it's made from titanium-coated carbon steel and features a non-stick surface. As well as being corrosion-resistant, the non-stick design resists sap and makes cleanup and maintenance easy.
The Worx Nitro 20V Pruning Shears feature a brushless motor. Along with the 20V 2.0Ah MAX lithium battery, the tool generates 9,000 to 12,000 N of clamping torque. We would like to know how many cuts you can expect to get per charge, however that information doesn't seem to be available at the time of writing.
Additional Features
Soft-grip rubber overmold handle
Compact and lightweight design
One-handed operation
Worx Nitro 20V Pruning Shears Price
You can find these pruning shears as a bare tool for $89.99. They're also available as part of a kit including a 20V 2.0Ah MAX lithium battery and a one-hour quick charger for $129.99. You can find this tool at your favorite Worx retailer.
Specifications
Model: Worx WG330
Voltage: 20V
Cutting diameter: 1 in
Weight: 1.5 lbs bare; 2.38 lbs w/ 2.0Ah battery