We've reviewed a lot of work lights, headlamps, and flashlights over the years and had the pleasure of witnessing game-changing improvement across all of those categories. Massive leaps in output are harder to pull off than slow, steady improvements, so you can imagine my skepticism when I saw the Acebeam X75 claim 80,000 lumens in a high-power flashlight. We got our hands on a model to test.
Acebeam X75 80,000-Lumen Flashlight Performance
Output
Acebeam has multiple options in the X75 line and their most powerful in terms of output hits 80,000 lumens at a 6500K color temperature. No, I didn't make a mistake with the comma or number of zeroes, it really does put out 80,000 lumens.
The light comes from 12 CREE LED chips, each contributing more than 6500 lumens individually. Reflectors direct the light out to a broad 90° throw with a central spot beam and a max range of 1150 meters.
Above: 2,000 lumens vs 80,000 lumens. Note the center of the beam is directed to the left of the tree.
There are other modes to use. Here's how they break down at their highest levels:
Turbo: 80,000 lumens/1150 meters
High: 23,000 lumens/622 meters
Medium High: 11,000 lumens/415 meters
Medium Low: 5,000 lumens/300 meters
Low: 2,000 lumens/207 meters
To switch modes, turn the light on with the lower of the two buttons and hold it down until it cycles to the mode you want to use. The upper button engages the turbo mode. Press and hold to use the max output and release when you're done.
Note: we put a full control overview chart at the bottom of the review.
Active Cooling
Even for LEDs, the high output of this light produces significant heat and Acebeam uses a fan to actively air-cool the light. Vents in the side let the fan pull air in through the base, blow it over the heat sink, and push it out through the top vents.
The collar around the light has a silicone sleeve around it that changes color based on the temperature. It's dark gray as long as it's under 131° F (55° C) and changes to blue gray once it raises above that mark. If you do happen to see that change, drop to a lower output or turn the light off completely to let it cool down. Remember, heat is a big battery killer.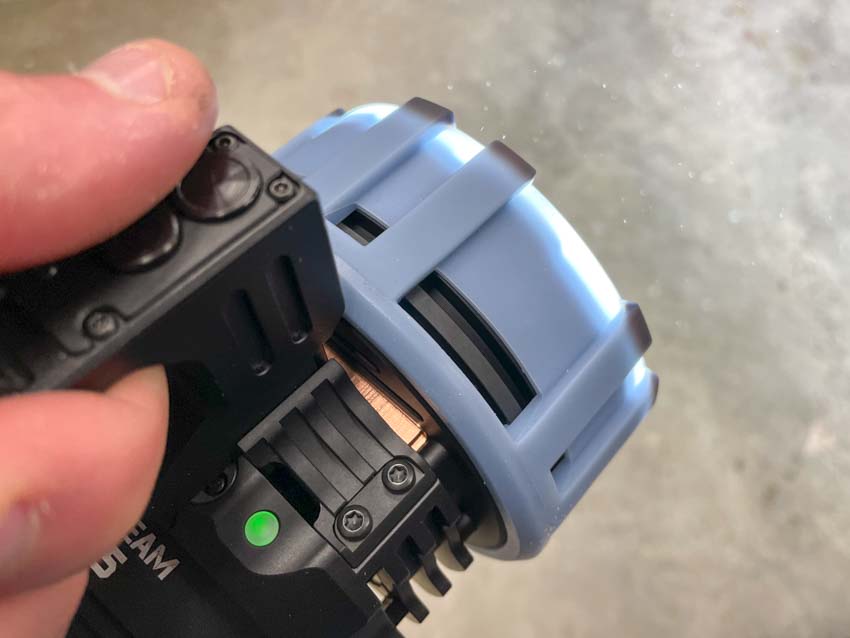 Runtime
When it comes to runtime, it's not long at max output, but the 4250mAh battery extends significantly based on the output you use.
There are two primary running modes to work with: High Power and Eco. Eco doesn't drop the max output, but it does drop the step-down lumens and reduces the amount of time you spend at higher outputs. The overall effect is a longer runtime when you're using Eco mode. Here's how they compare:
Eco Mode
Lumens/Runtime
High Power Mode
Lumens/Runtime
Turbo
80,000 -> 12,000 -> 900 lm
30 sec -> 42 min -> 8 min
80,000 -> 23,000 -> 900 lm
30 sec -> 20 min -> 8 min
High
23,000 -> 12,000 -> 900 lm
3 min -> 40 min -> 8 min
23,000 -> 17,500 -> 900 lm
7 min -> 25 min -> 8 min
Medium High
11,000 -> 900 lm
1 hr, 3 min -> 8 min
11,000 -> 900 lm
1 hr, 3 min -> 8 min
Medium Low
5,000 -> 900 lm
2 hr, 23 min -> 8 min
5,000 -> 900 lm
2 hr, 23 min -> 8 min
Low
2,000 lm/5 hr, 30 min
2,000 lm/5 hr, 30 min
So why not just give normal runtime estimates? That's the intelligent heat management of the system. Take Turbo mode for example. In High Power Mode, you can run at 80,000 lumens for a brief time. As the temperature rises, the light steps down to 23,000 lumens. That level creates significant heat as well, so it will step down again to 900 lumens after 20 minutes or so.
Your actual results will vary with the ambient temperature and humidity, so it's tough to nail down exact estimates with this kind of light. However, these are tested based on the ANSI FL1 standards, not some random test.
Windy and Non-Windy Modes
Acebeam has what they call Windy and Non-Windy modes, which are just its names for having the fan on or off for cooling. By default, the fan is on. If you want to turn it off, give the top button a 3-second long press. The LED indicator flashes red three times to let you know the mode changed. Repeat to turn the fan back on and it will flash green three times.
Control Overview
| | | |
| --- | --- | --- |
| Function | Button | |
| Turn Light On/Off | Main (bottom) | Single click |
| Change Output | Main (bottom) | Long press to cycle through the output modes |
| Turbo Mode | Main (bottom) | Double click |
| Strobe Mode | Main (bottom) | Triple Click |
| Ultra Low Mode | Main (bottom) | Triple Click then Long Press |
| Turn Fan On/Off | Aux (top) | 3-Second Long Press with Light Off |
| Momentary Turbo | Aux (top) | Press and Hold with Light On |
| Power/Eco Shift | Aux (top) | Click 10x with Light Off |
Acebeam X75 80,000-Lumen Flashlight Design Notes
Waterproof
Acebeam designed this light in a way that earns an IP68 ingress rating. That means it's waterproof up to 2 meters deep for up to 30 minutes. You don't have to remove the fan or add anything to it. Just make sure the charging cap is fully tightened and you're good to go in the rain, snow, or completely underwater.
Charging
To charge the light, you need to remove the cap on the base. That exposes a USB-C port that you use for charging. With the 60-watt standard charger, you're looking at 1 hour, 30 minutes to go from a depleted pack to a full charge. If you want to upgrade to the 100-watt charger, it's ready to go in an hour.
Integrated Power Bank
You can use that same charging port as an output to charge devices. Just keep in mind that using it reduces your overall runtime since you're using some of the power and that the light is not waterproof until you fully replace the cap.
Acebeam X75 80,000-Lumen Flashlight Price
As you can probably tell from the length of our review, this isn't just a high-powered flashlight thrown together with a power source, and its price matches what we expect for this complex a design. The light we tested runs $399.99. There are other configurations of the X75 to choose from as well.
The Bottom Line
The Acebeam X75 is a far more complex flashlight than I first realized and it's very well-built. While it can produce 80,000 lumens, I find that I use it at lower output levels primarily. However, I like having the high output options to use for non-lethal defense, signaling, or simply communicating in Morse Code… with the International Space Station.
Check out more Acebeam lighting solutions by clicking here!
Specifications
Model: Acebeam X75 XHP70.2
Power Source: Integrated lithium-ion battery
Max Output: 80,000 lumens
Max Throw: 1150 meters
Color Temperature: 6500K
Ingress Rating: IP68