Good, Fast, or Cheap? With the Avid Power Drill We Found on Amazon, You Only Get One
Even though we primarily focus on professionals at Pro Tool Reviews, we have to confess some curiosity about these ultra low-priced tool brands you find in bargain stores and online. I mean—Good, Cheap, or Fast—pick two, right? Hopefully. In any case—to satisfy our desire to know more, we bought one of the top-selling cordless drills on Amazon: the Avid Power 20V Max drill driver.
Pros
Less than $50 with a drill bit set and carry bag
Cons
Chuck broke after two uses
Slowest tool on our test track
Odd chuck design makes bit changes more difficult
Handle is too short, causing even medium-size hands to be uncomfortably squished
Bit set is all metric
Battery called it quits after 5 weeks
Recommendation
Look, if you want an inexpensive cordless drill kit, Hart over at Walmart and Black and Decker both have $50 options that are better. For $10 more, you can step into the Ryobi 18V One+ system at Home Depot.
Avid Power 20V Max Cordless Drill Overview
The Avid 20V Max Cordless Drill is the most popular drill on Amazon that's not a name brand. It sits in the #3 spot on the Top 100 for Power Drill Drivers at the time we ordered. We initially added their top-selling drill to our cart, but then realized they had a more powerful model. We decided to upgrade to a higher performance model, settling for #31 on the list.
The final cost? A staggering $49.99—but, we had a $3 coupon. Also, since we're Prime members, it arrived in just two days with free shipping.
To understand where this tool fits in the wide world of drills, we'll time it on the Pro Tool Reviews Test Track. That lets us see how it compares to other models we've tested. But first, let's take a quick tour.
What Comes in the Kit?
In the box, there's the drill, a 1.5Ah 20V Max battery, (which is, of course, 18 volts), a charger, a 41-piece drilling and driving kit, and a soft case to keep it all together.
The Bit Set
Avid includes a genuinely helpful set of drill bits, driver bits, a couple of accessories, and of course that handy case. The drill bits, unfortunately, come in metric sizes. With a quick Google search for the American conversions, they're—as they say in the DIY world—"close enough".
The Avid Drill Charger
The charger doesn't leave us with a strong feeling of confidence in its longevity, though it certainly earns some points for its minimalist design. It should fit easily in the drawer you keep all those random chargers in. And Avid did label it so you can identify what it goes to.
The Avid 20V Max 1.5Ah Battery
For having just 1.5 Ah of capacity, the battery seems a bit bulky. It sits closer to the size of a 4.0Ah advanced pack than the slimmer 2.0Ah compact batteries we're used to.
The pack does, however, have a 5V 1.5A USB charging port on the back—and we like that. It also sports a 3-LED battery level indicator. That gives you a good idea of your remaining charge before you get to work.
The pack has just three connection points. The two outside connections are used by the tool, and the charger makes use of a middle connection point. With simple positive and negative connections, this is a cordless drill that isn't using the same modern communications to protect itself as some others. For its mission parameters, that's probably okay as long as you don't push it too hard for too long.
Avid 20V Cordless Drill Ergonomics
Now, let's look at the ergonomics of Avid 20V cordless drill itself. The handle looks comfortable, but the moment I picked it up, I realized it's too short! The battery foot forces my fingers to squeeze together, leaving my middle finger in an uncomfortable position.
In the end, the most comfortable grip I found was using my middle finger as my trigger finger and extending my pointer along the side.
Awkward Chuck
The 3/8-inch chuck is an unusual 3-piece design that's split at the front before leading to the clutch. Normally, that's one piece on the exposed section. You may have to adjust the way you're used to gripping the chuck and grasp just the tip. It takes some getting used to, and we definitely noticed the difference during our tests.
2-Speed Motor
On top of the drill, there's a typical 2-speed mechanical gearbox switch. Your forward/reverse switch sits directly below within easy reach of your thumb and forefinger to control the direction of the brushed motor.
Avid Power Cordless Drill Performance
So the Avid 20V Max cordless drill isn't the most comfortable, and it's not the most advanced, but can the horsepower under the hood make up for it?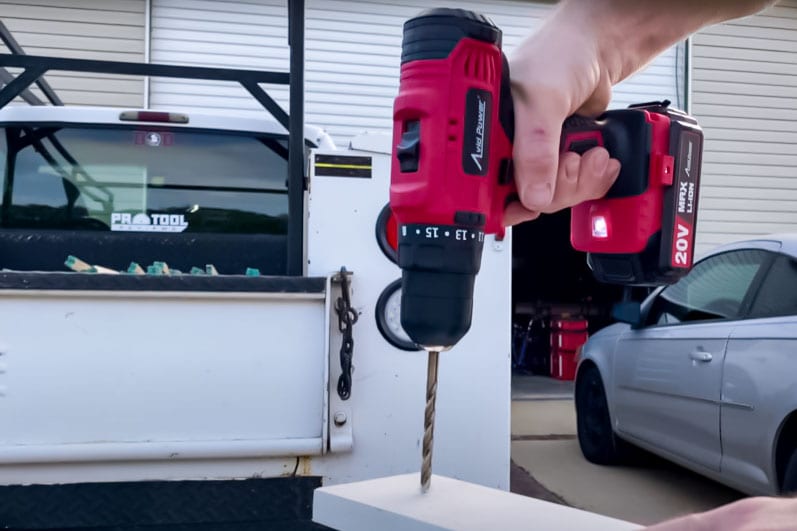 With 320 in-lbs of maximum torque and 1500 RPM, it's in the range of what we expect from a DIY drill—and that's exactly the kind of user Avid Power is targeting.
Setting smaller screws and drilling on the lower end of the range, the tool feels competent. However, it quickly begs to run in Low speed as you increase the load.
And Then We Broke It…
Unfortunately, we ran into a major problem when we tried to back out our 1/2-inch twist bit. The screw holding the chuck in place broke after using it just twice. Since it's reverse-threaded, we were still able to test in forward, but there's no more reverse on this drill.
PTR Time Trials on our Test Track
Our resident construction expert and tool tester, Tom Gaige, donned his favorite safety glasses to see how the Avid Power high-performance drill handles itself in our series of real-world tests. In the process, we compared it to some of the most recognizable names in the tool industry.
If you're not familiar with the PTR Test Track, it's a series of applications designed to test each tool's ability to work. The quicker the total time, the better. Think of it like a race track…but for tools.
For drills, we start a section of 20 drywall screws and the easiest part of the course.
From there, a 1/2-inch twist bit introduces VDV for a series of 10 holes similar to what you need for low-voltage pulls.
Increasing the load and inviting electricians to the party with a pre-conduit rough-in, the course shifts to 10 holes with a 3/4-inch spade bit.
Then we get the plumbers involved as the course turns to a 3/4-inch auger bit to make 10 holes for a PEX installation.
Within sight of the finish, there's the hardest part of the course. This two-step section starts with a 1-inch hole saw and finishes with a 2 1/8-inch hole saw mimicking a deadbolt and lockset install.
Along the way, we have to make five different bit changes, testing one of the drill's most common adjustments. Gear changes are also necessary. Even though Tom gets some practice time so he knows what to expect from each drill, it's still on him to make adjustments, drive, and drill as smoothly as possible to give each competitor its best time.
On Your Mark…
As Avid got ready for the flag to drop, it was an unknown quantity. Would it exceed our expectations or flop miserably?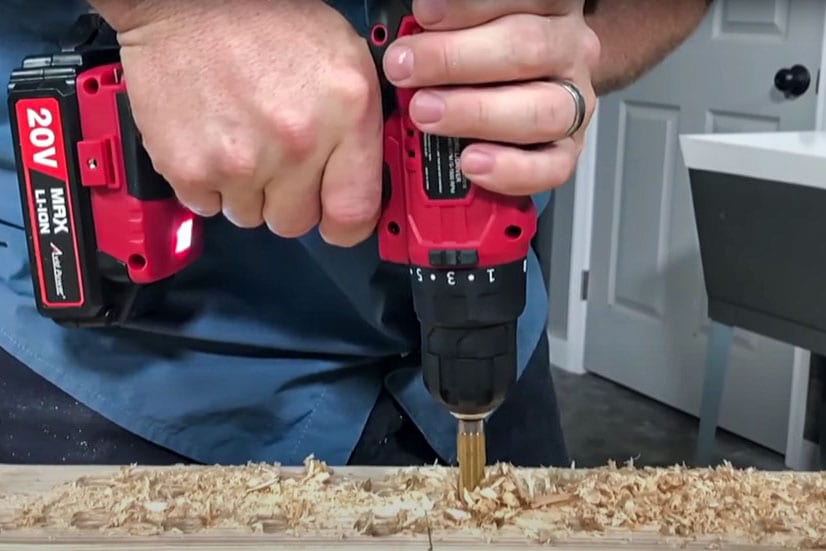 Starting off, Tom was able to keep the drill in high speed for our drywall screws but immediately had to drop into Low for the 1/2-inch twist bit.
Things didn't improve as he had to complete the rest of the course in Low. Worse, he hit a thermal shutdown on the last hole saw—twice.
The final time for our Amazon drill? 9 minutes, 56 seconds. That's more than 5 minutes slower than the worst time already on the board, and it doesn't count the time it took to cool down. Keep in mind this is the higher-performing Avid Power drill. In case it wasn't clear, that's an abysmal performance.
The Bottom Line
Alright, let's answer this question of whether this Avid Power 20V Max cordless drill is good, fast, or cheap? We broke it after just two uses, so it's clearly not good. And it's the slowest by a mile, so it's not fast, either.
But we got it for less than $50, so at least it's cheap! 1 out of 3 ain't bad. Well, in this case, that actually is pretty bad.
Look, if you want an inexpensive cordless drill kit, here are a few recommendations:
Hart 20V Cordless Drill Kit w/1.5Ah battery & charger
Black and Decker LDX120C Drill Kit
Ryobi PDD209K 18V Drill w/1.5Ah battery & charger
Whichever you decide, we have more confidence in these name brand tools.