Last Updated on August 19, 2023
We recently converted a 1400 square foot bungalow home in downtown Lakeland to a rental. This 3/1 home was perfect for a small family. It had a decent sized yard, a storage shed, great floor plan, and even new Pergo Outlast laminate flooring. It lacked one thing, however—a washer and dryer. In fact, it even lacked washer and dryer hookups. It was this realization that started us down the path of examining compact washers and dryers that could stack. During our search, we came across the compelling Bosch condensation dryer and washer combo. These 24″ compact appliances looked like they'd fit the bill and also reduce our installation costs and efforts in the process.
To make a long installation story short, the Bosch 24″ Compact Washer (WAT28402UC) and 800 Series 24″ Compact Condensation Dryer (WTG86402UC) would allow us to fit the units into an existing closet space. They would also allow us to stack them and plumb the space for hot/cold water and a single 240V circuit. A normal setup would require both 240V and 120V along with a dryer vent that ported to the outside.
As luck would have it, another washer and dryer system fell into our laps before we could buy the Bosch system. That entailed the additional installation process, but it was worth the gains in expediency (plus my husband was doing the work!) Still, the intriguing Bosch system, with its condensation dryer, stayed on my mind for some time.
Not too long later, I got my second chance to check out these appliances—this time in my home.
What's the Big Picture?
This Bosch washer and dryer combo have a compact design. The big deal—if I may be so bold—is the "condensation dryer". What's that, you ask? It's a drying system that negates the need for ducting. That makes it extremely easy to retrofit or place into a location where ducting would be difficult or impractical. The two units can be placed side-by-side or stacked. They also have optional pedestals with drawers that bring them up to height and create an ADA-friendly solution.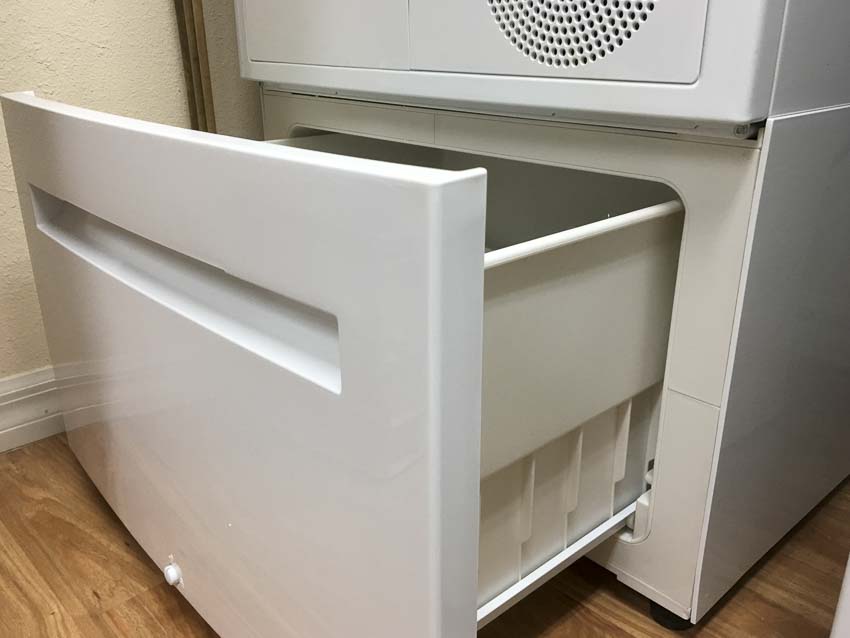 Like their dishwashers and the Bosch French door refrigerator, the 24-inch 800-series Washer and Bosch Condensation Dryer are extremely quiet. In fact, they claim that the Bosch 800 Series WTG86402UC is the Quietest Dryer in the 24″ category. I'd have to agree. It's also Energy Star qualified.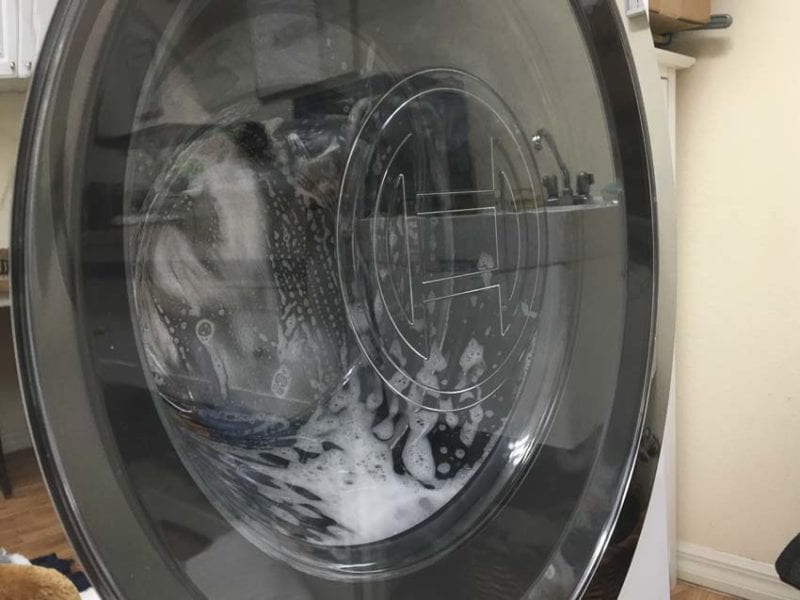 Vibration is also low, and the washer uses sensors that monitor the load weight and the movement of the drum to help balance the system. Add in a ton of effective insulation, and you reduce noise levels down to around 63dBA—which, as I mentioned, is super-quiet.
Bosch Condensation Dryer Features
The Bosch Condensation Dryer has 15 dry cycles including three Permanent Press modes, Delicates, Quick 40, Time Dry, Hand Wash / Wool, Air Fluff/No Heat, two Cotton modes, Anti-Shrink, Sanitize, SuperQuick 15 min, Bulky Large Items, and Quick Dry Auto. Say that 15 times fast! The system works by pushing mild, warm air from all sides through the stainless steel drum while tumbling the laundry using the curving soft carriers within.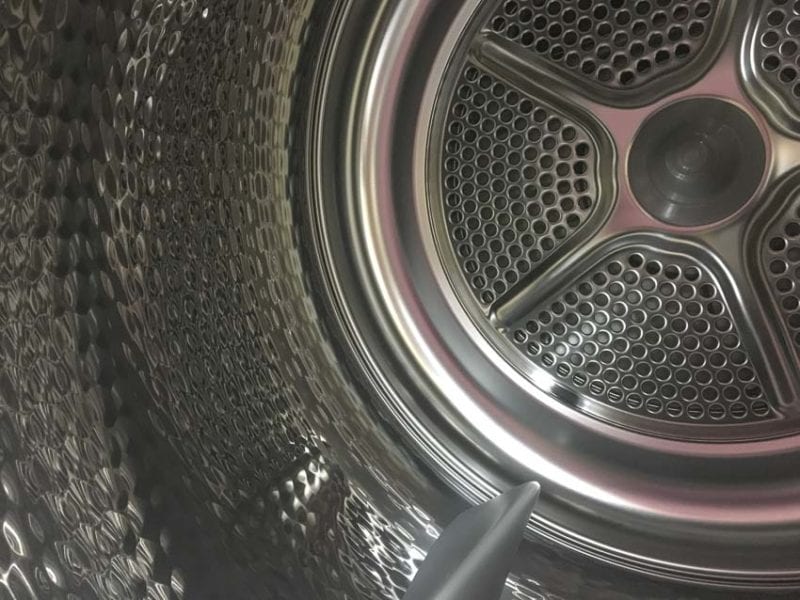 For a compact system, the 4.0 cu. ft. capacity of the Bosch condensation dryer is actually quite large. Bosch claims that it can dry up to 17.6 lbs. or 18 bath towels. We found it to handle a bit less than that, but "towels" isn't a universal standard, and my two boys sometimes go through a couple of outfits in a single day!
Aside from the dry cycles, you can also adjust 8 options including Dry Level, Time Dry, Finish in, Wrinkle Block, Low Heat, Signal, Start/Pause, and Child Lock. A Quick Dry program lets you dry really small loads in just 15 minutes. It's very simple to operate, and we've already trained both boys (ages 10 and 14) to do the laundry on these new machines.
What is Condensation Drying?
So what is condensation drying? As you might gather from the name, condensation drying literally uses a system to condense the moisture in the hot air, turning it from a gas into a liquid. It then pumps that liquid out through the water drain. Because of this, there's no ducting or even a blower required to expel the hot air.
When my husband set the dryer in the desired location, it was situated on the left. That presented a problem since the door opened to the right. Fortunately, the door is completely reversible. He removed it, swapped the hinge to the other side, swapped the latch on the Bosch condensation dryer chassis, and put it back together. The process took a grand total of about 5 minutes. He accomplished the entire task with a Phillips screwdriver and a plastic putty knife to help lift up and migrate the screw hole covers where the hinge attaches to the dryer chassis.
The LED interior drum light on the Bosch WTG86402UC dryer is a huge help. It's bright, clear, and made loading and removing laundry a lot easier.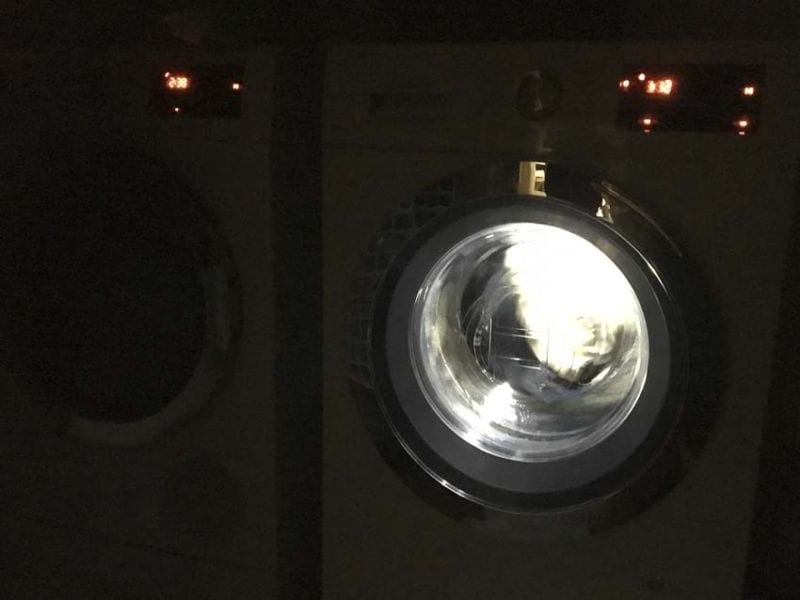 Using the Bosch Condensation Dryer
The initial settings for the Bosch condensation dryer are pre-set at the factory for all cycles. You can, however, change some program settings if you want to customize it. You can adjust the Dry Level which increases drying time. Time dry can also be set anywhere between 20 minutes to 3 hours in 10-minute steps.
The "Finish in" setting can be configured in 1-hour settings up to 24 hours. A Wrinkle Block option can be set to 60 or 90 minutes and keeps the drum rotating periodically after the drying process has completed. This keeps your clothes from creasing or wrinkling until you're home to remove them from the drum. We used this feature whenever we knew we wouldn't be home in time to remove the clothes.
One of our sons has severe dust mite allergies, so we frequently used the Sanitize mode which is designed for half-loads and helps kill any bacteria and ensure hygienic conditions. Sanitize is a great mode for what it accomplishes. The downside is that you're looking at over 3 hours to complete the cycle on a half load of laundry. On the other spectrum, the Bosch condensation dryer has a nice Low Heat mode that drops the temp and increases the (already long) dry time to care for more delicate fabrics.
Periodic Maintenance
Cleaning the lint trap on the Bosch condensating dryer is very simple—as you'd expect. Because it uses a unique condensation drying technology, however, you also need to periodically clean the heat exchanger. Bosch recommends about once every month if you use it consistently. If you use the dryer more heavily, you may want to check it more often.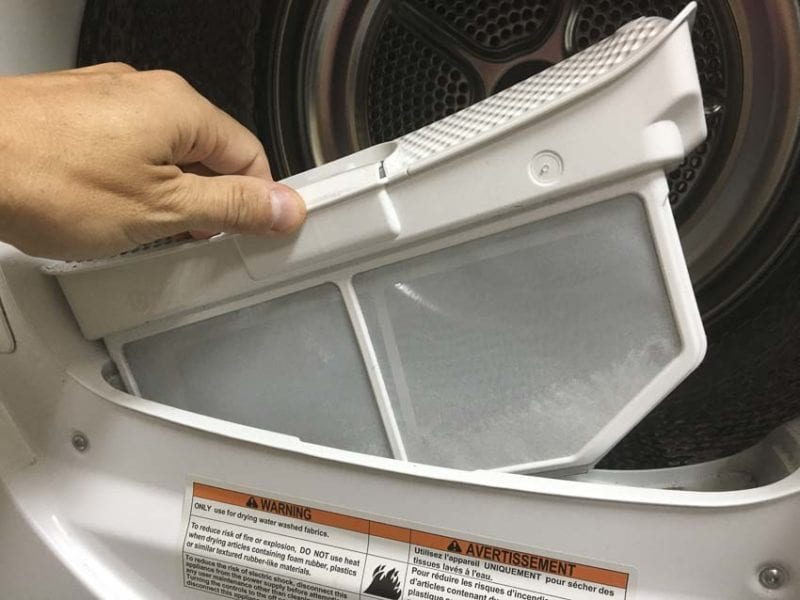 The heat exchanger is what takes the moist air created by the drying process and converts it into water through a condensation process. Because the water that comes out isn't 100% pure, cleaning ensures proper operation.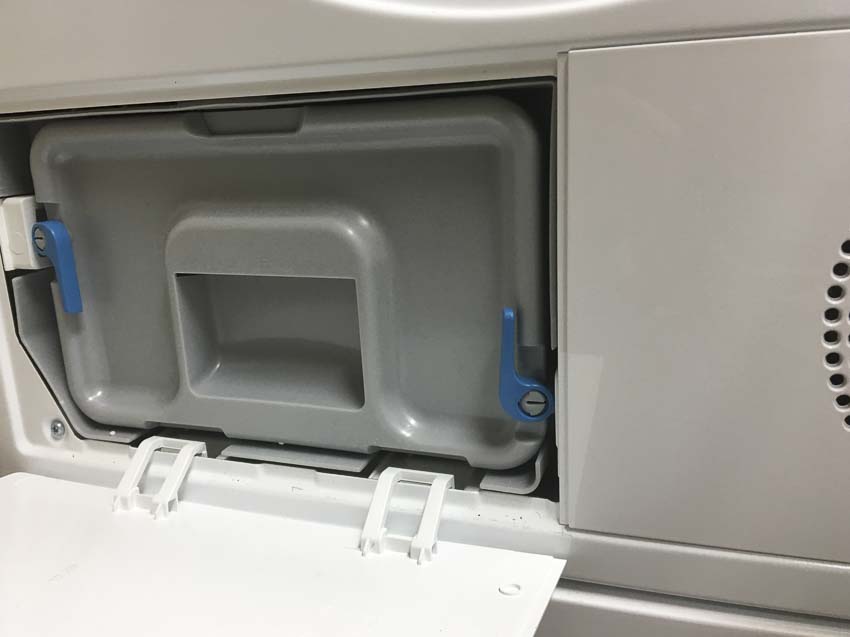 Cleaning the heat exchanger only takes a few steps. After the dryer cools down, you open the maintenance flap at the bottom left of the dryer. Since water passes through this area, having a cloth handy to catch any residual moisture is a good idea. Once you open the flap, you'll see two levers that release the heat exchanger cap and the actual heat exchanger.
You should only clean the heat exchanger with warm water. Like the fins on an AC unit, the fine metal might bend if you scrub it with a stiff brush. The idea is to get rid of any and all lint and debris. Once the cap and the heat exchanger are dry, reinsert them into the Bosch dryer, secure both, and close the flap.
Conclusion
Overall, the compact Bosch washer and dryer washed and dried our clothes flawlessly, though the dryer does take much longer than a traditional model. If you have a larger family, steer clear as this compact system reduces capacity by about 43% when compared to a 7 cubic foot washer and dryer system. For a young couple, retired couple, or anyone living in an apartment or condo, it's a great solution. The features, functionality, and efficiencies are spot-on.
In the end, both the Bosch 24″ washer and the Bosch condensation dryer did really well. I love the features and options, and the condensation drying technology is very impressive—especially since you never have to think about it.
The Bosch 800 Series 24″ Compact Condensation Dryer (WTG86402UC) and the Bosch 24″ Compact Washer (WAT28402UC) are each priced around $1,260. They come with a limited 1-year parts & labor warranty and another year of warranty after that on most critical parts.
For more information, visit the Bosch website.