The frustrating search for your spanner wrench is coming to an end with the new Bosch X-Lock grinder and wheel system. It looks like a wheel attachment system that will change the grinder game the same way Starlock did for multi-tools. I got my hands on the new 10-amp paddle switch grinder and a handful of accessories to try out.
What is the Bosch X-Lock Interface?
What makes this interface tough is that you have to secure a wheel that's spinning 10,000 RPM or more and deals with a lot of force. So far, there hasn't been much straying away from the classic flange nut, so the idea of a tool-free option is really appealing.
From the grinder, the X-Lock mechanism slips inside the wheel similar to any normal grinder and wheel combination. What's different is that there's a unique shape that has to line up before it can lock.
To set the wheel, rotate it around until its pattern matches the flange, then push it down until it clicks. That extends the two pieces out that hold the wheel against the spindle.
There's an audible click when your wheel connects properly. When it's time to change wheels, a lever in the front releases the lock and ejects the wheel in place of using a wheel lock and spanner wrench.
By creating a system that prevents free spinning on the arbor and holds the wheel tight against the spindle, it doesn't require the surface area and tension of a traditional grinder flange.
Does it Really Hold as Well?
I didn't have any questions about the capability of this 4-1/2″, 10-amp grinder. What I really want to know was whether the cutting and grinding experience is the same under load.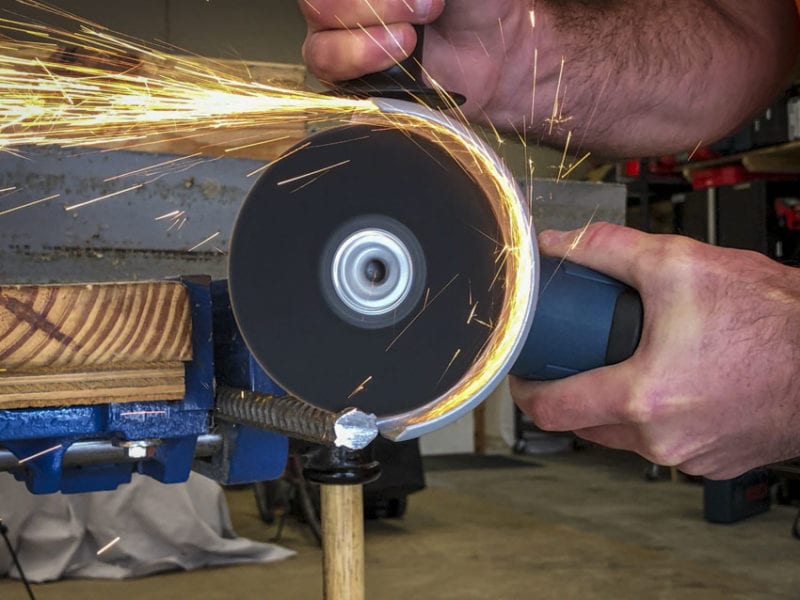 The cutting and grinding disks I used didn't slip at all under even a heavy load. I didn't feel any abnormal flex, either. That's not a surprise, though. If you take a close look at the interface, the way it fits ensures that the wheel can't slip unless you happen to install it incorrectly, which I haven't found a way to do.
The only install user failure I've seen is not getting the accessory to fully click into place. Even then, it just falls right off before you start the grinder up.
Can I Use Bosch X-Lock Accessories on Standard Grinders?
On the accessories side, Bosch tells us that most will be backward compatible with standard 7/8″ mount grinders. That's good news for any shop that wants to stock one brand of wheels and has both X-Lock and standard grinders.
Where you run into incompatibility is on something like the cup brush that isn't threaded and doesn't let your spanner wrench get deep enough to install.
You can't use standard accessories on an X-Lock grinder at all.
What X-Lock Grinders Are Available?
Currently, you have three basic classes of Bosch X-Lock grinders: 10-amp, 13-amp, and 18V cordless. The corded models have a couple of options each.
What X-Lock Accessories Are Available?
There are roughly 50 Bosch X-Lock accessories at the moment, and I'm not going to try to list all of them. Here's a list of the types you can find, though. Feel free to scroll through all of the options here.
Cutting Wheels
Grinding Wheels
Flap Disks
Segmented Diamond Wheels
Continuous Diamond Wheels
Brushes
Cup Brushes
The Bottom Line
Bosch's X-Lock system is incredibly convenient and easy to use. It locks grinder accessories down tight and doesn't have any negative effect on the feel of your grinding. The accessories are a little more expensive than their non-X-Lock counterparts from Bosch, so take that into consideration.
Buy it if you spend a lot of time changing grinder wheels, hate forgetting where you last set your spanner wrench down, or simply like the idea of how much more convenient the interface is. Pass if you're fine with your current system and don't want a bump in your consumables cost.