Even if you're not a professional tradesman, the chances are you've probably used a traditional spirit level around the house. You set the level on the surface you'd like to level and adjust until the bubble is between the lines. This bubble or spirit level has been used for hundreds of years. But do you ever wonder how builders make things level when the two points of interest are far away from each other, the ground is uneven, and there's not yet a surface on which to set the level? A little modern technology—in the form of lasers—has augmented the old method and allows us to quickly find elevations between distant points and make the foundation level even if the ground is not. The tool for the job is the rotary laser and this is our handy guide to choosing a rotary laser.
Essential Features to Look for When Choosing a Rotary Laser
Self Leveling
Rotary lasers have two main components. A transmitter, typically mounted on a tripod, with a spinning diode that emits a laser beam and a receiver, mounts on a large ruler called a transit—or grade—rod. This detects the laser and indicates whether it's higher than, lower than, or level with the beam.
Ironically, less expensive transmitters may have bubble levels since they themselves must be leveled before sending out the laser. But higher-end transmitters are self-leveling within 4 or 5 degrees. While this is technically optional, it isn't in our book. We won't use one that doesn't have this feature.
Accuracy
Rotary laser levels are measured by how accurate they are at a certain distance with some measured at around 30 feet to as much as 100 feet. As you might imagine, the tolerance tightens up as the price point rises. When you're choosing a rotary laser, you'll find most around 1/8-inch accuracy at 100 feet while the high-end models like our DeWalt DW079LG dial it into 1/16-inch.
Range
Increasing the range also increases the price, but you'll typically find a distance between 1,000 and 2,000 feet. Keep in mind that the further the range, the more important the accuracy. If you'll be shooting elevations at points far away from one another, not only will you need a rotary level with a long-range but also a high degree of accuracy.
Durability
Needless to say, jobsites are tough environments where crewmembers tip over and otherwise damage sensitive equipment.  But since the spinning diode of a rotary laser level's transmitter is delicate, it's even more important to keep it protected from danger. Be sure you choose a rotary laser level with some built-in defense like rubber bumpers or arms/handles for shock absorption.
If it takes a lot of abuse, you'll want to get it back to a service center for recalibration at least once a year.
Rotational Speed
You'll also want to consider if you'll use the rotary laser level indoors as well when deciding if the variable rotational speed is important. Variable speed might seem like a strange option since it seems like the laser should spin quickly enough to detect at all points around the circle easily. But it turns out that while high speeds allow the receiver to more easily detect the laser, slower speeds make the laser more visible. You won't likely see the laser outside, after all, that's what the receiver is for, but visibility is important indoors where you won't use a receiver.
A Few Good Options that Aren't as Critical
Rechargeable Batteries
When you're choosing a rotary laser, features make a difference. After all, this isn't a $50 drill. One of our must-have features is a rechargeable battery system. We love the fact that our DeWalt Green Tough Rotary Laser is a 20V Max tool – so we have plenty of other tools and batteries on the system. We're not tossing alkaline batteries out and we're not stuck on a battery platform with only a handful of tools.
Color
You probably think of a red beam when you're choosing a rotary laser, but over the last few years, the green laser got a photon the door (terrible joke alert!) because it offers a few advantages. Green lasers are much more visible to our eyes than are red lasers, making them better tools for indoor applications while also giving us a shot at seeing it outside within reason. It still has its limits, though, and you'll need your receiver beyond a handful of yards in bright sun.
Editor's note: Adam's pretty snarky and full of good humor, but photon the door? Really? That's pretty rough. You're going to end up babysitting David C. Smith if you don't reign it back in.
Green lasers do have their drawbacks, however. They don't work in freezing temperatures, they are more expensive than red lasers, and they're more power-hungry. Since it's less likely that you'll be using a green laser outside in freezing temperatures, that might not be a big drawback, but a higher price point might be. But once you see the remarkable visibility of the green versus red, you might very well go green.
Adjustable Rotation Angle
Whether you're using your laser indoors or out, limiting the diode's rotation angle can keep the laser on target more frequently. Inside, you keep it visible on your workspace. Outside, you keep it on your receiver more and limit the laser beam reaching a coworker's eye behind you. Our DeWalt rotary laser gives us options of 15, 45, and 90 degrees.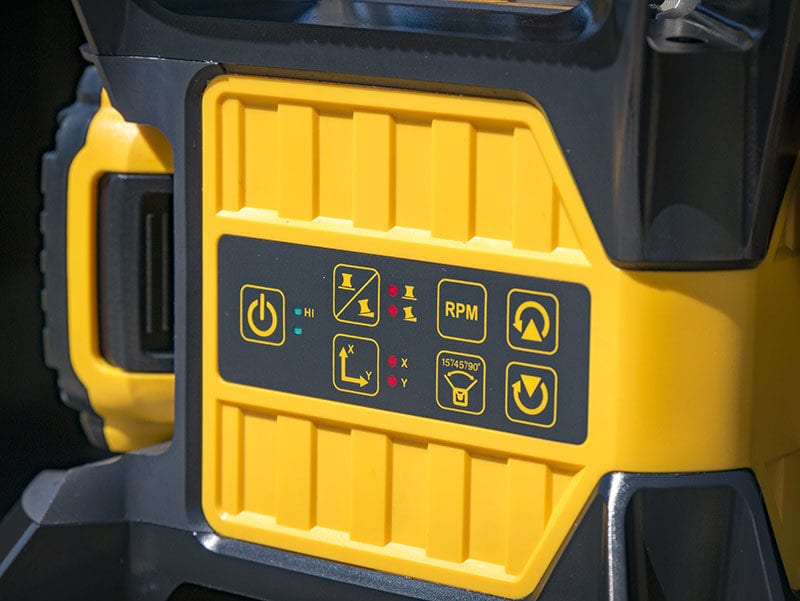 Mounting Accessories
Most Pros have their rotary laser on a tripod or freestanding. But mounting accessories can make life easier. Many of these will be kitted with the laser and include helpful mounts that can clamp to any material or magnetically stick to steel beams.
The Bottom Line
So how do you go about choosing a rotary laser level?
Most critical are range, accuracy, and durability in that order. We won't leave the shop without a self-leveling model and adjustable rotation speed is a must if you'll use it indoors. Green lasers will also net you great visible range than red, but either color is fine for outdoor applications when you're unlikely to see the beam.
From there, you've got some wiggle room if your budget allows. We really prefer a rechargeable battery and adjustable rotation angle in case we need to keep the laser dialed into a smaller area. Also, take a look at what accessories come with the kit. A magnetic, clamping, or keyholed mount can make life easier when you're not able to use a tripod.